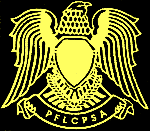 THE POPULAR FRONT FOR THE LIBERATION OF CPSA
FIGHTING ON IN OUR 45th YEAR BUT A BIT RETIRED NOW
FREEDOM! UNITY! SOCIALISM!
ONE CIVIL SERVICE UNION,
ONE GLORIOUS DESTINY!
REVOLUTION UNTIL VICTORY!
NEWS FROM THE SMOKE FILLED ROOMS
by Barrabas - April 2001
Word reaches us that Stella Dennis and Donny McIntyre are due to meet on 6th April in Manchester along with Chris Galligan, (on the side of the Moderati), and a.n.other with Stella whose name our spy didn't catch (he will be shot slowly).

Topic of debate is who will take responsibility for BA personal case/Employment tribunals at GEC level.
Previous incumbent Phil Easton has relinquished the role due to family illness and "intolerable workload", and passed on his duties to Chris Galligan.

Ms Galligan has continued to use Mr Easton as primary support for the BA personal case workload but has told Moderati colleagues that she can no longer cope with the avalanche of cases on her desk.

Despite Trot Broadsheet publication protestations it transpires that this one-man job that the MODS can't cope with was previously performed by a minimum of 3 trot GEC members.

Only Graham Hodgkinson was officially credited with PCS time for ETR/Personal case time, but unsurprisingly, his better half Glenys Hodgkinson and best chum Sian Ruddick also threw their weight into the battle for members' rights.

The Right Wing NEC is content to allow the Left Wing BA GEC to take credit for "saving the members" from the mismanagement of the right and resume its duties in the aforementioned roles.

The cunning plan is to con the Left into accepting this poisoned chalice, (as an opportunity for negative publicity against the Moderati), and then hand them the shovel to dig their own grave.

McIntyre said "They set us up for a fall when Easton and Galligan broke the left loony stranglehold on the BA GEC. It went from a 4 man Trot jobby to a one-man MOD job: I'd say it was time to outwit the bastards and give it back".

Moderati tacticians believe they have outmanoeuvred the left by answering their criticisms and handing back personal cases and ET to the peoples champions.

Sources close to Stella Dennis say the left is determined not to accept responsibility in this area due to the potential for failure and corresponding propaganda from the Mods.

Watch this space….