RECENT
CONFERENCE 2018 DEBRIEFINGS WILL BE HELD EVERY EVENING IN THE BAR AT THE OLD SHIP HOTEL AT 22.00. DURING THE DAY WE WILL BE AT OUR USUAL TABLE IN THE COFFEE BAR AT THE BRIGHTON CENTRE. Click CONFERENCE on the left for further details and links.
Don't forget that this was the FIRST EVER website to contain a copy of the PCS RULE BOOK but in the hedonistic pursuit of pure disinterested idleness have now handed back this job to the appropriate authority. This links you straight to the up-to-datish rules whose current masthead hue roughly matches the colour of the eyes of those nerdish enough to visit it frequently. Here it is then, in all its finery -
the PCS RULE BOOK For all your Rule 10 needs, direct link !
This is also the page where sometimes you will find details of our other most recent postings which consist of
EARLY SEPTEMBER 2018
OCTOBER 2015 - Farewell to Richard Halfpenny (PFL Agent Halfbrain)
and the not often updated ISLAMIC LEFT GLOSSARY . You can also follow the links on the left which you will find infinitely more rewarding.... or something.
The main archive can be found under the JUDAS link on the left (well, it would be on the left, wouldn't it?) Keep Digging!
Looking for a name from the past?
Click the link below to use our
Google Quisling Locator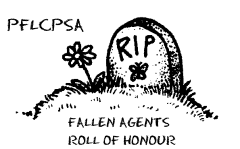 Links to other sites which we plunder with impunity (we don't care, coz we've got a proper, flourishing dotcom and they ain't). And anyway, we've outlived most of them several times over.
pcs
THE INDY
pcs democrats
4TM
LUnity
The Independent Left
THE ARTISTES FORMERLY KNOWN AS SOCIALIST CAUCUS
New
Communist Party
Yup, there's Commies in PCS, too. Link to their PCS blog.
Alliance for
WORKERS'
LIBERTY
The GS's particular flavour of politics
PROSPECT (IPMS)
Mark Serwotka
(DWP Warsaw) - Website deceased - link to our TRIBUTE PAGE
ISU
Website sadly deceased, but we stole a copy - Link to our TRIBUTE PAGE
Huge PLanning
Website deceased - Link to our TRIBUTE PAGE
PATHFINDER NEWS can be found in a
properly screened area
updated 11/04/02 -
End of Dispute