ROUND AND ABOUT
By Judas Iscariot – Late January 2014
Far, far from Wipers I long to be.
Where German snipers can't get at me.
Dark is my dugout, cold are my feet.
Waiting for whizzbangs to send me to sleep.
Christmas trees dumped in no-mans land, tinsel clinging to the old barbed wire and the mud spattered with the torn-up Christmas cards that just a few weeks ago were the one bright spot in our dug-outs. Some still talk of another big offensive in the offing but everybody knows that there's not going to be any major action this side of the 2015 general election.
Our great and glorious leader, MARK SERWOTKA, said as much, when he told delegates at the annual meeting of the Labour Representation Committee last November that he thought any concerted trade-union action over the next year unlikely. But the run-up to the festive season was, as usual, spent in preparing the lists for this year's national and departmental elections.
4TM stalwarts actually met to try and drum up some interest in their own platform much against the wishes of HOWARD FULLER who wanted it all sorted out by email. JAKE and WILLIE SAMUEL, who wisely prefer to run as "independents" were also joined by the very small gathering of hopefuls and wannabees. But FULLERSHIT walked out in a hissy fit. Although he is still a member, he is no longer running the show which has been left to a couple of other non-entities whose names I've justifiably forgotten. The 4TM website is no more, and 4TM is seldom mentioned on Howies Corner. Whether there will be any slate at all this year remains to be seen. I've left their logo on the "recent" page to remind you of what could have been, but never was, due to a lack of organisation and discipline from outset.
The grandees at their December bash have drawn up a slate which contains few surprises apart from the absence of anyone officially from the SOCIALIST WANKERS PARTY – though this is largely because virtually all their leading lights have resigned over the MARTIN "Comrade Delta" SMITH scandal (just Google "rape+Martin Smith" for the latest updates). SUE BOND and ANDY REID were the last to go in December and Mme BOND has kept her place on the slate but REID has been dropped for speaking out of turn during the beano.
There is, of course, no doubt about the outcome. The BIG TENT will once again trounce so-called opposition which consists of the rump of the right-wing 4TM and the two rival wings of what's left of the "Independent Left". But the turn-out will be very low and even the veteran MENDICANT stalwarts are finding it hard going to drum up any enthusiasm for the polls. Members are mostly concerned that they didn't get a diary this year - a big hurdle when you're trying to get through to the Mail buying, Benefits Street watching members who see membership as some sort of get out of jail free card when they're called in by management for a disciplinary but happily cross picket lines because they can't afford to lose money (but see later, if reps think they can bung such cases up to group officers). An interesting point is that the AGS post is up for grabs on an annual basis - 4TM's ROB BRYSON nearly got BOFF once!
It's not really helped by the vanity press biographies of the biggies which now appear on the PCS website. Our great and glorious leader is described as "a former clerical officer in the old DHSS, Mark is unique amongst his peers in other unions having come straight from the shop floor" while we are told that CHRIS BAUGH "leads on the PCS Green Agenda, an Alternative Vision for civil and public services and promoting union involvement in Arts/Music/Cultural events" – three topics he knows nothing whatsoever about.
But nothing can match the glowing PCS report about DAVE VINCENT's union samba band which typically omits to tell us what it's actually called:
http://www.pcs.org.uk/en/news_and_events/pcs_comment/index.cfm/drumming-up-support
Meanwhile there is increasing speculation about how long MAREK can continue given his chronic heart condition and indeed whether LEON BOFF is fit to take his place in the light of his own recent illness.
At Falconcrest the grandees have been struggling to deal with the Government's decision to end check-off in all departments – a move which could theoretically bankrupt the union if a nothing method of subs collection is not in place when it comes. The biggies favour trying to get the membership to sign up en masse to direct debits which sounds good in theory but just try putting it into practice. Many believe that it could take up to a year to sign up every existing member and the logical response is to stall for time.
Whether the truculent CAMERON Government can be persuaded to grant it is one matter. Whether branch officials, with their facility time already pared to the bone, can even attempt it is another. And that's not all. Now Falconcrest is planning to shove all negotiations and personal cases to over to the lay officers to enable the full-timers to concentrate solely on "campaigning". It's all in the "consultative" paper Deploying Staff in Support of Strategic Objectives which everyone in Falconcrest, including the back-up staff whose jobs are threatened, believe is already a done deal. See for yourself:
There are 2 files, links below:
In some ways the "deployment" mimics the way mighty UNITE operates. But as the PFL has pointed out in the past, UNITE, which is overwhelmingly a private sector union, comes from totally different traditions like those of the largely industrial AEU, TGWU and the ETU that are based on agreed facilities with the employers and understandings with the leadership of the Labour Party – which PCS has simply not got.
This hasn't stopped the grandees from launching yet another concerted drive to cosy up to UNITE. Though UNITE has yet to formally respond the new merger proposals are going to be tabled to the NEC in March for rubber-stamping. Though it will be too late for submission to national conference in May plans are already afoot for a one-day conference in the autumn to vote on the matter.
Last time round UNITE shied away when it saw the massive PCS liabilities it would have to take on in any take-over. We were told by LEON BOFF at Conference last year that most of the financial problems, due largely to the full-time officers pension scheme, had been overcome – which if it is true – would mean that PCS could carry on as an independent viable concern. We will be told that the takeover will strengthen the bargaining position of the civil service work-force but apart from guaranteeing the full-time officers gravy train there is little in it for the rank-and-file who would be subsumed as one more industrial sector in the UNITE colossus. The "commercial" i.e privatised companies whom PCS represents would be slotted in to existing sections of Unite and a new Civil Service industrial sector would be formed with a bi-annual weekend conference of about 80 delegates, alternating with the bi-annual Unite National conference. The new sector would probably qualify for 2 – 3 seats on the Union Executive Council. Small fish in a big sea.
It's not clear where our current GS and AGS would fit in. There isn't a vacancy in Unite for a GS – they re-elected McCluskey last year, and Hicks, the runner up is a Trot. It's highly unlikely that Mark would go in as joint GS, but conceivably Unite could create an AGS post for him, subject to a change in their rules, but this would piss Hicks off a treat. BOFF could be put in charge of the Civil Service industrial sector. Another possibility is that MAREK and LEON, neither of whom enjoys the best of health, could be offered a nice fat package to fuck off retire.
Meanwhile the vultures from UNISON are looking to see what they can pick up on the side. Earlier this year rumours spread that Government Minister FRANCIS MAUDE had agreed to grant national civil service negotiation rights to UNISON. Though these reports have not been confirmed everyone knows that UNISON, the other giant rival to UNITE, has its greedy eye on PCS or rather the grades our union represents.
UNISON, of course, already is recognised in the shared services sector and amongst senior NHS managers (where they organise in a joint venture with the high-caste FDA). But they've always had greater ambitions. Their organisers see the vast number of low caste non-members as potential recruits to a union can supply all the "services" PCS provides with the added bonus that its leadership is averse to any industrial action apart from bread-and-butter local disputes.
And finally farewell KATE LOSINSKA, the Moderati scourge of the REDS back in the good old days of CPSA, who passed away at the grand old age of 89 last October at her home in County Limerick in Ireland. Though her obituary appeared soon after in the Irish Times:
http://www.irishtimes.com/life-and-style/people/moderate-uk-trade-union-chief-who-scaled-heights-of-cpsa-1.1574807
the London broadsheets didn't get their tributes up until December and even then coyly omitted her Irish ancestry or her involvement in CATHOLIC ACTION.
Most people, in fact, will not take the trouble in finding out the truth, but are much more inclined to accept the first story they hear.
Thucydides
460 – 395 BC
---
BARRABAS is currently stressed out by allegations of poor webmastering despite heroic activity in "putting the band back together, man", getting it on a fast server and and the email contact sorted out. Basically the site had been parked on an ancient server since 1998 which died. BARRABAS' own backups were corrupt for a couple of years and he hadn't checked them. Check regularly that your backups are OK. OK? Lesson learned. The new template is also smartphone friendly (some older stuff cannot be migrated to smartphone friendly. I might get round to it. Or not). The site crash was unexpected, but even more alarming was that the backups were corrupt. Lost 2 years of stuff, but not the conference stuff. If anyone stashed the 2011 - 2013 inter- conference communiques, please contact us using the link on the left. Now fuck off and leave me alone to suck my wounds, or anything more interesting. I'll hand you over to my mate AMPHIBALAS for other news.
News that the UK economy grew by 1.9% in 2013 has given thousands of bedroom tax victims plenty of cause for celebration.
'I'd crack open a bottle of champagne if I could afford it,' said Lisa Williams (59) from Salford who is about to be evicted from her home of thirty-years because she can no longer afford the rent. 'It's even better news than the last inflation figures when I couldn't sleep for the excitement.'
And Albert Whitlock (58) from Blackpool said that although he's disabled and having to move house because he's deemed to have a bedroom too many, agreed.
'This is better than the Housing Start figures, which were pretty good,' he said. 'It's bloody great to know George Osborne's long-term economic plan is working.
'Now I can't wait for the bankers' bonus figures. That'll be the icing on the cake for me.'
---
Dull Rainy Weather Caused By Solar Panels Wearing Out The Sun
---
Shearer under investigation for prolonged use of 'inverse quenelle' celebration
Legendary ex-England footballer, turned-pundit, Alan Shearer, could face retrospective action if found guilty of a career's use of the so-called 'inverse-quenelle' salute as his celebration for scoring. It is alleged that Shearer's celebration 'strongly resembles' the inverted version of a salute now used by modern-day right-wing extremists.
Football's anti-racism charity, Kick It Out, has condemned Shearer's prolific promotion of a salute, deemed now-a-days as a sign of racial intolerance or fascism by many. 'Mr. Shearer has shown an irresponsible lack of foresight. He did not consider that his salute might one day be inverted, used by an anti-establishment comedian, and subsequently taken up by ignorant bigots, and his position as a role model for millions of young supporters around the world should be taken into consideration when punishing Mr. Shearer.'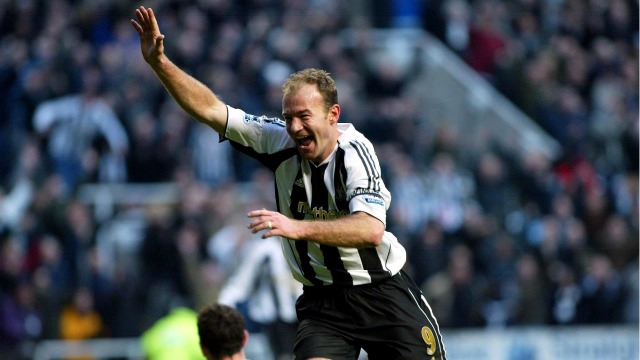 Fellow football pundit and analyst, Pat Nevin, has produced an analysis of Shearer's celebration to determine whether or not it could be considered offensive by the officials looking at Alan's case. 'If you look at the angle between Alan's neck and his raised forearm, it is obvious that this angle is much decreased relative to that now used as a symbol of intolerance. Put together with the beaming smile that accompanies the salute, it is clear the intent was not there, and so I feel the referee will decide that no further action need be taken.'
Gary Lineker has tweeted in his support of his fellow Match of the Day presenter. 'Unbelievable that Alan incriminated – was only showing support for his old friend Adolf.'
---
BBC's Desert Island Discs in illegal colonisation row
Radio 4 bosses have been summoned to the Foreign Office to answer questions following accusations of 'rampant' and 'illegal' colonisation of desert islands. Pacific island leaders have delivered a joint complaint to Foreign Secretary, William Hague in an attempt to halt the migration of potty professors, faded celebrities and unknown academics to hundreds of uninhabited islands in Micronesia and other areas of the Pacific.
Senator Kaiboke Kabua, representing Namu Atoll handed a long list of complaints to Mr Hague dating back to 1942 when the programme first came to the air waves.
Citing a series of incidents over the past few decades he drew attention to some of the problems which fishermen and other native island hoppers have encountered, including a face-off with a female comedian with a cockney accent who was dressed as an adolescent boy.
"When a fishing boat moored offshore a wild looking creature ran into the water waving a Bible and reciting lines from the Tempest and Henry IV Part 1. The unfortunate fisherman was then subjected to some deafening Western music called 'Get Ur Freak On' by someone called Missy Elliot. The chances of a good catch that day was ruined."
Senator Kabua revealed that his own grandfather had told of a similar incident with someone called Gracie Fields in 1961. "A smelly and unkempt old lady was paddling in the water and singing about something up her alley before she threw a gnarled copy of the Forsyte Saga at my grandfather's head. When he regained consciousness she was dancing along the beach to a Fantasia on Greensleeves by Ralph Vaughan Williams. He was mentally scarred for life".
On another occasion a boat full of bemused passengers in a glass bottom boat were greeted by a stranded forensic psychotherapist who screamed "Don't you know who I fucking am?" After hurling faeces and a compendium of poetry at the group she ripped off her clothes and did a series of naked cartwheels beneath the hull, scaring off a pod of dolphins.
Desert Island Disc's presenter, Kirsty Young said, "I'm just doing my job. The BBC has still got warehouses full of Bibles and luxury items so until I'm told to stop the show will go on."
In a further move islanders have recently set a 30 mile exclusion zone around one island in fear of contamination after the arrival of Russell Brand.
---