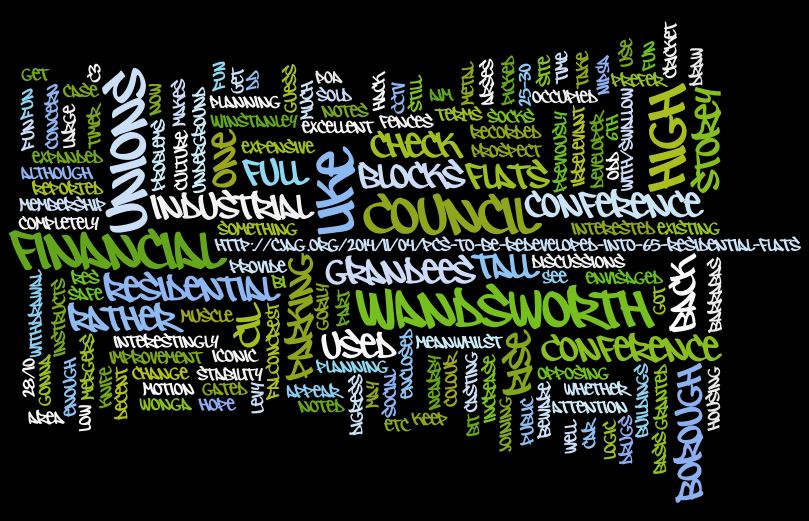 FALCONCREST UPDATE
by Barrabas - 6th November 2014
Planning permission granted on 28/10 for 62 flats. The planning application is 2014/5052, check it out. This is totally irrelevant. The relevant bit is change of use from B1 (office) to C3 residential, subject to CIL (Community Improvement Levy). CIL is large amounts of wonga paid by the developer to the LA, in this case Wandsworth. Now, we've previously noted that 40 odd parking spaces ain't gonna hack it for 62 flats. Cast your minds back to 2009 when it was envisaged that the space could be occupied by a 42 storey block with underground car parking. Wandsworth Council (bless its Conservative socks) is able to keep its Council Tax low by little schemes like this.
There are 4 high rise blocks nearby (22 stories), which used to be Council properties, but the blocks were sold off to private enterprise for £1 each as they contained asbestos. They are now des res and expensive to rent, they're enclosed by high metal fences - it is a gated area with excellent CCTV surveillance. It used to be part of the Winstanley estate, still notorious for gun, knife and drugs culture. Get through the gates and you're safe, I guess. Or if you're not, it will be gorily recorded from 6 directions in real time full colour.
I digress. LBW (London Borough of Wandsworth, although I prefer the cricket acronym) are currently not opposing residential developments in the 25-30 storey range. But they haven't got a decent "iconic" tall building in the Borough and would very much like to have one, the BPS development isn't tall enough and they'd rather not draw attention to existing high rise social housing. So, Falconcrest will disappear, and the above is what makes the site very valuable (in money terms).
Interestingly, a local (completely unconnected to us) group picked up on our last communique. See what they have to say http://cjag.org/2014/11/04/pcs-to-be-redeveloped-into-65-residential-flats/
During the meanwhilst, the grandees are casting around for smaller unions to merge with/swallow up, probably in the hope that one of them has HQ buildings that we can take over. This motion (or something very similar) may well appear at Conference in 2015. Beware of full timer grandees trying to protect their arses, rather than get out into workplaces and sell DD. And how they tried to sell your arses to UNITE last year. Haven't you got the message yet? - theyre STILL at it, STILL playing politics while your facility time drains away...
"This conference notes with concern the financial problems caused by the withdrawal of check off and the ongoing cuts to our membership. In this financial context, it believes we should be looking at mergers with other unions where there is industrial logic to do so.
The aim is to provide not just financial stability but, also, to increase our industrial and political muscle. Unions to be considered on this basis are FDA, Prospect, NIPSA and POA.
Conference instructs the NEC to explore whether these unions would be interested in joining an expanded public sector union and beginning discussions on issues like a rule book, reserved seats etc.
Progress or lack of it should be reported back to conference 2016."
FUN, FUn, Fun, fun.....
---