ROUND AND ABOUT
BY JUDAS ISCARIOT late April 2009
Spring is in the air and the leaves on the trees are showing. What a delight after the mud, cold and filth of the front-line trenches that now seem just a bad dream a long, long time ago. We're making the most of the lull, while the old sweats tell the rookies to stay alert and keep their powder dry and the faction bosses desperately try to whip up some enthusiasm for the forthcoming national elections.
It's been a dull campaign even by the dreary standards we've come to expect from the merged union. Though the Grandees take nothing for granted their "steady as she goes" complacency reflects the fact that neither 4TM nor the Independent Left are capable of mounting a serious challenge to their hegemony.
Most members barely read the boring election addresses beyond flicking through the pages to scoff at the ridiculous self-chosen images of candidates they may have had the misfortune to have met over the past year. Though I must confess I was tickled by the first sentence of CHARLIE McDONALD's effort. MOTORMOUTH describes himself as "Branch Secretary of East London branch, the biggest and best organised branch in London, that consistently delivers the best support for strikes in London". Not a shrinking violet, is he? Let's see if all his well organised members vote for him. They didn't last year. His national vote was less than his branch membership.
In the 4TM camp there's some high-caste concern at the direction of this year's campaign. But what did they expect when they left it in the capable hands of HOWARD FULLERSHIT and ROB BRYSON?
HOWIE has spent much of his time trying to win a non-existent "Jewish vote" with his largely imaginary campaign against anti-semitism and producing a hysterical press release headed " Militant trade union in Whitehall threatens economic recovery! " that certainly catches the eye, but not alas the attention of any copy-taster in the media.
| | |
| --- | --- |
| | |
| FULLER (4TM) | MORRISON (LU) |
| "NURSE, NURSE, FETCH | THE MEDICATION!" |
In the senior officer stakes BRYSON's gone straight for BOFF's throat, on the basis he hasn't got anything to lose. I counted nine instances of "BAUGH" in his address - all of them derogatory. CPSA-style mud-slinging is a tactic new to PCS and one that might just give BOFF a fright, as he's not exactly Mr Popular, or good looking, or young. BOFF had better pray that the LU machine holds together for him and delivers - it's only a two horse race...and one horse is prettier and younger than the other and could do the job equally as well. But then again, so could anyone else.
In the DGS stakes, it'll be a LANNING slaughter. He's a social man who has made sure to keep the machine greased. His statement is 'no time for change now, etc', while BOLONEY wastes a short paragraph having a dig at 4TM who aren't even contesting DGS: "4TheMembers are a discredited but rebranded group that does not deserve membership support". Well, that's reduced his vote! 4TM simply won't vote in the DGS elections. It was a completely unnecessary and stupid comment that will result in him receiving an embarrassingly tiny percentage of the overall vote. No wonder the photo of Lanning looks so smug - five more years' international gravy to spill on his bib.
The delectable SEVI YESIDALLI is standing for National Veep and NEC with a small bunch of cronies from Met Police who have cloned her statement. They're all recommending themselves and the two non-LU candidates for AGS & DGS - BRYSON and BOLONEY. Much as we like SEVI, none of the Plods will be elected. No sign of KEVIN KELLY this year, unless he's flatlining in the shadows.
As a general observation from the election statements, most candidates who have not previously served on the NEC do not understand the difference between their own Group national bodies (GEC) and the NEC - they expect the NEC to be a forum to which they can escalate their own Group frustrations. It isn't. Try the NDC (National Disputes Committee) for that: it's what they do.
Back at Chateau Falconcrest the hunt goes on to find those responsible for the "bogus PCS letters" sent to MPs, Job Centres and union offices in the name of the Sheffield and Croydon DWP branches. Though clearly timed for the elections, these bogus letters, or at least the examples sent round by KEITH WYLIE, are straight-forward attacks on proposals to privatise the jobcentres. It's either the work of a crank member, and Lord knows there's enough of them in our great and glorious union or it's an incredibly subtle piece of black propaganda designed to embarrass Independent Lefters' LEE ROCK (Sheffield DWP) and NICK DIAMANTIS (Croydon likewise). But that still doesn't add up because everyone knows there's no-one in GROVELMANTIS' branch literate enough to produce these letters and the colossally vain LEE ROCK doesn't send anything out unless his name is splashed large all over it.
Sadly STEVE COMER will miss his annual real ale tour with IAN ALBERT in Brighton this year. JANICE has despatched him to the Wales TUC conference in keg and lager Llandudno to head up the PCS delegation instead. The only consolation for the fat EDDIE IZZARD look-alike will be the mega THOMPSONS bash there run by the legendary MICK ANTHONY.
Meanwhile the MOD LU fiasco over GEC elections continues unabated as the National Lunity Steering Committee stick their noses into the trough. Apparently National LU are dismayed at the antics of the MOD Grandees and are desperately trying to salvage something from the wreckage. A leading member of National LU, who has been tasked with resolving the debacle, has stated that MOD LU are acting like a bunch of incompetent twats and has proclaimed that the controversy needs to be sorted ASAP or else!
If MOD LU get their way and the three naughty boys who are standing for the GEC against Lunity orders do not get elected it will cause them a major problem, especially if ANDY GILBERTSON fails to get re-elected. ANDY has an impeccable record and is widely regarded as one of the most efficient and hard working member of the MOD GEC. He is not one of those being investigated for alleged financial irregularities and is well respected by everyone except the MOD LU stooges who consider him to be too independently minded. Foolishly, MOD Lunity nepotism holds sway with the MOD Grandees happy to dispense with a GEC member who has a proven track record of delivering results for the membership.
When one door closes and another opens or so ALEXANDER GRAHAM BELL tells us and that's certainly true as far as KEITH WYLIE is concerned. The Leeds based DWP Group Secretary has taken early retirement to run a campsite near Rennes in Brittany, adding to the burgeoning exodus of retired full-timers who have gone to the Frogs. Apparently a discount will be available to all PCS members but be warned - WYLIE is going to cook the grub.
Another to take an early bath is TONY (TOADY) JARVIS, FTO in the Newcastle office who leaves at the end of April. JARVIS will retire to Gloucester where as a Londoner he can more easily support his team, MANCHESTER UNITED.
These departures are but an hors d'oeuvre as WYLIE COYOTE would now put it. The STRATEGIC MANAGEMENT REVIEW conducted by CHARLIE COCHRANE for Sir MARK VODKA has recommended a reduction in Senior National Officer posts from 19 to 11. Grown men and women have been seen trembling in the corridors of FALCONCREST at the prospect of having to not only do some work but also having to justify the 50K plus that they are trousering each year.
There is to be just one SNO for the whole of Scotland, Wales and Northern Ireland. Present incumbents EDDIE O'REILLY (Scottish Officer) and JEFF (who?) EVANS (Welsh Officer) are expected to fight it out to the death. Liverpool, Leeds and Newcastle will form a new "North" region which oddly will include Birmingham - which is north as far as COCHRANE is concerned. Talks are taking place with the GMB as we speak so expect more departures before the Christmas snows. The light at the end of the tunnel is probably French.
An nescis, mi fili, quantilla sapientia mundus regatur?
Do you know, my son, how little wisdom rules the world?
Giovanni Maria Ciocchi , Pope Julius III
1487- 1555
---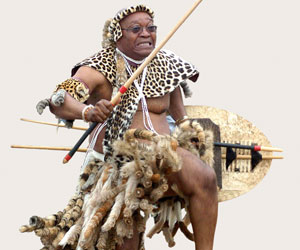 South Africa's new President Zuma takes part in the Zulu ceremony of being circumcised by a hundred feral cats on hearing of his victory. Western leaders are anticipated to follow his example.