ROUND AND ABOUT
by Judas Iscariot 03/08/00
August is the silly season and this one is no exception for while we've been sleeping on some sun-kissed beach the lights continue to burn at Falconcrest. In his gloomy bunker the Great Scot ponders the results of the membership ballot. 96 per cent voted YES for all three proposals in a 25 per cent turn-out. The Moderati can expect that most of those who voted "Yes" for a GS election will also vote for a candidate who is not BARRY REAMSBOTTOM if the time comes.
If it comes, that is, because the Mods are still pinning their hopes on BARRY'S legal moves. But this has failed to faze Me First, who insist that his injunction will be challenged, while telling all their cronies that whatever happens, he will be ousted - perhaps dismissed on a technicality which they can sustain with TROT support on the NEC.
McCANN has apparently already thrown in the towel, withdrawing his claim against REILLY, presumably because it has eventually dawned on him that he cannot win. Fortunately for us, the full-timers section of the GMB will pick up his tab.
CHURCHYARD, who was happy to do BARRY'S bidding in the past, has rapidly ingratiated himself with UNDY and DONELLAN, knowing which way his bread is buttered. And the Moderati machine, essentially run by BOYLE, CURRIE and SMITH, is bracing itself for its greatest challenge.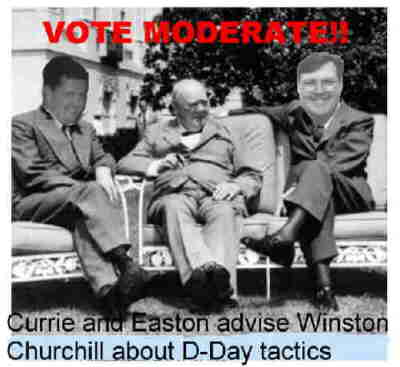 Messrs UNDY & DONELLAN have been busy stacking the cards against them courting RED votes to get the landslide they crave for LANNING. The "Unity" group, the sorry dregs of the RED machine which dominated the high-grade union for years under the old block-vote system, obediently endorsed LANNING at their less than secret convention on 8th July in London. Some are openly talking of merging with ME FIRST - to safeguard the army of their full-timers appointed in the "good old days". Others still hanker for some sort of deal with "Left Unity" - but only after BARRY is gone.
In the TROT camp opinions are divided. Left Unity holds its conference on 9th September and has called on its supporters to put themselves forward for the GS post. Their conference will then vote first on whether to stand at all, and if so, under whose name.
In the meantime some of them are lobbying for a change in the voting procedures to provide for a single transferable vote (STV) which would enable them to vote for their own chosen son/daughter(?) while casting their second preference for LANNING. Like all TROT good ideas these days, this one seems to have come from UNDY, who has always feared that a third candidate could rob LANNING of victory. While this would provoke howls of outrage from the Moderati, the rules remain silent, and the President, together with his NEC majority, should have no problems in pushing it through if the needs be.
______________________________________________________________
PARLIAMENTARY CYBERSPACE
by Barrabas also 03/08/00
Anyone remember KALI MOUNTFORD MP (look on our archive site - idle woman, harpy, ex-CPSA, useless appendage of IAN LEEDHAM, became Labour MP for Colne Valley, recently got suspended from the Commons for lying to Social Security Select Committe and then trying to cover it up)? No? Good. It seems that the Curse of the PFL is still dogging her steps, as Barrabas found when he opened his email. Take heed of the warning.
Date: 28 July 2000 09:00
Subject: Fw: Fw: Virus update - important - read & distribute
> > > >>>Subject: FW: Virus update - important - read & distribute
>>> >>> >>>PASS THIS ON TO ANYONE YOU HAVE AN E-MAIL ADDRESS FOR. >>> > > >>> > >If you receive an email titled "Lets watch TV" DO NOT OPEN IT.
It will erase everything on your hard drive. This information was announced yesterday morning from IBM; AOL states that "KALI" is a very dangerous virus, much worse than"Melissa," and that there Is NO remedy for it at this time. Some very sick individual has succeeded in using the reformat function from Norton Utilities causing it to completely erase all documents on the hard drive. It has been designed to work with Netscape Navigator and Microsoft Internet Explorer. It destroys Macintosh and IBM compatible computers. This is a new, very malicious virus And not many people know about it. Pass this warning along to EVERYONE in your address book and please share it with all your online friends ASAP so That this threat may be stopped. Please practice cautionary measures and tell anyone that may have access to your computer.
>>> >>>Julie Lawrence
>>>Political Liaison Assistant
>>>Labour Party
>>> >>>Tel: 020 7802 1385
>>>Fax: 020 7802 1111
>>>Pager: 01399 757155
>>>Website: http://www.labour.org.uk
Stop it please! No remedy for KALI? From the Labour Party? My ribs ache!