BARRABAS' GUIDE TO BRIGHTON 2002
| | | |
| --- | --- | --- |
| SYMPTOM | FAULT | ACTION TO BE TAKEN |
| Drinking fails to give satisfaction & taste. Shirt front is wet. | Mouth not open while drinking OR glass being applied to wrong part of face. | Buy another pint and practice in front of mirror. Continue with as many pints as necessary until drinking technique is perfect. |
| Drinking fails to give satisfaction & taste. Drink is unusually pale and clear. | Glass is empty. | Find someone who will buy you another pint. |
| Feet cold and wet. | Glass being held at incorrect angle. | Turn the glass the other way up so that the open end is toward the ceiling. |
| Feet warm and wet. | Incorrect bladder control. | Go and stand next to the nearest dog. After a while complain to the dog's owner about its lack of housetraining. Demand a pint as compensation. |
| Bar blurred. | You are looking through the bottom of an empty glass. | Find someone who will buy you a pint. |
| Bar swaying. | Air turbulence unusually high, may be due to darts match. | Insert broom handle down back of jacket. |
| Bar moving. | You are being carried out. | Find out if you're being taken to another pub. If not, complain loudly that you're being hijacked by the Salvation Army. |
| You notice that the wall opposite is covered in ceiling tiles and has fluoruescent strip lighting on it. | You have fallen over backwards. | If glass is full and no-one is standing on your drinking arm, stay put. |
| Everything has gone dim and you have a mouth full of broken teeth and dog-ends. | You have fallen over forwards. | As for falling over backwards. |
| Everything has gone dark. | Pub has closed. | Panic. Go to nightclub. (see guides below) |
| You wake up to find bed cold hard and wet. Somebody has stolen your bedroom ceiling. | You have spent the night in the gutter. Again. | Check your watch - if you still own one - to see if it's opening time yet. If not, treat yourself to a lie-in. |
---

Much of the Brighton gay scene is concentrated in the Kemptown area of Brighton, the focal point being St James's Street and the Old Steine. It's here you'll find most of the clubs, shops and bars mentioned in the guide, so many in fact that Kemptown has become known as 'Camptown'! and Brighton's Gay Village.

Where possible, we have tried to give an idea of the type of venue, atmosphere and clientele at each venue.

CLUBS

Pool
8 Marine Parade (next door to Kruze and The Escape) Tel: +44 (0) 1273 tbc Hours: 9.30pm 'til 2.00am. New fairly quite and small dance venue which hosts the hugely popular Coco Latte on Sundays and The Perfume Garden on the last Friday of each month (see Below).

Revenge

32-34 Old Steine t: +44 (0)1273 606064 Brighton's largest and most popular gay club and one of Europe's premier gay venues. The club is on two floors with a bar and dance floor on each. Revenge is 'THE' place to go at the weekend but is busy 7 nights a week.

Regular nights include 'Lollipop' on Fridays, an unashamedly trashy night hosted by three drag queens including Betty Blowjob & Pooh La May! The club has a mixed gay crowd and is popular with all ages but especially 18-35's.

Check out their website for more details.


Secrets
25 Steine Street t: +44 (0)1273 609672
This highly respected smaller and intimate club, has a very friendly older crowd, regular events and cabaret. Situated opposite the Aquarium Inn.

Schwarz
Under New Europe Hotel 31-32 Marine Parade t:+44 (0)1273) 624462
A dark and very cruisy men only bar. Dress code is Leather, rubber and uniform. Good prices and a pool table.

VAT's Bar
Star of Brunswick Brunswick Street West, Hove t: +44 (0)1273 771355
Nightly underground Gay club with regular events. Open until 1am. Monday to Saturday.

CLUB NIGHTS

Dynamite Boogaloo @ The Joint
37 West Street, Brighton. t: +44 (0)1273 321692
Get on down as Boogaloo Stu, Dynamite Sal and DJ Wanker spin a non-stop mix of partytastic popindieasydisco. Thrill as Boogaloo Stu takes to the stage for midnight cabaret madness featuring infamous gameshows such as Penny Up The Crack. Other guest appearances include the sensational curvaceous chanteuse Miss Dolly Rocket and the TV Times crew screening TV hits past and present on a massive sheet we refer to as a 'screen'.

Dolly Mixtures @ The Escape Club
10 Marine Parade t:+44 (0)1273 606906
Dolly Mixtures was born out of the idea to cut the taking yourself to seriously out and put the fun back in to clubbing. The twist being - all the DJs are girls (blokes can play only if they don a frock)

GayLand @ The Honeyclub
214 Kings Road Arches t: +44 (0)1273 202807
Paris, Ibiza, N.Y., Amsterdam, Miami and now Brighton! This new Wednesday night 70's and house night has only just started. Let's hope it's here to stay.

Freakshow Comedy Club @ The Marlborough Theatre
4 Princes St. Brighton t: +44 (0)1273 203149


Brighton's once monthly Lesbian and Gay Stand up comedy. The Freakshow first came to town a year ago and has gone on to become one of Englands most popular Queer comedy night.


Check the listings in What's On for dates.

Fresh @ Tavern Club Upstairs
at Royal Pavilion Tavern 7-8 Castle Square t: +44 (0)1273 827641
Friday night mixed night with 70's, 80's trash and all the most popular dance tunes.

Kinky @ the Honeyclub
214 Kings Road Arches t:+44 (0)1273 202807
Friday nights at the Honeyclub see a mixed house night from Wild Fruit and the benefits of Brighton's biggest independent nightclub.

Popstars @ The Ocean Rooms
1 Morley St. t: +44 (0)1273 699069.
Brighton's Indieboys & girls are out to play again... Popstars Brighton has become a favourite of trash-lovers everywhere.
Pussycat Club @ The Zap
189-192 Kings Road Arches t: +44 (0)1273 202407
Held every Friday with resident DJs Sexy Simon Jordan, Nippa Deep Downey & Neil Silk Roden. The music policy is Uplifting House, the door policy is make an effort, with most people choosing fancy dress or silky glam attire befitting this sparkling night.

Storm @ Concorde II
Madeira Drive, Brighton. t: +44 (0)1273 325440 once monthly on Sunday and BN1 Club 135 Kings Road, Brighton Tel: +44 (0)1273 323161 every Friday.
Popular techno night.

Sundazed @ The Honey Club
Brighton. t: +44 (0)1273
All walks of East Sussex life are here, whole groups of people who usually wouldn't set foot in the same night for love nor money, getting on famously. And all this without booze after ten thirty. The Honey Club happens to be the only club open until two on Sunday, so if you want to stay out and about, it's literally the only place to be.
Wild Fruit @ Paradox club
78 West Street t: +44 (0)1273 321628
On the first Monday of every month this club started in 1992 as a one of party night, and it's still a huge success today. It uses a different theme to mark each date and masses of attention goes into the flyers, production and decor. DJ Magazine calls it; "The South's biggest and brashest gay extravaganza."

Hot Lips proudly presented by Hear Me Roar
Hear Me Roar is run by a consortium of lesbians living in or around the Brighton area who's main principle is to provide organised events for lesbians and their friends.
Hot Lips is the first official event, opening up invitations to the wider lesbian public, and as an introduction to Hear Me Roar, Hot Lips is brought to you completely FREE.
The Perfume Garden - Back with a night @ Pool

8 Marine Parade, Brighton.
A last Friday of the month night at Pool.

The Perfume Garden - "Home of Hard Clubbing"

This site provides The Perfume Garden followers with up-to-date information on date's, dj's etc.

BARS

Brighton is not short of a bar or three. Some bars double as clubs, so for the purposes of this guide I have included all of them. Listed alphabetically

Amsterdam Bar
11-12 Marine Parade Tel: +44 (0)1273 688825 Fax: +44 (0)1273 688828
The Amsterdam is a Hotel / Bar and Sauna visit their website to find out more www.amsterdam.uk.com

Aquarium
6, Steine Street, Brighton. Tel: +44 (0)1273 605525
Traditional style pub with regular cabaret - mostly men

Bedford Tavern
30, Western Street, Hove. Tel: +44 (0) 1273 739465
Quiet gay-friendly mixed pub in Hove. http://www.bedfordtavern.com

Black Horse no longer a gay pub?
They have refurbished the place to try and attract a more 'upmarket crowd' and no longer a 'gay' pub but rather straight with gay-friendly attitude. The pool table has gone, the website has closed and the girlies have completely migrated to the Marlborough.
All I can say is that perhaps it is time to say goodbye to the Black horse era.

Bulldog Tavern
31, St James Street, Brighton. Tel: +44 (0)1273 684097
Although traditionally reputed as being popular with the older mostly male crowd, fast becoming a very popular pre club bar attracting all ages, with regular promotions and happy hour mon to fri, 3 'til 7 and sun 3 'til 10.30.

Candy Bar
33, St James Street, Brighton.Tel:+44(0)1273 622424.
A lesbian bar with a high energy vibe. Good fun.
Have a night at Pool once a month on a Friday.

Charles Street
Marine Parade (next door to Kruze) Tel: +44 (0) 1273 624091
Ultra smart Bar/Cafe with well planned areas to eat, relax, drink & chat. Attracts a young hip crowd. Outside terrace and great food.

Dr Brighton's
16, Kings Road, Brighton. Tel: +44 (0)1273 328765
A centrally located pub (across the road from the beach).

The Harlequin
43 Providence Place, Brighton. Tel: +44 (0)1273 620630
Cabaret and Karioke bar for drags, transexuals and anyone else... open every night.

Kruze Cafe Bar & Lizard Lounge
7 Marine Parade, Brighton. Tel: +44 (0) 1273 608133
Smart gay bar on the sea front on two levels. Excellent food & cocktails in modern surroundings.

Legends Bar
31-32 Marine Parade, Brighton. Tel: +44 (0)1273 624462
Attached to the New Europe Hotel, attracts both boyz and girls to the regular karaoke and cabaret. Also on Fridays and Saturdays home to the Schwartz bar downstairs (a leather and uniform bar).

Marlborough
4 Princes Street, Brighton. Tel: +44 (0)1273 570028
Pub with two bars, one a lounge type bar, the other more open and cruisier. Pub also puts on plays, comedy nights and other events in a small theatre upstairs. Mainly women! Especially on a friday.

Oriental
5, Montpelier Road, Brighton. Tel: +44 (0)1273 728808
Almost all thats left of the western end of the scene since the demise of the Beacon Royal Hotel. A popular pub that has regular cabaret and karaoke.

Pool Club
(above Charles Street)
Smallish but very smart club, frequent cabaret & special nights.

Queens Arms
7, George Street, Brighton. Tel: +44 (0)1273 696873
Traditional pub with regular cabaret & karaoke. This pub has recently become very popular with the girlz, especially on a Saturday night. Check out their new website. http://www.queensarmsbrighton.co.uk

Queensbury Arms
Queensbury Mews, Brighton (just off Regency Square) Tel: +44 (00 1273 328159
Known as the Hole in the Wall. Tiny very friendly two bar pub just off the seafront. Mainly frequented by older gay men.

Queens Head
10,Steine Street, Brighton. Tel: +44 (0)1273 602939
Recently tastefully refurbished bar, with a mixed range of hip and cool customers of all ages. Interesting DJ's.

Regency Tavern
32-34 Russel Square, Brighton. Tel: +44 (0)1273 325652
Quiet pub in the centre of town attracting a mainly older crowd. Worth a visit just to see the decor - indisputably the campest in town.
Great Sunday Lunches.

St James' Tavern
St James' Street, Brighton.
A recently refurbished local-type pub for boyz and girlz in the middle of St James' Street. This pub now has two bars, one quieter and out of the way downstairs. Also a small restaurant upstairs.

Scene 22
129 St James St. Brighton. Tel: + 44 (0) 1273 626682.
Shop and coffee bar

Schwarz Bar
(See Legends Bar)
A weekend leather / uniform bar with dress code.

The Sussex Yeoman
7 Guildford Road, Brighton. Tel: +44 (0) 1273 327985
Now a pre-club style bar with a largely young clientele and a strong gay presence at times. Good food and the beers are biased towards lager, bottled and draft.

White Horse Inn
Camelford Street, Brighton. Tel: +44 (0) 1273 603726.
A gay friendly pub with a pool table, which is especially good for relaxing and chatting with friends. Music is mixed taste. There is a 'Happy hour' between 3 and 7 on Sundays, and drinks promotions Monday to Thursday.

Winchester Club
St Georges Road. Hove. Tel: +44 (0) 1273 694096.
Has recently changed management who are keeping it a mixed gay-friendly bar.(Post any reviews to address at bottom).

Zanzibar
129 St. James Street, Brighton. Tel: +44 (0) 1273 622100

SHOPPING
Shopping in Brighton is great fun, you never know what you might pick up in and around town. As usual there is something for everyone.

Shopping in Brighton is split into four main areas:

The Lanes(aka South Lanes)
Full of very nice, but in the main fairly expensive shops. Main themes are antiques and clothes (generally the more formal type of designer labels).

The North Laines
This is more like it, lots of small value for money shops. Main themes are music, clothes (casual, second-hand & club culture influenced fashions), this is also the place for natural remedies and similar esoterica. This area is also very popular with students. In short the best way to describe it for anybody who knows London is a sort of Covent Garden/Neals Yard without the hype or the expense.

Western Rd/North Rd
The main shopping thoroughfares, this is where you will find most of the main chain stores - Next, Body Shop, Ann Summers (!!!), Virgin Megastore et al

Kemptown/St James'
This is of course the Gay Village, so whilst it might not have a great variety of shops it is still worth a quick sashay around Safeways'. This is also the place where most of the specialist gay shops listed below are found.

GAY SHOPS

Cardome
47a St James's Street
t: +44 (0)1273 692916
For an unusual selection of cards, as well as gay magazines, videos, posters, books and novelty items.

Fundamentally Female
fundamentally female - online shopping and lifestyle for lesbians.
http://www.f-f.org.uk

OUT! Brighton
4/7 Dorset Street
+44 (0)1273 623356
One of the widest selection of gay and lesbian books outside London. Also clothing, cards, toys, flags, posters and other merchandise. http://www.out-brighton.co.uk

Clone Zone
32 St James St.

The Pink Pamper
74 St James Street + 44 (0) 1273 608060
http://www.thepinkpamper.co.uk
Spanki
North Lanes

Scene 22
129 St James's Street
+44 (0)1273 626682
Freddys coffee-bar and shop for local gossip, information, and a wide range of merchandise.

Skintech Tattooing
It is a gay run business for lesbian and gay people, clean, safe and hygenic all other details can be found on http://www.skintech.co.uk

OTHER SHOPS


Angel
Fetish wear, a few mags and source of information/flyers, etc.
Sydney Street in the North Lanes.

Ann Summers
In the Town Centre (right near the Clocktower) has a range of fetish clothing, toys and novelty items at the rear of the shop. Aims at a mainly heterosexual crowd.

Darren Wallace
Artist-Custom Framing- Studio Arch 245, Kings Road Arches, Brighton. http://website.lineone.net/~dawallace/index.htm

Garb
Leather/latex/pvc/restraint gear) on Noakes Lane in the Laines.

Leather Workshop
Leather (surprisingly enough !!!) wear and restraint items 'off the peg' and made to order on Gloucester Road in the North Lanes.

Madison Travel Leather Madison Travel are a gay/lesbian travel agency situated just on the frontier from Brighton and Hove in Western Road. They are an all-gay-run and owned company and have been catering for the gay community in Brighton and Hove for the last 14 years. http://www.madisontravel.co.uk

Master U - online ordering
MASTER U makes the finest floggers and whips at an affordable prices. All the whips are handmade in London and based on a standard that has proven reliablility. We only work with traditionally tanned leather from mainland Europe and highest quality rubber from the UK. Also make a fun range called Demon Lashes. Check site details for fairs in and around Brighton.

SUNBED STUDIOS

Tanarama Sunbed
42 Preston St Brighton

Tube Station
84 St. James St, Brighton

SAUNAS

The Amsterdam
11-12 Marine Parade +44 (0)1273 688825
A reasonably priced local saunas with a large relaxation area.
Open until 6am some nights.

Brighton Oasis Sauna
75-76 Grand Parade +44 (0) 1273 689966
Brighton's largest sauna with plenty of facilities and fresh food served all day. Open until 6am some days with breakfast available.

Bright 'n' Beautiful
9 St Margarets Pl, Brighton. +44 (0)1273 328330
Gay sauna not far from Regency Square.

Denmark Sauna
86 Denmark Villas, Hove (close to Hove Station). +44 (0)1273 723733
Open daily noon-10pm

Unit 1
High Street, Rottingdean. +44 (0)1273 307253
Men only sauna 4 miles from Brighton town centre, not too far from Telscombe Beach. Open daily noon-10.30pm.

Bristol Gardens
Bristol Gardens, Kemptown.
A predominantly gay (discression required) sauna for naturists and as such is not exclusively for men. However, the staff & facilities are very good.
GAY BEACHES

West Beach
Basically between the piers, where the beautiful people tend to be. Gets very busy as it is the closest to the town centre. Very continental in atmosphere, with beachside bars and occasional live entertainment. Not the place to get an all over tan.

Official Nudist Beach
Gets very busy and VERY cruisy (well it is close to the infamous bushes on Duke's Mound). Fairly close to the gay village (15 mins walk) and also close to the Marina.

Unofficial Nudist Beaches
Telscombe Cliffs - details welcome?
Shoreham - mixed friendly, very popular with the more mature boys & girls.


HOTELS

Hudsons Guest House - +44 (0)1273 683642
22 Devonshire Place
Brighton BN2 1QA
info@hudsonshotel.com
http://www.hudsonshotel.com

The following hotels are also gay friendly. * Major Hotel
Adelaide Hotel + 44 (0) 1273 205286

Allendale Hotel + 44 (0) 1273 675436

Amblecliff Hotel + 44 (0) 1273 681161

Aquarium Guest House + 44 (0) 1273 605761

Ascott House Hotel + 44 (0) 1273 688085

Baggies Backpackers + 44 (0) 1273 733740

Beach Hotel + 44 (0) 1273 323776

Belgrave Hotel* + 44 (0) 1273 323221

Beynon House + 44 (0) 1273 681014

Blanch House + 44 (0) 1273 603504

Brighton Hotel* + 44 (0) 1273 820555

Brighton Marina House Hotel + 44 (0) 1273 605439

Brighton Pavilions + 44 (0) 1273 621750

Brighton Thistle Hotel* + 44 (0) 127 3206700

Cavalaire House + 44 (0) 1273 696899

Cecil House Hotel + 44 (0) 1273 325942

Churchill Guest House + 44 (0) 1273 700777

Court Craven Hotel +44 (0) 1273 607710

Courtlands Hotel + 44 (0) 1273 731055

Dudley Hotel* + 44 (0) 1273 736266

Dudley House (Gay Owners) + 44 (0) 1273 676794

Fyfield House + 44 (0) 1273 602770

Georjan Guest House + 44 (0) 1273 694951

The Grand* + 44 (0) 1273 321188

Granville Hotel + 44 (0) 1273 326302

Gullivers (Women especially welcome) + 44 (0) 1273 695415

Hilton Brighton Metropole* + 44 (0) 1273 775432

Hilton West Pier Hotel* + 44 (0) 1273 329744

Imperial Hotel + 44 (0) 1273 777320

Jarvis Norfolk* + 44 (0) 1273 738201

Jarvis Preston Park Hotel + 44 (0) 1273 507853

Kimberley Hotel + 44 (0) 1273 603504

Kings Hotel + 44 (0) 1273 820854

Kingsway Hotel + 44 (0) 1273 722068

The Lanes Hotel + 44 (0) 1273 674231

Langfords Hotel + 44 (0) 1273 738222

Leona House + 44 (0) 1273 327309

Marina West Hotel + 44 (0) 1273 323087

Melford Hall Hotel + 44 (0) 1273 681435

Miami Hotel + 44 (0) 1273 778701

New Europe Hotel +44 (0) 1273 624462

The New Madeira Hotel + 44 (0) 1273 698331

New Steine Hotel + 44 (0) 1273 681546

Nineteen Hotel + 44 (0) 1273 675529

The Oriental Hotel + 44 (0) 1273 205050

The Malvern Hotel + 44 (0) 1273 324302

Paskins Town House + 44 (0) 1273 601203

Pelirocco Hotel + 44 (0) 1273 327055

Penny Lanes Hotel + 44 (0) 1273 603197

Princes Marine Hotel* + 44 (0) 1273 207660

The Prince Regent Hotel + 44 (0) 1273 329962

Quality Hotel* + 44 (0) 1273 20033

Queens Hotel* + 44 (0) 1273 321222

Rowland House + 44 (0) 1273 603639

Sackville Hotel + 44 (0) 1273 736292

Strawberry Fields Hotel + 44 (0) 1273 681576

Topps Hotel + 44 (0) 1273 729334

West Beach Hotel + 44 (0) 1273 323161

The Whitehouse Hotel + 44 (0) 1273 626266

SERVICES

MIXED
Brighton Lesbian and Gay Switchboard - +44 (0)1273 204050
Confidential information and support line. Also run a low-cost counselling service with lesbian and gay counsellors and relaxed group for lesbian and gay teenagers. The telephones are operated every night 5pm-11pm
http://www.switchboard.org.uk/brighton

Brighton Body Positive - +44 (0)1273 693266
12a, Circus Street Self-help group for PWA and carers
Complimentary therapies/support/Sunday lunches

Open Door - +44 (0)1273 605706
35 Camelford Street Drop in for people affected by AIDS and HIV. Mon-Fri 10am - 4pm

Outlet Accommodation - +44 (0)20 7287 4244
The Accommodation Outlet, 32 Old Compton Street, Soho, London. W1D 4TP.
They specialise in housing for the gay community and cover Brighton and the rest of East Sussex. www.outlet4homes.com/southeast

Street Outreach Services - +44 (0)1273 625577
Globe House, 3, Morley Street They can also be contacted by email
This is a health authority funded outreach service offering HIV/AIDS information, support, and counselling to anyone. Free condoms, dental dams, lube, latex gloves etc.

The Sussex Beacon
A Continuing Care Centre for people with HIV/AIDS related illness
www.sussexbeacon.org.uk

Brighton Linkup
Started in May 1998 as an alternative group for people who do not like the general gay scene, Brighton Linkup is a Social Group for Gay men in and around the Brighton area. http://www3.mistral.co.uk/rileysmith/

Sussex Police - +44 (0)1273 665502 Mb. 07799 347114
Sandra Dempster, Liaison Officer to the Lesbian Gay Bisexual and Transgendered Community, Anti Victimisation Unit, Brighton and Hove Police.

Terrence Higgins Trust
The Terrence Higgins Trust has merged with four regional HIV and AIDS charities in England. http://www.tht.org.uk/

WOMEN

Kenric
1st thursday, Regency tavern, 8pm, Social group for all ages.

Women's Refuge - +44 (0)1273 622822
For women suffering from domestic violence
PO BOX 889, BN1 4DP

Pink Parenting Group
Support for lesbian mothers
Contact Emma: 01273 563198

Lesbian Drop-in - +44 (0)1273 234005 (Wendy)
12-4pm, Lesbian and Gay Community centre, fourth floor, community base, 114/7 Queens Road
A space for lesbians to talk to each other set up groups organise.

Brighton Womens Centre - +44 (0)1273 749567
Brighton Womens Centre is between properties at the moment but is still operating from the basement of the Brighthelm Centre on North Road (off Queens Rd) The opening times are: Mon, Wed, Thurs, Friday 10.30 -3.30
Offers support and advice for women whatever their sexual orientation. Provides free safer sex packs for lesbians. http://www.btnwomen.u-net.com/

Threshold - +44 (0)1273 626444
Women & Mental Health Initiative - Threshold is a voluntary organisation based in Brighton. They aim to identify the specific mental health needs of women and to facilitate a realistic response to these needs with services that include a community based drop in service, counseling and therapy, information and training.
http://www.users.globalnet.co.uk/~thrwomen

Survivors Network - +44 (0)1273 566 555
Women's help group for those abused as children.
PO BOX 188, Brighton, BN1 7JN
The phone lines are open: 7pm - 9.30pm

Lesbian Link - 44 (0)1273 234005
This is also the number for the Brighton Lesbian and Gay Community Centre which is the contact point for lesbian link. Lesbian Link is a social network of approx. 100 lesbians who get together on a regular basis.
There is a Lesbian Link newsletter for more info call 01273 234005

Brighton & Hove Disabled Dykes Club - +44 (0)1273 20 40 50
Group for disabled dykes, their partners, friends and supporters.

Brighton Rape Crisis - +44 (0)1273 203773
PO BOX 323, BN2 2TY
Helpline: Mondays and Wednesdays between 6pm and 9pm, Fridays 9.30am to 12.30pm

Disabled lesbians - GEMMA
Gemma is a self-help group of friends who understand the physical difficulties for disabled lesbians, who wish to contact local gay groups and events. Not a counselling of dating agency but through befriending and pen pals can assist contact with others.
GEMMA PO BOX 5700, London, WC1N 3XX

MEN

Sussex AIDS Centre & Helpline - 0500 552255
3 Cavendish Street Free condoms plus support and outreach services open Mon-Fri 10am-5pm & 8-10pm
This is the home of Gay Mens Health Matters (Wiseguys)

On The Level
Free support, help and information for people aged between 13 and 25.
http://www.brighton.co.uk/commune/on-the-level/welcome.htm

---

STRAIGHT BRIGHTON

This is as straight as it gets. Please note that Anna is available BEFORE Conference starts at 11.00am, which should certainly make for an interesting "workshop". Col. Islam of the PFL personally recommends a session with the electric nipple clamps.

MISTRESS ANNA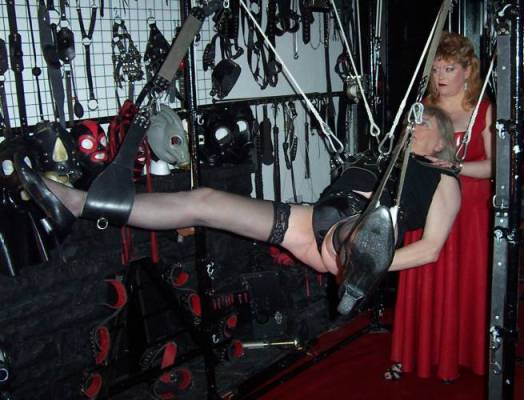 | | | |
| --- | --- | --- |
| | Total Control | |
I AM A LIFESTYLE DOMINATRIX and have been involved in the S/M scene for many years, initially as an amateur, then for the last five years as a Professional Dominatrix. I invite my guests to my discrete private house, located on the outskirts of Brighton, very easily accessible by road and public transport.

I OFFER UNHURRIED SESSIONS of safe, sane, sensual S/M in a fully equipped dungeon, mirrored on all four sides. My specialities, or passions are primarily bondage, whether oriental rope bondage, full rubber encapsulation, leather restriction. I do not offer verbal humiliation, it does nothing for me, nor do I allow oral or penetrative sex (no exchange of bodily fluids for very obvious reasons).
I AM HAPPY TO OFFER BONDAGE SESSIONS which do not involve any corporal punishment or correction as I know many people are either concerned about possible marks, or simply don't enjoy CP. I have never considered CP an essential part of the session, although I am happy to provide this service for those who enjoy it and I cane extremely accurately. In addition to canes of various types, I also have paddles, tawses, cat o' nine tails, rubber and leather thonged whips, Persuader and many other items.

I ALWAYS RESPECT my guests limits, although I hope to gradually extend them, a plea for Mercy is always granted. I enjoy introducing guests to new sensations of pain and pleasure. Erotic pain skillfully applied becomes intense pleasure.
GUESTS ARE WELCOME to bring with them details of their current experience, anything they have always wished to try, anything that is taboo to them. They are also invited to contact me after the session to critique the session, I enjoy the feedback. True domination is centred on the mind, and the more you open your entire mind to me, all your innermost feelings and fears, hopes and dreams, the more complete the domination.


WITHIN MY WELL EQUIPPED ROOM there is a steel bondage cube, a freestanding steel bondage frame (from which no one has ever escaped) a whipping stool, long bondage bench and various other items. For suspension there is an inversion table (you are held completely upside down, very securely by your ankles) a sit sling and we are currently playing with more ideas for suspension. The room is always changing, I get bored easily.

FOR LEATHER BONDAGE as well as the normal collars, cuffs, hoods of different intensities, there are short and full length bondage gloves, single arm binder and a full body leather strap harness and for total leather enclosure a fetters straight jacket and full length body bag.
FOR THOSE WHO ENJOY NIPPLE 'TORTURE' I have a dozen different type of nipple clamps and various weights to attach to them. For the very masochistic I also have two sets of electric nipple clamps.


| | |
| --- | --- |
| ONE OF MY MAIN PASSIONS is electrostimulation. In no way related to an electric shock. Battery only units are utilised. Rather than the sharp sudden pain of electric shock which is unsafe and in any case limited, these battery units with specialised attachments create sensations which begin very gradually, as a mild tingle, and build up to intense sensation. I have many different units including Falsom, PES, EMS, Slendertone and various units which have been made for me. I also own the new EROSTEK 312 and 312R, the new generation of electrics with audio and remote control. These are used in conjunction with cock rings (in perspex, rubber or copper), cock straps, testicle straps and anal probes (of various sizes). For the more masochistic or very experienced, I also have the Falsom C and B Torture Board and various electric catheters. No one has yet failed to ask for Mercy after an electric session, no matter what their tolerances. | |
I LOVE RUBBER BONDAGE and enjoy wearing rubber myself. My TV assistant Julie is an ardent rubberist and loves to be invited to join in on a rubber session. I have two full length total enclosure rubber sacks, two straight jackets (different styles) and lots of hoods and gas masks. Two of my favourite hoods are for total enclosure, one a double faced hood, the other with a full cape and just pinhole eyes and mouth. I also have rubber corsets, skirts, stockings, gloves and bondage mittens, some dresses.



View my rubber website at:
TVs ARE ESPECIALLY WELCOME. I can feminise you completely via wigs, thigh boots, shoes, corsets, lingerie, stockings and suspenders, make up, falsies, pvc and satin maids uniforms from sizes 10-22. I feel that 'forcing' a normally dominant male to cross dress emphasises their submission to my will, and makes the male instantly feel more submissive. It also makes them prettier!
THUMBNAILS


THE INITIAL SESSION lasts for a full hour in the dungeon, not just in the house. You are invited to arrive fifteen minutes early the first occasion so we can have a chat etc. I am happier to offer a longer session, particularly for rubberists, when I have met you once.
THE WAY TO MAKE AN APPOINTMENT IS TO TELEPHONE
07010 703783

ideally between 9.00 and 11.00 in the morning when I always answer the phone. During the rest of the day I answer personally if I am available, otherwise my TV housekeeper will be happy to give you more details or make an appointment for you. I am available Wednesday through to Saturday. Appointments can be made as far in advance as you wish but must be confirmed between 9-11 the day of your appointment.
You should always plan a least 24/48 hours in advance, I only see a couple of people a day, hence it is often difficult to obtain a same day appointment.

Email: anna@domination.uk.net
MISTRESS ANNA