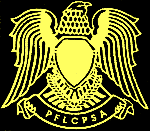 THE POPULAR FRONT FOR THE LIBERATION OF CPSA
FIGHTING ON IN OUR 45th YEAR BUT A BIT RETIRED NOW
FREEDOM! UNITY! SOCIALISM!
ONE CIVIL SERVICE UNION,
ONE GLORIOUS DESTINY!
REVOLUTION UNTIL VICTORY!
COLIN ANDERSON - 3rd July 1952-9th January 1999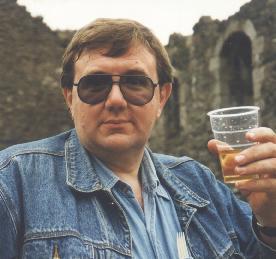 Colin Anderson, Civil Service Trade Union official
Vice Chair Action for Southern Africa (ACTSA), Scotland
Born: 3 July 1952
Died: 9 January 1999
Colin Anderson worked at the National Savings Bank in Cowglen, Glasgow for 30 years. For all of that time he was an active trade unionists holding virtually every branch and departmental position in three Civil Service Trade Unions. He was also a member of the Civil and Public Servants Association's (CPSA) National Conference Standing Orders Committee.
Colin was a leading negotiator in the Public & Commercial Services Union (PCS) in the National Savings Agency. He represented over 4,000 members in pay negotiations and was responsible for communication in a long running campaign against the privatisation of the biggest part of the Agency. That campaign was unfortunately lost and Colin and his members felt betrayed by the Labour Government's lack of support for a public sector future for National Savings.
After an accident 10 years ago, Colin had a leg amputated. He faced his disability with the same courage and positive approach which characterised his final illness. He worked hard in the trade union movement in many different fora to promote positive attitudes to disability to ensure the concern of people with disabilities were addressed as mainstream issues, and were not side-lined or marginalised. Colin was a member of the TUC's Disability Forum and represented the STUC on the Employment Services Agency's Disability Advisory Committee.
Colin loved talking with, and listening to, people and he used his considerable communication skills as a National Savings representative visiting schools to talk to pupils about life at work.
Colin's membership of the Communist Party of Great Britain from the mid 1970's helped him to express his internationalism. He strongly opposed the dissolution of the Party in 1991. He was a firm friend and supporter of the Soviet Union and the other socialist countries leading to his becoming Secretary of the Scotland - Vietnam Friendship Association.
Colin passionately believed in the struggle of people in South Africa to end apartheid. He made a significant contribution to the work of the Anti-Apartheid Movement (AAM) and its many campaigns - the boycott, for sanctions and the release of political prisoners. He helped organise the "Free Mandela at 70" Glasgow rally and the 1990 Sechaba International Festival and Conference.
When the AAM was succeeded by Action for Southern Africa (ACTSA), Colin became its Vice Chair in Scotland and threw himself into new solidarity activity - to build a South Africa free from racism and exploitation At Colin's funeral tributes were read from George Johannes, Counsellor of the South African High Commission; Denis Goldberg, (a fellow Rivonia trialist with Nelson Mandela) of Community Heart; and ACTSA.
Colin was a self-taught computer enthusiast. He used the knowledge he amassed very ably to assist in his union work and in his work for ACTSA where he put considerable time and effort into setting up a website.
Colin had a very wide range of interests. He loved music particularly opera, classical and jazz. He liked art and photography and he loved to cook.
A lot of Colin's life revolved around socialising with his many friends. There were the legendary Anderson barbecues, there were many Burns suppers. Colin and his wife Diane first met at a Burns Supper in 1978. They married a year later and their lives were enriched when their daughter Sophie was born in 1984.
Their home always had an open door and they extended hospitality to streams of weird and wonderful visitors from all over the world.
Colin lived a full and rich life. His death was untimely and tragically premature.
In October he was diagnosed as having a brain tumour. He underwent daily radiotherapy until Christmas. He was determined to fight and he behaved the way you'd like to think you would in those circumstances but feared so much you wouldn't.
Colin's strength, his warmth and generosity, his love of Diane and Sophie and his family were all underpinned by his respect for people, his love of humanity, his Marxism and his clear understanding of the world in which we live.
Chris Sandilands
Brian Filling
Footnote: Colin provided the PFL with many stories and was around since our early days. 5 years have passed, but we still miss him.