CONFERENCE 1992
WEEKEND

PFLCPSA NEWS
by Boutros Boutros Ghali

1992 Demands
1.) CPSA Annual Conference to be held in Bosnia
2.) Relocate CPSA Headquarters to Baghdad
3.) Keep the Albanian Gold
4.) Replace all forms of balloting by the popular will of the masses
5.) Replace Whitleyism with the armed struggle

We apologise for the lack of material during the year, due entirely to the incompetence of NICK BARNES who apparently says that he invested the funds with a Mr Maxwell and is currently being hotly pursued by irate senior PFL officers. This has left us with a not inconsiderable cash shortfall, so we need as much money as possible in order to produce your well-loved daily Communiqué. Number One comes out on Monday.

The initial de-briefing will be held at 1900hrs on Sunday and thereafter at lunchtime and close of Conference each day at the "FORTUNE OF WAR" - our usual seedy dive along the beach. Bring lots of cash and stories, or see your agent at the Conference centre by day.
**************************************************************
BARRY'S DOUBLE WHAMMY
by Judas Iscariot

Takings are up in Brighton as the MODERATES celebrate their double victory, trouncing the TROTS in the polls yet again and heralding a new dawn under the leadership of BARRY RAMSBLADDER. Although BAZZA's celebrations began the day he was nominated, he has spared the odd moment for planning the post- ELLIS regime: whilst reserving all the glory, bunce end status for himself, day-to-day negotiations will be handled by ALAN CHURCHARD.

Young GRAVEYARD for reasons so far know only to himself, cannot bear to leave London. So from time to time RAMSBUM will inflict himself on Branch and Regional hospitality. Not that there'll be much of that in the future: BLACKADDER has picked some old codger for NATIONAL TREASURER who has vowed to slash Branch rebates, which he regards as yet another Red Subsidy. While ensuring a free hand by picking a TREASURER who appears never to have belonged to a recognised Trade Union in his life, BAZ still has the problem of finding a stooge to replace himself as EDITOR of RED TAPE: in order to appear in the best possible light, he has to find someone even more incompetent and useless than himself. RALPH GROVES name is in the frame.

Back at FALCONCREST yet another witchhunt is on to pin the blame for the latest cock-up: unbelievably McCREADIEs name was wrongly spelt on the ballot papers. The Profligate McVICAR demanded that they be reprinted at en estimated cost to members of £70,000. STANSFIELD should watch her back. As a result, some members can confidently expect to receive their ballot papers two weeks after the result is declared, prompting the inevitable re-run.

On the subject of re-runs, in the DE SECTION ballot, two of the MODR8 candidate's names were omitted from the ballot paper. This was only discovered AFTER they had been distributed. A correct set of papers has now been issued but there will have to be a 100% check to ensure that only the re-printed papers are used. Section SCRUTINEERS heads are due to roll.

Poor IAN BROOK, a MODR8 member of the NEC for the last 5 years. This year the MODS dropped him from their slate. He only discovered this when their turgid leaflets dropped through his office letterbox
.
In CUSTOMS and EXCISE for the first time ever the BORED LEFT fielded a full slate of candidates. Unfortunately 13 of them failed to get their nominations in in time. TROT STEVE THOROGOOD, elected unopposed as VICE CHAIR is still insisting rather greedily on running for CHAIR.

It wasn`t a good election for KINNOCK - it was even worse for CLLR. MURDOCH, stamping ground CRAWLEY on behalf of the LABOUR challenger: DOUG, so unused to leafleting, forgot the golden rule of placing leaflet not fingers in the letterbox. On his first night out an enraged TORY dog nearly took his hand off. "DOCTOR" ARTHUR NEWELL, the CONSERVATIVE leader of the MODERATE YOUTH section fared much the same with a rabid TROT dog. The unfortunate K-9 has now recovered from its ordeal.
****************************************************
NOSTALGIA NEWS
by Rankin' Xerox

Who could possibly forget CPSA's own RAGGA outfit the "NEWCASTLE EIGHT" whose Chart-topper "CONFERENCE RAP" electrified our Thursday morning way back in 1990? Well, it seems that the band is no longer, but I hear that DORA PREVERT, their lead singer is attempting a solo career by kind permission of the NME (the NEWCASTLE MILITANT ENQUIRER) I an able to reprint an extract of the lyrics to her latest song provisionally titled "NEVER, NEVER!'.

"..... I am standing for election as Section Chairperson out of a genuine desire to work for CPSA members. I would never abuse the privileges of office..."

Nice one DOR. Right - On, Babe. Still doesn`t scan as well as the refrain from your offering "MAILHOUSE ROCK". How does it go again? Ah, yes; "Knit one, Purl one, Knit one, Knit one, Purl one, Marion don't be bad to me no mo'...
***********************************************************
EVE'S DROPPINGS

Putting the QE2 back on the rails." JOHN M&CREADIE at the NEC
Something in our pockets we can use as leverage." JOHN ELLIS at same
In the middle ages, when I was involved." DENNIS WHITE ditto
"Virgins don't bury their talents in the ground." TONY ROUSE (Who else?)
---
MONDAY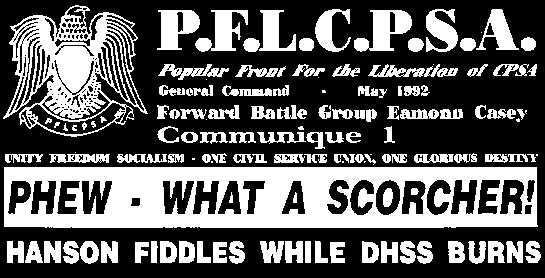 Temperatures have soared into the hundreds as the Moderate Group makes last minute maneuvers to block a new RED advance. The shocking news that the lovely DOREEN PURVIS had recaptured the DHSS Section Chair has been rapidly followed by reports that all is not well in the RAMSBLADDER camp. But already prompt measures have been taken to halt the extremist advance.

Gross irregularities have been uncovered in the conduct of the DHSS election with thousands of ballot forms left uncounted. Fortunately the problem has been passed on to the capable hands of JIM HANSON who is, as we speak, organising a late swing to the forces of moderation and sobriety and the mistakes are expected to be cleared up by Tuesday. DOREEN's near success is no doubt due to the fact that she no longer had to contend with the dapper Count KOWALSKI, DHSS Warsaw, who declined to stand again this year for `personal reasons'. To enable him to spend more time with his family and not as his bitter RED foes allege, to make himself eligible for the juicy Scottish Officer's job, which is up for grabs later in the year.

Mind you, further assistance must have been welcome from the likes of lifelong BORED LEFT supporter DAVE SHEPHERDSON (Chair - Washington ITSA) whose antipathy to anything with a keyboard means that he is obliged to sub-contract the production of branch circulars etc to neighbouring Chair of Newcastle ITSA -BOB TELFORD. The witless LEFTY produced the Washington Branch Recommendations for the recent elections and unconsciously printed his own Branch Recommendations on the back of the same sheet - in which confusing form they hit the members desks. Later the same election, SHEPHERDSON took it into his skull to drum up some democratic participation and went round urging members to come down and vote - Leaving the ballot box entirely unguarded for at least 15 minutes with a note to passers by advising them to `help themselves' to ballot forms. He then went round 3 days later collecting signatures off anyone he thought might have voted. Whilst his intentions were clearly honourable, one must speculate as to whether this lapse in security explains the 135 ballots cast - against a current card vote of 94!

Main business today will be the sordid business of Civil Service Pay. The MODR8S decided last night not to have the Emergency Motions ruled out of order after all; but look out for surprises throughout the morning. However, as the one otherwise unsupported puppet on Standing orders, SIR WOY D'LEWIS has been seen to bite the hand that feeds him and can now look forward to a change of career.
**********************************************************
ROUND AND ABOUT
by Judas Iscariot

MODR8 celebrations have been a little muted so far this week, with many members of the NEC keeping their hands firmly in their pockets in anticipation of heavy legal fees if the elections do not go the right way. But there has still been enough flowing - even at Brighton prices. Famed PFL officers mingled with the CPSA glitterati, drawn like magnets to anyone who'd buy them a drink.

Talking of has-beens, does anyone still remember STALWART MACLENNAN, the former TROT (isn't everyone these days), who made a name as a founder member of EX-LEFT 84 as the first of many steps on his grovelling journey up the greasy pole. His colleague and late drinking partner - MICHAEL DRUGGAN, - trod the same path, and has now been amply rewarded with the full-time HO sinecure he demanded as the price for delivering EL'84 into the laps of the MODR8 plutocracy. MACLENNAN, however, made a clean break, tying his star to the right wing of the Scottish Labour Party in fond anticipation of a KINNOCHIO Government and a Scottish Assembly. Alas for BIG TAM, his dream was not shared by the voters of TAYSIDE NORTH. He came bottom of the poll, with 3094 votes and was one of the few Labour candidates in the United Kingdom not only to lose his deposit but whose share of the vote actually went down. Undeterred by this debacle, only a few weeks later he suffered further humiliation, being roundly beaten by Poll Tax hero, TOMMY SHERIDAN who campaigned from his Prison Cell in the local Glasgow Elections.

CHAS CLUELESS spent the festive season bumping up his miserable wage by selling cuddly Teddy Bears at £5 each in his local pub, the BLACK BULL in Newcastle. Man of the people and leader of the Campaign to Defeat Militant Tendency (CDMT) had just produced them from his usual black bag, when two OAPs saw them and thought they would make marvellous presents for the wee bairns. When the enterprising CLEWES told them the price was a tenner each, the landlord felt obliged to intercede and was told to mind his own business in no uncertain terms. This provoked a predictable response and the hapless CLUELESS fled the hostelry in mortal terror. All is not well in the Newcastle puppet government. CHAS has had his facility time cut by 50% and now has to spend more than his usual 5 minutes avoiding departmental work. Envious eyes have been cast in the direction of FATTY COX whose £40 a day expenses and thriving mini-cab business keeps him well afloat. JOE LE TAXI works part time for TARTAN TAXIS of Blyth, but unlike ROBERT DE NIRO, he had to lose 5 stones to be able to get into the car.

Poor old ROY LEWIS (again) looks like wearing Oxfam suits for the rest of his life (look out for the tasty PFL sweepstake on when he will change his shirt). He assured his own Sub Branch mouthpiece -fresh faced STEVE SHARPE - that he could park anywhere he liked on a Sunday in Brighton. Foolishly trusting in his mentor's guidance, he parked his car right outside the Conference Centre where it was predictably pounced upon by the local Gendarmerie and towed off to the pound. This set STEVIE back to the tune of £95 which had to be met by a personal cheque from the mortified SIR WOY. Within minutes of gloating over the fate of the misled Sharpe, MIKE JACOBS fell victim to the same oppression and is now a further £95 in debt. Still, he's getting used to it now. The former anarchist leader of DTI who left to become Wales' Young Businessman of the Year 1990, went bankrupt last September and is down here this week at his creditors' expense.

PETER THOMASON is furious at the moves to elevate the obscure accountant KEITH MILLS to the post of National Treasurer. The old boy, who is 54¼ and only joined a Union (APEX) for the first time in his life last year, will of course be exempted from the usual retirement age of 55 if he actually wins the election. In which case the grasping THOMASON will insist on the rule being waived in his direction so that he can plod on to 65.
*************************************************************
NOOKS AND CRANNIES
by Amphibalus

While all eyes are on the titanic struggle between Chris Kirk and the old codger who is standing against her, a scandal of FALCONGATE proportions is waiting in the wings. It appears that the expenses files of Messrs. McCreadie and Thomason have been stolen from the National Treasurer's Office. While Thomason's records for the past two year's have gone missing, McCreadie's, covering the past eight years has also been taken. Information contained in the missing documents will earn the cadres responsible a special mention in despatches.

The Home Office Section Conference was the usual bore - none the better for a farewell tirade from John Ellis, who moaned about the Pay Debate fiasco and the presence of a whole posse of NUCPS officials lobbying for yet another pointless unity move. When he finished, over one and a half-hours later, he had to deal with fifteen hostile questions from the floor, including one from a passing NUCPS executive member who Ellis did not recognize.

LIZ JACKSON is this year's opening Wally of the week having spent an hour listening to the tedious ranting of the Land Registry debate on Pay before noticing that this was not her MET POLICE section conference.

DENNIS WHITE MBE is off to the Palace tomorrow to be invested and has promised to return with some juicy Royal gossip. Something along the lines of Charles and Di accidentally being booked on to the same flight perhaps...

The National Assembly social excelled itself in tedium and drunken behaviour. The disco, the usual turgid rubbish only compensated by the cheapness of the booze, at least a shilling cheaper than anywhere else. The tickets were only two quid, no doubt because none of the bogs were working at the West Beach Hotel.

Drunken PFL officers scouring the front for free drinks crept down to the dive bar at the Grand Hotel, on the strength of the rumour that the general secretary elect was in the chair. When confronted by an MoD goon who demanded £3.00 before letting them in, the resourceful Islam said they had important business with `Barry'. `Barry Who' was his first response, and when the great Scots full name was given, he then asked what Branch did he come from.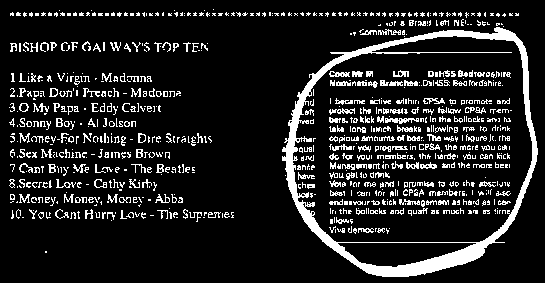 ************************************************************


THE ISLAMIC LEFT- PRAYERS NOT POLITICS

WHO WE ARE
For the last 1400 years, Islam has guided millions of people. 1400 years of solid progress and achievement.

WE CAN HELP
In the Islamic Left, we know that your first conference can be a little daunting. So in addition to the daily PFLCPSA communiqués, we have prepared some prayers to steer you through the minefield that is Conference. These prayers are not politically biased, just a genuine attempt to assist the true believers. If you need further guidance or support, please contact any of the Imams in the Bar.

BUSINESS FOR THE WEEK
Where your Branch has mandated you, you are obliged to follow the mandate; other than when a Higher Authority calls on you to carry out His bidding. We will always make it clear when this is the case.

TODAYS MOTIONS:
Motion 11 SUPPORT.
It is the duty of every believer to undertake a Hadj to Mecca once in his lifetime. Even 6 weeks is barely adequate for this task.

Motion 201 SUPPORT.
A first step to gaining similar reward for the many Muslims in Britain who also speak other languages and are expected to use them on official duties.

Motion 286 SUPPORT
All staff should work in a harassment free working environment. Separate offices for Men and Women would solve this problem once and for all.

Motion 289 OPPOSE.
Homeworking is ideal and natural for the Mother. It allows her to spend more time with the family to perform her wifely duties.
********************************************************
BOSNIAN JOKE OF THE DAY...

A Serb a Croat and a Bosnian were sitting in a bar in Sarajevo. The Serb said, "My son was born on St George's Day so we called him George. The Croat said "Oh really, well my son was born on St Francis' Day, so we named him Francis". "Well what a coincidence", said the Bosnian, "That's why I called my son Pancake."
********************************************************
PFLCPSA NEWS

Daily Debriefing in the Right Hand Bar at Lunchtime and Close of Conference each day. Cadres will be fined for late or non-attendance.

RAMSBLADDER (and other) T-shirts and Badges are available from Senior officers in the Bar. Large and voluntary donations are required. New delegates are restricted to one night's Subsistence.
From Palestine to Falconcrest, from Los Angeles to Peru
One Struggle, One Fight, Revolution until Victory
Hide me from the secret counsel of the wicked; from the insurrection of the workers of iniquity: who wet their tongues like a sword, and bend their bows to shoot their arrows; even bitter words; that they may shoot in secret at the perfect: suddenly do they shoot at him, and fear not.
PSALM 64 ii - iv Authorised Casey Vulgate
---
TUESDAY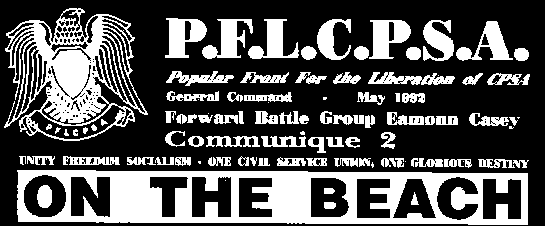 ROUND AND ABOUT
by Judas Iscariot

As the pay debate droned on to its pitiful conclusion the most popular sport in the bar was spotting the has-been. The vast NUCPS posse that ELLIS had warned us about turned out to be a pitiful Gang of Four of FRANK THE WANK PEMBERTON fresh from his victories at NUCPS conference, GILL TROMANS, RAY ALDERSON late of the Licensed Victuallers Association and some nonentity no-one could recognize or bother to speak to. KEVIN McHUGH missed the great debate, suffering from an overdose of BROWN LEMONADE from the previous night, courtesy of the SWEEPSTAKE MONEY.

Mistaken for DOREEN PURVIS boyfriend they had painted the town RED celebrating her new responsibilities which will end tonight when the adjusted election figures are released, courtesy of Mr Hanson, who returned to LONDON the same night to ensure that justice is done and to receive treatment for his RSI. DAVE ALLEN has got his "Jim fixed it for me" badge ready.

Tentative celebrations for the MOD victory have already begun. Barry will be General Secretary whatever way the vote goes. The MODERATES will lose ground to the REDS but retain 19 seats on the NEC, with 5 for the CHARLATANS and 2 for the TROTS. Our usual source has however temporarily dried up, as he is otherwise preoccupied. Normal service will be resumed as soon as he wins the election.

Last week Dishy DOREENS dog was assaulted by a pit bull terrier while she was walking it in the park. The vicious animal snapped at poor PADDY, sending the pooch into paroxysms of yapping terror. DOREEN fearlessly waded in on the brute with a series of well-aimed blows and then gave the dog the same treatment. Now the wretched owner is threatening to report her to the RSPCA for cruelty to animals.

Its doom and gloom as usual in the EL84 camp. Their pitiful vote is soon to be followed by a reign of terror when the new regime is up and running next week. Some are arguing that there should be a clean break with the past - which in REDSPEAK simply means changing their name. The best they can think of so far, is DEMOCRATIC LEFT, the new name of the Italian Communist Party, whose votes crashed in the Italian general elections last month. More seriously CAMPBELL and KIRK are lobbying for a common front with their hated TROT rivals as the only way to stand up to the wrath of RAMSBLADDER in the coming months.

Though the outcome of the national elections and the general secretaryship is a foregone conclusion, there is intense speculation about the National Treasurer Stakes. If MILLS wins, MURDOCH is threatening to join THOMASON in demanding a similar extension of their contracts. MUDROCK, mayor-elect of CRAWLEY, however has more chance of being struck by lightning than being shown any mercy from BARRY, who in any case needs to create some early space to reward his loyal henchmen.

CPSA's loss has once again been NUCPS gain. Messrs. LEEDEM and CONWAY have gone to happier climes. At their first Conference last week they made NUCPS history by being censured for shouting in the President's summing up who told them that' You're not in CPSA now - we don't do that sort of thing here'.

Sir WOY might yet live to fight another day after all. Although MARION and DRUGGAINT are still furious at his childish behaviour on Standing Orders Behaviour which wasted an entire morning of Conference time when we should have been debating the no-smoking rule. Prophecies of his final political extinction are sadly far too premature. Or as one leading Moderate put it in THE OLD SHIP last night' We still need a stooge on Standing Orders and Lewis is the best we've got'.

If you thought that the National Assembly Beano was bad you should have seen the DSS Social at the NON-EVENT. The beer was well over the Brighton tourist rate we've already had to suffer, the disco was the usual wrinkle-rock rubbish and the high spot of the evening was a harangue from MC BATTLEMUCH and a comedy turn from a third-rate LEFTY comic called JEREMY HARDY who brought his cheese along. Count KOWALSKI and HANSON were put on the door but they walked out half way through it after HARD-ON - giving his usual patter of sexist and homophobic jokes - wittily referred to the delightful MARION CHAMBERS as a SH*T. KOWALSKI later reported his car as stolen - serve him right the bastard - most people just get them towed away. Oh and HARDMAN got his fee (£500) in used fivers and Unity Trust cheques.

Senior PFL officers demonstrated their noted superior intelligence wit and bonhomie when they trounced all comers at the Quiz Night at the Madeira Hotel. DRUGGAN a petty cheat -who still owes us 10 quid by the way - was running his usual ringer, a professional quiz personality, who this time had no chance against the combined efforts of BRONCO and some of his acolytes. The team, under the banner of `The Eamon Casey Contraceptive Clinic for Unmarried Mothers' scooped up the negligible prize and all the glory. Needless to say it didn't even cover the price of round at the tourist rate.
***************************************************************
WHERE DO YOU STAND IN THE PFL PECKING ORDER?

Size of Donation Status
£-227.83 Nick Barnes
£0.00 Scum
£1-5 Punter
£6- 10 Customer
£1 1-20 Client
£21-50 Full Time Officer
£5 1-100 Barry Reamsbottom
**************************************************************
TOADYS HALL

Have you seen those fantastic Barry Reamsbottom T-shirts on sale in the conference hall? Barry was the first to buy one and I am sure they will become collectors items within the week. Haven't we had marvellous weather this week - is it just a co-incidence that Barry will become General Secretary For Life during the very same week? Did you see that the Conference Bars have cut all their beer prices by 40 pence yesterday? Who could have performed this humanitarian act? Someone far too modest to be named. On Sunday when the bars closed at 2.59 on the dot many simple delegates remained parched and weary. Barry simply asked for a barrel of water, and lo! Barry has dedicated his entire life to the service of the membership. He rises at 3.00 am and goes for his morning walk across the Channel. Then he goes down to Brighton Hospital to give the surgeons some assistance and is back in time for breakfast to deal with the usual twenty sackfuls of fan mail. A full five minutes is spent editing Red Tape and then he gets back to his magnum opus - the annotated work of correcting Einstein's Special Theory of Relativity. Simple crofters in Scotland speak of his almost saint-like character- many swear that miraculous events have followed his presence- the greatest of which so far has been his election this week.
************************************************************
LCD NEWS
by our own correspondent.

LESS MORGAN rounds off his career as a dipsomaniac parasite by appearing at Conference for the last time this year. He scraped through the London board last year and got promoted to HEO at the turn of the year once the 50% of mere mortals had been posted. He then found it impossible to get a posting despite applying for 53 posts in London HQ - an utterly futile gesture as they all know him. Eventually he recalled that he held something unsavoury over a senior manager in Cardiff and was promptly offered a newly created post as Secretary to the Area Criminal Justice Committee. Having enjoyed for 10 years, the luxury of private office, phone, secretarial support etc etc provided for him by the department in his role as activist, he now spends his days waiting for AAs to do some filing so that he can find somewhere to sit. Despite having lived this life of enforced leisure for the past three months, (he gave up all Union activities on promotion) he still managed to swindle his branch into sending him to Brighton on full expenses. Needless to say, the tight sheep-shagger has yet to pay for a round.

People's Bailiff -RED O'REGAN - has returned home in disgust. Alleged LCD activist RAY PARKIN failed to materialise at Section Conference in time to cast his promised block vote in favour of electing the lumbering wreck onto the LAST ORDERS committee which is - as a consequence - now dominated by the TROTS. OREGON cites the expense of buying MORGAN'S rounds as a further contributory factor in his decision to return to collecting his cut from the innocent bankrupts he is paid to intimidate. His parting shot to FRANK CAMPBELL was "Remember Glencoe you bastard". There is of course no truth in the report that he's just getting on a bit and can't take the pace any more.

That other lordly parasite ALBERT ASTBURY has abandoned the sinking ship in a fit of pique over the result of the merger vote. Unlike Lesser Morgan, however, he has no intention of earning his Grade 7 salary and has instead manipulated himself into the DTUS secretaryship.

Arthur Newell is 93 today. George Lobo isn't.
************************************************************
| | |
| --- | --- |
| BISHOP OF GALWAY'S TOP 10 FILMS | 10 FILMS THE BISHOP NEVER SAW |
| 1. Fatal Attraction | 1.The 10 Commandments |
| 2 Basic Instincts | 2.The Commitments |
| 3.Porky's | 3.The Italian Job |
| 4.Love Story | 4.The Last Temptation of Christ |
| 5.Easy Rider | 5.My Son, My Son |
| 6.Rosemary's Baby | 6.Angels with Dirty Faces |
| 7.The Colour of Money | 7.The Wedding |
| 8.The Pope Must Die | 8.Dangerous Liaisons |
| 9.Gone With The Wind | 9.Dumbo |
| 10. The Missionary | 10. Percy's Progress |
****************************************************************************
ERRATA

We credited IAN BROOK with having spotted the omission of his name from the MODR8 slate when receiving the literature through the post Wrong. Apparently he actually spent two days distributing the stuff before one of the punters pointed out his own non-appearance. We apologise for the implication that any potential MODR8 NEC candidate might have had an IQ.

The correct name of FATTY COX's moonlight employer is PHOENIX TAXI'S. Tartan is the opposition. (Why not advertise with the PFL - this spot - which is read by dozens - cost only £10)
***************************************************************
BOSNIAN JOKE OF THE DAY...

Boris got pissed on Slivovitz one night and crashed out on his bed only to be woken at 3 am by a shimmering white light tugging at his hair.

"I am your fairy Godfather and you can have 3 wishes" the spectral voice boomed.
"Fuck Off - you're a figment of my imagination"
"No, no, really I'm not" replied the phantasm "You can have 3 wishes"
"Alright then, I wanna be rich and I wanna be famous - now piss off and let me sleep"
"But you've still got one more wish"
"All right you bastard, I wanna be a Royal as well"

In the morning, Boris woke up looking like a Japanese sniper and pondered on the skinful he'd had the previous evening and the bizarre nature of the dream. He slowly took in his surroundings and realised that he was lying in the plush opulence of a railway sleeper compartment when there was a knock on the door. "Good morning Archduke Ferdinand, in 3 minutes time, we'll be arriving in Sarajevo."
****************************************************************
PFLCPSA NEWS

Daily Debriefing in the Right Hand Bar at Lunchtime and Close of Conference each day. Cadres will be fined for late or non-attendance.

RAMSBLADDER (and other) T-Shlrts and Badges are available from Senior officers in the Bar. Large and voluntary donations are required. New delegates are restricted to one night's Subsistence.
From Palestine to Falconcrest, from Los Angeles to Peru -
One Struggle, One Fight, Revolution until Victory
Behold. I cry out of wrong, but I am not heard: I cry aloud, but there is no judgement.
Job 19-7 Standard Casey
---
WEDNESDAY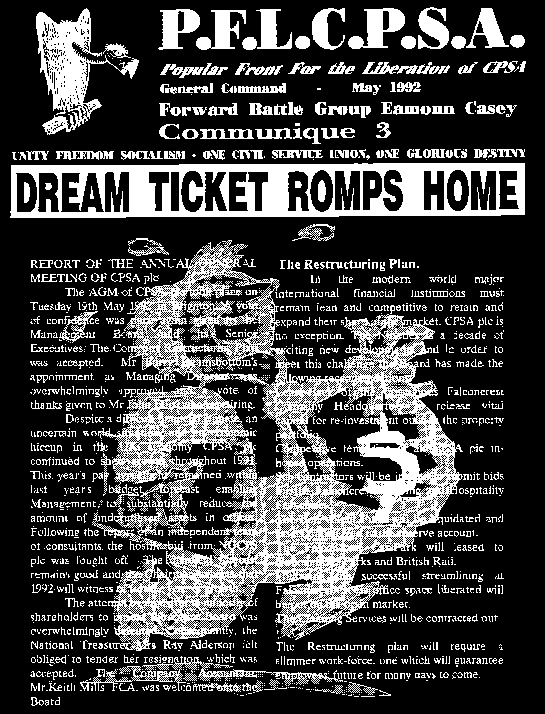 THE SECRET DIARY OF KEITH MILLS Aged 54¼

MONDAY
I got a phone call from Barry today telling me that I had a new boss and it was him. I was surprised because I had thought that my M.D. was a Yorkshire chappie whose name escapes me, and that Barry was only around my H.Q. to make the tea and read some magazine called Tapeworm. How times change.

TUESDAY
My new boss Barry rang and instructed me to go to a place called Brighton. Brighton wasn't in my A-Z so I had to look it up in my Telegraph Atlas. He met me at the station and said 'We're going for a drink, I have good news for you'. I had apparently been elected as General Treasurer of some sort of staff association. He said that it was a very important job, but of course I know that anything to do with fiscal matters is important. He must think I am silly.

WEDNESDAY
What a night it was last night. I went to a peculiar reception in a Hotel called the Old Ship, where there was no food and I didn't see a ship. Barry told me the drinks were free and that whenever I went to the bar to get him ' a large one' I should give the barman a particular room number. This morning at breakfast I was delighted to discover that the room number belonged to my old boss. The Yorkshire chappie. I said that I thought it was very nice of him to treat his loyal staff in this way, and quite in keeping with his generous nature. Barry and his friends all laughed. They had obviously read something funny in one of their papers. When they stopped, Barry agreed with me and said that it was' all on the exes', a reference no doubt to my ex-boss. Barry and his friends laughed long and loud. I must ask him for a copy of Tapeworm so that I can join in the merriment.
***********************************************************
EVE'S DROPPINGS

"He's a shit, he's a pest. He's a nuisance and he's the General Treasurer"
ELLIS on MILLS

"The only way to unite CPSA is to sack Stansfield"
DUGGAN

"Or Mills"
B. WILLIAMS

"Could have put a dog up against me as long as it was a Moderate, it would
have still won"
KIRK

"The next raffle ticket is Karen Leech"
ELLIS
"Oh that must be Rob's Brighton name!"
BOIL
*******************************************************************
ROUND AND ABOUT
by Judas Iscariot

We all drank ourselves silly back at the OLD SHIP to say goodbye to JOHN ELLIS and congratulate BLADDER on his sweeping victory. Everyone who was anyone was there including PFL commanders ISLAM and APOLLO, who appeared in person to congratulate all their friends on their triumph and meet WOTSISNAME, the new General Treasurer FCA. CPSA's paparazzo, PAT MANTLE, a dab hand with an instamatic was drunk together with his fellows from the Fourth Estate, good old CHRIS LEAKE from the MAIL ON SUNDAY, some NORTHERNER from the EVENING STANDARD and of course ROY JONES from the MORNING STAR. Copies of the latter can be obtained from the two harmless old codgers selling it outside the Conference Centre or from RACHEL BARROWCLAWS. Another Northerner who is good at tap-dancing.

A frisson of terror can be distinctly detected amongst full-time officials fearful of their futures under the new regime. It's looking grim for both KIRK and MACREADIE. Though they would normally expect to revert to Assistant Secretary. There are no vacancies for them to fill, and as neither of them have actual contracts, there is no obligation to keep them in employment. MACREADIE is pushing fifty and BARRY may be happy to simply put him out to graze providing that there is no further trouble. Despite this he has lined up an interview with ALLIED DUNBAR. CHRIS KIRK is thinking of buying a shop in the Yorkshire Dales. RAY on the other hand is thinking of buying an off-licence in Bournemouth.

SKIPPY STANSFIELD is waiting for the inevitable. It's nothing personal, she is simply useless. Which is good news for AMANDA FINKELSTEIN. MURDOCH and THOMASON will get the early retirement they have long deserved and all the others BARRY hates can expect a long sojourn in the HOME OFFICE or LAND REGISTRY. Except for LIZ EDGE who has upset SILVER PARASITE, and would be well advised to take up Welsh lessons. TERRY ADAMS hasn't got a prayer.

The TROT run HOME ORIFICE pulled off another coup recently. Though suitable TROTS were found to represent the oppressed minority sectors. One for race, one for women and so on -unfortunately they couldn't find a gay TROT. They refused point blank to nominate a Gay Tory member and settled eventually on a straight TROT who now finds himself with a lot of explaining to do.

Back at the Oak. DONNY McINTYRE, the TROT from DSS Lothian/Borders collapsed into bed with his Branch Observer after an overdose of brown lemonade. When he was told to fuck off or words to that effect the wretch began to whine 'Come on we're on the same side, you wouldn't make me pay £9 to get a cab home would you?' 'No' his comrade replied. ' You can walk'.

Veteran campaigner DENNIS WHITE received his MBE yesterday and was called in just before IAN WOOSNAM. On his return he had to troop into Conference to hear the final results of the DE Section elections which were being read out by ANN JARVIS EL84. When she read out his name, one of his fans called out 'MBE'. 'Fuck the MBE' was the ladylike reply.

COUNT KOWALSKI is growing somewhat tired of the attention being show by certain TROT enemies based on information gleaned from his last world tour. He has darkly promised to respond in kind to certain East Midlands TROTS unless the hate campaign abates forthwith.

And by the way, MICKY DUGGAN still owes us £10.

BILL CRONEY - whose sordid history includes arrest for pissing in a Public telephone box - is on a nice little earner as ITSA Agency TUS Secretary. Since September 91 he's been paying himself (he's conveniently also treasurer) NUCPS expenses (£165 per night) for away games. NUCPS hired someone who could read to analyse the accounts recently and have since refused to pay their TUS subs until he reimburses the excess claims in full. The greedy bastard has also abused his position to stitch up all the constituents (inc. his own) over the question of where to put the work of the new Child Support Agency. All concerned wanted it to go to any one of three computer centres threatened with closure. However, the two or three dozen members who vote for KRONENBURG are all based at Livingstone. So he wrote to ROBIN COOK and elicited his support by claiming that his was the official TUS position. Needless to say, his membership of the MODR8 Tendency ensured the support of ELLIS & the BLESSED MAID.

At the other factional piss-up, the EL'84 Karaoke binge. The 3 most popular ditties were "We can work it out", "A horse with no name" and "Always look on the bright Side of Life" all of which reflect a faintly pathetic optimism. ROB LEECH failed to turn up at either.
************************************************************
THE ISLAMIC LEFT - PRAYERS NOT POLITICS
TODAYS MOTIONS

Motion 472 - Support
And go back to the branches to campaign for its replacement by the Islamic Charter.
* Modest Dress Code based on Purdah in all offices
* Segregated Offices for Staff
* Separate entrances for Public, Men and women
* No Alcohol or Pork on any Government Premises

Motion 971 - Listen and Decide
On the one hand it may be seen as pandering to the Godless: but on the other, it could be a useful way of isolating the problem.

Motions 1020 upward - Oppose
Tinkering with the mechanisms of Conference will not confront the real issue. The only correct path is to press on for the abolition of Conference and its replacement by the popular will of the masses.
********************************************************
BOSNIAN JOKE OF THE DAY

A rich American drove to the Vatican to see the Pope, but when the service ended, the Pope walked straight past him stopping only to say a few words to a dirty Bosnian Tramp. In rage, the Yank goes up to a priest and says: "I give $100 a week to the church, but the Pope only spoke to that Beggar". "Well my son, that was the Pope's humility. And though you give money to the Church, everyone is equal in the eyes of the Lord" said the priest. The American dashed out to the Bosnian Beggar and stuffed a hundred bucks into the vagrant's sticky paws in exchange for his ragged clothing. The next day he was sitting in the aisle. Once again II Papa gave his blessing, spied the Bosnian Beggar lookalike and whispered in his ear: "I thought I told you to fuck off yesterday.
*****************************************************************
STOP PRESS: KEITH WHO? when interrogated on the question of what he would do if asked to make an acceptance speech has threatened to pee himself.
*****************************************************************
PFLCPSA NEWS

Daily Debriefing in the Right Hand Bar at Lunchtime and Close of Conference each day. Cadres will be fined for late or non-attendance.

RAMSBLADDER (and other T-shirts and Badges are available from Senior officers in the Bar. Large and voluntary donations are required. New delegates are restricted to one night's Subsistence.
From Palestine to Falconcrest, from Los Angeles to Peru -
One Struggle! One Fight! Revolution until Victory!
But all the silver, and gold, and vessels of brass and iron are consecrated unto the Lord: they shall come into the treasury of the Lord.
Joshua 6-19 Revised Casey
---
THURSDAY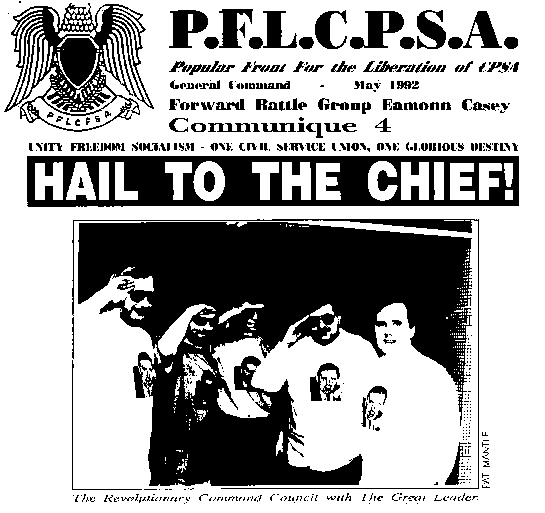 Given our headline for Thursday, keen Omen watchers should note that our PFL Eagle appears to be beheaded. Ed.

The first day of a new era has dawned in CPSA history with the first popular election of a man of the people, wit, raconteur, and all round good egg, BARRY REAMSBOTTOM. His generosity knows no bounds - merciful to his enemies - thoughtful and considerate. The cheery faces of conference delegates yesterday told the story. Grown men cried when they heard the news. The Red Terror has been defeated, a cracking good pay deal has been won single-handed. The only dark spot in all of this is that Red Tape will never be the same again.

VIEW FROM THE GUTTER
Despite his warm affection for the former has-been, CLIVE BUSH - late Editor of Red Tape, now appearing with The LIGHTHOUSE - BARRY was determined to demonstrate that there would be no favouritism under the new regime, and ejected the tired and emotional hack from the beer tent after an argument about which of them had the biggest WILLY. A warning that he would be next outside without any sun lotion quickly put ROY JONES back in his place, under the Press Table.
************************************************************
ROUND AND ABOUT
by Judas Iscariot

All the old faces have come back to Brighton to haunt us this week. CLIVE BUSH and JOHN ROBERTS, CHARLIE IDIOT as well as financial wizard JOHN RAYWOOD who had come to gloat over CHRIS KIRK's demise. Even PAT BYRNE, a name to conjure with, made a brief appearance to say hello to his MENDICANT chums. DRUGGAN was roaming round boasting about his drunken performance at Tuesday's victory ball when, desperate to ingratiate himself further with BAZZA, he told VERONICA BAYNE that she was a `stupid old bag' and called THOMASON a `clapped out old fart'. The whisper is that there will soon be a `special role' for MICKEY, and it's certainly cheered him up - he gave us £25 - but remember DRUGGAN, it's never enough.

BYRNE was walking along the front when he spied ROBIN UNWORTHY and asked him if he was still an AA. `Yes' the veteran replied, `It's all these blacks - they get preferential treatment where I live'. ROBIN lives in TUNBRIDGE WELLS.

The EL84 Rally `Putting members First' was cancelled last night at short notice when they realized that it clashed with the European Cup Final between Barcelona and Sampdoria. They had tried to move the time forward to 6.00, but when they found that the only available room clashed with the TROT LEFT Pay Rally, they decided to drop the whole thing altogether.

Mendicant supremo, TERRY ADAMS is one of the few full-time officials who has actually got a contract but he would be a very rash man to rely on it. His sickness record is already being carefully studied by the powers that be.

According to JOHN SHIP, MARTYN JENKINS has failed to return for the third consecutive night. He is presumed missing in action.

COLONEL ISLAM, presently playing the part of an unemployed, failed insurance salesman, is touting for a job. Any job - no matter how menial as long as it pays in negotiable currency. Our newly elected Leader is unable to dole out MBEs (yet) but imagine ISLAM'S delight, however, at the news that as a reward for his tireless campaigning on behalf of the new order, the contract for TAPEWORM has been offered to the Popular Front.

At least one person (other than Platform poseurs) here today Does Know who KEITH WHO?? is. SIAN(?) RUDDOCK, from DSS Birmingham lives out in the sticks and is obliged to use public transport to get to the Station before travelling wherever on Union Business. Thus last year, her conference expense claim quite reasonably included the necessary bus fares at both ends of the week. In what we can now see as a chilling foretaste of things to come, MR WHO?? - at that time mere head of Finance - not only refused to pay the fares but concluded the negotiations by telling her that people like her (i.e. non townies) shouldn't come to conference in the first place.

C&E Dover delicate LANCE VAUDEVILLE CRUISE has one burning ambition - to appear in the PFL. That's it brother, aim high, aim high. Make it worth our while and we'll even spell your name right.

The wrath of McCLENNAN knows no bounds. Poll tax hero TOMMY SHERIDAN owes his entire victory over BIG TAM, the official Labour candidate, to the support of three dingy working class slum estates, built in the sixties by the local council. McCLENNAN, now the driving force in the anti MENDICANT crusade in Tayside is now pushing for the conversion of one into a private housing estate after the hapless tenants have been evicted, and the demolition of the other two, for commercial redevelopment. Even as we speak, the bulldozers rumble in.

PAUL SMITH, the leader of the MODERATE YOUTH WING is wondering how they traced him. On arriving in Brighton he found a letter addressed to Mr P Smith waiting for him at the hotel. It turned out to be nothing less than a final demand for his Poll tax - and like most of us, he's only down for the week and hasn't been here for at least 6 years.
Winner of the son of RAMSBLADDER look-alike competition is WINDY MILLER.
***************************************************************

THE SECRET DIARY OF KEITH MILLS Aged 541/4

WEDNESDAY (Cont.)
What a funny place the Brighton Centre is. My old boss, the Yorkshire chappie, invited me to my first board meeting there. The facilities seemed adequate, but the meeting was held in an immense room, and instead of sitting around the table, we had to sit in front of it with searchlights shining in our face. The meeting also appeared to be open to the shareholders, who sat facing us, and who seemed to have come straight from the beach. I asked my new boss, Barry, if this was the usual practice and he laughed. What a card he is.

THURSDAY
There was some sort of party again last night. Goodness, but my new friends stay up late at night. One of them circulated my room number for a jape and Barry, the Yorkshire chappie, and a very large blonde woman laughed and laughed at the highjinks. The blonde lady said `Never mind, the subs will take care of it'. I had no idea that these people were important enough to be guarded by the Royal Navy but I joined in the laughter anyway. Barry says that he has lost his last copy of Tapeworm, but seems happy enough, so I said that starting tomorrow I would re-organise his filing system so that it wouldn't happen again. He began to look unwell. I put this down to too much sun and offered him the use of my calamine lotion.

At breakfast I was alone until joined by my old supervisor, Mrs Alderson, who had heard that I was making a start on Barry's filing system. She gave me eight years of files relating to a Mr Thomason, whom Iam told is our overseas ambassador, and two years of files relating to a Mr McCreadie. As she left I was sure that I could hear her giggling. I will read my specially ordered copy of Tapeworm over coffee to see if it is as funny as my new friends think. Then I will examine the files. Barry will be pleased. I hope today's board meeting will be less exciting. I don't think the shareholders like me much, yet.
************************************************************
EVE'S DROPPINGS

We all support Fascism and Racism here don't we.
McCreadie(STUC)
I cant go out much cos the Wife's down. I have to wait till she goes to sleep.
Steve Thurrogood
I must admit you've been very nice
Chris Baugh
Oh that'll change now
Maid Marion
Did you go to any do's last night?
Terry Adams
No I just went to the DSS Social.
McVicar
You've been hissed all week
Leech to Kowalski

THING HE NEVER SAID
Peter Piper picked a peck of pickled pepper T-ER-ry Adams
ERRATUM
DONNY McINTYRE. Not a TROT.

**************************************************************
THE ISLAMIC LEFT - PRAYERS NOT POLITICS
TODAYS MOTIONS

Motion 500 - Oppose
You don't know where it's been.

Motion 506 - Qualified Support
Prime candidates now include Bosnia, Beirut, Belize and Baghdad

Motion 511 - Oppose
Waste of members' money

Motion 519 - Support
The sooner we get rid of the Welsh the better

Motion 543 - Qualified Support
No member of the committee should exceed 5'2" in any direction

Motion 555 - Support

Motion 580 - Oppose
Such matters are best dealt with within the Family

Motion 609 - Support
See 519

Motion 640 - Support
Under our control Red Tape will, of course, feature all these improvements and many more.

Motion 661 - Coffee Time
Tinkering with Ballot Arrangements hardly deals with the real issues which must entail the replacement of all forms of balloting by Popular Will of the Masses. (Incidentally, since publishing yesterday's grossly inaccurate guidance on the abolition of Conference, I have been taken out and shot)

Motion 690 - Qualified Support
Full use must be made of the Imams, who stand ready to provide spiritual leadership

Motion 763 - Total Opposition
Typical motion from the Godless. Our attitude is anything but negative. Each of us has his place in the scheme of things and His Will can not be opposed.
**************************************************************
PFLCPSA NEWS

Daily Debriefing in the Right Hand Bar at Lunchtime and Close of Conference each day. Cadres will be fined for late or non-attendance.

RAMSBLADDER (and other) T-shirts and Badges are available from Senior officers in the Bar. Large and voluntary donations are required. New delegates are restricted to one night's Subsistence.
From Palestine to Falconcrest, from Los Angeles to Peru -
One Struggle, One Fight, Revolution until Victory

Dead flies cause the ointment of the apothecary to send forth a stinking savour: So doth a little folly that is in reputation for wisdom and honour.
Ecclesiastes 10- i King James McHugh Revisited
---
FRIDAY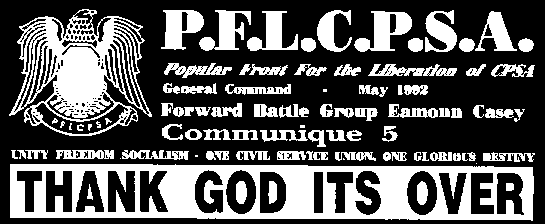 ROUND AND ABOUT
by Judas Iscariot

And so, with a tear in each eye, delegates said farewell to each other in the traditional way throughout most of last night. History was made at the SHIP with ELLIS making up for all those drinks he never bought before. Better late than never we suppose. Most notable absentees were MARION, detained on affairs of state and KEITH WHO?? who simply wasn't invited. ELLIS admitted that after 32 years, having no more Conferences was going to be a bit difficult to get wed to and has hinted that he would like to join the growing band of ex -CPSA members on the editorial board of the PFL. He'll be alright if he can learn the handshake.

LIZ EDGE has always lived dangerously. Despised by every general secretary in her long career, she is now skating on thin ice. Just before the election results were declared she spied BAZZA deep in conversation with a journalist but tugged at his cuff to say 'I can't imagine what's going to happen next year, the members will be crying for ELLIS to come back.' She came close to being kicked down the stairs then and there.

KEITH WHO?? FCA has been spending the day getting to know Conference. Roaming round the disused tearoom his eyes lingered over the crappy old CPSA ties which used to be given away at the Falconcrest bric-a-brac stall. Saying 'Now that I am an elected senior officer I ought to wear the corporate logo' an enterprising member took him for £4.

Many have been wondering why we have been graced wit the company of Mendicant has-been PAT BYRNE for the past few days. Now it seems he is touting for the SOCIALIST APPEAL group, led by former MENDICANT guru TED GRANT, who was booted out of the organisation together with a few dozen others some weeks ago. BYRNE was sacked nine years ago by the DHSS following allegations of fraud.

Was it more than a co-incidence that certain faces blanched on the top table after MARION announced that there would be a Lesbian and Gay OUTING yesterday? Though it merely referred to a day-trip they'd organised, resourceful DON STREET, who has been videoing conference all week, has close-ups of the reactions.

DUGGAN has been having a great time abusing all his old enemies confident of the protection of the new regime. It transpires that what he actually said to THOMASON and BAYNE is too obscene to be published in a family newspaper. In any case, THOMASON was so pissed that he couldn't remember the details. So he apologized to MICKEY the next day for his behaviour. Later the micro-brute confronted SKIPPY STANSFIELD to tell her that "it wasn't a joke - you are useless and you should start clearing your desk now". The poor girl ran up the stairs in tears. Incidentally, you may have noticed the remarkable change in THUGGAN since Monday. First the loving father with his child bride, but once he had packed them back off to London on Monday night he reverted to the Neanderthal drunken & loutish behaviour we have grown to know and love these past years.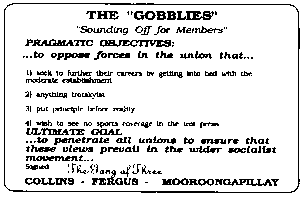 Smirk Filled Rooms
by Eamonn Casey

MURDOCH has been detailed to outline national pay policy to the comrades of MOD EAGLESCLIFF, some dump up North. But when he rang them he was told bluntly that his services were not required and that TOP TROT CHRIS BAUGH would handle it tank you very much. MURDOCH, not being one to go where he's not wanted, dutifully reported this to STANSFIELD, who is trying to look busy in her final days. SKIPPY was adamant that DOUGGIE had to go at all costs to stop BORE 'the man who said all those nasty things about me when I was on the National Committee last time'.

Bronco's losing his touch. On Wednesday night after behaving in his usual obnoxious way throughout the NEWCASTLE WEIGHT bash at the Madeira, he saw his chance for a free ride home when TOM and MARION MORAN ordered a taxi. Though they reluctantly agreed to share the cab with him, as soon as it reached their hotel, they leapt out and ran away, leaving the aging hippy to foot the entire bill himself. By the way if you're going home along the sea front road - try the petrol station by the Madeira- one of the pumps returns to zero if you click it after the first few gallons. Don't bother if you're walking.

The Madeira was also the seen of a sorry spectacle last night. The Yorkshire Soviet a band of assorted REDS had gathered in a dingy alcove at the back to drown their sorrows at another year of defeat. THOMASON gave a bitter address comparing the new administration to that of a corrupt personal dictatorship, and grown men walked around in Roy Lewis T Shirts, which most people wouldn't be seen dead with. The high spot of the entire event which closed shortly after midnight was of course the Popular Front raffle, which bagged more money for our colossal expenses.

The saga of the DSS elections: runs and runs. Now it seems that the results will be delayed for another two weeks, and while we have little doubt that once the adjusted figures are ready, DAVE ALLEN will be restored to his Chair. There is equally little doubt that there will have to be a re-run -probably in October.

Chances of a re-alignment of the LEFT are as slim as ever following the PAY RALLY this week. After a perfunctory debate on pay, they soon got down to the real business - next years election slate. It seems that most of them are looking for a 'unity' candidate with the stature of a LEN LEVER, the political maturity of KATE LOSINSKA and the wit of KEVIN RODDY. Step forward ALBERT ASTBURY, who foolishly believes that his Grade 7 money is alone sufficient to take on the MODERATE sausage machine.

KEITH WHO?? will start of his new career with a special training course for General Treasurers, given by that dynamic duo JOHN RAYWOOD and JANE McINTOSH. RAYWOOD , was arguably the most useless General Treasurer we have ever had, ably assisted by JANE, his Finance Officer. But his amazing talent has always been self-advancement. When he was eventually booted out by the late Mrs ALDERSON, he secured a juicy £68,000 golden handshake and a reference for the Unity Bank. Sadly their best efforts to get rid of him have failed but we have no doubt that KEITH will carefully scrutinise the modest fees that the pair will submit.

Councillor STEVE CARDOWNIE, now in NUCPS, fared better in the Edinburgh local elections than fellow haggis-breath BIG TAM did in Glasgow, and has been rewarded with the Chair of Arts and Recreation. Pity he doesn't know the meaning of either word.

STUART COLLINS is so disappointed that he hasn't featured in any of the weeks communiqués that he's paid £15 for a mention. However, we're not that easily bought so it'll cost you another fiver you crawling lickspittle. PAULINE CRYER, on the other hand, hasn't paid a penny, so forget it.
**************************************************************
THE SECRET DIARY OF KEITH MILLS Aged 54¼

FRIDAY
I have now read Tapeworm and cannot find whatever my new friends find so hilarious. However it appears to be about some staff association so it may be of use to me in my new job. Perhaps our staff association might benefit from a similar publication. I will mention this to Barry sometime.

I looked at the files on Mr Thomason and Mr Macreadie and discovered that although they cover a considerable period of time Mr Thomason appears only to have spent 2/6 on shoe laces and Mr Macreadie 6d on postage: they are generally in order. I did notice however that many pages appear to have been torn out. I expect that somebody spilt tea on them.

My new boss Barry came in and said 'Good Morning Mills, here is your new outfit'. I was happy to hear of his concern for our corporate image , but non-plussed to discover that it consisted of a garishly coloured T shirt that had a picture on it which looked a bit like him, and a very wide tie with a logo spelling CSCA on it but reasonably priced at £30 for the ensemble. I asked what the logo meant and he muttered something about a 'bloody union'.
I told Barry that he should be very wary of unions, as they were always going on strike and damaging the economy. As he gave me a very strange look I changed the subject to the files. He put on a serious voice (I am getting to know him better) and told me that a special finance subcommittee would look into the matter at 11.00 this evening. I mentioned that this sounded indeed a late hour for such a meeting but Barry just gave me another of his looks.

I could not find the meeting at the appointed hour so I knocked on Barry's door. lt was opened by a worried looking man whom I recognized as Mr Hanson. The others present were a short stocky man with glasses and a cockney accent a menacing looking obese Scotsman which I think may be called Mr Boil, and the large blonde lady - Miss Marion. I noticed there was no seat at the table for me and Barry said' I do not think we have need of your services at the present, Mills'. 'But Sir,' I began to remonstrate, but Mr Boil was already rudely shutting the door in my face I hope that I haven't done anything wrong. I must ask to be informed if they intend to cancel a meeting at short notice.
******************************************************************
THE ISLAMIC LEFT - PRAYERS NOT POLITICS

TODAYS MOTIONS
Whatever it is, we're against it. Oppose everything and go home.
******************************************************************
EVE'S DROPPINGS

"Let me take a picture of you in case you get a job" Pat Mantle
"Do you mean in case I keep my job?" Jim Hanson

"All we did with the Newcastle Eight was a bit of negative recruitment" Hanson

"I'm in danger of getting a motion through today. I'd better be careful, I have a reputation to uphold" Tony Rouse

"If we come back next year can you change your menu from beef to lamb? I like lamb - preferably bleating" Bernie Williams

"Kevin Who??" (referring to the new Gen. Treasurer) Kowalski
****************************************************************

HI HO SILVER LINING

You're everywhere and nowhere Barry
That's where you're at
Rampaging round Clapham Junction
Like a demented bat.
On the drive to Brighton
You killed a cat
You thought that was groovy
But now the thing is flat.
13,000 voted for you, Barry
But don't include me
Everything you want is yours now
Just sit on Marion's knee
But we will get you someday
Just wait and see....

So its Hi Ho Silver Lining
Everywhere we go - now Barry
Outside the sun is shining
But we won't make a fuss
Cos we're in Conference
DOSH...
Donations to meet the final bills and (with the aid of a miracle) to fund the occasional inter-conference edition or two would be more than welcome. Don't forget you need us as much as we need you if you're to survive a week of this tedium.

BRIGHTON SUCKS
With its courtesy car parking service. (Leave it wherever you want you'll always know where to find it - but 95 quid - Jeez.) And its service with a sneer. And its grasping overpriced printers who forced us to go out of town (thank-you ProntaPrint Hove). And the only pier in Britain that you have to swim to...
Nevertheless..

We're back her next year, so we'll see you then. Bi Bi Conference. And so long to JOHN ELLIS, CHRIS KIRX, PETER THOMASON, VAL STANSFIELD, JOHN MACREADIE et al. We hope you find what you're looking for.

Eternal Thanks to COLONEL ISLAM, AGENTS APOLLO, BRONK, MERCURY, SIR WOY, not forgetting managing Editor BARRY REAMSBOTTOM. Thanks to you for paying such close attention to our daily guidance and making Conference the success it was. Once again I've had no sleep this week but I'm getting used to it now. See you same time, same place next year. Goodnight.
I will return and I will be millions - Eva Peron