CONFERENCE 1993
WEEKEND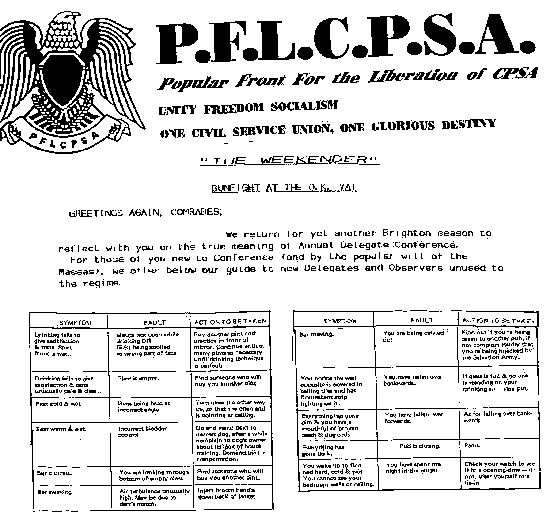 NEWS FROM THE SMOKE FILLED ROOMS
by Barrabas

Following discussions at the April NEC during which concerns were voiced that the National Youf Committee had lost its appeal to the membership; the always-helpful BL84/Piss'ead caucus has suggested a new format for Youf Committeemeetings, Agenda as follows:

1. CHAIRS OPENING JOKE

2. DESIGNER DRUGS TESTING SESSION (COMPULSORY)

3. RAVE

4. GENERAL PARANOIA DURING COMEDOWN (OPTIONAL) OR CRATE OF GROLSCH BEER

5. MINUTES OF RAM-RAIDING STEERING COMMITTEE

6. CORPORATE SALES (SEE ITEM 5.)

7. RAP FROM MC DOUGGIE MUDROCKER

8. A.O.B

9. START AGAIN FROM ITEM 2.
*************************************************************
ELECTION ADDRESS AWARDS

The Mrs Brady "I'lI Never Forget Whatsisname" Award to LARRY O'CALLAGHAN for supporting Albert ASHBURY for President...

The Captain Bligh "My Crew Is solidly Behind Me" Award to ANN JARVIS for getting only 5 BL84 Candidates to support the "Left Unity" slate...

The David Owen "Majority Of One" Award for preaching consensus whilst fomenting division to STEVE BATTLEMUCH for demanding Left unity and backing SERWOTKA...

The Ronald Reagan "Trust Me I Know What I'm Talking About" Award to SYLVIA PARRY—POOL (MoD SEC Chair) for demanding that contractors abide by the "CHUPIE" Regulations...

The Battersea Dogs Home "Don't Worry, He Won't Bite" Rabid Lapdog golden muzzle to COLIN DEVONPORT for abolishing elections and making Marion President for Life...
******************************************************
ON THE LEVEL

"Owen, ring my wife and ask what my collar size is. I think its somewhere around fat bastard size" Quote from JOE COX
*****************************************************
JOIN THE STRUGGLE AGAINST REALITY NOW!

We all attend Conference, but, in order to fulfil our task, we crave your indulgence: We need your anecdotes, cash (to defray printing costs), your quotes (preferably not from Conference itself — we are a people rag) CASH donations; Purchases of our UNIQUE T- SHIRTS, BADGES etc.

SUBSCRIPTIONS from £6 per year are additionally available.WHERE ? WHEN ?
Just find our Agents in the Main Bar at the Centre. This is easy. Debriefings will be held daily immediately following Close of Conference in the Main Bar, the initial one being on Sunday. The first daily bulletin will be on Monday.
POWER TO THE PEOPLE!
COLONEL ISLAM
---
MONDAY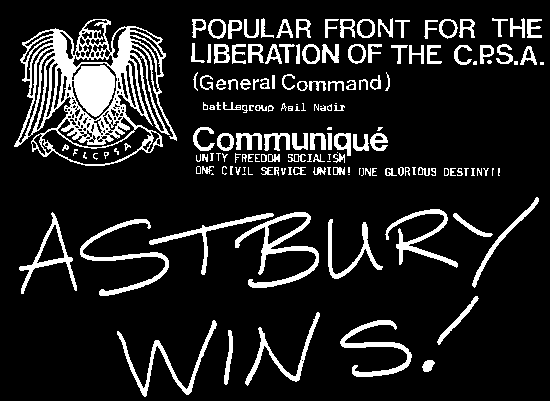 SERTUC SEAT IN 1993
Bubbly was being cracked open all over Brighton last night as the Moderates celebrated yet another sweeping victory over the Reds in the elections. At the Moderati Rally in the Ship Hotel their jolly faces contrasted with the gloomy looks elsewhere of the assorted Reds, who face another year of defeat and dissent. Albert Astbury, has virtually already conceded defeat, arguing that his vote, yet to be declared, has 'staked the ground' for a serious challenge next year. But will there be any viable block capable of campaigning for him then?

BL 84, still looking for a new name, is bitterly divided over their direction —let alone his candidature. Leech and McCabe have been drummed out for their pitiful attempt to ingratiate themselves with Reamsbottom by trying to further undercut Jarvis' vote. The Mendicant Broad Left is no better and though the Socialist Wanker will claim victory whatever the vote is, they will find few takers.

Barry's Charlatan Group has now revealed its true colours, as the Anti—Mendicant Alliance, a Moderate front whose only two principles are to get elected and stay elected and the courageous Caledonian can look with satisfaction at the confounding of his enemies and the total dependency of his supporters.

Inside the Moderate camp the anti—Watson faction have been predicting an upset for the man they loathe but he has little to fear. If he did lose the vice—presidency there would have to be an entire re—run of all the elections. A cost, which is far too prohibitive and so, we should have little doubt that common sense will be seen to have prevailed when the declaration is made.

But it's business as usual in DSS. Allen is widely tipped to have been sunk this time. And this time the ballot forms have 'gone missing'. No doubt the trusty Jim Hanson will be roped in to organise yet another re—run.
*******************************************************
ROUND & ABOUT
by Judas Iscariot

And so, another action packed week in sunny Brighton. All the familiar faces are here, propping up the bars and telling lies. Thankfully, we've been spared RICHARD HALFPENNY, who is suffering from 'concussion'. The drunken bum tottered off the rostrum at a meeting up North, and is still under medication. MIKE JACOBS the bankrupt ex-DTI whizz-kid and PFL parasite is coming a day late as he has to make an appearance in COURT on Monday. And the majority of full—timers will be spared the presence of tiresome brats thanks to another of BARRY'S helpful decrees. The General—Secretary for Life pointed out that it was a disgrace having the paid official off-spring running around causing mayhem while decent folk were eating, and as part of his contribution to the SAVE THE CHILDREN campaign has ordered separate dining arrangements for the little bastards.

Another person who will not be seen at conference, at least if he knows what's good for him is JEREMY BAUGH, the little—known Falconcrest APEX Branch Secretary. BARRY has told the wretched man, who is the office boy in the RESEARCH DEPARTMENT that if he even shows his face in Brighton he'll be sacked. BAUGH, whose sturdy defence of the full—timers pay and conditions has incurred the wrath of the mighty SCOT is still even now trying to get his mealy—mouthed APEX Branch to nominate him as an official APEX observer.

Hopefully, the boring YOUTH COMMITTEE will be wound up by the incoming NEC. None of the committee bothered to turn up for any of its sessions last year, leaving its work to that august trio of DOUG MURDOCH, VERONICA BAYNE & WILLIE WATSON, all of whom will be drawing their pensions in five years time.

Do you remember JOHN ELLIS? Our former leader, you may recall landed himself a useful sinecure as head of CCSU to tide him over his declining years. Alas, that has proved too meagre a reward for the blunt Yorkshireman, who has applied to sit on an INDUSTRIAL TRIBUNAL for two days a month. This provoked sour remarks when it was raised on the Executive. Lesser people questioned how much the man wants, but he does after all have two-time—shares to run and a custom—car business to maintain.

ALBERT ASTBURY, one of the defeated Presidential candidates showed that he was keeping his finger on the pulse when he complained that he had not received the agenda for the LCD pre—Conference SEC meeting. A colleague had to patiently explain to him that he had not been mailed them as he was no longer a member of the said body.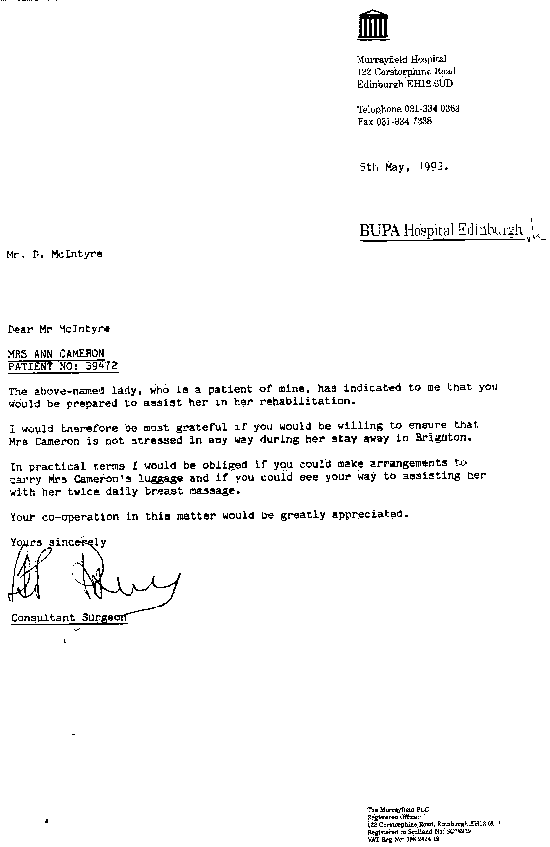 THE ISLAMIC LEFT PRAYERS NOT POLITICS

The Islamic Left exists solely to provide spiritual guidance to the faithful on the key issues that face us today. Remember, these are only recommendations —if your Branch has mandated you, you must go back and explain why you changed your mind after heeding a HIGHER AUTHORITY.

THE FAMILY
Comp. 172 - Support.
Part of our campaign to return the Mother to the Home.
Motion 176 Support.
Emphasise that the terms of this motion are restrictive and expand it to include carers generally.
Motions 177,178 & 179 — Support.

ALLOWANCES
Motion 192 — Oppose.
Treasury will not concede our claim. The only hope for any progress is direct with the Welsh Office and convincing them. Jeff Evans, an able man is dealing with this.
**************************************************************
On The Level

'What's mushrooms a la greque?' — Joe (Target Taxis) Cox
'Well sir, they're little brown, round vegetables' - Waitress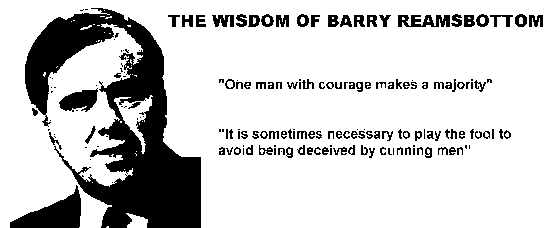 **************************************************************
QUOTES OF THE DAY

'You're the biggest limpet I've ever come across
B. Reamsbottom to Dave Kowalski

'Hey, Sponge, I think he's talking to you
M. Boyle immediately after, jabbing
Kowalski in the chest

I've never experienced one - but an orgasm can' t be as good as this'
T. Rouse, after eating lemon parfait

'Roy's breaking in a new pair of trousers'
D. Murdoch, referring to Sir Roy d'Lewis

'Doug Murdoch is like an Identikit picture gone wrong
D. Macintyre

'One more and I'm definitely going'
T. Rouse ad nauseum
***********************************************************
THE VICTORY PRESS

We apologize for the inferior quality of our communiqué today, due solely to the fact that we didn't get enough MONEY on Sunday. Please remedy this today by seeing your usual supplier or by calling in at the Business Centre, which will be open in the right—hand bar at the Centre throughout the sessions of Conference. Elegant new T—Shirts will be available at competitive prices from our salesman. Stop him and buy one.

from Falconcrest to the shining path — from Palestine to South Korea
one struggle ! one fight ! revolution until victory !
And I turned myself to behold wisdom, and madness, and folly: for what can the man do that cometh after the king? Even that which hath already been done.
Ecclesiastes 2 xii
---
TUESDAY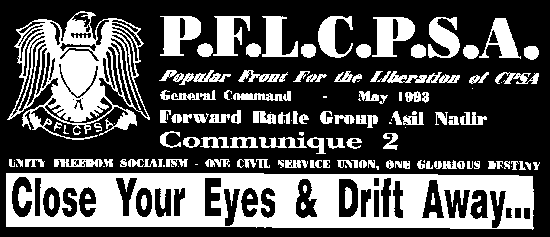 ROUND & ABOUT
by Judas Iscariot

Though Conference may seem tedious, it's good to see that some of our older traditions are still being upheld. And credit for the first blood of Brighton 93 goes to the BORED LEFT Social on Sunday night. The dapper JOHN KENNEDY a mediocre bore from Surrey had strayed into the Trot den and unwisely uttered some favourable remarks about JOE COX which provoked a predictable response from some of the Newcastle delegates. KENNEDY and his crony WYNN PARASITE were then asked to leave in no uncertain terms by CAROL HUME. When the drunken KENNEDY patronisingly objected by patting her on the head and calling her `dear', CAROL punched him on the nose. KENNEDY & Co., beat a hurried retreat. Though by Monday KENNEDY was denying that he had been struck by a woman - CAROL is barely over 4 foot - claiming that a `big Geordie' had spanked him.

RICKY WRIGLEY used the weekend more profitably by taking his wife and young daughter to the AQUARIUM. His daughter was fascinated by all the strange fish, particularly the Shark, which she persisted in calling `Daddy'.

Back in Newcastle Central Office one party rule continues unchallenged. The Campaign to Destroy the Mendicant Tendency (C.D.M.T.), the political wing of the COX & CLUELESS puppet regime once again swept the board. Lone Trot TERRY MARTIN continued her forlorn resistance at her outstation, only narrowly defeated by some three votes. The fact that the Branch apparently issued 80 more ballot papers than the actual membership is, of course, no grounds for complaint.

Mr. McCANN has the important task of operating the speaker's lights at the rostrum, now governed by MARION'S diktat that as soon as the time is up and the RED light comes on, the microphone is turned off. Unfortunately, the idiot switched on the now obsolete YELLOW, while RAMSBLADDER was speaking. So fearful was he of switching off his master in full stream that he let the GREAT SCOT ramble on for a further two minutes.
JOE COX has been getting into trouble again. Last month he received a phone call from ALBERT ASTBURY, who wanted his private address, so that he could issue a WRIT against him. Apparently the alternative GEORDIE had described our ALBERT as a `CPSA BROAD LEFT/MILITANT' in one of his election addresses. COX did the only thing he could think of in an emergency, faxing BARRY, who was in the middle of important deliberations at the Scottish TUC with this plaintive appeal `What do I do with this? Help!'

On the day that the Queen announced that Buckingham Palace would be thrown open to the public, `Good Morning with Anne & Nick' had a phone-in on their BBC TV programme which comes out at 10.00, when most people are at work. It follows `The Invasion of The Killer Tomatoes' for those who don't see it. The first call, however was from one JAN SWINDLEHURST, who naturally enough said she would buy the first ticket.
*****************************************************************
REDS
by Kim Philby

The shade of LEON TROTSKY is growing dimmer over Brighton this week as his feuding followers fighting over the bones of the two Broad Lefts. While TONY CLIFF returns to give his traditional monotonous annual address to the SOCIALIST WANKERS, the best brains of MENDICANT ponder on what they can salvage from the mess. BL 84 is on its last legs, with their leaders openly crawling to BARRY in the hope of some crumbs while the SOCIALIST CARCASE stumbles along, with empty appeals for unity to a vanishing audience.

At the STUC, in April, one of the NUCPS General Council handed BARRY his ticket on the way in to the CCSU social - mistaking the inebriated Caledonian for the doorman. Doubtless due to the latter's servile taste in clothes.

Meanwhile back in the gutter DICK ASKEW'S dream on taking the place of COUNT KOWALSKI on the BL 84 list for the NEC has vanished. And he has been given the deathblow by the MODERATES in his own branch. The MODERATI have picked up yet ANOTHER nonentity, one STUART CURRIE, who also comes from DHSS East London Branch. ASKEW'S chances of elevation are now the same as they were before he was enticed into crossing KOWALSKI in the first place. NIL.

ASKEW'S ambitions have no limit. Inspired by the success of STUART COLLINS, swept to victory in the Broad Green Croydon Council by-election, and having seen the gravy train enjoyed by Messrs. SAMUEL, CARDOWNIE and WILSON he has now decided that his future now lies in local government. Though he has never actually joined the Labour Party he has written to his local branch to offer his services if they are looking for councillors. They have not replied.

BATTLEMUCH'S departure may now be premature. We had all hoped to see the back of him this year but it seems that his return to higher education is in question. Though he has applied for a one-year trade union course at RUSKIN COLLEGE, he has still to get the award. Interested parties should write glowing tributes and references to The Dean, Ruskin College, Oxford.

ALAN DUXBURY is more subdued these days. He really has pulled a muscle in his neck through drinking. The same can't be said for RICHARD HALFPENNY. He has miraculously returned from his sickbed to bore us for the rest of the week. And many suspect that his `illness was simply a cynical ploy to avoid having to speak at his own DE Section Conference.

STEVE RICHARDSON will sadly not be with us this week. He has spent the last 8 months on detached duty `acting up' and no one bothered to tell him the date of the AGM. He consequently was booted out of the leadership of his Durham branch - his place taken by some one due to go on maternity leave next month. When his erstwhile comrades were asked why none of them had had a whip round to raise the money to bring him to conference they all replied that none of them could hope to match his usual £3,000 beer tab.

Once again the usual NUCPS posse has descended on Brighton in a half-hearted attempt to breathe life back into the spirit of unity. A subdued RAY ALDERSON, in the tow of his wife the formidable CHRIS KIRK, was on his `orange juice' routine, looking enviously at JIM BOYD, who has been sent to spy on us by the NUCPS SECRET LEFT (prop. NICK SHITE) who was operating under no such restraint. And both of them were studiously avoiding the great FRANK PEMBERTON, who as usual was standing ALONE in the SHIP bar. Quite why FRANK the PLANK bothers to come back to conference remains a mystery to all. No one likes him and nobody talks to him. He obviously feels at home here.

We await news of how SOCIALIST CARCASE' `Left Unity' meeting went on the 10th of April - last night. It will be truly miraculous if anyone turned up, as their embarrassment (at the gaffe on their publicity posters) was so great that they pulled them both down before anyone had a chance to read them.

Finally, DUGGOUTS professional quiz hustler finally came up trumps last night at Dr JIM MACKAY'S annual test of skill and vertical stability. After several years of trying, he succeeded in keeping the boy wonder off the brown lemonade long enough to hear the questions - which gave him a major advantage in answering them. Unfortunately, our own glorious representatives failed miserably in their attempt to defend last year's title, coming a poor fourth. This was apparently due to the proximity of the bar.
**************************************************************
EVE'S DROPPINGS

`I have every sympathy with single parents.. . my wife's one'
Ian McGowan

`Traitors traitors everywhere and not a drop to drink'
Donny Masseur

`Is Val there? Oh I thought it was a horse being sick!'
Tony Rouse (on Skippy)

`If she had twice the brain she'd be a half wit'
Simon Manley (on which NEC member? prize offered)

`I've pulled a muscle in my neck - drinking'
Alan Duxbury (how else?)

`There's nothing worse than an ex cigarette drinker'
Joe le Taxi

`Marion Chambers have one thing in common - we're both grossly overweight
Paul Beechcroft

`I like to be hugged by people'
Dennis White MBE

`Getting on to the top table this year is akin to competing in the Crystal Maze'
Rob Leech

`My wife's a big girl and I've only got one ball!'
Dug Mudrock
****************************************************************
THE ISLAMIC LEFT - PRAYERS NOT POLITICS

Motion 230
Support. We believe many more of our members should take advantage of this scheme -particularly the Godless unbelievers.

Motion 250
Qualified Support. There can be no objections to the usual forms of consultation at Friday Prayers.

Motion 263
Oppose. Homeworking is the shape of things to come - especially for our esteemed women members.

Motion 277
Support. Racial discrimination is abhorrent and blasphemous, except, of course, against the Jews.
***************************************************************
PFLCPSA NEWS

Daily Debriefing in the Right Hand Bar at Lunchtime and Close of Conference each day. Cadres will be fined for late or non-attendance.
RAMSBLADDER (and other) T-shirts and Badges are available from Senior officers in the Bar. Large and voluntary donations are required. New delegates are restricted to one night's Subsistence.
From Palestine to Falconcrest, from Los Angeles to Peru -
One Struggle, One Fight, Revolution until Victory
The fool foldeth his hands together and eateth his own flesh
Ecclesiastes 4.5 Standard Occidental
---
WEDNESDAY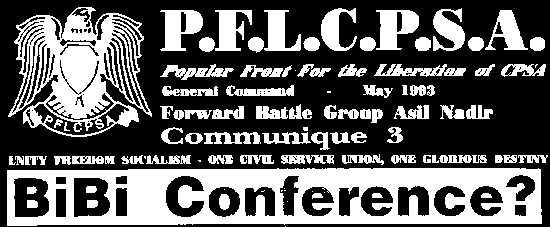 by Barabbas

If ALBERT has his way, we could all be home by this evening - so please give him your full and undivided support. The overpaid LCD PRINCIPLE has in mind to insist on challenging MAID MARION'S planned support for the X marking on rule 33.3. i.e. if she makes a ruling, he'll challenge it. However, as every student of the Constitution is well aware, the conference procedure for challenging a ruling only exists within Conference.

And Conference doesn't formally begin until the adoption of Standing Orders. ASTBURY is convinced otherwise and the massed RED hordes are preparing to block the adoption of standing orders until or unless MARION accepts the challenge - which will leave her with no choice but to dismiss conference through lack of business. In which case we take this opportunity to say Bibi conference, see you next year in Bournemouth...

Meanwhile, the Hunt Ball was yet another success at the Ship last night. All the glitterati were there. The Revolutionary Command Council turned up in force, waiving their usual rule that no more than two should be in the same place at the same time, to commend MARION on another glorious victory and to pay their respects to Comrade REAMSBOTTOM. CHARLIE IDIOT came back from retirement to give his personal congratulations and get his hands on some free drinks. And the left was represented by ROY JONES of the MORNING BORE, who spent most of his time sat in a corner nursing the one drink ROY LEWIS bad bought for him and gazing wistfully at any slight acquaintance in the hope of another. Virtually everyone won a prize at the sweepstake, which took twice as long as BARRY'S Thanksgiving.

The only dark spot has been BAUGH'S victory. And though some of the Moderati have been having a quiet chuckle at the downfall of WATSON, saying that he has served his purpose and is now no longer required, the vast majority can take comfort at the fact that MARION has promised to load WILLIE with tons of sinecures in her gift to ensure that the fat old bastard doesn't go back to shift-work this year. The suggestion that COX could replace him is totally absurd.

One new delegate, unable (like most of us) to wait for the end of BARRY's utterings at the Ball, had the misfortune to ask sycophantic NEC member ANTHONY O'CONNOR where the loo was. Not needing any votes for some while, O'Connor told the harmless non-entity to shut up, lest he miss one word of the GREAT SCOT's speech. Once the microphone had been wrested from Barry's grip, O'Connor rounded on the unfortunate woman for her temeritous interruption, and after launching a drunken tirade of abuse was quit. understandably told to fuck off.

Back in the RED camp the elections have provoked a mixed response. MENDICANT have been making the best of BAUGH'S triumph, albeit only for one year, and have already launched the ASTBURY in 94 Campaign. JARVIS and her followers are furious at the collapse of all her schemes - LEECH is a particular target of their venom, though most of their public vitriol will be directed at MAREK SERWOTKA and the SOCIALIST WANKERS.

Talking of REDS, the Labour M.P. for Bolsover, DENNIS SKINNER has had a recent run in with BARRY. Out of the blue, SKINNER rang Falconcrest to cancel his attendance at a CPSA Rally at Central Hall, Westminster. VAL, the Falconcrest telephonist, who had neither heard of him nor his bloody meeting, eventually put the irate parliamentarian through to the General-Secretary-for - Life's PA who was just as mystified. When, eventually, an equally bemused BARRY explained that he too was in the dark about this rally, which SKINNER wasn't going to go to anyway, he was treated to an earful of abuse in language unfit to be published in a family newspaper such as the PFL, to the effect that he was a useless right-wing bureaucrat and no wonder the trade union movement was in the state it was today etc etc. It soon became evident that the rally SKINNER was talking about was in fact a Home Office TROT festival in support of the campaign against Market Testing and they hadn't bothered to inform HQ in order not to burden BARRY or MARION with the chore of addressing the members. BARRY has since rung up his chum, JOHN SMITH, the supposed leader of the Labour Party, to try and extract an apology from the troublesome TIKE.

MET POLICE were being interviewed by BRIGHTON POLICE on Sunday morning after their Hotel Bar was raided during the night. All the Spirits and Takings were nicked. Section Conference was a ball by all accounts.

BLADDER is less than amused by the attempted time wasting tactics of BOIL, BERNIE WILLIAMS and other mortals who sought to block good reference back time by flying to argue that the WILLIS motion (EM5O) should be X marked. This would prevent the REDS from moving one or two of their own Refs back. However, so convincing were their arguments (that the motion doesn't actually instruct a specific person or body and is therefore meaningless) that Standing Orders saw no option but to agree - thus effectively freeing up Reference Back time to give more opportunities to the ENEMY WITHIN.

Its not been a good year for PAT CARMODY (Socialist Wanker - ECGD London) He's simply not rallying the members behind him. He FAILED to get an overtime ban when members threw out the motion by 3 votes to 2. (Branch Membership over 100). FAILED to return his own consent to Assembly AS nomination - leaving BORED LEFT one short of its advertised slate. FAILED through sheer incompetence to return his branch votes in the recent election in an acceptable form and, finally, FAILED to get support for the TROT Emergency Motion on pay (Cardiff Sub branch carried it 4-0; his own sub branch lost it by identical margin). Needless to say, his branch have wisely decided to let him play at being a Trade Unionist with the Assembly - but they wont let him anywhere near management.

MARTIN JONES, yet another PFL Parasite, has done the dirty on ROY LEWIS.
Lured to conference by the promise of palatial accommodation and free booze, Jones found to his dismay that all he'd got was two square feet in SIR WOY's bedroom for which he was expected to pay £70. Jones was also told he could make himself useful by running around doing odd jobs and buying Roy's beer for him. After three days of avoiding Lewis, and getting drunk at his own expense, Jones has fucked off, and Roy's £70 the poorer. For those who may not know, SIR WOY's latest commercial venture has been to pack ten mugs into a six-berth apartment at the METROPOLE. The central heating doesn't work and the sofa beds are collapsing under the strain. Roy is going to complain to the management, but only on Friday, to avoid the risk of being kicked out mid-week for overcrowding.
****************************************************************
APOLOGY

In yesterday's edition we erroneously stated that Mr. Richard Askew was not a member of the Labour Party and that he was also seeking to become a Labour Councillor. In fact the story referred to Mr. CURRY. We are happy to state that Richard Askew has been a member of the Labour Party for over 50 years and deeply regret any inconvenience caused by the mistake which was due to a printing error.
****************************************************************
ROUND & ABOUT
by Judas Iscariot

While the Moderati continued on their weeklong binge to celebrate yet another year of common sense it was business as usual for the rest of us. MARTIN BOYLE, chief henchman of the General-Secretary-for-Life, has as usual had more than his fair share. Together with his cronies, ALLEN, KOWALSKI and McINTYRE, they sank over £280 worth of booze in a session at the FIDDLERS ELBOW, a seedy dive appropriate to people of that sort. KOWALSKI did his usual trick of crashing to ground and hugging the lamppost and BOYLE, under the impression that he paid for most of it, went back the next day to ask the landlord whether he had left any money there.

Yesterday, the ever-thirsty JOCK attempted to raid the Press Room hospitality bar, now under the eagle-eye of AMANDA FRANKENSTEIN. When the dynamic editor of RED TAPE challenged him, he wittily replied `If you want to be like that, fuck off. He then ran off to whine to CAMPBELL. Unlike the old days, when the whisky flowed like water, AMANDA's new regime consisted of a strict monitoring of what little booze is on offer, and offer is the key word. Incidentally the eyes of the world's press consists as usual of ROY JONES, who now styles himself as Chief Industrial Correspondent of the MORNING STAR, a small circulation daily not available in Brighton. The other two come from the Press Association and SOCIALIST WANKER.

DOUG MURDOCH has won a prize. For lifelong service to the Labour Group in Crawley he was appointed DEPUTY MAYOR and gets his chain of office at the end of the week. He now wishes to be addressed as the WORSHIPFUL DEPUTY MAYOR of CRAWLEY in all future correspondence.

Talking of drink, ANN JARVIS is keeping the ladies name up. Somewhat the worse for wear she confronted STANDING ORDERS with 17 references-back, haranguing ENID DOBSON and the old boy who drinks more than is good for him, to such a degree that the normally docile ENID had to ask her to leave after enduring a full 90 minutes of it.

NEIL BRONKHORST, another PFL parasite has been stumbling around conference in his usual stupor. But this time he has made a fatal mistake by bringing his better half down with him. When she spied him at the degenerates table - wearing a silly Arab head-dress (a gift from McHUGH) and King Farouk sun-glasses - she immediately ordered him to take them off and stop making a fool of himself. BRONCO sheepishly complied much to the merriment of his sometime friends. BARRY FUGE, who left Conference under the orders of his old lady, so that he can listen to her instead at the NUCPS jamboree, displayed similar docility.

ALBERT ASTBURY is rapidly becoming a legend. And it seems his canvassing style has changed little through the ages. One old colleague recalls the much younger Albert from 1964 standing for Branch Secretary for the first time. `Vote for me and I'll buy you a drink' was his slogan then. Needless to say, the drink never materialised.

JOHN RICKARDS , a TROT from DSS Avon, demonstrated his political acumen by casting his votes for TUC in favour of DIANE BREEN of the rival BL 84, in the mistaken belief that he was voting for fellow TROT, TONY BREEN. Votes which may make all the difference JOHN.

Hats off to NICK GILHOOLY - he lost his teeth at the MOD Social. They are pink and yellow and if you see them please send them up to the President's box for return. A reward will be paid.
***************************************************************
THE ISLAMIC LEFT - PRAYERS NOT POLITICS

Motion 277 amendment add `and Christians'.

Motion 350
Oppose. The postulate that `the continuation of in house reviews' (supported by para 6) run by the same management who have the `preconceived ideas', rightly objected to in para 1, will somehow be more in the interests of members than the views of external consultants is plainly ludicrous. Your local mosque can provide excellent management and spiritual guidance.

Motion 1168
Support the reference back so we can all get back to doing an honest day's work.
All Other Constitutional Motions
Listen and decide with a view to sleep.
**************************************************************
EVE'S DROPPINGS

`Why's there so much week left at the end of the expenses?' Masseur

`The trouble with this Unity thing is that you don't know, any more, who you can tell to piss off K McWho
`You're yesterday's man now Dave.'
`I'm last fucking Saturday's man you mean' D Allen
**************************************************************
BOSNIAN TOP TEN

1 Bang, Bang Sonny & Cher
2 Brothers in Arms Dire Straits
3 Rocket Man Elton John
4 We're in the Army Now Status Quo
5 Convoy McCall
6 Stop the Cavalry Jona Lewie
7 Roll Over, Lay Down Status Quo
8 I'm Gonna Get Me a Gun Youssuf Islam (Cat Stevens)
9 Keep On Running Spencer Davis Group
10 Happiness is a Warm Gun The Beatles
***************************************************************
Due to lack of both space and interest, the Wisdom of Barry Reamsbottom does not appear today. Allah willing, it shall return tomorrow.
*********************************************************************
PFLCPSA NEWS

Daily Debriefing in the Right Hand Bar at Lunchtime and Close of Conference each day. Cadres will be fined for late or non attendance.

RAMSBLADDER (and other) T-shirts and Badges are available from Senior officers in the Bar. Large and voluntary donations are required. New delegates are restricted to one night's Subsistence.
From Palestine to Falconcrest, from Los Angeles to Peru -
One Struggle, One Fight, Revolution until Victory

Then said I in my heart. As it happens to the fool, so it happens even to me
Ecclesiastes 2-15 Standard Monorchid
---
THURSDAY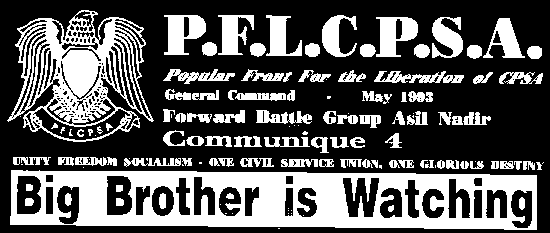 CAROL POPPLEWELL, one of our excellent NEC members seems to suffer from amnesia, brought on, no doubt from having to remain in the same Branch as MAREK SERWOTKA. When she spied the reams of emergency motions generated by the notorious RED, she immediately demanded an explanation from DUGGAN. After it was discovered that all the motions had, so it would appear been passed in due accordance with the Rules she then concluded that the motions must have come detached from the correspondence she had received. For doubtless perfectly good reasons CAROL has been unable to attend any of SERWOTKA'S Branch meetings in recent months, including the AGM. Perhaps this explains why her own Branch didn't even bother to nominate her this year.

BATTLEMUCH is seriously having second thoughts about RUSKIN College He apparently has now been awarded a place, but was under the impression that he could: still remain on the SEC, on secondment, and still claim the juicy expenses for the duration of the one year course. He has been disabused of this in no uncertain terms. What he should consider is the tried and tested BUTCHER & BILLOUIN ploy, and just go sick for a year. He could then claim his wages as well.

Old-timers may remember MAJOR BRAINDAMAGE, a former PFL parasite and fellow head. Last year, after conference he accepted the MOD CCSU deputy secretaryship. A ploy concocted by NUCPS and WRIGLEY to get BRAINE out of CPSA once and for all. The greedy BRAINE eagerly snapped up the bait, which is set at EO level, with his sights on the full Secretaryship, which is set at HEO level. Braine also calculated that he would be in a Strong position, banking on support of his new union, together with that of his old CPSA chums. Alas he hadn't bargained on WRIGLEY, whose last act was to persuade MOD unions and management to dispense with elections altogether and advertise the Secretaryship MODWIDE, and fill it by promotion board. In the meantime, DAMAGE had had a run in with a support grade photocopyist who refused to do some work for him, having been released to go to an urgent doctors appointment. The incident was reported back to NUCPS HQ. Consequently NUCPS refused to nominate him when his own post came up for re-election this year on the grounds that he was unsuitable to represent members. He made a desperate appeal to SILVER PARASITE; the MOD Section Chair who reminded him that candidates could only be nominated by their own unions. The MOD Section proceeded to nominate two nobodies and BRAINE is set on driving a desk for the rest of his life.

TONY ROUSE is out of the game by nine o'clock in the morning. When a PFL officer cheerily wished him well the drunken bum revolved like a windmill oblivious to the fact that our man was only two feet away from him. His `retirement' during his next term of office is believed to be imminent, which is good news for COX, whatever happens to WATSON.
*********************************************************
NOOKS AND CRANNIES
by BARABBAS

For the first time in CPSA history the Conference Hall was packed as delegates and observers piled in to see ALBERT ASTBURY make a fool of himself yesterday afternoon. Senior officers of the PFLCPSA in disguise and using false documents, trooped up to the Gallery to see the fun, and shared Conference's disappointment at the inevitable anti-climax. ALBERT himself was under no illusion about the success of his mission. It was enough to establish himself in the eyes of the delegates, and the sinister factions behind him, that he is now a major player, and a serious contender. A view obvious to anyone with a calculator, who can see that in a two-horse race, our ALBERT stands a good chance of toppling MARION.

Some BL 84 has-beens, in a desperate rush to embrace the Moderati are hoping that the MENDICANT will drop him in favour of BAUGH next time round. Based on a mistaken belief that ADAMS is as stupid as themselves. MENDICANT knows that BAUGH has probably only got one year, and if the chances for his re-election as Vice-President are slim, they are virtually non-existent for the Presidency itself.

MENDICANT looks set to concentrate on discrediting the SERWOTKA camp, to `persuade' him to step down, while at the same time splitting BL 84 once and for all. JARVIS and her satellites will be preserved, with some degree of autonomy, within the framework of a new `Broad Left', until they are no longer of any further use. The others will be left to drift into oblivion leaving the Moderati to fight on two fronts. And ALBERT presents them with immense problems. No one in their right minds could ever conceive of the drone as a militant socialist, and he himself is neither intimidated nor overawed by BARRY'S posse of full-time goons. ASTBURY after-all earns much more than most of them, and does even less.

BARRY can of course look back on the week with satisfaction. Another sweeping victory under his belt, and Falconcrest firmly in his grip. Most of the full-timers fear and loathe him. But they have a lot to lose and will do everything he says to keep their vast salaries. Though even RAMSBLADDER must be having second thoughts at appointing outside nodders for every vacancy that now comes up. MILLS was a wise choice, but choosing the obscure NICOLA KUTAPAM as HQ Personnel & Administration Officer is debatable. NICOLA, who was only allowed two days at Conference under tight MILLS's budgetary control, is going to Tokyo for a Women in Politics' seminar. And her ambitions, she is a Labour local government activist, are wide. Many believe that she is already seeking further advancement within the Labour Party apparatus, which means that BARRY will have to go through the whole rigmarole again.

Past DGS PETER THOMASON turned up at the doubled-booked BL 84/ Socialist Caucus social last night muttering darkly `BL 84 seems to have lost their sense of humour, I thought it would be fun when I booked it before I retired.

LEECH, a social pariah, has been striving to worm his way into the good books of the Moderati all week, to claim his reward for sinking JARVIS in the Vice-Presidential stakes. He insisted that DUGGAN tell his MASTER, that in his considered opinion, they were going to get a hammering on the Sheffield Anti Nazi motion, advising BARRY to change his line. To which the General-Secretary for-Life tersely replied' Tell that weak-kneed piss-bag to fuck off!'.

Incidentally, BARRY, please note that ALBERT ASTBURY pays us a fiver every time we mention his name, and he earns almost as much as you. And by the way DUGGAN, you owe us £20.
*******************************************************************
THE SECRET DIARY OF KEITH WHO? AGED 48¼

Tuesday
My boss Barry sent me to bed early tonight as I have an important presentation to make to the Shareholders tomorrow and I need to learn some of the new numbers he has given me.

Barry and my friends the large blonde lady, Master Duggan, Mr Boyle and a Mr Masseur (a friend of Mr Boyle's) are having another of their parties, celebrating what I understand to be a sizeable win on the football pools - something to do with `putting on the X's' - Mr Boyle told me, but of course .I never gamble. Oh no that would never do.
Mr Masseur appeared, poor soul, to have been concussed as his voice was awfully slurred, his hands were shaking and his skin all clammy. So I suggested that perhaps a small medicinal brandy might help. He readily agreed and borrowed my room key card to save me the trouble of going to the bar after my kindly concern for his health. I must remember to ask him to give it back tomorrow...

Wednesday
I arose and breakfasted early in order to take a refreshing stroll in the bracing sea air to collect my thoughts. They must be very generous in Brighton. They line the gutters with vegetable soup for the hungry, of whom there must be many judging by the number of strange looking persons I saw wearing them' distinctive yellow badges. The other ones - with red badges called `observers' - seem to have the job of leading the yellow badge wearers to the vegetable soup.

When I got back to the hotel, Mr Boyle was already eating what he assured me was a traditional Scottish breakfast of Whisky and Cornflakes washed down with a pint of lager. He pinned a brown badge on me with the word PLATFORM on it. I joked that Brighton Council must think me very important to `elevate' me in this way but he did not see the joke which is unusual, as he is often amused at the things I say.

After an early lunch, Mr Barry's big black car containing the large blonde lady's two gentlemen friends - Tone and Willie - came to collect me for the AGM. Willie was in tears. I enquired gently about the cause of his grief and he muttered something about an apparent medical problem called `Kinboff, kinboff' or similar. I must look it up in the medical dictionary. It might be serious.

The shareholders meeting was very rowdy and Miss Marion had to shout a lot and would not let anyone ask me any questions which was quite a relief to me as I still did not quite understand the new sums Barry had given me to learn. Never mind, Barry says I have another years contract so that I can learn more about his new numbers.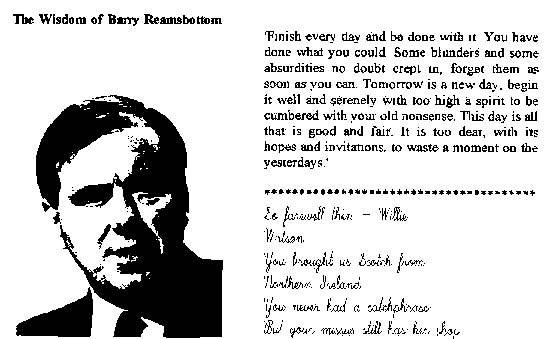 *********************************************************************

IN TOWN TODAY
by the Pink Mafia

Summer has come a little early this year, providing ample opportunity for Conferencees to show off their bold new wardrobes. Let's look at what trendsetters are wearing in Brighton today

MODERATI Plenty of Taffeta and floral prints here with hairdo's to match. Anything goes as long as it doesn't offend or upstage Marion.

BORED LEFT Gay profusion of flats and slingbacks. However, politically correct badges are still the vogue - with some wearing so many that from a distance, they appear to be festooned with sequins.

EX LEFT 84 Eyes protruding, Lips and hairlines receding. Pastel coloured blazers are in. Shirts buttoned top and bottom (only) with large furry beer gut coyly peeping out from behind gravy stained 70's kipper tie. The EL'84 man, on the other hand, is much smarter, still relying on power suits, which is as near as they'll get to the real thing.

INDEPENDENTS Tend to go for the shy and retiring - American Retro T-shirts and tight faded denim - very gauche.

On the question of Marion's hair, let's face it darlings, she's lost it. Monday morning it looked like someone had stuck a pin in it and it had deflated. And the colour! Bargain basements are wonderful fun but some things - like that hair rinse would be better left where you find them dear. Perhaps two weeks at Lourdes would do the trick. We believe they have vacancies in the first fortnight in May next year. In total contrast, take a look at this years queen of the coiffure LYN HARRISON with her spirited revival of the LULU look. But for sheer class, the splendidly aloof CHRIS KIRK takes the biscuit.
***********************************************************
THE ISLAMIC LEFT - PRAYERS NOT POLITICS

Motion 277 amendment to previous guidance
add `and Roy Lewis'.

Motion 610 Qualified Support.
Nothing is ever black and white and educated believers will recall that the Koran specifically recommends the judicious beating of disobedient wives with a Sdiqua.

Motion 633 Oppose.
Someone needs to stamp out the Godless vermin.

Motion 666 Support.
The fees and expenses of the touring Imams are, of course, much lower and the utterances more profoundly uplifting.
************************************************************************
EVES DROPPINGS

'My wife's on a Maths degree course' Al Arnott
`She must have a lot up top' McWho
`No she's only a 34A' Arnott

`You know its a bad conference when the only thing you've had thrust at you is a copy of Militant' Doreen Purves
****************************************************************
PFLCPSA NEWS

Daily Debriefing in the Right Hand Bar at Lunchtime and Close of Conference each day. Cadres will be fined for late or non-attendance. The Annual Subscription Forms are now available from all good bookshops and should be completed if you want to receive the inter-conference editions.

NEW THE MARION T-SHIRTS HAVE HIT THE STREET! These and RAMSBLADDER (and other) T-shirts and Badges are available from Senior officers in the Bar. Large and voluntary donations are required. New delegates are restricted to one night's Subsistence.
From Palestine to Falconcrest, from Los Angeles to Peru -
One Struggle, One Fight, Revolution until Victory
A feast is made for Laughter. and wine maketh merry. but money answereth all things
- Ecclesiastes 10-19 Revised St Michael
---
FRIDAY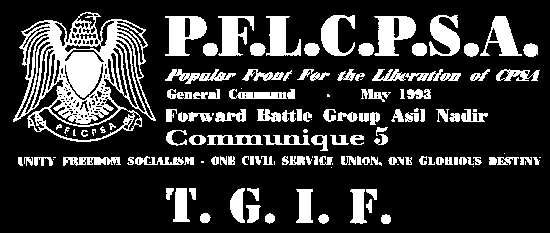 Round And About
by Judas Iscariot

Thursday was the usual Brighton Day. In the morning cheery senior officers of the PFL were in their usual trashy T-shirts and begging when two smartly dressed men appeared to show an interest in them. When ISLAM asked APOLLO to introduce him, APOLLO said he didn't know either. `Ha, ha, ha,' the more dapper of them replied ` l'm JOHN SHELDON , the General-Secretary of NUCPS - I know you're just pulling my leg'. This scene was repeated at lunch-time, when ISLAM once again exposed his total ignorance of CPSA affairs whilst speaking to DUGGAN, asked whether his companion (CHURCHYARD) was a visitor from CSU and had to be informed that he was addressing the DGS.

In the evening it was the usual boring round of socials. No punch-ups and just the usual drunks. ALBERT ASPERBURY seemed to be at every one, standing drinks, cracking jokes and buying votes. BARRY & BAUGH both put in an appearance at the CONFERENCE BALL. As always BARRY stood alone, shunned by the full-time officials, who hate his guts but fear his shadow. The only people who spoke to him were lay Moderate delegates, his Scottish drinking chums and his advisers from the PFLCPSA. BAUGH was presenting the humane face of the MENDICANT, preaching goodwill to all and sundry, aware that his re-election campaign started yesterday. Nobody cared what JARVIS was up to.

More facts are coming to light at the depths that SERWOTKA would sink to during the election campaign. Particularly the scruffy oiks who were dishing out his leaflets up and down the country who do not appear to be CPSA members. Some say that all MAREK did was go down the Labour Exchange and hire them for a fiver plus a drink. McHUGH & PURVIS turned up at one of his meetings at the NEWTON PARK HOTEL in Newcastle. None of the six others were members of the Union, though all appeared to be followers of his peculiar TROTSKYITE faction.

Well we can't wait for Rules Revision Conference. A bemused MILLS asked DUGGAN `Who goes to a Rules Revision Conference?' `Delegates' MICKEY replied. `What! All of them?' the astounded KEITH replied. But given the inevitable financial and legal problems, not to mention the fact that special leave to attend is likely to be denied, the smart money believes we have more chance of being struck by lightning that seeing it this century.
Conference is not conference without the presence of PAT MANTLE, the photographer. When MARION was told it would be PAT yet again, she replied ' Good, he's ever so cheap.'

SIMON MANLEY is one of those old boys on the NEC who has been on the Executive for years but no-one seems to know him. But he must have upset someone. Silly stories about him accosting convicts and prostitutes are being fed to us all day. They are utterly untrue and we can't fathom why anyone has got a grudge against the old duffer.

The YORKSHIRE SOVIET do was the one bright spot of the evening. APOLLO was executed for treason and the PFL Raffle raised over 30 shillings. PETER THOMASON and RAY ALDERSON were there rubbing shoulders with the North Country's intellectual giants.
*********************************************************
C.P.S.A. plc
Report of the Annual General Meeting
Brighton May 1993
Chairman's Report

1992 was a difficult trading year. The pound was devalued, unemployment exceeded 3 million, continuing uncertainty over Maastricht and an indifferent budget did nothing to ease the pressures of the recession. CPSA was not immune to all of this. There was a modest increase in number of individual shareholders. The take up of our rights issue was disappointing. Little headway was made, but the decline has been halted
.
The Company Plan
Following the appointment of last year's management team there has been consistent rise in productivity at the Falconcrest plant and in the majority of outlets. Reducing overheads and waste has led to greater efficiency with significant savings in staff. Salaries have been pegged, as a short-term measure, necessary to weather the global economic crisis. But regional restructuring means that the Company will be in a competitive position when the recovery begins.

1993
The action plan is already bearing fruit. The pay-bar in the Press hospitality tent has already broken even and this year will see the implementation of the Kutapam Management Review, which is expected to further reduce administrative staffing levels. But regretfully the Company is still in no position to declare a dividend for the year.
The Annual General Meeting Organised opposition by a small minority of shareholders led by Mr Albert Astbury was once again displayed at the Meeting, and the Deputy Managing Director, Mr. William Watson tendered his resignation following a vote of no confidence. He remains on the Board as a non-executive director. Mr.Christopher Baugh has been appointed his successor and we are looking forward to the new ideas he brings with him. Retirements have led to several new appointments to the Board, and the Company believes that fresh blood and radical new ideas can only improve our trading performance. The Managing Director, Mr.Barry Reamsbottom warmly thanked the shareholders for continuing to support the majority on the Board, despite the difficult times. Miss Amanda Frankenstein was congratulated on maintaining the firm tradition of the former Editor of the House Magazine. The Chairman, Mrs. Marion Chambers O.B.E., concluded the meeting with a song.
*********************************************************************
THE SECRET DIARY OF KEITH MILLS AGED 48¼

Mr Reywood, my tutor and predecessor (he has gone on to higher things) and his niece - Miss McIntosh - unexpectedly came to see me today. My, but they do have an excellent grasp of accountancy. They have advised me that I need one of their refresher courses in order to understand my new sums. I told Barry, who said that in the past Mr Raywood's fees have been quite prohibitive. However, the nice Miss McIntosh assured me that the cost would be .modest to such an extent that it could be paid from Petty Cash on a Pro Forma basis and that it would be no trouble for them to fill in the actual amount later. I am not silly. I realised that it was a so-called 'Tax Dodge', so I readily agreed. Oh yes.

Miss Marion invited me to dine with her at a nice little place called the 'Norfolk' where I bumped into another of my predecessors - Mrs Alderson - whose dress was covered with diamonds. Her husband must be very wealthy to be keeping her in this style. He arrived a few minutes later. He does not take the sun and is clearly a sober chap. He drank only orange juice the whole evening. I suspect he strongly disapproves of even moderate alcohol consumption as he seemed unable to take his eyes off my small malt whisky for several minutes.

My colleagues, Messrs. Boyle, Duggan, Hanson and Masseur - on seeing Mr Alderson - started what I recognised as a `Buffaloes' ritual which involves chuckling and pressing thumbs firmly on the table in his direction. Barry then joined us and made the same signs. I did not know he was a `Buff'. I must ask him if he knows Rex.
****************************************************************
RIGHT OF REPLY

Yes it was a fair cop. I was absent for the first three days of conference week and I accept my execution was fully justified on that charge alone. However, I wish it to be known that I was deeply impressed, flattered even, that 1200 or so delegates and observers - many of whom I have never even exchanged bodily fluids with - should all have agreed to assemble here one week early just to embarrass me with a playful prank! I forgive you all and promise never to make the same mistake again. I'll see you all next year - in Blackpool. (Agent Apollo - deceased)
***************************************************************
THE ISLAMIC LEFT - PRAYERS NOT POLITICS

We trust our guidance has been enlightening and uplifting this week and bid Allah go with you on your return to the branches. Don't forget to explain to your members why you had to break the occasional mandate in order to bow to a higher authority. If necessary one of the Imams will appear before your members to explain the shortcomings of democracy.

Motion 820
Oppose. Bollocks.
Motion 821
Oppose. Bollocks. Who needs holidays when there is so much of HIS work to be done.
Motion 856
Oppose. Bollocks. Get the workshy layabouts off the streets and make them do something useful for a change. That's what the members really want.
Motion 866
Oppose. Bollocks. The Progressive line is that Girls should be allowed to work until they are married and should not need to soil themselves thereafter - Wifely pleasures and responsibilities taking precedence from then on.
Motion 889
Oppose. Bollocks. Its time we swept this old chestnut under the carpet and let bygones by bygones.
Motion 894
Support. Bollocks. At last a sensible motion. Castro has suffered enough. We can't actually consider holding future conferences there as they have no significant town beginning with the letter `B'. However, full support should be offered in every other way.
**************************************************************
PFLCPSA NEWS

Funds desperately needed. Pick up and complete your Registration Forms if you haven't already. We will take cheques if you absolutely insist. Please note that the mailing address should be Box 1, 29a Oakhill Road, Putney, LONDON, SW15 2QJ and not as advertised on the Registration form.

A rough guide to Subscription Rates:
Observers, Trainee Delegates and other low lifes £5
Delegates £10
NEC members and Full lime Officers £20
Barry Reamsbottom 10%

And so once again its Bibi Conference - let's hope Bournemouth's stopped sucking. Thanks to the usual team of helpers, hinderers and hangers on. The BRONK should be home in time to meet his bail conditions. Agent PICASSO returns to his natural obscurity. (Does anyone know where he comes from?). APOLLO as we know, has been promoted from bankrupt to dead and COLONEL ISLAM will be pounding the streets on Monday in his continuing and futile search for gainful employment. Thanks to MICHELE and the team at Prontaprint. But most of all thanks to you for your blind obeisance and continued support.

From Palestine to Falconcrest, from Los Angeles to Peru -
One Struggle, One Fight, Revolution until Victory

We shall return and we shall be millions
---
DEBRIEF
The Prologue

Unusually, the debrief for this year actually got printed. This is an internal GENERAL COMMAND document which is only seeing publication because some ignorant people still believe that our funding is somewhat shady. It ain't - we raise it all ourselves, being good mendicants. We pay all our own accommodation & living costs and take Annual Leave to attend. We spend the money you give us wisely. This document represents the trials and triumphs of a typical Conference week as experienced by the Senior Officers of the Popular Front.

PFLCPSA NEWS
LONDON MEETING - TUESDAY 8th JUNE
WINDSOR CASTLE - 18.30hrs (6.30 p.m.)


Our next meeting will be at our usual venue, and usual time, on the 5th June. The agenda will include a review of Conference, financial report and preparations for the next magazine.

BRIGHTON CONFERENCE

May Conference was another successful operation for the PFLCPSA. 1,000 bulletins were distributed free of charge every day, over 25 T-shirts were sold and a variety of fund raising events ensured that we once again broke even on the event. The bulletins were favourably received by out public, and we maintained the high standard of service we have established over the past decade.

This was our fourteenth conference. PF1 daily bulletins began in 1978, and only two conferences have been missed since then, those of 1984 and 1985. New technology was introduced in 1988. Sir Roy and Islam have been involved since 1978 and the A Team has worked together since 1988.

PERSONNEL
The 1993 A Team consisted of Islam, Bronco, Mike and Peter, with the additional support of Sir Roy, who also supplied the credentials. Phil, who was a steward also provided some support, as did our usual contacts, and some new delegates during the week. For the second year running John Doyle was AWOL.

ACCOMMODATION
Bronco secured the A Team safe house, after great difficulty. Though probably the best-appointed house we have ever used, It was obtained at the last moment, and was some way out of town. We must therefore secure a safe house for Bournemouth by the end of the year if possible.

TECHNOLOGY
Mike, as usual supplied the equipment. For the first time, two computers were put into operation but because of teething problems, this did not produce a great saving of time and energy. The potential is there and we should aim for two machines next year, If resources are available. The first day's copy was however, produced on a typewriter, due to Mike's late arrival. Failure to bring the typewriter with us, an oversight by Islam, led to the further expenditure of £15.00, to recover it. We therefore, must ensure that the back-up equipment - typewriter and paper - Is brought down to Bournemouth with the away team. Mike and Peter also brought down mobile phones, which proved essential in keeping in contact throughout the day and night.

FINANCE
Print costs exceeded £600.00. £60.00 was spent on transport, the bulk of it being the petrol and parking costs of Mike and Peter's cars, which were used to shuttle the team In and out of Brighton. This however, represented a substantial saving on the potential cost If taxis had been used, a problem caused by being based five miles out at Rottingdean. The T-shirts cost a further £110.00. All the expenses have been met out of the funds raised.

Though Sir Roy's time was restricted by his duties on Standing Orders he was able to collect over £140.00 for the fund. The raffle, organised by Bronco & Peter, with the help of two new delegates raised over £80.00 and the quiz proceeds came to £15.00. T-shirt profit came to £120.00. Islam and Bronco raised about £320.00 in straight donations at the Centre and the socials.

The average full-timer donation was £10, though the senior Scottish contingent all gave £20. Delegates' donations ranged from £1 - £5. Free drinks were also donated and Phil arranged free coffees and teas at the Business Centre which was manned during Conference hours in shifts for Daily Bulletin distribution, news gathering, fund raising and sales. The safe house was operational around the clock by the A Team.

Production of the communiqués once again took up much of our time. The A Team worked well, though as always, the final copy was not completed until 5.00 a.m. It should be noted that nearly all the material is prepared by 2.00 a.m. and the major problem is the technical editing, composition and artwork which is an equally lengthy process.
Three new T-shirt designs were on offer this year - Marion, Stalin without the logo, and Brighton Eagle 1993. The Eagle as usual sold out - and the others did reasonably well. We held the price at £10.00 but old stock was sold off at £5.00. We have now sold out of 'Revenge Cadre' and 'Trot Free'. Despite some problems In getting the new ones produced, sales were good for Thursday and Friday, providing essential cash-flow and ultimate profit for the final day's production. Peter holds the remaining stock for Bournemouth, apart from the 'Stalin' & 'Ramsbladder' shirts.

The communiqués were given out at 10.00 each morning. This seems to be the earliest we can hope to achieve, given the problem of collecting the material from our printers. Though we have never managed to catch the early morning rush since we went over to new technology, this has ceased to be of much Importance. By the second day of Conference, the entire take-up of bulletins was going within an hour of manning the stall outside the main Conference door. A small quantity of full sets has been retained by Islam for the chosen few - please let him know if you require any.

PRESS & PUBLICITY
The world's press apart from ourselves, consisted of Roy Jones of the Morning Star, the Press Association and Socialist Worker. Roy was a frequent visitor to the Business Centre - he bought a T-shirt and donated a couple of bottles of strong spirit to the A-Team liberated from the Press Tent.

No points of order were made against us this year, nor were there any references to the PFL from the floor. Mike got his show-trial and execution at the Yorkshire Soviet social, a highly entertaining event, and Roy made his usual speech. The quiz team only came fourth this year.

We were at full strength at the Moderate Hunt Ball and the Moderate Centre at the Ship was covered every night. As far as we could all the major socials were covered for newsgathering as well.

Our loyal patrons continued to support us and Albert Astbury joined their ranks for the first time - a welcome addition for the fund.

Our Brighton printers, Michelle of Prontaprint, gave us a good deal, opening two hours early every day to ensure that we made our deadline.

A PFL CONFERENCE?
The A Team discussed the feasibility of a pre-Conference weekend meeting to sort out the usual problems. It would have to be in London and Islam will look into the possibility of providing a venue and overnight accommodation. If this can be overcome, and resources are available, It will certainly be worth proceeding with.

The A - Team is now stood down until Bournemouth 1994. The London Team meets next week to discuss the inter-conference activities.
FROM PALESTINE TO FALCONCREST FROM LOS ANGELES TO PERU
ONE STRUGGLE! ONE FIGHT!! REVOLUTION UNTIL VICTORY!!!
ISLAM