CONFERENCE 1995
WEEKEND

NEWS FROM THE BATTLEFIELDS
LEFT DISUNITY have had to abandon the practice of "double-banking" (not rhyming slang) in the struggle to reconcile the conflicting demands of political balance and the impenetrable Section limitations rules (which are held sealed in a vault in the Vatican). Last minute adjustments to the DISUNITY slate mean that both Presidential hopeless SMOKING AL DUXBURY and the perennial BERT ASHTRAY are forced to surrender their unlikely chances of being elected to the NEC for the glory of having an even less likely pop at the top - all the more sad given that several of the comrades have failed to accept NEC nominations leaving them a few candidates short of a full slate. So, no changes there then.

Minimal changes to the MODERATI list should see most of the usual timeserving hacks returned for a further year on the back of THE BLESSED MARION'S personality cult. WINDY MILLER and THE WELSH WHALE having both defied the bookies by being re-selected but it's a sad farewell to SWIZZLESTICK and of course UNCLE DENNIS WHITE (MBE).

RACHAEL BARROWCLOUGH, leading (and probably sole) DEAD LEFT Commissar, has stood down from all Section and National lists in protest at the MODERATI's insistence on running FRANK THE PLANK as a CHARLATAN for the TUC. She needn't have bothered: the MODs had woken up to their gaffe and were quietly dropping the gormless former Veep anyway COMRADE RACHAEL's heroic but futile stand leaves a gap on the CHARLATAN list for the Benefits Agency SEC. However, the TROTS are one short as well and hapless hacks, anticipating a further year of RED dominance are dreading to find out who gets to be the single opposition member.

LA KAYE whose name appeared (as always) on the initial DISUNITY slate has (again, as always) pulled out at the last minute. What strange and irresistible force continually inhibits the former Senior Veep's principled, public stand against her ex-chums in the MODERATI ??? And whatever happened to other initially likely candidates such as the candidate formally known as MICH (sic - who he)?

ENGLUND has been elected CPSA delegate for MoD Harrogate this year though sadly we might be denied his pearls of wisdom - he's unlikely to be in a fit state to attend once SID YOBBO has finished with him.

FEAR AND LOTHIAN

COUNCIILLOR SAMUELS may not be able to so style himself much longer: his penalty for defying Labour Whips is selection for a no-hope seat. Since his prospects for Section Chair aren't much better, fears abound that he may have to start working for a living Fans of COUNCILLOR "BRUISER" CARDOWNIE will be relieved to hear that the great man is safely re-selected and can be found driving mini-cabs on a Saturday night (with his MEGABUCKS PAYOFF in his back pocket). Keeps him out of fights. Finally, COUNT KOWALSKI OF BIGNOSE is no longer driving around in the Benefit Bus: he's now in charge of MARKET TESTING!

The crucial political event of the calendar - THE JOCKO WIMMINS CONFERENCE -has long been one of the most bitterly contested elections of the season. So why have no CANDIDATES accepted nomination this year??? Answers on the back of a USED TARTAN SASH please.

THE NEWCASTLE WAIT

THE PERVERT and her TROT pals, who have been deeply into entryism in the NUCPS NCO Branch since being booted out of the CPSA Office, took the retirement of local NUCPS boss TOMMY THOMPSON as a signal to break cover at this year's AGM. PREVERT stood for Conference Delegate and the GEC - much to the astonishment of the RIGHT WING MAFIA in NUCPS who misguidedly believed that they had the MENDICANTS under control
ENGLUND EXPECTS.......

The INGERLAND KANGAROO COURT has got off to a promising start - BUSHED, having drink taken (yes, we too were shocked) accused HANSON, who for his considerable sins is Secretary of the Tribunal, of being a CIA AGENT and had to be restrained by BOIL. Watch this space....

NEC NEWS

BOFF's notorious outbursts at the NEC are becoming increasingly embarrassing to his film-star wage earning mentors McVICAR and ADDAMS (remember the "Family" of the same name?), who've taken to absenting themselves from meetings as much as possible. SIR WOY now keeps running totals of BOFF-HECKLES which regularly reach 3 figures over a 3-day meeting and few of which are repeatable in a family publication such as PFLCPSA.

BARBARA GREGORY who has sat next to the puerile, delinquent TROT all year is now standing down after only one term and a "Bring back ABRAMS and GODRICH" movement gathering momentum.

HAVANA HARRY HAMILL, desperate to keep in with the TROTS, on occasion makes more of a prat of himself than even CHRISSY THE RED can manage. Unfortunately he rarely bothers to check his facts before reading from the script. Recently he intervened at the NEC to accuse RAMSBLADDER of selling out on ES Pay, which as any fule kno was the doing of BIG FRANK's former leaderene. SLACKBLADDER has now recirculated the paperwork establishing his own innocence of this particular "Sell-Out", and the combined guilt of JARRINGVOICE and CRUMBLE. Can we expect to see a response in RED TAPE (Prop. Mrs. Crumble), or perhaps it may be that it could be explained in THE JOURNAL, a similar NUCPS publication to which JARVO now subscribes, having left CPSA. You know who to come and see with the money, Frank. We are your friends.

EVE'S DROPPINGS

The member's indecision is final. Thorpe
By the time we've finished saving the bloody children they'll be grown up. Joe Cox
Danny (Williamson), in the FALCON said to two or three full-time Officials "You will note that I deal with issues at the NEC." And we said "Quite right, Danny!" Because we were drunk as well Rouse
In the Land Registry we proceed by agreement rather than conflict. McCreadie
If anyone speaks for longer than 40 minutes, oxygen masks drop from the ceiling. Marion
In a strange way I shall miss Willy. Leitch
You are a very generous person on occasion, Madame President. Churchyard
Q: When is 2.5% not 2.5%?
A: When Danny Williamson is your bookmaker. Reamsbottom

WELCOME TO BLACKPOOL
We return for yet another Blackpool season to reflect with you on the true meaning of Annual Delegate Conference. For those of you new to Conference (and by the popular will of the masses), we offer below our guide to new Delegates and Observers who may be unused to the Spartan Regime. We can be found daily in the GALLEON BAR.
---
MONDAY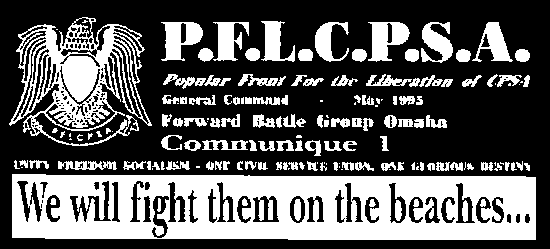 ROUND AND ABOUT
by Judas Iscariot
Blackpool bustles once again as the MODERATI settle in for another week of Victory Balls. The PEMBROKE HOTEL is packed with cheery faces (unlike those of the TROTS) who will sleep safely in their beds in the knowledge that BARRY has seen off the RED MENACE once again. The fact that none of the section or national results can be declared should do nothing to mar the celebrations. Needless to say, JIM HANSON has had to forego his fun and return to LONDON to ensure that nothing goes wrong with the result this time.

Back amongst the LUNATIC FRINGE there is the usual wild talk of halting conference on a legal technicality. However, MARTYN JENKYNS' hopes will soon be dashed by the might of BARRY'S legal advisers. Young MARTIN seems to be annoyed at the non-publication of one of his motions under the obnoxious rule 10.3; but if he gives us the text we'll print it tomorrow.

Financial wizard KEITH MILLS secured the PEMBROKE for the full-timers and NEC in the face of immense competition. The LOUNGE & COCKTAIL BAR is the dearest in the county, if not the entire universe. The only consolation is that it is certainly discreet - none of the locals can afford it. Senior PFL officers however spent much of Sunday night there, poncing drinks from drunken full-timers and telling lies.

What has BARRY got against PAUL SMITH? With the removal of the previous head of O&E to the Equal Ops pitch, the PORTLY PAUL picked up the NEC nomination to the Workers Educational Association. Both his predecessors - BARRY REAMSBOTTOM and VAL STANSFIELD - had been to conferences in such places as Brighton, Bournemouth, Scarborough, Harrogate and Manchester to name but a few pleasant resorts. But where is the next WEA jamboree to be? BOLTON... enjoy, PAUL!

LOUISE DOYLE, the leading MILITANT in MOD Liverpool, booked 20 places in a Blackpool hotel for her TROT chums. A week after the check had cleared the hotel went bankrupt -so no hotel and one lost deposit. Unfortunately, when LOUISE asked for FALCONCREST compensation she was told that regretfully as the deposit cheque was paid BEFORE the expenses cheques were dispatched nothing could be done. So all they've got is £40 a night to cover their costs and pay MENDICANT'S tithe. And if the deposit cheque came out of Branch funds dear LOUISE may be personally liable to replace it.

Newly late ace driver RALPH GROVES has just arrived unlike his VW PASSAT which he wrote off in his RUSH to get here. This is the third car that he's shunted in his racing career which PAT will no doubt put end to after this weekend's demonstration of motoring skills. Incidentally, RALPH turned down the HOUSE OF COMMONS job, which eventually was given to JOHN HICKEY. He'll like it there - it's got 39 BARS - one for every day of the week. CHRISTINE HASWELL, the DE full-timer, has at last entered the spirit of the New Age. She was letting in all and sundry at her Section Conference allowing them to take part in the debate and even vote.

Congratulations to KEVIN McHUGH's uncle for sweeping the board in the PRIMROSE ward in the JARROW council elections. And give a big hand to FAT RIVERS, who has captured the COLLINGWOOD WARD in NORTH SHIELDS for Labour. And bad luck, TERRY MARTIN sadly no longer with us - who narrowly missed election in the BEDE ward of the same borough. TERRY, who was running on the MENDICANT LABOUR ticket, came second to LABOUR with 233 votes. The LABOUR majority was 1877.

Lets hear it for MALCOLM BOWES who has risen like LAZARUS to come to BLACKPOOL, after being on sick leave for a year, to represent the NEC once again.

PETER THOMASON goes on and on. The retired millionaire full-timer, still hero-worshipped by the YORKSHIRE SOVIET and publicans all wound the world, is now head of the old codgers in the CIVIL SERVICE RETIRED PENSIONERS ASSOCIATION. While we make do with listening to VERA LYNN on the box tonight, PETER will be celebrating Victory Over Germany Day with HER MAJESTY at BUCKINGHAM PALACE. The old toper then goes on to a slap up meal with 50 odd HEADS OF STATE, JOHN MAJOR and the LEADER of the OPPOSITION. Believe it or not, PETER was too young to serve in WORLD WAR II, but he did do his National Service. As Leading Aircraftsman Thomason, he spent his entire career in uniform in an RAF paint store in Northern Ireland. On one occasion 3 flights to Cyprus were recalled because his unit had painted the Union Jack decals upside down. His major claim to fame was his skill in nicking paint and flogging it to the locals.

JOE 'le Taxi' COX has confounded his enemies. The enterprising GEORDIE now has another man working for him (GETCHATHERE CABS - Newcastle). He's not too happy at the local Moderati though - he was ordered to leaflet a major office in Newcastle but the address he was given turned out to be Boddingtons BREWERY.

Welsh Whale TREFOR HEYWOOD - one of the redundant moderate planks on the current NEC - might be a trifle delayed in joining us this week as he forgot to arrange the required special leave.
***************************************************************************************

Once again Conference organisers have lamentably failed to provide essential guidance to new delegates, so we offer the following:
Guide to New Delegates moving a maiden Conference Motion
1 Plan Your Speech
What are you going to speak about? 1) Good practice to mention the subject contained in Your Motion and 2) at some point mention the fact that you would like conference to support it. One important point - deliver it in English, or, at a push, Welsh with subtitles.

2 Rehearse
and ensure it fits within the 5 minute time limit. For a first motion this means no more than 15 words, none of which should exceed 2 syllables - with the exception of "Marion". As suggested above the words 'Support' and 'Motion' should be included which allows you 13 words on which to exercise your ingenuity and flair. Avoid words like 'Labour' and 'Party', 'Working' and 'Class', 'Clause' and 'Four'. These are now considered passe in polite company.

3 Plan your approach to the rostrum
Although it appears to the naked eye that no one in the conference hail is more than 200 feet from the platform, your first walk to the rostrum will take at least 3 days. You will need a change of clothing, plenty of fluids and a small quantity of high-energy food. A torch or emergency flare is handy in the event of needing to attract the attention of the emergency services. Plan your route to avoid other delegates. The seating has been arranged conveniently to include aisles for this purpose.

4 Take your Credentials with you
Remember that the first words you speak must be your name and branch. Many new delegates fall over at this point. You will find a handy reminder on the small card pinned to your shirt. (Now you know why it's there.)

5 Leave the Rostrum
Having successfully delivered your speech, leave the rostrum. Stewards will, if required, prise your hands from the sides of the lectern. Remember to give your name to the Steward as you leave. This is because like everyone else in the hall, they haven't listened to a word you said.

6 Remain Vertical
Make your way in a dignified manner, via the side door to the nearest toilet. Under no circumstances is projectile vomiting acceptable within the confines of the hall itself.

******************************************************************************************
ANSWERS TO YESTERDAY'S QUIZ

1) False. It might give the giraffe a headache, though.
2) Total nonsense.
3) True, but nobody can remember if it works.
4) True, but it has never been tried at Conference before.
5) This question has two possible correct answers:
a) Albert Astbury, 1965.
b) Salvador Dali, but the connection with fish has never been proved.
6) False. Nobody knows why corn does that.
7) True. He cracks up as badly as Tony Rouse on lemonade.
8) False. It would have to be seventeen MILLION miles high.
9) Don't be silly. Marion has always been that shape.
10) True. But Mark Serwotka might argue otherwise.
11) False. Why are you getting paranoid about Owen Dodd? Is it the sheep?
12) True. We put it down to extreme cold and the midnight sun.
13) False. We have to say this in order to avoid costly litigation with Alan England.
14) False. Her maiden name was FINGELSON, not FRANKENSTEIN. A common mistake.
15) Wrong. We made them all up. If you really want to know, the REAL answers were:
a) Michael Jackson.
b) Tim McVeigh.
c) Roy Lewis
d) Soap.
16) Answer (a) was correct in spite of an ongoing argument between the MODR8S as to whether it was down to Chris Baugh, Danny Williamson or incompetence.
17) True. Any General Secretary becomes incoherent after 20 Whiskies.
18) True. The only practicing trainspotters in CPSA are Robin Kenworthy and Mike Hemingway.
19) Answer (t) was correct. BOYLE and McINTYRE are known as the Scottish Mafia. (amongst others).
20) False, but you have to admit that they do keep getting re-elected, don't they.
********************************************************************
EVE'S DROPPINGS
Benefit Agency's SEC is CPSA's psychiatric wing Tony Rouse
Can you tell Nicola I need to talk to her about leather straps Paul Smith
It's not for me to teach an old dog to suck eggs, Reamsbottom on Terry Adams
********************************************************************
The Islamic Left - Prayers not Politics
We welcome delegates and observers - new and retreads - to Conference at Blackpool 1995. This guidance is issued under the will of God to assist you in your deliberations over the weighty issues we are gathered here to debate beneath His stern gaze. We remind you that delegates must always carry out the mandate given to you by your Branch, except of course where that mandate is clearly misguided as indicated by the Higher Authority. It is our humble task during this trying time to inform you on a daily basis when such Authority applies. Where possible you should support those Motions which promote our aims, and oppose those which are irreligious or opposed to the declared aims of the Islamic Left. In really difficult cases, Imams will be on hand to issue personal instruction and counselling.

Today's Motions
Emergency Motion 1 - Abstain
Once again no mention has been made of our legitimate arguments for the restoration of differentials between male and female workers. Our-holy days have been omitted from the negotiations and yet again time off for prayers has been left on the back burner.

Motion 75 - Oppose
Hard work never did anyone any harm. Jesus himself preached the sermon of the talents.

Motion 79- Extended Lunch
Now would be an opportune time to begin your daily collection of funds to support our heroic Moslem brethren in Bosnia.

Motion 170 - Oppose
We have long campaigned to liberate women from the burden of wage slavery. The Mother's place is in the home. Do we really need to repeat those arguments yet again?

Motion 178 - Oppose
Today of all days we really ought to remember the lessons of 50 years ago.
****************************************************************
PFLCPSA NEWS
Daily debriefing in The Hogs Head (Right out of main entrance, half a minutes walk if you run, 10 real ales on tap). During Conference hours we will circulate the usual watering holes.
T-shirts (inc. the 'Rebel without a Clause') will be available from Senior Officers. Costs have risen and Islam has drunk our reserve funds, so extra large and entirely voluntary donations are desperately needed to ensure daily production. Please give generously and often.

From Palestine to Falconcrest, from Rwanda to Peru -
One Struggle, One Fight, Revolution until Victory

There are 70 million Hun many of whom can be cured. The others can be killed. Winston S Churchill
---
TUESDAY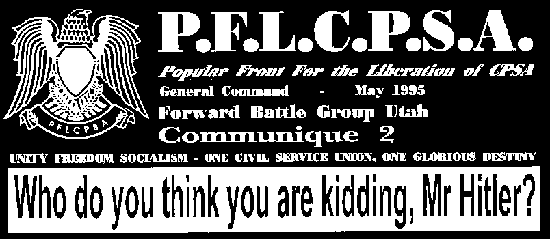 Delegates and Observers were moved at yesterday's ceremony to commemorate those Civil Servants who made the ultimate sacrifice for the cause of freedom in World War II. But only now can the veil of secrecy be lifted and the true story of Barry Reamsbottom's wartime exploits be told. Most of us, by now, appreciate how fortunate we are to have Barry Ramsbladder as our leader. Very few know of the part he played in ending the war, before he was even born.

Barry VC & bar had already struck tenor in the ranks of the nazi hordes. Monty had acted as his double at El Alamein. Churchill constantly sought his advice. In 1944 Barry invented the jet engine and just as he was puffing the finishing touches to a new bomb which would unleash the power of the atom, he received a fateful summons from the War Office.

Barry's uncanny resemblance to the German Fuhrer, together with his ability to shout and froth at the mouth, was now needed to strike the deathblow to the Reich.

It was April 1945. The Russians were bogged down outside Berlin and Hitler was planning to flee his bunker for a last stand in the mountains of Bavaria. Only one man could save the day. There wasn't a moment to lose. Not naturally good at languages, it took Barry a week to master German fluently.

He parachuted down just outside the Chancellery, easily evading the guards. The Fuhrer was celebrating his birthday and plotting his escape when Barry felled the mad German leader with one mighty blow. He swiftly changed clothes and strode back to the party. The rest is history.

'Hitler' remained in Berlin, ensuring that the Reich's resistance would crumble. As the Russians finally inched towards the bunker Barry carried out his final mission. After persuading most of his followers to kill themselves, he ensured that the rest would get captured by ordering them to take the 'escape route' which led straight into Russian hands. Walking across the North Sea he then returned safely to base. Which is why, of course, Hitlers body has never been found.
ROUND AND ABOUT
by Judas Iscariot

After years of struggle the CDMT (CLEWES & COX) bunch at Newcastle Central Office have finally recruited a new member. He is one PETER DOCKERY formerly a Private in the ULSTER DEFENCE REGIMENT with a fondness for tall-tales of derring-do when he was on duty in Northern Ireland. He's not all bad tough - after attending his first CPSA school he said 'I can do that' and declared his aim to become a full-time official in 3 years time.

Councillor FAT RIVERS, a much loved former member of CPSA Newcastle CO now works as a "key worker" in a project that deals with disturbed and delinquent teenage girls. Effectively, she locks them up for the night. Teen crime has plummeted in North Tyneside since its introduction, as the prospect of spending the night listening to her ravings is too much for even the worst local miscreant to bear.

FAT unfortunately can't be with us this week, but her spirit is more than represented by two of her erstwhile colleagues, KEVIN McHUGH, now grown fat on his EO salary, and DOREEN PURVIS who was always fat and is still an EO.

The dynamic duo HEMINGWAY and UNWORTHY are here again. Do not under any circumstances ask MIKE about his son and heir - he has 250 photos in his wallet to show you -andvcdon't ask ROBIN about anything unless you've got a couple of days to spare and a deep interest in TUNBRIDGE WELLS.

The TROT BROAD LEFT do on Sunday night ended in disarray after the bar closed early at 11.30pm. The man to blame was TONY BREEN who had organised the social but hadn't bothered to turn up himself as he was painting the town RED on the £750 he won after correctly predicting the winners of the Football League.

Though it looks like we'll have to wait until Friday for the national election results, some of the section polls, where the Moderati have clearly won, have been declared. MOD Moderati, together with the rival MOD ACTION GROUP bloc almost wiped the slate clean this year. Only one TROT remains on the SEC.

ALAN DENNIS lost his seat to a complete nonentity, GLENYS BURNS. And LYN STAINTON (Harrogate) was beaten by JACKIE TETZNER (York) for the north-eastern region secretaryship. JACKIE was seen as the lesser of two evils (she's not from Harrogate) and was therefore given under-the-table Moderati backing.

Needless to say, MARTIN JENKYNS has still not sent us a copy of his motion though we now understand that all that the worm wanted to do was amend the odious rule10.3 which forbids the publication of motions which may provide grounds for civil or criminal actions. BARRY and MARlON in their wisdom, have decided that not only must JENKINS' motion not be heard, but it can't even be published as that in itself constitutes a breach of rule 10.3. JENKYNS' Branch haswritten to BARRY asking for an explanation for why their motion has been 10.3d and the GreatScot has wntten back saying that he can't even give them a reason or explanation as that in itself would be a further breach of rule 10.3 'Twould seem that our Glorious Leader is inspired by Joseph Heller.

MARTIN has gone crawling to CROTUM for money to fight his case but help may be nearer at hand. ALAN ENGLAND was frying to find him all day. He hates BARRY'S guts and has been convinced of the justice of JENKYNS' Case.

You too can advertise your services in the PFL for as little as £10. We will do anything for money. Thank you Joe.
*********************************************************************
things wot they never sed...

'put your money away lads, I'll get this round' Keith Mills
'I was going too fast' Ralph Groves
'I think thats a valid point of order Mark' Maid Marion
'I've got this wonderful new steam iron' Roy Lewis
'Better to remain silent and be thought a fool than to speak out and remove all doubt' Barry Reamsbottom
A raconter ses maux, souvent on les soulage Robin Unworthy
_________________________________________________
Eve's Droppings (things they really did say)

'I'm getting to look more like Roy's stick every year'
Richard Halfpenny

'Rouse said he'd be a fashion statement in brown today,I thought he said fascist'
Owen Dodds

'Steve Battlemuch is considered left wing even by Militant'
Windy Miller
'No - we think he thinks he's left wing'
Danny Williamson

'It's a first class example of Chris Baugh withdrawing his sword and promptly sitting on it'
Rouse

'I'm down here as an apology'
Frank Bonner
'You ARE an apology'
Donny McIntyre

'I was called a drunk and a practising liar at ES conference' McGowan
'So whats the problem?' Leech
'I haven't told any lies yet' McGowan

'Never mind the Crisis, where's my fucking pay' Stuart Curry

'Dennis White talks to his answering machine to make himself sound important' Curry again

'I have to admit you do a wonderful job in the bathroom. Rouse to Leech

Mc Vicar had his hair done by Vidal Buffoon' Joe le Taxi

'Do you want me to blow it for you' Sandra Dodds

'It did nowt for me but I had a large one before I came out' Sheila Johnson
*******************************************************************************
The Islamic Left - Prayers not Politics
Todays Motions

Composite Motion 242 - Support
Men should be entitled to work for as long as they can.

Composite Motion 246 - Oppose
Typical Hypocritical Trot Motion. The faithful must be given the right to denounce the worthless lechers, drunkards, adulterers and atheists who are put in a position of authority over believers. There is a Higher Judge.

Composite Motion 287 - Support Regardless of Mandate
It is a disgrace that there is not yet one Moslem Permanent Secretary.

Motion 307 - Support
Our Elders must be respected.

Composite Motion 341 - Abstain
Surely Conference has more important matters to discuss

Composite Motion 381 - Oppose
Goldfinch and Miss Lane are known troublemakers. The NEC should be trusted on this issue.

Composite Motion 399 - Oppose
The workshy must be made to work for their benefits. There is plenty of work to be done if you're prepared to look for it. And the motion is nonsense in any case as nobody knows where Draconia is.

*****************************************************************************************
Late News:
We understand that Willy Samuels has had a full body wax prior to conference to prevent a recurrence of the old problem.
PFLCPSA NEWS
Daily debriefing in The Hogs Head (Right out of main entrance, half a minutes walk if you run, 10 real ales on tap).During Conference hours we will circulate the usual watering holes.
T-Shirts (inc the 'Rebel without a Clause') will be available from Senior Officers. Costs have Risen and Islam has drunk our reserve funds, so extra large and entirely voluntary donations are desperately needed to ensure daily production. Please give generously and often.

From Palestine to Falconcrest, from Rwanda to Peru - One Struggle, One Fight, Revolution until Victory
We are waiting for the long-promised invasion. So are the fishes.
Winston S Churchill
---
WEDNESDAY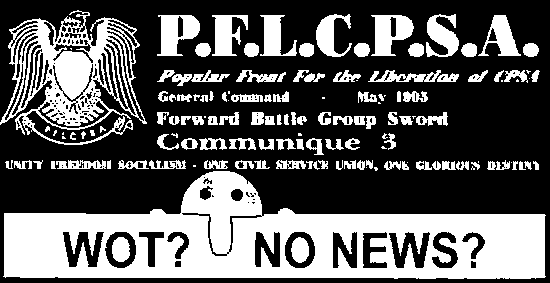 ROUND AND ABOUT
by Judas Iscariot

Today's real news has been withdrawn under Rule 10.3. During the meanwhilst... Why we ever come to Blackpool at all is beyond me. The weather's always bad, the beer is always watered down, and nobody swims.
TREVOR RICHARDSON has the right idea. He's brought down 76 cans of KESTREL lager for his night-caps and breakfast pick-me-ups.

MARTIN BOYLE'S room at the PEMBROKE is a sight to be seen. The Deputy General Secretary has a bohemian attitude to tidiness with an unpacked suitcase against the wall and soiled clothes tossed everywhere. The only semblance of order are the three litres of Jamieson on the table, the 200 Marlboro on the chair and, by the bed, the biggest bars of chocolate you've ever seen.

Scotland's own, DONNY McINTYRE proved his worth earlier in the year at the YARD OF ALE competition sponsored by FALCONCREST'S finest son, the publican of the Falcon just outside CPSA HQ in London. There were only three contestants, fellow Caledonian and Apprentice General Secretary MICK McCANN a regular and DONNY himself.

McCANN took 3.19 minutes to sink the Caffreys. The regular took 39 seconds. While both of them were being sick, DONNY stripped to the waist and guzzled the yard in 23 seconds. He explained that he could have done it quicker but had already downed 10 pints before he got there, and moaned that he was now so full he'd have to go on shorts until closing time. DONNY is no fool. Over the weekend he strayed into a local free disco to get a drink but ran out of money. The canny Scot soon remedied the situation by standing at the door and demanding a pound admission from the punters. He managed to collect £1.50 before he was rumbled.

Talking of Scots; STUART CURRIE has managed to set off the smoke detector with his FARTS on two separate occasions while staying in PAUL SMITH'S flat. Can this have anything to do with the mysterious fire in his Edinburgh office which was limited to the trade union room. This is likely to be ALAN ENGLAND'S first and last Conference. MOD Harrogate is going to be closed and redundancy beckons. Some will doubtless be redeployed with union assistance. But ALAN'S chances are slim. BARRY will be glad to see the back of him and the NUCPS brass hate him more than the Moderati.

LIZ EDGE - yet another recently elected Labour Councillor (Holgate York, 1941 votes majority over 1000) - slipped away at close of conference Monday night to motor through the night to get back to her native York. (It's only 110 miles, but it still took her three and a half hours to get there - you know what it's like when you get a little old lady behind the wheel) She arrived just in time to get to the all important Labour Group pre-meeting ahead of Thursday's full Council, at which all the Committee sinecures are divvied up. Unfortunately it had been cancelled. Due to the overwhelming Labour landslide the powers that be had decided that the pre-meeting was unnecessary. So she drove another three and half hours back on Tuesday morning, arriving just in time for lunch, only to find there was a message waiting for her at the hotel, telling her that the meeting in York had indeed been cancelled.

LIZ also tells us that the Tories in her ward were so desperate they even included her in their pre election personalised mail shot appealing for funds. She was so sorry for them she donated her 1994 PFL T Shirt to their fund-raising cause - which is why she has promised to buy the 'Rebel without a Clause issue this year.
Talking about Councillors, and who isn't considering that half the bloody union was elected at last week's local elections, JAN SWINDLEHURST was returned for the Liberal Democrats, overturning 18 years of Tory misrule in her ward. She has just been promoted and will soon join the glorious ranks of NUCPS. Unlike Councillor FRANK PEMBERTON has rejoined the CPSA, like many other hangers-on hoping to be a big fish in a small pond.

Unfortunately for THE PLANK, (fortunately for the rest of us), BARRY stuck a pin in a wax model of him two months ago, causing the ageing timeserver to be knocked off his pushbike and break a hip. After someone anonymously slipped the GP a bottle of 25 year old single Malt, Frank was medically advised not to travel this week - so we won't be seeing him doing the wheelies around the Conference Hall that he had been planning.

DANNY WILLIAMSON is putting it around that the character in a book called 'Espedair St' by one Ian Banks, is based on him when he used to be a DJ at Paisley Tech. As only 15 people, including the author's family, WILLIAMSON, and both his friends have actually read the book, its hardly much of a claim to fame. Still he can't be all ego, he was caught advising a retired 72 year old female ex Norcross employee about index linked pensions yesterday and she can't even vote for him.

Despite all the fracas in the hall, the world's press seems to ignore us. The only people who bothered to turn up were the PFLCPSA, Socialist Worker, the New Worker and someone from Socialist Outlook which AMANDA refuses to recognise. Islam, who edits the New Worker in his spare time, was trying to extort money from DUGGAN and mentioned in passing that his namesake, who lived in Lewisham, had an annual subscription MICKEY replied 'thats not a namesake, it's me - that's my old address, and my mother's still getting it every month and we've never paid a penny for it. She uses it for cat-litter'
********************************************************************************************
CONFERENCE ENIGMAS

How come our expenses run out before Conference does?
Why is there only one Monopolies Commission? Why is Donald a Duck?
Why do we eat things with mould on them at 4am? Why do we eat anything we can lay our mandibles on at that time?
******************************************************************************************
Excuse
me,
FASHION TODAY by the PINK MAFIA

GOD! Maid Marion is in serious need of a bleach and full make-over this season. We suggest an emergency session with VIDAL SASSOON, or a stop-over at "THIS MORNING with JUDY and RICHARD".
Dowdy and dark colours seem to be the main theme with all factions this year, having succumbed to the POST NEO-CLASSICAL INDIGINOUS DENIM theory. However, an exception to this rule is the ever georgeous CHRIS KIRK who is dazzling bleary eyed Delegates with yet another Sensational Selection of outfits!
Ufflfl
BL84 & Broad Left are having matching wardrobes badges are definitely Brian this year, "LEFT UNITY" tin badge in a rater
S
The
fashion has
taking the unity theme to EXTREMES this year and accessories. "TROT" and "TROTS OUT"
but in vogue is
DISGUSTING
Moderati are in a state of confusion because gone to the dogs, but we are pleased to report
the exception of TONY ROUSE- Yuk, ducky) amongst the the powers to be. have noted however that there are quite a few TOUPEE S running around Conference without their owners, including one which bites froths at the
name of "Barry".
LEFT
WELL!
to the
DIM
should
They really stop wearing the previous night's lager, and chips. WEDGEWOOD. Julie, Julie, if Chrissy,you really MUST do something about through a hedge backwards" look is so PASSE! If
In
and
WHITE! It shows The
you want to compete your hair,
the
the signs of exception is JULIE SERIOUSLY with sweetie.The "dragged
a startling development Delegates were amazed to espy a PFL Officer wearing a SUIT!!! Shame.
curry Julie,
by
type
the much cheaper and tackier
shade of ORANGE!!!???
their Glorious Leaderene' s a lack of brown suits (with
We
mouth and answers
Note from Ed: I'm leaving this unreconstructed, coz it looks quite poetic!
***********************************************************************************
EVE'S DROPPINGS

'Who's that over there?' Frank Campbell
'The two birds from the Equal Opportunities Commission' Donny McIntyre

'Ere- this is Warm' Jacobs
'Well its been in his hand for hours' Wigley

'That's not very fucking funny. Where's Lewis? Reamsbottom

'John Ellis is wandering around looking for someone to recognise him Samuel

' I'd rather have a dog than a Moslem any day Joan Bronkhorst
********************************************************************************
The Islamic Left - Prayers not Politics

Todays Motions

Composite Motion 440 - Oppose
Many of our relatives are small traders and deserve every opportunity to earn a living just as much as we do.

Composite Motion 506 -Oppose
What the Fuck are they on about?

Composite Motion 1177 - Oppose
Annual attack on the family.

Composite Motion 1181 - Oppose
Some matters are better left in the hands of those who understand them.

Composite Motion 1203 - Oppose
Isn't the point of the current policy 'compensation for loss'? If you haven't lost anything...

Motion 1253 - Oppose
Inaction can be as valid a stratagem as action, and is sometimes required in order to avoid supporting either of two godless paths.

Motion 1258 - Oppose
More Trotskyite anti-democratic nonsense. Why don't they grow up.
****************************************************************************
PFLCPSA NEWS

Daily debriefing in The Hogs Head (Right out of main entrance, haifa minutes walk if you run, 10 real ales on tap). During Conference hours we will circulate the usual watering holes.
T-Shirts (inc the 'Rebel without a Clause') will be available from Senior Officers. Costs have Risen and Islam has drunk our reserve funds, so extra large and entirely voluntary donations are desperately needed to ensure daily production. Please give generously and often.

From Palestine to Falconcrest, from Rwanda to Peru -
One Struggle, One Fight, Revolution until Victory

Guns will make us powerful; butter will only make us fat. - Hermann Goering
---
THURSDAY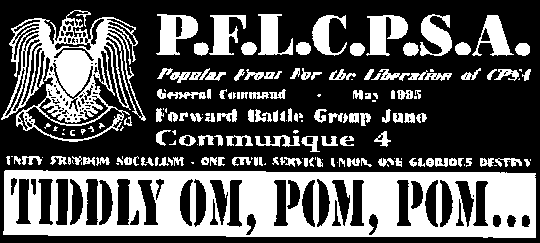 ROUND AND ABOUT
by Judas Iscariot

The things that they do: JAN SWINDLEHURST is not a happy lady. On Tuesday night her husband's BMW was stolen outside her hotel, the SEABANK, and tough it was recovered she can't drive it due to the damage sustained. JAN, as we reported yesterday, will be leaving the lofty heights of the NEC, which she has ably served for the past eight years. But, we are all pleased to note, she is not leaving CPSA and will continue to do sterling work on her SEC. She's not too happy about raffling home in a Vauxhall though.

In the tea break RALPH GROVES was telling all and sundry that he is a virtual mobile office. He's got a GSM digital mobile phone, a PSION organiser which is PC compatible, and a portable bubble-jet printer ready to go anywhere, anytime - all he needs now is a car.

One green observer (a Mr. GIBSON of BA SW Essex) who had lost his credentials went to the first desk which had CPSA on it to get some assistance. Unfortunately for him he had stumbled on the PINK MAFIA desk and walked away with two condoms. DAWN ANDREWS was showing another observant observer the sights at the DIM LEFT do, young Christine Campbell from the Procurator-Fiscals office. She spied BARRY at the bar and pointed him out to which CHRISTINE replied 'Who's he?'

The Hog's Head was packed as usual on Wednesday with a marathon session by BRONCO, HARDING and ALAN ENGLAND. The Harrogate hero bought a PFL 'England Sucks' T-shirt and then the party proceeded to the Pleasure Beach with two of the drunken bums, BRONKHORST and ENGLAND flailing at each other on the sand. Hopes that ENGLAND will vanish when MOD Harrogate closes may prove to be premature. He's a mobile grade.
Incidentally, BRONCO was so drunk that he failed to take part in the annual conference quiz for the PFLCPSA. The scratch team that was left, captained by LEWIS lost by 1 point.

STEVE FIELD (DSS Dorset) got here on Saturday in his usual drunken and druggy state and crashed out in his hotel, the NORTHMOUNT. Across the road, at the SAVOY, an Irish gypsy wedding was taking place and a number of them were staying at his own hotel. When eventually he floated down for breakfast Sunday morning the maid told him to join his fellow gypsies and not annoy the decent customers. STEVE, incidentally, is usually out of the game by ten in the morning. Yesterday he told his mates (RICHARDSON, COLONEL HARDING and BRONKHORST) that he was going to the 'OLD THUMPER' still unaware that he was in Blackpool and not his hometown - Bournemouth.
*****************************************************************************

CPSA plc - It Pays to be in CPSA!
Report from the General Treasurer

CPSA plc has continued to prosper despite the continuing world uncertainty about the strength of the Pound, a rise in the annual inflation rate and the collapse of Barings Bank. The 1994 rights issue was taken up by record 125,000 shareholders. Though the recession continues in the industrial market, every department recorded increased sales. The company's latest product, the Legal and Medical Helpline, has already captured a major share of what is likely to be the growth area in the trade union sector. Three new regional sales offices have been opened in Leeds, Manchester and Newcastle to spearhead our new and existing products.

The Moderati label remains the company's strongest selling product line, heading the market for the eighth year running. Militanti sales remain steady, particularly amongst teenagers. The only disappointment has been the failure of Democratic Left the flagship of the Roy Lewis partnership, fully taken over in 1994. The future of this wholly owned subsidiary will be reviewed in the forthcoming year with a view to establishing it as an integral part of the overall marketing structure.

The Annual General Meeting was held in Blackpool in the second week of May. The Managing Director, Mr. Barry Reamsbottom received a resounding vote of confidence from the shareholders despite the continued opposition from a vociferous minority led by Mr. Christopher Baugh and Mr. Albert Astbury.

Staff relations remained good. Personnel Manager Martin Boyle reported that tough the pay award was worth between five to six per cent, wages and salary costs remained pegged at 2.5 per cent. Not one day had been lost in industrial action in the last financial year and there had been only two dismissals, both from the Bristol area. One outlet, BA Inner London South Branch, was closed. Mrs. Ann Jarvis, the Manchester sales director resigned to take up a fresh appointment with Sheldon &Co.

The relaunch of the Company Journal, Red Tape, in new tabloid colour format was another rousing success and a special vote of thanks was given to Mrs. Amanda Campbell-Frankenstein and her dedicated team.

During the year, the Managing Director took part in trades' fairs in Scotland and Blackpool. He also visited the United States to explore new markets. Announcing his intention to seek a further term of office next year, he said that CPSA plc could look forward to the millenium with confidence and pride.

It Pays to be in CPSA!
**************************************************************************
Apologia
We take this opportunity to apologise to CHRIS KIRK for yesterday's PFLCPSA issue, the colour of which (pink) clashed with the colour of her Coral frock.
**************************************************************************
Late News
Deputy General Secretary MARTIN BOYLE has a heart of gold. On his way home earlier in the year he decided to buy a box of chocolates for his wife as a peace offering. Unfortunately, temptation struck on the train, and he had devoured all the milky ones before his journey had ended.
**************************************************************************

ABUSE OF CPSA RULE 10.3 - ENGLAND'S CASE

There is evidence to support the view that Chambers and Reamsbottom have abused Rule 10.3 in order to exclude embarrassing motions from the Conference Agenda. Here are two examples of perfectly reasonable motions submitted by MOD Harrogate which have been withheld under this rule.

I. Conference agrees that Marion Chambers is guilty of gross misconduct by using her powers to:
i) Breaching the law by arbitrarily re-introducing the Stocks at CPSA HQ
ii) Breaching CPSA rule 14.4 d by eating more than her allotted share of cream cakes
iii) wasting undisclosed amounts of CPSA funds expended on an unsatisfactory and unacceptable investigation into the school record of Mr. Alan England
iv) Breaching the law by rigging CPSA elections from 1987 to 1995
v) Breaching the law by consuming Class A Drugs whilst chairing conference 1994
Having regard to Marion Chambers conduct in the above and other matters, Conference agrees Conference accepts that the above list of specimen examples of misconduct is not exhaustive. That in pursuance of its governing powers as set out in rule 6.1, she be removed immediately from office and debarred for life from holding office in this or any other union.

2 Conference agrees that Barry Reamsbottom is guilty of gross misconduct by his powers to:
i) by arbitrarily invading Poland and staring World War II
ii) being solely responsible for the extermination of 6 million Jews
iii) eating babies for breakfast
iv) evading his poll-tax
v) not paying his TV licence.
vi) breaching the law and CPSA Rule l4.3. (f) by issuing the unseemly dissemination of the defamatory and insulting 'Trounce the Trots - Bulletin 3' which described Mr. Alan England as 'bonkers'.

Conference accepts that the above list of specimen examples of misconduct is not exhaustive.
Having regard to Barry Reamsbottom's conduct in the above and other matters, Conference agrees that, in pursuance of its governing powers as set out in Rule 6.1. he be removed from office immediately and taken to a place of execution and hanged by the neck until dead.

In accordance with Rule 22.2 the punishment shall be carried out by the corporate trustee and include forfeiture of membership of the Association and all rights, benefits and privileges arising therefrom (including Death Benefit).

We thank Messrs. England and Jenkins for allowing us to publish this extract on their behalf. The full text can be obtain from either of the above. Martyn Jenkins is a delegate of many years standing and Alan England is the fat gent with the gold bracelet.
***************************************************************************
The Islamic Left - Prayers not Politics
Today's Motions

Motion 1320 - Oppose.
Bad enough having to listen to the turgid monologues for 5 minutes. If anything time limits should be shortened rather than extended.

Motion 678 - Support
We recommend 'Mahmoud and Shaktar' - specialists in the Sharia.

Motion 701 - Oppose
Naturally we cannot condone affiliation to any Atheist or Socialist organisation. However we could support the motion if the wording of the question on the ballot paper is along the lines 'I agree that CPSA should not affiliate...

Motion 724 - Oppose
Controls on the riff-raff are long overdue. When its safe for decent citizens to walk the streets at night, then will be the time to consider relaxing our guard.

Motion 757 - Oppose
The Union has no business interfering in what goes on between Man and Wife.

Motion 781 - Oppose
NUCPS is even worse than CPSA

Motion 840 - Support
At last a sensible Motion from the NEC

Motion 901 - No. Fuck off.

Motion 953 - Oppose
Haven't we heard enough about the boring old fart?
********************************************************************************
PFLCPSA NEWS

Probationary Hero Status is hereby awarded to the deep cover agent posing as a female delegate who raised this weeks first point of order advertising PFL merchandise. We are pleased to report that his courageous action in the face of hostile fire resulted in an immediate threefold increase in our T-shirt sales. For security reasons, his true identity may never be known.

Daily debriefing in The Hogs Head (Right out of main entrance, half a minutes walk if you run, 10 real ales on tap). During Conference hours we will circulate the usual watering holes.
T-shirts (inc. the 'Rebel without a Clause') will be available from Senior Officers. Costs have Risen and Islam has drunk our reserve funds, so extra large and entirely voluntary donations are desperately needed to ensure daily production. Please give generously and often.

From Palestine to Falconcrest, from Rwanda to Peru -
One Struggle, One Fight, Revolution until Victory

When I hear anyone talk of Culture, I reach for my revolver - Herman Goering
---
FRIDAY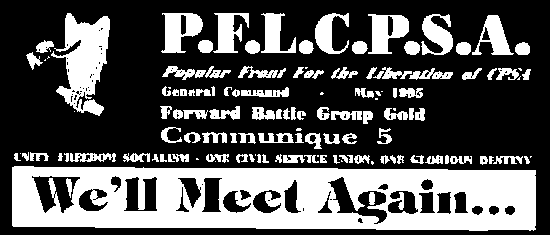 ROUND AND ABOUT
by Judas Iscariot

While ALAN DUXBURY continues to assert that he really has won the presidency, the wrangle over the election declarations now seems likely to continue until well into the New Year. Campaigning for the general secretaryship has already begun. JOHN MACREADIE is back in training in the MENDICANT camp and the DIM LEFT are already debating whether to openly endorse RAMSBLADDER or run their usual no-hoper, MOFFAT. BARRY, of course , will remain general secretary until he retires.

So many old faces, so many new. PETER THOMASON, who is not welcome at FALCONCREST crawled in to the YORKSHIRE SOVIET bash last night, together with CLIVE BUSH, past editor of Red Tape and RAY ALDERSON, under the eagle eye of CHRIS KIRK. Needless to say, BUSH and THOMASON were punishing the alcohol in the way only full-timers can every really understand. AMANDA was so worried about CLIVE'S health, he's pushing 70 , that she's given him special minders to make sure that he doesn't fall down the stairs.

Spies inform me that KEVIN OLIVER (DSS CDMT Newcastle CO) bought his annual round at the CATHOLIC CLUB last Monday during the happy hour and still managed to miss out CHAS CLEWES.

Another nobody, ALBERT ASTBURY, who has spent 34 years in the union (or so he says) was on television on Wednesday. The great man had entered 15 to I. the intellectual's answer to MASTERMIND. Poor old ALBERT however, got bowled out as he didn't know who directed the film Quiz Show or the name of the magazine which Richard Ingrams set up in the 90s. A child of seven could have got them right but for the benefit of those who didn't see the programme, the answers are Redford and The Oldie.

BOYLE'S gluttony knows no bounds. Earlier in the year he was going back up to Scotland with McCANN after an NEC meeting and so they decided to tank up with a litre of whiskey, a crate of beer and a Sainsbury's food hamper. As the train pulled out McCANN went for piss. By the time he'd come back BOYLE had devoured the hampers entire contents leaving MICK to fork out £20 on BR sandwiches.

DENNIS WHITE has come out at last - of the Tory Party. He actually resigned last year in protest at what they were doing to the service but has kept it quiet until now and he's now campaigning for Labour. But it's not all good news - so is FRANK PEMBERTON. OWEN DODDS has also torn up his card and is now contemplating joining PLAID CYMRU which just leaves poor old TREFOR HEYWOOD flying the true blue flag on the NEC - and even that's in doubt now.

After her public flaying at Conference yesterday, JOAN BRONKHORST, has made it known that if she could wave a magic wand she would make 4 wishes, 2 of which we can publish in a family magazine. That BRONK would develop an aversion to alcohol and spend his drinking time satisfying her carnal desires instead, and that MARK SERWOTKA would indulge in a daily dose of Thai Grass to improve his view of the world and perhaps cause him to smile once in a while. Clearly having recently sampled the mind-expanding substance herself, she also commented that 'When I meet God, I'd expect him to be a cross between Colonel Islam and Tony Rouse'

Speaking of TONY ROUSE, we understand he had a guest last night, in the shape of KAY NUNN, DTI Section Organiser, who couldn't find her way back to her own hotel. So at least we know her honour must still be intact
Biggest non-event of the night was the CELTIC FRINGE meeting at the CATHOLIC CLUB, where HUW BRADLEY and JOHN MULDOON (P45) sang no songs about getting pissed in Spain and shagging senoritas. Similarly, McINTYRE sang nothing at all about MASTURBATION. No jokes were made about the lack of sexual prowess of one ROB LEECH who, in turn, did not upset DENNIS CALNAN with jokes about this week's Irish President. And finally, no one whosoever stampeded for the exits when the GENERAL SECRETARY, one Mr. Reamsbottom, started singing dirges about people getting their legs blown off. All in all, its just as well no one else knew it was going on at all.
*****************************************************************************
EVES DROPPINGS

'I want to be a fluffy bunny' Amanda Campbellstein

'Will you join the broad left?' Janice Godrich
'Only if Marion Dennison asks me nicely' Tino Hernandez

'Its really scary, this video business - you're scared to pick your nose
and having a wank is right out' Screech

'There's some tidy totty round here: not like NUCPS - there the
"women have bigger bollocks than the men. Harding

'Albert (Astbury) has used 5 bottles of Grecian 2000 this week already' Dennis Hawkins

'I lived in Jamaica for 2 years but I never smoked dope until I joined the DSS and an HEO gave me a puff Joan of Arc
*****************************************************************************
The Islamic Left - Prayers not Politics

We trust our guidance has been enlightening and uplifting this week and bid Allah go with you on your return to the branches. Don't forget to explain to your members why you had to break the occasional mandate in order to bow to a Higher Authority. If necessary, one of the Imams will appear before your members to explain the shortcomings of democracy.

Composite Motion 1011 - Oppose
Free services are worth every penny you pay for them. More 'nanny state' detritus.

Comprehensive Motion 1018 - Abstain
See what we mean? The Free Diaries are rubbish. Fall to bits on January 2nd and members are ashamed to be seen with one. The Union pays 29p each and they're not even worth that.

Comprehensive Motion 1030 - Support
The BCCI was a fine example of an Islamic Credit Union.

Composite Motion 1050 - Oppose
It didn't work in Russia and it's time the movement moved forward rather than always looking back.

Motion 1057 - Qualified Support
The Health Service is entirely dependent for its day to day running on the work of our brothers and sisters. They clearly deserve our wholehearted support. However, the motion doesn't go far enough. The NHS would be much better able to stand on its own two feet if Doctors could charge reasonable fees to all but the destitute.

Composite Motion 1059 - Support regardless of mandate
Congratulations to the Branch for the most Islamic motion of the week. Family courts are a practical example of the Sharia in action and this example could usefully be extended to all walks of life.

Composite Motion 1064 - Oppose
Men and women clearly have different needs.

Composite Motion 1066 - Support
Islam invented Trade Unions

Composite Motion 1080 - Oppose See guidance on Motion 724

Composite Motion 1084 - Support
Regardless of what one may think of Piers Freelove, whose personal life does not stand up to close inspection. He is a member of the Socialist Workers Party.

Motion 1091 - Support
Brother Dudayev is fighting on behalf of us all. The British Government should supply weapons and training together with logistic support for volunteers to form an International Brigade.

Motion 1092 - Oppose
He deserved it. Where would we be without Hyundai and Samsung?

Motion 1100 - Support
Far sighted proposal and a solid first step to a full progressive Islamic Republic. Well done BA West London.
*****************************************************************************
PFLCPSA NEWS

Funds desperately needed. A few T-shirts still available. And so once again its Bibi Conference -and next year its back to Brighton for a change. Thanks to the usual team of helpers, hinderers and hangers on. BRONK is once again in breach of his bail conditions. APOLLO returns to his life in hiding. PICASSO will fade once more into his customary obscurity and ISLAM will start taking the beta-blockers and pretend to be a Newspaper editor for another 12 months. Many Thanks to ADEPT BUSINESS SERVICES for their special efforts to meet our demanding deadlines. BILL GALLOWAY was a friend to the PFL and our brand of the truth for a number of years and we are delighted to see that his son ROBERT is carrying on the family tradition.

From Palestine to Falconcrest, from Los Angeles to Peru -
One Struggle, One Fight, Revolution until Victory!
We shall return and we shall be millions - Eva Peron