MONDAY 6th JUNE 2005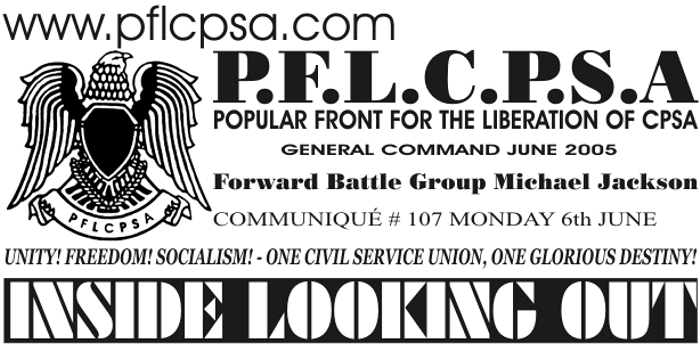 JUDAS ISCARIOT - BRIGHTON
PCS elections are a yearly miracle because no matter whatever vote you get you can always claim some sort of victory. LUNITY, of course, swept the board again and can quite justly claim it was a vindication of their record over the year. SOCIALIST CAUCUS and Lord Undy's PCS DEMOCRATS can equally claim that if it wasn't for them the LUNITY slate wouldn't have got as far as it did. LES PRIESTLEY'S chief mouthpiece, JAKE WILDE, reckons that 4THEMEMBERS did well for the first run of a "new" faction and STUART CURRIE believes that his rump MODERATI slate fared well even though they got little or nothing at all out of it.
ROLAND BIOSAH OBE and MOIRA CAMPBELL were definite losers. Both were booted off the NEC, MOIRA due to the mediocre performance of 4theMembers and CHIEF BIOSAH failed to get a reserved seat as two other blacks polled higher. GRAHAM TAYLOR got stuffed, coming bottom of the poll for the reserved HMRC seats on the NEC. GRAHAM "I was more attracted to Stalinism when I was younger but I grew out of it" TAYLOR is no stranger to defeat. The former Commie turned UNDERLING is better known as the election agent for OONA KING who was spectacularly booted out of Bethnal Green and Bow by GEORGE GALLOWAY in the real election last May. He also failed to win a council seat in his own borough at the last local elections.
LUNITY held in the mighty DWP but only on a 10 per cent poll. CARCASE superstar CHARLIE MACDONALD got on the GEC for the first time. But the right-wing can console themselves with the fact that they closed the gap with the left even though they are still an insignificant minority on the GEC.
PRIESTLEY'S crowd is predicting victory in the IR wing of their group elections and it was a mixed bag in Customs with a slight swing away from Lunity. STAFF and LUFFMAN, both LU, got the order of the boot. This was a particular blow to their egos as they represented the younger generation of LU hacks. HADDOCK got in by virtue of the clerical grades reservation. EATON like BRADFIELD is a long serving left leaning independent branch secretary. But the big surprise was DOMINIC MCFADDEN, the lowest placed of the AGSs elected, who still defeated LUFFMAN by a clear margin. And JOHN BROWN and ANNIE STEPHENSON (also independents) hardly had the highest profile this year, but they were returned fairly comfortably.

Three top Underlings, COMER, LICENSE and BEARNE were returned – a gain of one seat. COMER, the leader of the PCS Democrats group on the NEC and LICENSE had been targeted by some of the leading "independents", for their support for early group merger, but it didn't dent their support even though a lot of the activists hate them!

In overall terms the C&E GEC is mainly composed of so-called "independents".
They used to have their own slate, but that fell apart after ALDERSON became President.
It is likely that the C&E Independents will form an alliance with the MAD MONK over the next few months. Though probably closer to PCS Democrats politically, they don't like the NEC and they are attracted to the narrow 'Revenue First' mentality of the former IRMF.
Bad news for LUNITY in Home Office as the unholy alliance between the TROTS and the UNDERLINGS cracks open. DEREK MELLOR lost his seat. and JOHN FERRETT (Labour Party hack who won his NEC seat on the joint LUNITY/PCS Democrats "Democracy" slate easily beat his LU opponent in a straight race for the Group presidency.
AUSTIN HARNEY, Left Unity millionaire's son and ex-public schoolboy was beaten for the post of DCA Group Organiser by SANDY MAY a humble Usher and a granny who earns less than £13k. Pointless LES MORGAN is back as an AS so we look forward to his subs now he's getting T&S from the union and it looks like ROB JAMESON won't have to use his casting vote over the next twelve months now the DCA is completely dominated by his "Independents".
NEWS FROM THE SMOKE FREE ROOMS
by Barrabas
It will be business as usual for the union for the next 12 months. Within the next month or so it is likely that MAREK will proclaim victory on the pensions and job cuts fronts and stand the troops down. On pensions he will state that the Government has given assurances that the proposed changes will not be detrimental to all grades from SEO downwards – and they after all are the only ones that count as far as we're concerned while on the cuts he will accept Government pledges that it will do all that is reasonably possible to avoid any compulsory redundancies. Some 30,000 jobs have already gone through natural wastage and the cuts planned to go on till 2008 are likely to proceed painlessly until that date. Whether the CARCASE will accept this as reasonable or condemn SERWOTKA for "selling out" is a matter only McDONALD and LEE ROCK can answer.
Eagled-eyes have spotted a howler in PCS Rules section of the motions book that will need to be immediately rectified by Standing Orders. There's a clear misprint in para. 10.12 in the section dealing with the new rules for the National Appeals Committee. It reads "The President (or appointed deputy) shall present the NEC's case to the NEC" which, of course, it can't. No doubt it should read "present the NAC's case to the NEC" but unless this is rectified the entire rule is a nonsense and would have to be X-marked.
Edinburgh DWP Branch BEC members are in open revolt over the bitter election contest for the post of Treasurer. GARY FEGAN, a former Moderati and now a leading light in the MAD MONK'S 4theMembers group narrowly beat the Trot incumbent, DON MACIVER, in a campaign that was seen as well below the belt. FEGAN's election address was widely perceived as a highly personal and somewhat illiterate attack on MACIVER, who had held the Treasurer post for the last six years.
What's more, the criticisms of DON date to a time when he had a period of extended sick leave due to a serious illness and a cancer scare. GEORGE REID, Chair of the Edinburgh branch since its inception, took care of the accounts whilst DON was off and wrote a letter in MACIVER'S defence. As a member of the four strong delegation to conference, FEGAN is now refusing to stay in Brighton with the other branch delegates, preferring to stay with his new 4theMembers cronies.
In another twist FEGAN was seen last week loudly arguing with STUART CURRIE in the Argyle House canteen in Edinburgh . FEGAN called CURRIE a "splitter", "an idiot" and then a "fucking arsehole" whilst CURRIE called GARY a "stoner" and a "lazy junkie". Neither CURRIE nor FEGAN received a nomination from the Edinburgh Branch to stand for Group or National positions.
Talking of has-beens Sir ROY d'LEWIS has returned to haunt us yet again. For the benefit of new delegates he's the old git with a walking stick who dresses like a tramp and spends most of his time cadging drinks off anyone he thinks remembers him. Sir Roy is now a big name in the CIVIL SERVICE PENSIONERS' ALLIANCE after winning one of the coveted Standing Orders posts in the old codgers' association. He bagged 24,534 votes easily beating PETER HARRIS MBE (Chief Steward at CPSA Conference for over two decades) and someone called KENNETH JOY. ROY attributes his vote – far bigger than JANICE's vote as PCS President – to the fact that at 61 he was considerably younger than the two other hopefuls and that the pensioners felt that his vast experience on CPSA Standing Orders qualified him for this august post. Despite this elevation, he is not here "officially" ie on exes, that privilege is reserved for PC PLOD, RALPH GROVES, editor of the fogies journal.
PLOD, who retired last year, is coming down to officially represent the Pensioners' Alliance at Conference. Though he enjoys pottering about in the garden the allure of money and a penchant for fast cars has forced RALPH to return to full-time work as an officer for PROSPECT, the scientific high-castes association.
Mercifully, we've been spared the presence of BIG FAT GEORDIE BASTARD JOE COX this week. JOE le TAXI pulled out claiming he has work to do on his section but others claim it's because he can't face anyone following the stuffing he got in the elections. JOE will doubtless spend more time driving his poxy minicab and dishing out ASBOS on the Newcastle Bench. Newcastle Central Benefits Branch, his former fiefdom, took a lunge to the left this year. This year their delegation consists of failed Socialist Alliance supremo DAVID STEAD, SWP veteran NEIL SIMPSON and Socialist Party fundamentalist PAUL OWENS. The fourth man is our old chum PETER CAMPBELL, known for his penchant for sleeping on Brighton beach when unable to locate his hotel. All of this is much to the consternation of the Branch Chair and PCS DEMOCRAT dominatrix, MARY FERGUSON. Sparks will fly…
JAKE WILDE is still the clear winner on the sartorial stakes having just dyed his hair in the manner of ageing rock-star GORDON SUMNER aka STING.
JIM DYE makes his last bow this week. He took his early bath this year when the Liverpool Pensions Centre was abolished. On Friday he's getting married to someone he originally met at Brighton Conference.
It's definitely the last Conference for JOHN McCREADIE. The veteran former MENDICANT full-timer had his retirement bash at FALCONCREST last week. A board with photos and cuttings from John's finest hours, mostly during his CPSA days, was pinned up in a corridor including when he stood side by side with Col. ISLAM on the SSRC picket line in 1984. What was carefully omitted however was the RED TAPE photo of McVicar awarding the winner of the CPSA "Miss Personality Girl" in the days when beauty contests were still PC.
McVICAR will soon depart to his mansion in the south of France to spend his days in the company of TERRY ADAMS et famille who decamped there a few years ago. The Midi is a cut above the bog-standard Spanish villas that BONNER and RAMSBLADDER bought (where incidentally, GORDON PATTERSON spent a lovely two weeks recently). Lickspittle TERRY HOBBS, a former member of the high-caste SECRET LEFT, has a villa in France and BAUGH is believed to have a second home in BARNSLEY .
But what we all want to know is where is FRANK CAMPBELL'S new pied a terre? Insiders think it's in Tuscany, the favoured second home for HUGH LANNING and most of the other Blairites. Nice job if you can get it. No wonder they don't want full-timers pay linked to that of the members.
MCVICAR'S last years have been spent as MARK SERWOTKA's political minder, a post now filled by DAVE WATSON from the Research Dept. WATSON keeps a very low profile but he can be relied to do Madame Godrich's bidding – which after all is why he got the job. Incidentally CAMPBELL 's appointment means that we're one senior national officer too many. MARTIN BOYLE is going to get shunted sideways to make room for DOZY EAGLESON but he doesn't want an early bath and it'll cost too much to give him the golden handshake he covets. But JOHN HICKEY might be the likely sacrificial victim. He's just had minor heart surgery and was successfully signed off by his GP and the hospital as fit to resume work. But FALCONCREST had other ideas and ordered him to go to the Occupational Health Service for a second opinion. This is what going under the knife really means.
From the Encyclopaedia of Pointless Information
The daily flatulence of a single sheep produces enough Methane to drive a small lorry 25 miles.
29% of British Dentists have been involved in road accidents.
26 Popes have been assassinated.
If all the corks from all the bottles of wine produced in France , in a single year, were laid end to end, they would go round the world 3 times. And it would be a fucking good party.
CONFERENCE EXERCISES
New delegates should be aware that sitting still for long periods increases your risk of both Deep Vein Thrombosis and Terminal boredom. One way to reduce the risk is to perform gentle exercises like this one:
Lift your right foot off the floor and make clockwise circles with it.
Now, while doing this, draw the number "6" in the air with your right hand.
Your foot will change direction and there's nothing you can do about it.
Apart from stop that is.
(the first delegate or observer who can prove us wrong, under laboratory conditions, without the aid of drugs, alcohol or artificial limbs, will win a free PFL t-shirt)
PFLCPSA NEWS
Usual Brighton Protocols will be in force during the week. Probationary Martyr Status will be awarded surreptitiously to the first delegate who can bring forth our name in the course of debate or even raise an appropriate PFL Point of Order. It remains the quickest way to advertise our eternal presence, but talibs should not commit Conference Suicide for our sake. There are more deserving targets for your martyrdom elsewhere.
Routine reports should be filed with any Imam during office hours. Our office is in the usual prominent position in the right hand Bar (if you're facing the stage. Otherwise see us privately using the prearranged financial signals). Final debriefing in the OLD SHIT at 10 pm every evening. Deep cover agents should use the private channels for breaking news up to 3am .
This years T Shirts have been lovingly hand stitched, stone washed and stencilled by fair trade workers from DWP London Souf working weekend overtime on your behalf. Individually priced at £12 they will be a lasting reminder of the desperate futility of this week' s episode of the class struggle. More importantly, they help to offset the cost of printing this drivel. So buy now, while stocks can be replenished. Those of you who have been robbed by the taste fairy and fail to appreciate the sartorial splendour of our fashionware can, instead, forward your large and entirely voluntary donations to our authorised collection agents.
They must be dividing the spoils they took: there must be a damsel or two for each man, Spoils of dyed cloth as Sisera's spoil, an ornate shawl or two for me in the spoil.
(Judges 5:30-31 NAB)