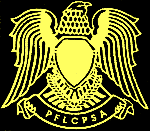 THE POPULAR FRONT FOR THE LIBERATION OF CPSA
FIGHTING ON IN OUR 45th YEAR BUT A BIT RETIRED NOW
FREEDOM! UNITY! SOCIALISM!
ONE CIVIL SERVICE UNION,
ONE GLORIOUS DESTINY!
REVOLUTION UNTIL VICTORY!
ELECTION SPECIAL PFL QUIZ 2001
set by barrabas
1. Which Senior Full -Time Official has breached all conventions and recommended that members vote for a particular political party?

2. Which political party has the newly elected General Secretary publicly commended to members?
(Interesting point - if one is supporting a party, campaign, cause etc in a personal capacity, why include one's official position in such an endorsement? If support is truly in a personal capacity then no reference should be made to an official position.)

3. Which political party/parties advocate the abolition of Value Added Tax (VAT)?

4. How many PCS members' livelihoods, careers and jobs are associated with VAT ? (clue - think of a figure between 11999 and 12001 and divide by 1.)

5. Which Group in PCS are justifiably pissed off with a General Secretary who has publicly advocated that 12000 members should have their jobs axed?

6. Has Marek pointed out to members how life as civil servants would change if the Socialist Alliance gained any influence?

7. Has Marek read the Socialist Alliance Manifesto?

8. Can Marek read?

9. Will any Building Society give this man a mortgage in London?

10. How will Marek's friends in Left Unity fare at the Customs & Excise Group Conference taking place in Scouseville on 12/13 June 2001? (Marek has already declined the kind invitation from the Customs & Excise Group to attend this friendly gathering.)

11. Which newly elected General Secretary has some explaining to do?