ROUND AND ABOUT
by Judas Iscariot - February 2000
The incompetence at Falconcrest continues unabated: the saga of the grading of the senior full-time officers of the union has been running now for 2 years, and has at last reached the anticipated heights of farce (see JUDAS passim). Campbell, Bayne, Duggan and Lewtas (unsurprisingly all ex-CPSA officials) had to apply in open competition for only 3 vacancies. All 4 in house candidates and 4 external candidates were invited to a selection board. (There was allegedly an attempt to spike the board at the last minute due to a bout of political flu). Following lengthy and Frank discussion, it was decided to appoint 4 persons to the 3 posts: Campbell, Bayne, Duggan and Lewtas.
Falconcrest was put into a terrible spin when an e-mail message went to all staff recently. Carol Popplewell had been rushed to hospital for the 43rd time since she took up office. This time she was complaining of chest pains - funny that, coz she really doesn't have much of a chest to brag about. Also funny because she had managed to struggle into the office with her three bags, ready to go home, even though it was only Thursday, and she wasn't due to head north of the river until Friday. However, Big Les was on hand to deal with the miniature crisis. Unable to cope on his own he called in his Caledonian chum. No, not Bazza - the other one, you know, old whatsisname, McAwful.
Unfortunately, being from IRSF they weren't able to make a decision on their own, there were no ME1sters on hand to tell them what to do. So they did the only thing they could, they called upon the services of Kevin Hern - the Health & Safety rep. Now Young Kevin's well placed to know of Pop's medical trials and tribulations. He travels into the office with her each morning and has to listen to the whole catalogue. If someone else has got it, she's had it. If there's been a programme on the telly - and especially if there's something wrong with just about anybody in any old Soap going, then Carol's got the symptoms and is suffering worse than anybody else.
Our Kev declared the veep to be very pale and in need of urgent attention.Taking no risks and unable to make a proper diagnosis he called out an ambulance and crash team. Too busy to send an ambulance, the helicopter was sent to pick up Pop. But Les had to go to hold her hand and bring back news.
As you can imagine, none of the staff was able to do any work for worrying. Not that unusual for the Tufties, but a major break with tradition for the CPSA survivors. But they soon decided to stop fighting the rot and join in the skiving culture. Later that day that e-mail came round. And joy of joy. She had survived. She'd seen five consultants from five different specialities. None could figure out what was wrong and passed her on to the next.
Appreciating her importance they had provided her with a well-upholstered wheelchair for the day. But that's not all. One of the doctors had moved a strand of hair, so they called in Princess Diana's hairdresser - well, he's not so busy these days, so was happy to accept this new NHS commission. As indeed was a local manicurist who was called in a little later when another of the careless medics broke one of her nails. Hearing of the tragic news Chris Duffness, Johnny Showboat's secretary, had rushed to the hospital to spend the day looking after a very distraught Big Les, calling Johnny with hourly up-dates (He was unable to attend in person, being stuck in Scotland outside a certain Employment Tribunal hearing) and generally have a jolly time slipping whisky into the cups of undrinkable hospital machine tea that they all three needed to while away the hours.
By 4 o'clock Johnny took the first executive decision he'd ever managed by himself, and instructed the hapless Kevin to send the e-mail to all staff. On hearing of the events the Blessed Marion reacted immediately. She asked what was in Pop's diary. And would you believe it, there was an appointment to attend at an AGM in one of Marion's keenest supporting branches. They told Marion that they were extremely disappointed not to be seeing Carol the next day. They had a whole tranche of questions they wanted to ask about Carol's reported new sport of ship-jumping - a sport they felt was inappropriate for one of Pops' enormous stature.
Meanwhile, back at the hospital, no-one could find out the cause of the pains (no surprises there, then!), so they kept her in overnight. A great shame that `cos she'd paid out all that extra cash to reserve a train back up to Rotherham. Strange why she should have done that when the AGM was in the opposite direction the next day. But perhaps she was just rushing home to get the bright green suit - because she only had the bright yellow, bright orange, bright red and bright purple ones with her.
McCANNY may be in his darkest hour, but he is keen that his supporters understand that he is scraping by despite ME1st's back-stabbing; he boasts proudly of earning more moolah now than ever, due to having the spare time to pick up his £6k council attendance allowances on top of the £32k members pay him for cleaning REILLY's shoes.
Meanwhile members in the BA had a fit of independence (or insanity) and elected McINTYRE, LEWIS and EASTON to officerial positions on the GEC. All this despite no ballot insert. For SIR WOY it was just about his last hope of ever holding Group office and comes on top of his success on the National Appeals Committee, which was achieved despite the utter incompetence of the fractured right wing forces in failing to agree a slate. Hodgkinson & wife had been on the GEC for 27 years but were unceremoniously booted off. They are understood to be planning their early retirement from the National Assistance Board, or whatever it is called these days. The useless and lazy BRONK failed to get elected, registering a paltry 2700 votes - about £1.60 per vote. Socialist Labour (Mendicant) are bragging that they pulled their support for Marek Serwotka, which is presumably why he lost. In LCD, a splinter of the rump of BL'84 continues to exercise control. Mick Booth finally bit the dust, and Peter "come dancing" Harris has now retired.
Scenes of revelry and debauchery were only to be expected when a group of PCS officers repaired to a local hostelry for the second leg of the England vs Scotland football fiasco. PCS remains totally culturally divided in all sorts of ways. There's CPSA versus PTC - the workers versus the tufties. There's the usual gender divide you'd expect to find in any union. And then there's the ME FIRST versus everybody else. But the most dramatic divide of all is that between those from the different sides of that great northern border. It's not too surprising, then, that trouble erupted in the Windsor Castle (of all the places to show a north - south clash!) when the gang landed there to have a wee tipple while the match was on. Things went swimmingly until the Jockos scored.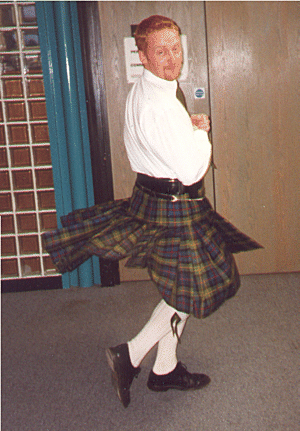 UPSKIRT SHOT OF GOPHER
HUGE PLANNING (English; ME FIRST; PTC type) had been trying to persuade CPSA's own leading Scotsmen BOIL and PATTERSON (see pic above) what a good idea it would be if they followed the magnificent lead of their colleagues (ex) Carol POPS and Alan CHURCHYARD who have so recently invented a brand new sport: ship-jumping. He was just on the point of suggesting how they could go about deserting their old hero the GREAT SCOT and transfer their full support to himself and the ME1sters in the forthcoming NEC elections, when Hutchinson put the only goal of the match in the back of the net. Up went the Scotsmen's arms in understandable celebration. Disastrously for poor POO BAH, the GOPHER had a full pint in his hand. As you can imagine, it wasn't in his hand for long. Somehow - and we await a believable explanation - the whole pint came down, smack, bang over the HUGE crown, making him the biggest drip in the pub. His soggy form was a worthy reflection of his soggy plan.
When told the next day of the damp events the GREAT SCOT, always a caring and sensitive boss, was understood to be distraught that such a drenching should befall his trusted companion and able assistant. But then his tongue got stuck in his cheek!
Joe Cox recently conducted a Branch Officers Introductory Course at Ramside Hall near Durham. Joe was assisted by a young gentleman from "dahn sarf" (unfortunately my terminally incompetent informant couldn't remember his name). The young man was apparently eager to make a cultural visit to the historic buildings (pubs) of the city of Durham, which was about a mile down the road, at the end of the first day. Joe, apparently, forbade the young man to leave the course venue and made him keep Joe company that evening at the Ramside's bar saying "we don't leave a pub when it's open and serving". Joe would appear to be a monopolist giving the peoples expenses to only one brewery (or maybe he's just a lazy bastard) rather than spreading the wealth amongst the community (or at least several different brewers). On a note of good cheer, he has now taken the Kings Shilling and will now have to leave his beloved NEC as there is no place for a wet-behind-the-ears EO from the Child Support Agency. Never mind Joe, more time to devote to TARGET TAXIS.
Latest story from Caledonian climes is that failed CPSA Presidential candidate and former NEC member, Dim Left figurehead JOHN MOFFAT - part of RAMSBLADDER's disastrous anti-ME1st Executive grades slate in 98 - has jacked it in. MOFF was on SEO wages as Scottish Prisons Agency TUS Secretary and is unlikely to have settled for much less on return to the chain gang.
With leading lights MOFF and BRIGHTLEY both gone it will be fascinating to see if the DIM LEFT has any future. Welsh crooner ANDY WILLIAMS came to office promising to revitalise things but has been invisible as DL Secretary since Conference 98. Most activists now despair of the organisation ever being more than the political wing of the MODERATI, despite evidence that it does better when offering an independent perspective. With the MODS in danger of self-destruct and too busy fighting ME1st to remember the existence of the TROTS, a wipepout of the Clerical consitituency - which suites UNDY down to the ground - is not unlikely.
The December NEC was not without its amusements: Mrs BIFFA (Anne Bryant MoD) tried to attend but was barred entry on the totally unreasonable grounds that she had retired from the service. She had expected to continue on the NEC until the end of her term. She was rapidly disabused of this notion. Those with long memories of CPSA days will recall that she said we couldn't affiliate to the Mineworkers campaign because that would be secondary picketing.
And the "formal" NEC Xmas party was cancelled on the casting vote of El Presidente - Barry's MODS wouldn't talk to Jimbo's ME1STers. This saved them £10 each. Ahhhh.
Even those with short memories will recall that pre-merger, an agreement was reached with Peter Donnellan to the effect that he would be a one-term president. Now that he has thrown his hat in for round two, it gives Les Priestley, who had anticipated picking up the reins, a problem: The IR special constitution specifies that the president of the IR group becomes a National VP. Les has already sorted out the arrangements for a new president for the IR group and cannot now cancel them. Donnellan's decision means that Priestley goes back down the mines. Usual details required please about the complaint to the CROTUM made against SHELDON, and the latest on the Caledonian Court Case, to the useless and lazy WEBNOVICE Ta.