ROUND AND ABOUT
By Judas Iscariot - Late February 2005

We've been relaxing in our dug-outs this week making the most of the DWP armistice for a drink, a quiet smoke and the odd letter to Blighty. But back at Falconcrest the faction bosses are poring over the results looking for omens of the next elections. There's a certain amount of self-justification in all the camps. LUNITY claim the overwhelming acceptance of the Pay & PDS ballot was an endorsement of their tactics and negotiations. The right wing point to the 60 per cent abstentions to argue that we should have settled back in September and SOCIALIST CARCASE argue that the 4,000 odd who vote against shows that the "left opposition" is growing.

LES PRIESTLEY has thrown away his crutches but his new faction has still to get off the wheel-chair. Last December "4theMembers" was launched with a jamboree at York and promises of bulletins and a website. Needless to say nothing has happened. Revenue insiders say the problem's the amount of time taken up to stitch up the joint list with MOIRA CAMPBELL'S former Moderati, complicated by the fact that BEV BAMBROUGH'S plans to leave the service have fallen through and she now wants to keep her seat on the NEC.

But there's more to it than that. GRAHAM STEEL has decided not to run against MARK SERWOTKA for the General Secretaryship which comes up this summer because he knows he can't win and doubts whether he can even get the required 25 branch nominations to enter the race. DUGGAN isn't interested and while JIM HANSON has always had delusions of grandeur his chances of getting over 10 are less than zero. So it's all been left JAKE WILDE, the MAD MONK'S chief enforcer, to fly the flag and go for the presidency and try to get nominated for the GS post.

On the other side it seems the stakes are rising in the internal LUNITY dispute over the ballot to choose this year's slate that the CARCASE are claiming was rigged. It's getting bitterer by the minute. The CARCASE had known for some time that the pay dispute was going down so they chose to concentrate fire on the DWP GEC.

The MENDICANT clan say the elections protests at the Manchester LUNITY conference were pre-arranged. LUNITY GRANDEES are claiming that CARCASE cadre LEE ROCK had been signing up paper members in Sheffield (along with a few from London) just to garner their votes for the LUNITY elections. ROCK had told them they don't have to turn up and do anything, just vote.

This is a game the former MILLIES have played for decades but the attempt by the CARCASE to play by their own rules has not gone down too well with Madame GODRICH'S SP/SSP group who have been galvanised into action and are berating some of their supporters for not making the effort. The CARCASE have made a formal complaint over "email" and "missing" votes to LUNITY National Secretary KEVIN KELLY, but have yet to get a reply. If the CARCASE attempt to force a split the GODRICH clan say they will face it "head on" if that's the game they want to play.

The CARCASE are focusing on the dominant LUNITY bloc comprised of members of the old MILITANT tendency in alliance with the SOCIALIST WORKERS PARTY while launching a whisper campaign against SERWOTKA who they say has "presided over the loss of 100,000 jobs".

But so far the CARCASE has officially been content to go through procedure but LEE ROCK has been calling on the SWP to expel MARTIN JOHN who supported the final deal whilst other SOCIALIST WANKERS like PARDOE and BOND campaigned against!

This produced farcical scenes at London DWP regional meeting on pensions. JOHN MCINALLY turned up uninvited much to the chagrin of the CARCASE. JOHN suggested that all three rival motions were "left on the table" as the national ballot would cover both issues.

PHIL eventually backed him up and after these two had departed just two people voted to continue with the motions. Then JACKIE DUTTON intervened in her usual impartial manner (not) and connived to get the vote changed half way through.

When the motions did get "discussed", ADAM KHALIF bizarrely admitted his motion was "not very good" and proceeded to vote for the CARCASE one instead. ADAM's actions are perplexing and can only be explained by gross crawling. Why go to the bother of writing, submitting and having intense branch debate on the motion before it even got to other branches and then dump it without so much as a whisper?

NICK GROVELMANTIS and TERRY LAZARUS HOBBS also backed the CARCASE motion and the final result was Carcase 8, SWT 2, HQ Nil. My what webs we spin!

On an ever lighter note we have been asked to point out that the left wing PETER HEINRICH of Passport Office mentioned in last month's epistle is not the right-wing Herr PETER HEINRICH who achieved brief notoriety in CPSA in the early 1980s. And PAUL BRYSON wishes to make it clear that his name is ROB. Sorry PAUL!

A man is his own easiest dupe, for what he wishes to be true he generally believes to be true

Demosthenes

384-322 BC

NEC NEWS
by Barrabas

A copy of the Scottish edition of the News of The World (readership, 37) for 12th December 2004, by-lined Exclusive; Andrea Vance, recently found its garbled way into the PFL Fax machine. The quality of the faxed image is not high enough to be read as a graphic on the web, so I have taken the trouble to extract and reprint the text for you, as the article deserves a wider readership. It will be interesting to see if the sleazy "stud" (the tears rolled down our trouserlegs!) makes any mention of this in his NEC election address this year.

Complaints under rule 10 should for behaviour falling below expectation (no, not about me) should be addressed to PCS General Secretary for life, Mark Serwotka. Politically, Marek is poles apart from the SSP, but won't allow this to cloud his fine judgement.

Please refrain from sending any comments to Janice, however humourous, as she is already apoplectic about "Alan's little problem" and thought it had gone away.

She can't afford to have to drop a fellow SSP member from the LUNITY NEC slate, particularly as one of the noisy Carcasites she stitched up will get called up (see above & Judas passim ).

----------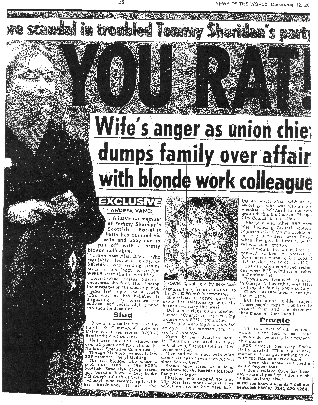 A Love Rat member of Tommy Sheridan's Scottish Socialist Party has dumped his wife and baby son to run off with a pretty blonde colleague.
Union boss Alan Brown, who regularly lectures alongside Sheridan , was sending steamy texts to his leggy lover just weeks after the tot was born.
Heartbroken missus Suzanne uncovered the fling after finding the messages on the cheat's phone. And last night she stormed "The way he has behaved is disgusting - he preaches the political and moral high ground and then he does this."
Stud
Brown is a senior figure in the Public and Commercial Services Union which represents 30,000 of Scotland 's civil servants.
He's been an active member for over 20 years and now sits on its National Executive Committee. Through his work, he met fellow SSP member Cheryl Gedling.
The tall blonde, who wears a gold nose stud, is the PCS's Scottish Executive Group Secretary, based at Victoria Quay in the Edinburgh suburb of Leith .
Cheryl, who recently split with her boyfriend, is also the organisation's representative to the STUC Women's committee.
She refused to answer questions about her relationship with the branch secretary this week.
But one furious union member fumed "Cheryl is representing women on a STUC committee yet she knowingly conducted an affair with a married man. It's disgraceful."
From the semi-detached home in Hamilton she used to share with Brown, Suzanne told us "I've never met her. I've had no contact with Alan either. He hasn't even seen his son since September."
Brown once stood as a local candidate for the Scottish Militant Party in Glasgow .
Sheridan, who stepped down as SSP boss last month - just days before we revealed he'd been having and on-off affair with an ex-escort girl who was also an SSP member - belonged to the same group during his time on Glasgow City Council in the 1990s.
Sheridan and other SSP notables, including Central Scotland representative Caroline Leckle, often rub shoulders with Brown when they give lectures to political and union groups.
Last month the union boss organised strikes in protest at Government plans to cut 100,000 civil service jobs across the UK . The campaign continued yesterday when PCS members marched in Dunfermline .
Brown now lives with his sister in Glasgow 's Jordanhill area after quitting the family home in July.
Cheryl has remained in her tiny flat in Leith .
But the union insider raged "These people expect members to respect them and the decisions they make on their behalf. I'm sure most of our members would be horrified to learn that they are not behaving in a responsible manner."
Private
PCS Scottish Secretary Eddie Reilly insisted: "This is a private matter and has got nothing to do with PCS as a trade union. I hope the press and media would respect that. I don't believe there has been any abuse of position. I don't wish to add anything else."
-----------------------------------------------------------------------------------
And Babylon shall become heaps, a dwelling place for dragons, an astonishment and an hissing, without an inhabitant.
Jeremiah 51:40
Exxon revised version