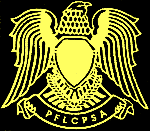 THE POPULAR FRONT FOR THE LIBERATION OF CPSA
FIGHTING ON IN OUR 41st YEAR
FREEDOM! UNITY! SOCIALISM!
ONE CIVIL SERVICE UNION,
ONE GLORIOUS DESTINY!
REVOLUTION UNTIL VICTORY!
NEWS FROM THE SMOKE FILLED ROOMS
by Barrabas - January 2001
Our grasses have confirmed that the content of the previous posting was correct, which predictably got right up the Trots noses. News from the battlegrounds could become a regular feature. It's been a quiet Yuletide (as the lazy git Judas will no doubt let you know when he returns from his sumptuous dacha), but isn't it funny how of all the sites the PFL has links to, only Workers Liberty (and of course IPMS) has less on Serwotka's election than the official PCS site?

EL PRESIDENTE is worried that the ME1st/MOD catfight has gone too far and has suggested that HERR FLICK might try to curb or at least conceal the worst excesses of his contempt for the CLERICAL GRADES. So far to little avail. DONNELLAN himself has been doing his bit visiting the poor, having been dragged out of the pub by lickspittles TERRY HOBBS and SIR WOY D'LEWIS - Balham BA being the closest DSS office to Falconcrest, you see.
| | | |
| --- | --- | --- |
| | | |


Meanwhile LANOLIN is in the doghouse for his supposedly high-minded refusal to let the UNDYMEN plaster the offices with ME1st leaflets on his behalf (actually an opportunistic attempt not to alienate his - equally opportunisitic - RED supporters; who predictably backed off as soon as the RAMSBLADDER threat was out of the way). HUGE's dire election address, believed to be the first he has had to pen in his years of climbing the union movement's greasy pole, also attracts the scorn of his ME1st backers.

The strategy now is to "expose" the victorious MAREK at every turn; as a traitor to the rate for the job if he turns down the measly 70K the union needs to pay to attract and retain talented candidates of the calibre of, er himself and HUGE PLANNING; or as a turncoat to the true socialist (shining) path if he accepts it. Still MAREK's principled insistence on the members' average wage attracts enthusiastic support from the ex-CPSA cabal now running the FDA; former NEC member JON-BOY BAUME and his oppo, ex-research department teaboy GORGEOUS GAZZA GRAHAM, would be more than happy with average wage of an FDA member!
SHELDONS WATERLOO


You'd have thought that for such an auspicious (bloody expensive) occasion as JOHN SHELDONs retirement they'd have paid a proofreader. This copy of the invite issued to the CHOSEN FEW demonstrates that no amount of money, glossily produced literature or spell checks can prevent PCS from cocking things up in style.


The purpose of the event is apparently to publicise PCS and raise its profile amongst the opinion makers and National journalists of the country. We are impressed.