MAGAZINE - LATE SUMMER 1982

ROYAL BREAK-IN HORROR

by our Court Correspondent
WALTER GATE

Senior Officers at Nightingale Palace are still refusing to give full details of the alleged "break-in" in which a young unemployed man got into King Roddy's private bedroom after prowling around the supposedly "secure" Palace unchallenged for more than an hour. The prowler has been named as Mr.Charlie Elliot, a Bradford man who is believed to have an obsession about becoming CPSA President.

"I WAS CLIVE BUSH'S GAY LOVER" REVELATION

Details of the incident at Nightingale Palace are still very sketchy, but PFLCPSA News has been able to piece together the following information for its readers:

Shortly before 2 am, Elliott was seen reeling out of a private club in Balham High Road. By 5 am he had arrived at the front gates of Nightingale Palace, where the aged nightwatchman, a Mr.Sean O'Brien,observed him trying to break the front door down. He only succeeded in breaking wind however, but later managed to enter by a side window. An alarm was activated but the Duty Officer, Sgt. Ralph Groves switched the alarm off.
For the next hour Elliott wandered about the Palace unchallenged. He is known to have fiddled with the elaborate tape recording and bugging equipment belonging to the Keeper of the Privy Purse, Sir Frank Humphries, though this fact was not immediately discovered as Sir Frank often fiddles with the accounts himself. He is also known to have damaged some of the priceless art collection belonging to the Lord Chamberlain, the Earl Graham. At 6.50 am he was seen rifling the filing cabinets in the President's private suite of offices, but a passing flunky thought that he `was merely one of the "workmen" employed by King Roddy of late to "go through" the files.

WILL HE GET AWAY WITH IT?
However, at 7 am Elliott had reached the Royal Bedchamber, and,sitting on the edge of the plush four-poster and clutching a broken hip-flask, he awoke the startled King Kevin, who rang his private Dougie Bell but to no avail. After blustering about some "fiddled" rights of succession whereby Elliott believed he was the rightful king, the King's lady of the Bedchamber, Miss Diana Warwick, then arrived, and exclaimed "Bloody hell ma'am, what's he doing here?" An equerry who had been walking the royal clones then arrived to restrain the man.

An immediate enquiry has now been launched into this security blunder and the copper at the centre of the scandal, Sergeant Ralph Groves has now been re-posted. As constitutional monarch King Kevin can of course press no charges against Elliott, but in a bizarre reversal of precedent, Elliott is himself taking to court over alleged "illegal assumption of the throne" by King Kevin. His respected lawyer Brian Capstick is reported to be "quietly confident" that this bluff Yorkshireman will soon occupy what he believes to be his rightfully, namely King of all the C.P.S.A.Full details of the claimant's court case are given below: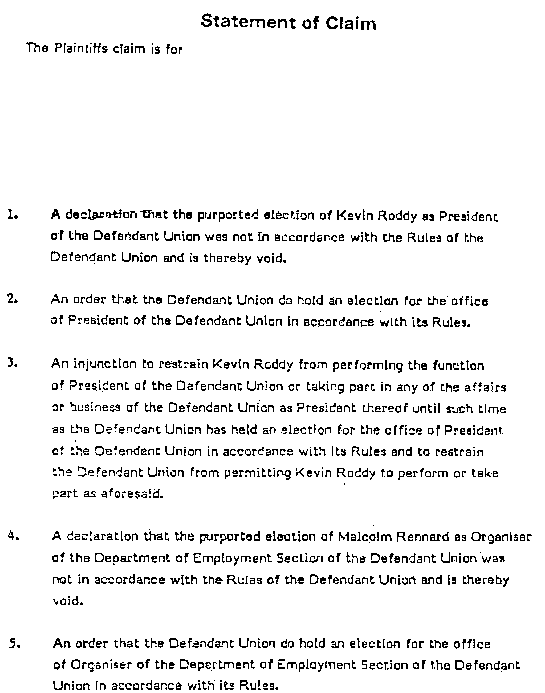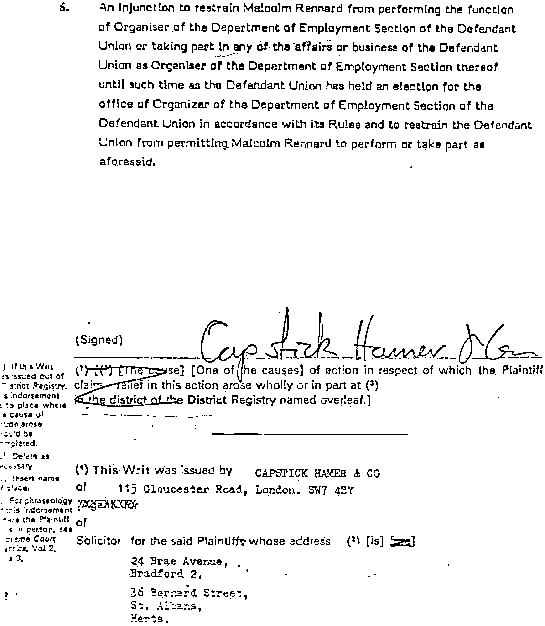 ~~~~~~~~~~~~~~~~~~~~~~~~~~~~~~~~~~~~~~~~~~~~~~~~~~



Final Result:- LOCOMOTIV LOZENGE 3 DYNAMO KEVIN 23
Locomotiv opened with an air of organisation, but finished the competition almost listless. With the exception of their three internationals, Pat Womersley, Mario Chambrez, the former Argentinian dog-food salesman and Juan Billouin who went off for treatment to a badly damaged and recurring leg injury, they had little to offer a highly effective and workmanlike performance by the Dynamo machine.

Lozenge's poor performance was perhaps understandably shadowed by the uncertainty now surrounding their multi-million pound stadium at Lavender Hill, and the poor showing of the former Dynamo player turned Manager, South American born Al Grahams. Grahams was recommended to assume the role of General Manager by the playing staff of Locomotiv, only to be nearly rejected by their partisan supporters. Eddie MacCreadie, once of Chelsea, who narrowly missed the opportunity to take the cherished Locornotiv job, now acts as advisor to the "Kevin outfit".

Dynamo's superiority was soon evident with Scots wizard Campbell hitting the woodwork early on. Barker, McHugh and Roberts all had efforts cleared off the line by the blonde-haired and somewhat portly Mario Chambrez. Billouin's eloquence was evidently not going to be sufficient as Holah's began to appear in a depleted Locomotiv rearguard, defending the goal to the right, as we sat in the inept Raywood Stand, now undergoing extensive repairs. It was difficult to judge the outcome of the game early on, but by half time it was a simple case of by how many Dynamo, wearing their natty red shirts, were going to win by, as Lozenge couldn't even get a kick sometimes.

Ollie Osmond, the ex-Newport maestro dominated much of the game with some flowing skill. Stephan Cardowski also showed signs of his former brilliance. The Reds, by now 17-1 up, were becoming complacent and the small crowd, only 29% of the ground capacity, became restless, thinking the game was a Baugh.

Referee Charlie Idiot added sparkle to an otherwise mundane encounter, wandering around the pitch apparently a little intoxicated, and booked one player for a professional foul -Fleming on the pitch. Carr was unlucky late in the game, the goalkeeper managing to Parry his effort to safety. There were some ugly crowd scenes, and some offensive favours had to be removed from the stand, but the chief steward reported no serious incidents and was pleased that there was not a repetition of an earlier incident when one of the chief Lozenge scouts was pushed down the terracing.

In conclusion, an emphatic win for Dynamo Kevin, but Locomotiv will doubtless take comfort in the knowledge that their Polish international will not be cup-tied next year and available for selection, despite doubts about her fitness. Many disillusioned fans however deserted the ground for good, and the secretary of one of the Locomotiv fan clubs in Hampshire reported significant resignations.

Next Month: CRICKET - The First Test at Clapham.
~~~~~~~~~~~~~~~~~~~~~~~~~~~~~~~~~~~~~~~~~~~~~~~~~~~~~~~~
MORE MODSA VICTORIES

LATEST NEWS FROM RORKE `S DRIFT
BY OUR SPECIAL CORRESPONDENT - Major McCupp
The Secretary of State for War has today received the following despatch from Lord Chelmsford, Commander-In-Chief of Her Majesty's Forces in Natal, South Africa (M.O.D.S.A.):-

"It is with great pleasure that I report a highly successful engagement between our own "B" Company, 24th Foot and Mouth Regiment under the command of Lieutenant P.JUDGE (ex Aldermaston Light Horse) and a force of approximately 5000 Zulu warriors (uIDIOTO and uMENDICANTR impis) commanded by DABULANODDY, brother of the Zulu King CETSHGRANTO.

The Zulus, in overwhelming numbers, launched a highly disciplined attack on the M.O.D.S.A. Field Headquarters at Rorke's Drift, but were repeatedly driven back by the deadly volley of fire from the men, officers and other ranks of "B" Company. Many heroic deeds took place during the action. In particular I must mention the extreme bravery of Lt. P. JUDGE, who single handed, and despite an arm injury, fought off several vicious attacks by 26 warriors of the elite uCAPSANEC corps.
Other personnel to be mentioned in despatches include 2nd Lt. J. WILDE, Colour Sergeant D. MUD. MURDOCH, Acting Commissary G. LEWTAS, Private C. CLARKE and Major BRAINDAMAGE (SIS) all of whom acted in a manner above that normally expected of a British soldier in the face of the enemy."

General Staff, M.O.D.S.A. will issue regular reports on the situation at Rorke's Drift and these will be released as and when available.

N.B. The above despatch is reproduced by courtesy of MOD Zero Intelligence Tactical Security (Z.I.T.S.)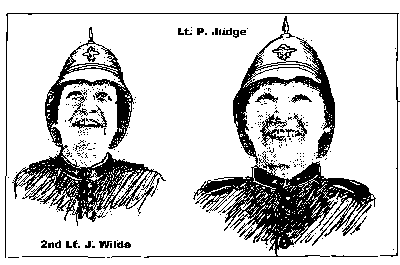 ''''''''''''''''''''''''''''''''''''''''''''''''''''''''''''''''''''''''''''''''''''''''''''''''''''''''''''''''''''''''''''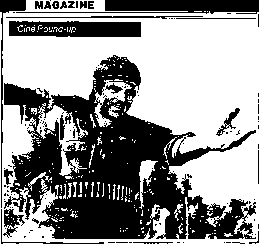 THE UGLY AMERICAN
(AA)
Disneyland Productions Inc.
CIA Langley Va.
Filmed on location in West Berlin, Langley Virginia, and Balham, England.
Maj. Virgil. T. Cluckbuck - Ray Shuttleworth
Neville Northerner - Alistair Graham
John Ellis - Charles Bronson
Charlie Elliott - Vincent Price
Kevin Roddy - Peter Cushing
Worzel Gummidge - Peter Coltman
Doc Holliday - Sir Roy d'Lewis
David Nixon - Rod Bacon
John McViccar - Christopher Lee
Father Brown - Stephen Corbishley
Ken Thomas - Reg Williams
A Copper - George Matthews
Drunk - Clive Bush

The enormous box office success of the original version of the fifties has led to this superb and bang up to date remake starring Alistair Graham as the lovable anti-hero, Neville Northerner, a dimwitted legal clerk, whose chance encounter with Major Cluckbuck plunges him headlong into a new life as the hardnosed union boss of the CPSA, enlisting support by fair means or foul. A fine supporting cast, including a splendid cameo by Sir Roy d'Lewis who came out of semi-retirement for this production, is guaranteed to make this the success of the year. The Spanish Army provided the spectacular Conference scenes of high drama and bathos of epic proportions.

PANAVISION EASTMANCOLOR 1982
157 minutes
West end and selected cinemas throughout the country
~~~~~~~~~~~~~~~~~~~~~~~~~~~~~~~~~~~~~~~~~~~~~~~~~~~~~~~~~~~
FEARS OF A HERO
Part 3 of the sensational new story
by Roxanna d'Lisle

(The story so far: 'L', a fearless Polish flying ace who has been concealing his identity behind a crockery counter for years past, has landed his reprieved Lancaster in a field Somewhere in Western Poland. This is the most dangerous mission of his death-defying life. Met by a seemingly innocent peasant and about to hand over the cheque that is vital to Count `H's' Heaven blessed cause, he has been met by the fierce glare of a phalanx of floodlights. His wife's insistence that the gift be receipted has caused him anguish enough. Was the scene now set for the Final Betrayal?)

Now Read On......
`Get your goddam ass out of that plane', a rasping voice owing far more to the Bronx than to Bydgoszcz shrieked through the glare of the lights. Who on earth could be speaking in this way? Almost blinded and momentarily confused by the ghastly electric imitation of an unspeakable dawn, 'L' could not so much as guess his accuser's direction, let alone identify his shape.

Slowly, so slowly that it seemed more like hours than the seconds that it must have been, `L' saw the sheet of light resolve into five piercing points. He knew what he must do. With a left hand made steady by those long years of gently lifting this piece of reproduction Limoges, that box of cheap china, he reached down beside him and closed his sinewy fist around the butt of his trusty old Luger.

If I keep my upper arms precisely still, he thought, they will see nothing. From the left hand the gun passed to his right, then with a speed that would have done credit to an athlete of half his age, 'L' let burst through the cockpit shield five spurts of flame. Five lights there had been, now once more there was only darkness. One round left, he mused deep in his soul. That at least was a better choice than capture and, in these circumstances, God would know it was no sin.

Silence, utter silence, then the sound of cautious movement, then what might have been the wind caressing the barley or might have been the most muted kind of whispered conversation.

`This is GS17 Kolwoski, 'L''' a voice of terrifying depth and infinite authority boomed across the fields.' I am Head of Station, Warsaw and in personal command of Task Force Polache. You have five seconds to surrender, failing which this area will be redesignated for free fire, namely at you.'

GS17? It was some sort of rank, of course, but in whose forces? It stirred a memory deep in the innermost recesses of `L's' mind. There was that young man, Ray Something-or-other, who used to work for his wife. Work for her !! Or maybe, with all those mysterious meetings, it had been something more than work..........

Ray had been called GS and then some number. Not a big number, something small, and that had angered `L's' own beloved almost beyond reason. 'If only you'd get to be a Supergrade, Ray, we could.....', he had heard her scream once, only to turn silent and deathly pale when she realised that `L' had entered the room.

Three seconds gone. 'L' forced the hateful memory back. He was an officer and had lived like an officer. If he was now to die an officer's death he must know in what cause. `Who are you with', he called, adding with all the force he could muster a lie within other times, would have tortured his immortal soul:`I have much more ammunition. You have seen that I am a good shot. If your men advance, some of them will die'.

More whispered conversation, the growl of a small generator and a single light, mounted, it seemed, on the back of a camouflaged jeep. The voice again, but this time filled with the deepest compassion. `L' you've had one helluva time pal, and I guess it's muddled you some. I promise you really am GS17 Kolwoski and that means I am your commanding officer'.
(Can this be a trap? Is `L's' life to end in a hail of bullets? And why, oh why, do those letters `GS' endlessly resolve themselves in his head into a mocking image of his very own darling? In our next instalment the awful truth is revealed).
~~~~~~~~~~~~~~~~~~~~~~~~~~~~~~~~~~~~~~~~~~~~~~~~~~~~~~~~~~~
ROUND AND ABOUT
by JUDAS ISCARIOT

Quite a boring time was had by all at the Macreadie's on June l4th, despite Roisin's best efforts with the cheese and wine. Rubbing shoulders with Mendicant's finest sons in the CAA was probably not the best recipe for scintillating conversation, and what could you expect with TERRY ADAMS as guest of honour. In fact the high spot of the evening was the exclusion of a gate crasher when it was discovered that all he had brought was a Party Seven pack of beer, which was far to bourgeois for the assembled drones. More fun was to be had at the great CPSA NOPE Action Day on June 23rd.The elected bastions of the Left duly assembled outside St. Thomas's, courtesy of taxis paid by the FINANCE DEPT., while the hapless full-timers were on this occasion, expected to walk.

Incidentally, l don't know if you know, but STUART CROWHURST has decided that the DGS election need not be run again and that justice, after all, has prevailed. His thorough investigation into the allegations made by both MacViccar and Ellis took the form of writing to Branch officers in Branches complained about and saying `Did you run your election in accordance with the Rules?' All the Branch Officers wrote back and said `Yes', save for MOD Strand, where they said `No'. That seems a pretty thorough investigation to me.
By the way, l appear to have left DAVE WOODS out of the race card for the National Organiser's Town Purse Hurdle. Sorry Dave, but don't worry about it FRANK TAYLOR already has it in the bag.

Needless to say, few were sufficiently bored enough to comment on NODDY's latest venture on T.V. on the day of the said Health Service workers' action in any of our publications. While he droned on about the staunch support of the CPSA for their fellow low paid serfs, it was business as usual at Newcastle Central.

Talking about bores, the Group Leaders have been picked for the famed SUMMER SCHOOL. Messrs CASTLE, ALDERSON and ROBERTS, together with Mrs. CHAMBERS and Mrs. LOSINSKA promise an action packed week for the usual spongers who put their names forward for this dreary excuse for a piss-up at members' expense.

~~~~~~~~~~~~~~~~~~~~~~~~~~~~~~~~~~~~~~~~~~~~~~~~~~~~~~~