ROUND AND ABOUT
BY JUDAS ISCARIOT - Mid October 2006
While the guns blaze across the Passport Office is all quiet on the DWP front as the troops await the ballot to accept the cease-fire terms that LUNITY say is the best deal that is obtainable at the moment. The DWP GEC has agreed to recommend acceptance and treat the DARREN SMITH case as a separate issue. The Socialist Caucus demand to reject the Management offer and hold a one day strike was defeated. DARREN, who was busted to AO and given a final warning for leaking alleged sensitive Departmental JobcentrePlus information to MPs and the media is getting his wages made up by PCS until his appeal is heard.
There may be a lull at the front but back in the corridors of power in Chateau Falconcrest the Grandees have been working overtime to finish the SOCIALIST CAUCUS threat once and for all - or at least those Carcasites who so foolishly went along with LEE ROCK's secessionist movement.
LEE hasn't had a great deal of luck these past few weeks. His breakaway "Independent Left" movement which was proclaimed on 13 th September to challenge what he calls the "dominance of the Socialist Party and its old style Stalinist and other allies" in Left Unity has had very few takers. Apart from himself only five other Carcasites have actually resigned from LUNITY so far. Most who voted for Rock's motion that was carried by just 15 votes to 13 at the Caucus meeting last month got cold feet when they saw that they couldn't carry those who opposed the split let alone the majority of their supporters who hadn't bothered to turn up to the meeting in the first place. The fact that CHARLIE McDONALD is under instructions from his Alliance for Wankers' Liberty masters to stay in LUNITY hasn't helped the Cockney voice of Sheffield either. This doubtless explains why the usually verbose ROCK has refrained from any comment on the split in his own WEEDY WANKER rag.
The Grandees have been assiduously lobbying all the Carcasites not on their hit-list to stay in the Big Tent - starting with ROD BACON - while still hoping that CHARLIE will fuck off on his own accord and spare them the trouble of purging him at the LUNITY jamboree in Gateshead this December. Meanwhile ROCK, who suffers from delusions of grandeur, has made a direct approach to Socialist Party biggies who effectively run LUNITY offering to return to the fold in return for a bigger slice on next year's election slates. He was diplomatically told that while they were prepared to listen the LUNITY/PCS Democrats front was a broad alliance and the SP could not act without the agreement of the others.
Meanwhile Charlie, who according to his disciplinary report lives in a "fantasy world", has been telling people that there was a comfortable margin in favour of the split and that the Grandees are desperate to broker a deal. After a number of DWP organisers had adjourned to a pub following a meeting at Falconcrest last month STEVE CAWKWELL held a private discussion with CHARLIE for a good fifteen minutes. When CORKY left McDONALD claimed that STEVE had asked him what his price was for ending the rift. MOTORMOUTH claimed the CARCASE was going to run 16 for the NEC and that CORKY had thought that was reasonable. CHARLIE'S mates amazingly believed this and when ROB BRYSON tried to convince them that this was not going to happen McDONALD hurriedly changed the subject to attack BRYSON for his "treachery" in supporting the DWP Management offer.
If no deal of any nature is struck the CARCASE plan, apparently, is to run CHRISTINE HULME against JANICE for the presidency and ANNETTE WRIGHT against JANE AITCHISON for the DWP Chair while JOHN MALONEY is being groomed to take on SERWOTKA when the GS post comes up again.
CHARLES has clearly got it in for ROB "fucking disgrace" BRYSON these days. CHARLIE says he's "personally hurt" at ROB's action and when their paths crossed last week he told ROB that he had made an alliance with the Devil. When ROB asked whether he meant JOHN McINALLY he was told "No, someone much worse". That "someone" is, of course, HOWARD FULLER, the not so secret adviser to the BRYSON and DAVE SPAGNOL'S anti-Caucus "London Left Alliance" and the only 4TM member in whole of the London DWP.
The London Left Alliance débuted in a blaze of glory to challenge the CARCASE hold on the DWP's London Regional Committee but it's done little since. This partly because SPAGGERS, an SP Loyalist, has been told by JANICE and JANE to concentrate on building LUNITY in London and partly because DAVE, ROB and HOWIE are all utterly useless organisers.
HOWIE has also blotted his copy-book with his new lefty friends by unwisely circulating a ten page tome on the TROT Menace he prepared for JAKE WILDE'S pathetic 4TM e-mail digest. SPAGGERS was not amused at the references to the former Mendicants, which are too lengthy and boring to be repeated here. Though ROB and SPAGGERS are forgiving men, HOWIE had better get used to being called FULLERSHIT again.
Still HOWIE'S not that stupid. He turned down JAKE's offer to run as the 4TM candidate for National President next year, an offer WILLIE SAMUEL felt he had to refuse as well. None of the 4TM biggies want the nomination as all of them know that JANICE is odds-on for another victory next year. BUT they'll have to find someone as they cannot allow a straight race between GODRICH and STUART CURRIE, who is definitely going to run on the Moderati ticket.
JAKE and PRIESTLEY are currently concentrating on issues much nearer home. CLEMENTS has resigned from HMRC GEC but LU are putting pressure on HECTOR WESLEY to stand aside so that BIFFA BRYANT can get his place back. HECTOR is not a happy bunny.
It seems that Respect Councillor, OLIU RAHMAN, is getting into bit of a fix over his newly elected position on the London Regional Committee, that of Regional ULR. He failed to turn up to the first London ULR meeting as there was a shooting in his Council Ward. Inspector Olly now is it? It also turns out that he really doesn't have a clue as to what the post entails. JAGDEEP SANDHU has had to arrange for OILY to go on a basic ULR Training course as he has no idea what the job entails. In fact he asked JAG if he should resign, but JAG foolishly said no. Talk about looking a gift horse in the mouth.
JAG is a nice bloke, one of the greatest stats crunchers I've ever come across - give him a spreadsheet and ask him what it tells you and he's away, swift analysis next to none. He's also pretty good as a ULR, but he hasn't got much of a clue politically, and gets told what to do mainly by Caucus.
The ULRs keenly await to see if he turns up to the next ULR meeting, but most hope he doesn't. Despite being East London Branch Chair it looks like OILY might not have much experience with dealing with Management either. It seems that District Meetings with Management consist of TONY REAY on his lonesome as his Carcase mates are only interested in the BDCs.
It's a pity that GEORGE WISE has never got a look in. GEORGE, who is blacker than OILY , was astonished at the sectarianism that denied him his rightful place as the Regional ULR - he's an acknowledged expert for Union Learning Reps.
And it's farewell to JANE RODGER, who's gone to work for a crappy union called CONNECT at 33k a year. The telecom union may not have got the best deal in hiring JANE but it's good news for Wimbledon's barmen. A small difficulty arose over choices of venue for JANES leaving bash: she and Charlie are both barred from The Falcon (use of exotic smoking material), and Charlie is barred from Yates's across the road as well as most hostelries in his native East End. Expect more barrings from the Windsor Castle next Friday. Nick DIAMANTIS will have to find a new maiden to catch as she falls off her barstool
Finally, as we are talking about the little people PHIL PARDOE has resurfaced in the hope of being re-admitted to the SWP now that his "suspension" from the party draws to an end. PARDOE was sentenced to a 60 hours community punishment order and fined for the unfortunate incident at Kings Cross Station involving his ex ( see PFLs passim ). His community service consists of sweeping the streets of his local borough and PFL agents are scouring the town hoping to snap the crim doing something useful for a change.
He who guards and runs away lives to guard another day
(mod; colloq: especially amongst Group 4 staff)
Gillette and North Korea combine to produce 'Nuclear Razor'
In a move that has shocked the diplomatic and business communities, Gillette have revealed a secret partnership with North Korea to produce the latest in shaving innovation; the 'Gillette Fission.'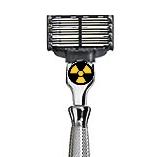 The new razor features an unprecedented ten blades, five lubrastrips, and a small nuclear reactor. Shavers are urged to also purchase a disposable radiation-proof suit which is needed to protect the shaver against the thermo-nuclear reactor which vibrates the 10 blades, agitating the throat-skin and getting the blades just that little bit closer to the skin than the previous model.
Gillette chief executive Don Page, commented: 'We always knew that nuclear power was the next step in the evolution of the razor blade but costs have always been prohibitive. North Korea's successful nuclear test and willingness to sell cheaply to any international bidder convinced us that the time was right.'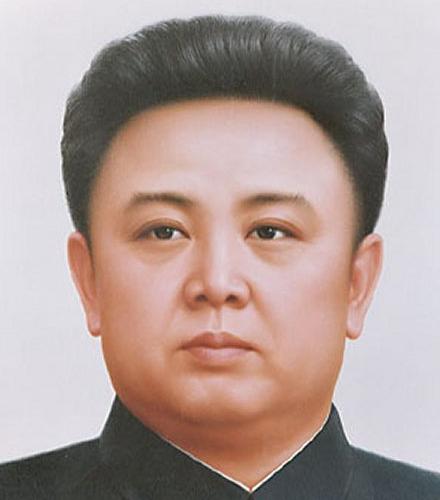 In an ironic twist, Kim Jong-il, North Korea's charismatic, smooth-chinned leader is believed to have only given the go ahead to the partnership after receiving assurances from the Gillette corporation that they would teach him how to grow facial hair.