ROUND AND ABOUT
BY JUDAS ISCARIOT - OCTOBER 2007
Summer always ends with the spectacularly tedious "conference season" starting with the TUC and followed by equally boring Labour, Lib/Dem and Conservative bashes at the seaside resorts we've all grown to know and love down the years. But while the media drool on the words of BROWN and CAMERON waiting for the general election to come the faction bosses in PCS are preparing for their own annual jamborees.
The GRANDEES are pegging out the BIG TENT ready for the seats share-out between LUNITY, PCS DEMOCRATS and the SOCIALIST WANKERS PARTY. No doubt PRIESTLEY, MOIRA and BINKS will have some sort of meeting, probably in a pub or restaurant, to draw up the 4TM list for 2008. And the SOCIALIST CARCASE finally died to rise again as the INDEPENDENT LEFT fighting for "a democratic union punching its full national weight" at a foundation meeting in London last month. Some thirty followers of LEE ROCK and CHARLIE McDONALD launched this august body that is going to take on the might of the GRANDEES next year they hope. One London IL member reported that rather than attend the Rockfest he decided to decorate his bedroom instead. After all, they'd already got his £1 for the month. The revolution will probably have to start at Homebase.
But CHARLIE still lacks gravitas despite his new-found "independence" and in between rants he reverts to his usual puerile behaviour. Despite being London DWP Benefit Delivery Centre TUS Secretary, MOTORMOUTH refuses to correspond with SW Thames Branch despite 25 per cent of BDC members working there. Repeated requests from HOWARD FULLERSHIT and DE CRUZ for minutes of TUS meetings, meetings with Management and even the names of other reps elsewhere in London have been ignored. An informal complaint via the Regional Vice Chair JOHN MAHONEY (JACKIE DUTTON being on holiday at the LADA Factory) resulted in a response from CHARLIE that "There is no constitutional basis for the complaint therefore I will not be responding". CHARLIE obviously won't let anyone else play with his toys. A constitutional complaint is in the post.
Discord within the ranks of 4TM as their first expulsion takes place!
Following the DH elections this year one LEO SYRON was amongst those to join 4TM in a huff about the election results. Leo, who uses the alter ego LEO LION in much of his correspondence joined in a general effort to marshal the forces of 4TM in support of attempts to unseat the Left Unity incumbents denying LEO and his friends their rightful places on 100% facility time.
4TM, desperate to swell their piss poor levels of membership, welcomed LEO with open arms. However his constant assault of e-mails on various topics quickly ensured any goodwill within 4TM evaporated. Leo's suggestions that 4TM strike a deal with Trotsky's Independent Traders was treated with derision by FULLERCRAP who hates the CARCASE much more than he hates the Grandees.
SYRON responded by posting a vicous attack on FULLER on a message board run by fellow DH wannabe Ian Park. Desperate not to lose members, the 4TM leaders such as JAKE smoothed over the dispute.
However within a few weeks LEO was at it again! His declaration that he 'was on strike from taking strikes (i.e. he went to work on May 1st ) was too much even for most of 4TM. Desperate attempts to sort out this dispute ended when Leo e-mailed a Scottish colleague thus 'I think you have been eating too much scot oats, we are not interested in your highland politics' LEO was at this point expelled.
LEO has retaliated by setting up a new message board on the web entitled; 'PCS 'Vote for Change' supporters forum dedicated to the 4TM 2008 campaign to get control of the NEC from the 4TM headquarters in Scotland' You couldn't make it up! This contains mostly bizarre abuse directed against FULLER and SAMUEL so far, and seems to suggest that LEO now hopes to pursue his vision of joining with the INDEPENDENT LEFT. As if they didn't have enough loonies already!
While all this has been going on the PCS Yorkshire & Humberside Young Members Network had another of their wonderful moments on 20th September in Leeds. There seems to be a singular lack of enthusiasm for the NYMC National forum amongst the "yoof" these days. JUANITA CHARLES moaned that she had not received any correspondence relating to it since their last meeting. Well, MARK CHISMAN had, but that was only a report from JAMES ASHTON which he had written himself. He dismissed the "National Forum" as an irrelevant "talking shop" but most of his venom was reserved for TRACY EDWARDS, the NYM Organiser, who had failed to produce any agendas or minutes since she got the (unelected) job - courtesy of the Grandees - and in his opinion she clearly wasn't up to it, pointing out that a particularly "abhorrent example" of her incompetence was the selection of a non-member to represent PCS at the Glastonbury bash (PFL passim ). CHISMAN has formally asked for these complaints to be taken up and if no satisfactory answer is received he threatened to look at the rule book to see if a formal complaint can be made under rule. Fortunately the committee found time to look at "culture" - sorting out the bands for a "young members' event" at the RUNAWAY GIRL bar including passé 1980s hip hop which just about sums them all up.
Latest news is that the Revolution is cancelled due to it coinciding with a weekend.
-----Original Message-----
From: Chisman, Andrew M (LBS EC Leeds)
Sent: 19 October 2007 11:35
Cc: 'Juanita Charles'
Subject: HMRC Young Members Conference
Hello Everyone.
The HMRC Young Members Conference has been cancelled.
I rang PCS HQ and I was informed that this has happened because there was a general lack of interest.
I am personally not surprised as again we have been invited to a conference in our own time during the weekend and to meet most of the cost of staying in Eastbourne ourselves (the Residential rate of subsistence was not going to be paid).
This is in stark contrast to other equality groups who meet during the week, with facilities time, with Subsistence being paid.
I can think of no other way to address this issue other than a motion to conference should anyone be interested in putting one forward.
Thanks.
+++++++++++++++++++++++++++++++++++++++++++++++++++++++++++++++++++++++++++
The LEAN dispute in HMRC grumbles on. Maybe. Perhaps. No - really. We're happy to provide some clarification of the rather strangely worded circular below.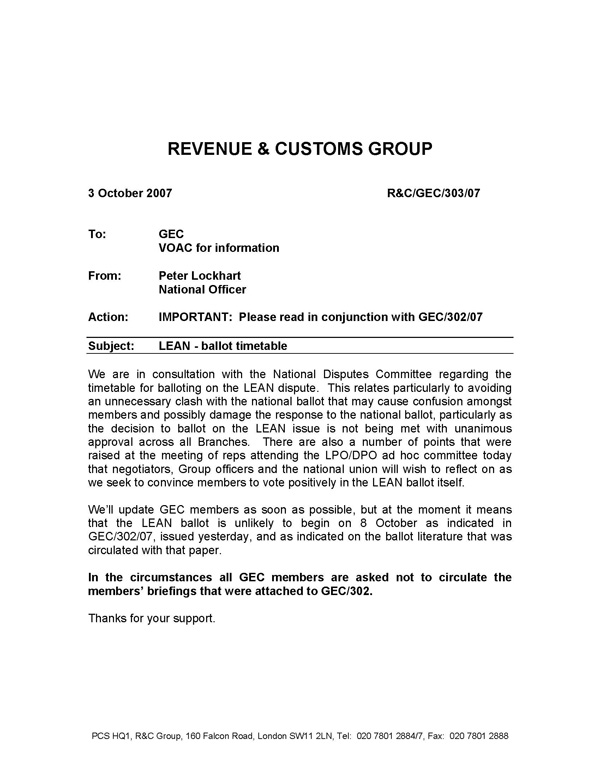 ___________________________________________________________________
Lean has been an ongoing issue within HMRC for the last two and a half years. Essentially derived from motor car manufacturer Toyota, Lean is a management theory that, in a very basic sense, divides the work into separate processes. (The bloke who puts the wheels on doesn't also paint the car, if you see what I mean.) Lean, in common with other management theories, makes great claims but has resulted in de-skilling, bullying and plummeting morale in some, but not all, the offices it has been employed in. Workstate has also, apparently, worsened, but true figures are hard to acquire. The application of Lean in HMRC is widely regarded as being the testing ground for all departments who have clerical staff doing processing work, and thus has attracted the interest of the General Secretary and the NEC. Indeed the NEC commissioned some work on the issue.
However, it appears that the GS and NEC believe that Lean in HMRC isn't part of the National dispute because it's been settled (the negotiators rolled over). It seems that SERWOTKA wasn't happy with this and at the Scottish Regional Committee recently he attacked the HMRC (LU) GEC for abandoning the struggle when he was trying to run a National Dispute. "But you told us to!" was their response. Serwotka, embarrassed, then said he would check with his office. Last month the Left Unity grouping on the GEC were subjected to extraordinary pressure to agree a deal with management over Lean, despite the fact that hardly any of the original PCS demands had been met. Individuals within LU had to swallow hard over a deal that, had it been proposed by anyone else, they would have screamed themselves hoarse in opposition to. Interestingly the deal contravenes Conference policy and was also rejected by the (unelected) sub-committee Conference set up specifically to screen negotiations.
Not all is well in the big tent it would seem, and some furious backpedalling has now been detected, which will only serve to further confuse and alienate the members:
The ballot was due to have run at around the same time as the National Consultative ballot. However, it became quickly clear that a No campaign was building against the Lean deal and, fearful of overspill into the National ballot, the Lean ballot was hastily delayed. The memo issued by HMRC Group Sec. Pete Lockhart, reproduced above, describes the delay thus:
"This relates particularly to avoiding an unnecessary clash with the national ballot that may cause confusion amongst members and possibly damage the response to the national ballot, particularly as the decision to ballot on the LEAN issue is not being met with unanimous approval across all Branches. There are also a number of points that were raised at the meeting of reps attending the LPO/DPO ad hoc committee today that negotiators, Group officers and the national union will wish to reflect on as we seek to convince members to vote positively in the LEAN ballot itself."
Of course such a delay has also given those branches who oppose the deal more time to get themselves organised and one of them, Edinburgh Taxes, has issued an open letter to the GEC. It will be handed out to their members at lunchtime on Monday 22nd October, but here is an advance copy:
The GEC vote to recommend a Yes vote was unanimous and GEC members report that some members in Lean offices regard the dispute as dead in the water, with office closures a more pressing issue.
The deal does not, as such, introduce new guarantees, but is certainly a step in the right direction in terms of rhetoric and language. It is generally agreed that such a deal would not have been reached even six months ago. However, such is the strength of feeling in the affected branches that this issue will certainly spill over into the national arena. It is too early to gauge what the consequences might be; mass resignations from PCS, reps refusing to help with the national dispute, or opening a door to the Independent Left (who must be desperate to break into HMRC).
Meanwhile, a new front is opening up in HMRC. Back in autumn last year the Revenue & Customs Group agreed proposals on Facility Time. The system was based very much on the old C&E system whereby complex personal cases were left outside of the agreement. This was explained by DOREEN MCNEIL as "anything that requires research or a meeting". The vote was split but not down any factional or former departmental lines.
Since that agreement was made, HMRC Industrial Relations - Messrs DON MAKEPEACE (ex NEC) and PETER DONNELLAN (PCS President before JANICE) - have been accused of moving the goalposts dramatically. Letters have been sent to Business Managers telling them that personal cases are included in Facility Time. These managers are now trying to restrict PCS time (in some cases H&S time as well, although threat of ETs has forced a climbdown on H&S time). The upshot is that AGSs in HMRC are dealing with a plethora of complaints from angry reps. The last word from DONNELLAN and MAKEPEACE is that a complex personal case is one with a legal aspect to it. So that does not include any dismissal case, any grievance etc, etc.
MCNEIL is justly worried that the draconian DWP system will be imposed. At the October GEC meeting, mainly after intervention from HAMISH DRUMMOND, HECTOR WESLEY and KERRY FAIRLESS, an earlier timid branch briefing was withdrawn and a more robust definition of the Group's position was agreed. Some believe that HMRC Management is using two former senior PCS members in MAKEPEACE and DONNELLAN to undermine and attack the union.
But the problem is largely one of the GEC's own making. Far from the 'villains' DONELLAN & MAKEPEACE sneaking in a new set of facility time arrangements recently on an unsuspecting R&C Group the facility time arrangements currently in place in HMRC are not new, have been known to Branches for almost a year and were introduced with PCS agreement!
The position on facility time to handle personal cases is clear and has been in place for the past 11 months - all available facility time, including that for handling personal cases, is allocated by the GEC to Branches at the beginning of the year and the Branches then re-assign that allocation to their Officers, BEC members & other representatives. Time off for H&S representatives, ULRs and for trade union training is in additional to the facility time allocated to Branches.
Under the terms of the November 2006 agreement, if the allocated amounts of facility time for individuals is demonstrably inadequate to deal with necessary work, including personal cases, then approaches can be made to local management by Branch Secretaries; if there is no satisfactory outcome at that level, then the relevant AGS can refer the request to the Head of Business and, finally, if that process does not lead to an acceptable outcome, the matter can be referred to either the DGS or the SNO to take up with the HR&L IR Team or Head of HR&L. Thus far, there have been no such references to either the DGS or the SNO!
However, the grassroots mutterings about poachers-turned-gamekeepers persist and whilst branches tie themselves up with LEAN and FT issues, the office closure programme continues unabated.
________________________________________________________________
The rude rabble are enraged; now firebrands and stones fly.
Saevitque animis ignoble vulgus, jamque faces et saxa volant.
Publius Vergilius Maro (Virgil)
---
ULSTER MURAL PAINTERS 'ANGRY OVER PEACE PROCESS'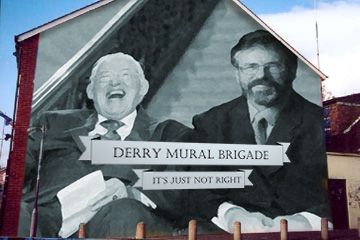 Angry artists in Derry and Belfast have laid down their brushes in protest at the lack of masked heroes, violent clashes and hunger-striking prisoners to portray. The house-high murals traditionally reflect the years of struggle and turmoil that have afflicted the area.
However since the advent of peace and democratic accountability following the Good Friday agreement nearly ten years ago, many of the artists have had to find alternative employment. Some are now employed as house painters, with images of conflict being replaced by pots of magnolia and floral stencilling. One artist recounted how he tried to get a job as a designer with Clinton Cards; 'but they said there was a limited market for birthday cards featuring masked youths throwing petrol bombs.'
The painters claim to be forgotten victims of a peaceful political solution to Northern Ireland's problems. In Derry's Bogside there are many murals depicting the horror of the massacre of unarmed civilians by British Paratroopers on Bloody Sunday. One muralist asked, 'where will the future inspiration for artists come from? Quite frankly the image of Ian Paisley and Gerry Adams sharing a joke and a chocolate digestive does nothing to inspire.'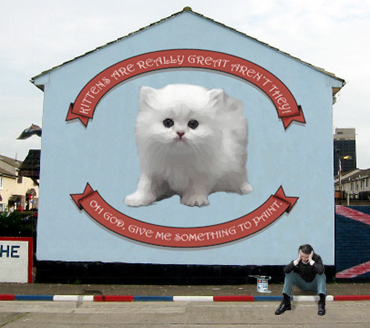 In the Loyalist area of Shankill artists were equally despondent claiming that the heart of the problem is the lack of training opportunities for the next generation. With young kids not wanting to get involved, one unnamed man said, 'if they can be bothered to use a brush or a can of paint it's just to draw some nasty tag, a swear word or a cartoon cock.'
The mural painters are organising a march in the hope that it might provide some more inspiration. 'What we need is for the protest to turn ugly, perhaps some unprovoked violence from the security forces and maybe a pointless death or two. We're all keeping our fingers crossed.'