PRE-CONFERENCE 2000
NEW DELEGATES GUIDE TO CONFERENCE
by Barrabas
Greetings again Comrades! We return for yet another Blackpool Season to reflect with you on the true meaning of Biennial Delegate Conference. For those of you new to Conference or those whose memories are dimmed, for chemical or other reasons, we offer below our guide starting with one for alcohol abusers.
BOOZIN'
| | | |
| --- | --- | --- |
| SYMPTOM | FAULT | ACTION TO BE TAKEN |
| Drinking fails to give satisfaction & taste. Shirt front is wet. | Mouth not open while drinking OR glass being applied to wrong part of face. | Buy another pint and practice in front of mirror. Continue with as many pints as necessary until drinking technique is perfect. |
| Drinking fails to give satisfaction & taste. Drink is unusually pale and clear. | Glass is empty. | Find someone who will buy you another pint. |
| Feet cold and wet. | Glass being held at incorrect angle. | Turn the glass the other way up so that the open end is toward the ceiling. |
| Feet warm and wet. | Incorrect bladder control. | Go and stand next to the nearest dog. After a while complain to the dog's owner about its lack of housetraining. Demand a pint as compensation. |
| Bar blurred. | You are looking through the bottom of an empty glass. | Find someone who will buy you a pint. |
| Bar swaying. | Air turbulence unusually high, may be due to darts match. | Insert broom handle down back of jacket. |
| Bar moving. | You are being carried out. | Find out if you're being taken to another pub. If not, complain loudly that you're being hijacked by the Salvation Army. |
| You notice that the wall opposite is covered in ceiling tiles and has fluoruescent strip lighting on it. | You have fallen over backwards. | If glass is full and no-one is standing on your drinking arm, stay put. |
| Everything has gone dim and you have a mouth full of broken teeth and dog-ends. | You have fallen over forwards. | As for falling over backwards. |
| Everything has gone dark. | Pub has closed. | Panic. Go to nightclub. (see guides below) |
| You wake up to find bed cold hard and wet. Somebody has stolen your bedroom ceiling. | You have spent the night in the gutter. Again. | Check your watch - if you still own one - to see if it's opening time yet. If not, treat yourself to a lie-in. |
CROOZIN'
Blackpool: The Gay Riviera! Undeniably the gay seaside capital of the North.
The legendary club Flamingo's has undergone many refits over the years (Gay since 1980) but the latest project was the most ambitious ever. It has transformed the club into the largest 7-day-a-week venue in Europe and is now regarded as a major touring venue for larger-than-life PA's and Groups. Flamingo's has 8 bars, dance areas a Bistro and even a Clone Zone shop inside its very 'Tardis like' exterior. Doors open at 10pm 'til 2am Monday to Friday and from 9pm or Sundays.
Situated next door to Flamingo's is the latest addition to Blackpool's gay scene; The Flying Handbag. It is billed as a 'traditional pub' but nothing could be further from the truth! The atmosphere is a combination of good old camp with the added ingredient of imagination. The staff is always looking at ways of giving you a 'night to remember' and run regular theme nights that invariably include the deployment of the largest legally available pyrotechnics and confetti bombs!
Pepes Bar is a basement bar catering mainly for the leather and denim BoyZ whilst Basil's on the Strand presents a style more in tune with the younger fun loving amongst us.
Funny Girls Transvestite Showbar situated in the heart of Blackpool in Queens Square, has been the resort's latest success story. It is the country's first purpose built transvestite bar and guarantees to give you a night out with a difference!
International female impersonator Miss Betty Legs Diamond leads the fabulous Funny Girls Follies in providing you with some of the best entertainment in Blackpool - maybe England?
The crowd of 18-88 year-olds lap up this innovative approach to the kind of show that can only be seen in all their glory in Blackpool. Even Judith Chalmers gave it the 'thumbs up' on a recent visit while filming for her TV show stating that 'A visit to Funny Girls is a must".
So, remember what Ms Chalmers said and be prepared to be left shouting for "More . . . More . . ." when the show finishes at 11:30pm. But then again, there will always be tomorrow. Doors open at 7.00pm and you are advised to get there early over the weekend as the capacity crowd of 1200 doesn't take long to materialise.
All I.T.P venues offer selected half price drinks during the day and it doesn't take too many questions to find out which venue has reduced price drinks and/or cabaret on the night of your visit!
| | | | | |
| --- | --- | --- | --- | --- |
| FLAMINGOS | PEPES | BASILS | FUNNY GIRLS | THE FLYING HANDBAG |
| 174/176 Talbot Road Blackpool FY1 3AZ Tel: 01253 24901 | 94 Talbot Road Blackpool FY1 1LR Tel: 01253 26691 | 9 The Strand Blackpool FY1 1NX Tel: 01253 294109 | 1-7 Queen Street Blackpool FY1 1NL Tel: 01253 291144 | 170/172 Talbot Road Blackpool FY1 3AZ Tel:01253 25522 |
Col. ISLAM's PERSONAL RECOMMENDATIONS

_________________________________________________________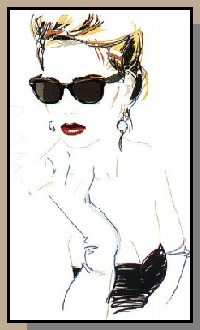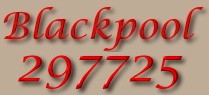 _________________________________________________________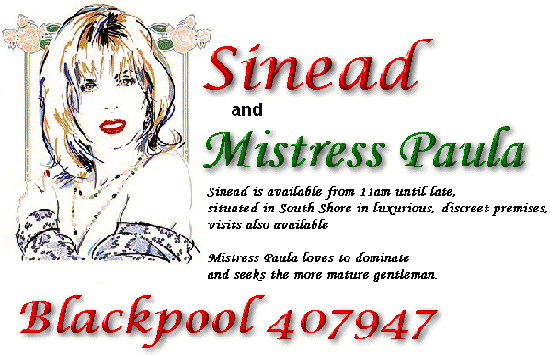 __________________________________________________________
MADAM MARION

For those private moments when only something large bent and yellow will do...
__________________________________________________________
GETTING STONED IN BLACKPOOL
If you need to ask where to obtain illicit substances then you really don't need them. Try asking the delegate sleeping off a comedown next to you which Branch Sec he scores from. Most speakers you will hear are by necessity on one sort of upper or another. The Top Table are on very heavy downers, probably largactyl. CPSA had a long and colourful history of drug abuse at Conference. There is a reputation to be upheld. And STILL no motions this year to legalise the recreational use of Cannabis, thereby continuing to deprive Third World growers of the benefit of this cash crop...blah, blah...(more pseudo lefty claptrap)...
&&&&&&&&&&&&&&&&&&&&&&&&&&&&&&&&&&&&&&&&&&&&&&&&&&&&&&&&