PSYCHIC NEWS
by Barrabas 6th May 2006
Today's offbeat story comes to you courtesy of several respected and inspiring publications: The weekly "Psychic News" of Saturday 18th March 2006, the PCS NEC elections candidates statements and the Home Office GEC elections candidates statements. I will draw your attention first to the article "Actress really is a blithe spirit":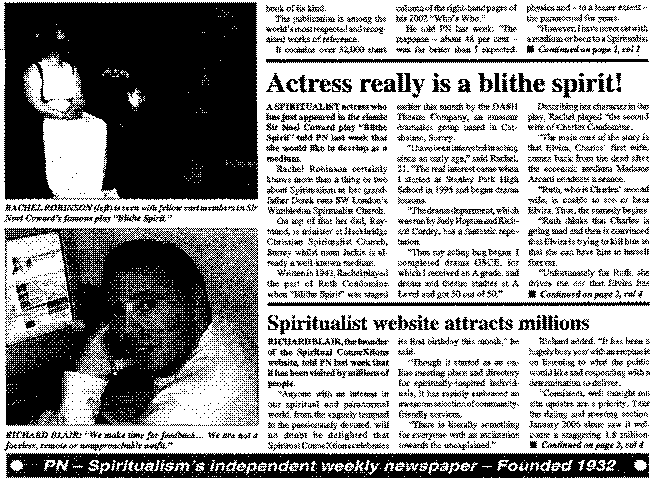 ACTRESS REALLY IS A BLITHE SPIRIT (text)

A SPIRITUALIST actress who has just appeared in the classic Sir Noel Coward play "Blithe Spirit" told PN last week that she would like to develop as a medium.
Rachel Robinson certainly knows more than a thing or two about Spiritualism as her grandfather Derek runs SW London's Wimbledon Spiritualist Church.
On top of that her dad, Raymond, is minister at Hackbridge Christian Spiritualist Church, Surrey whilst mum Jackie is already a well-known medium.
Written in 1942, Rachel played the part of Ruth Condomine when "Blithe Spirit" was staged.
earlier this month by the DASH Theatre Company, an amateur dramatics group based in Carshalton, Surrey.
"I have been interested in acting since an early age," said Rachel, 21. "The real interest came when I started at Stanley Park High School in 1995 and began drama lessons.
"The drama department, which was run by Judy Hopton and Richard Cordry, has a fantastic reputation.
"Thus my acting bug began. I completed drama GSCE, for which I received an A grade, and drama and theatre studies at A Level and got 50 out of 50."
Describing her character in the play, Rachel played "the second wife of Charles Condomine.
"The main crux of the story is that Elvira, Charles' first wife, comes back from the dead after the eccentric medium Madame Arcarti conducts a seance.
"Ruth, who is Charles' second wife, is unable to see or hear Elvira. Thus, the comedy begins.
"Ruth thinks that Charles is going mad and then is convinced that Elvira is trying to kill him so that she can have him to herself forever.
"Unfortunately for Ruth, she drives the car that Elvira has tampered with first and accidentally ends up dead, haunting Charles with Elvira!"In other productions, Rachel played Adriana in Shakespeare's "Comedy of Errors" and Christine in Strindberg's "Miss Julie." She was also the narrator in the pantomime "Red Hot Cinders."
Rehearsals for "Blithe Spirit" began last May as it was originally to be staged in October.
"Due to a last minute drop out of one of the cast members, the play had to be cancelled," Rachel explained.
"This was obviously very upsetting for the cast, but the theatre and royalties allowed us to carry over until March.
"Originally, the play was being directed by my best friend Lucy Ball. `Blithe Spirit' was always something Lucy and I wanted to do together, so it was a lot of fun to be able to produce the show with her.
"Unfortunately, Lucy was unable to carry on directing as she is currently in her final year at university studying for an English degree and would not have been able to commute every week for rehearsals.
"Luckily, Debbie Roberts, who runs the group, stepped in and directed the rest of the show.
"In the same breath, I must thank Rose Anderson for taking on the part of Madame Arcarti after the original member dropped out a week before the show due to illness."
Rachel, who also studied hairdressing at the London College of Beauty Therapy in Oxford Street, said Lucy finds Spiritualism "interesting but, I think, spooky.
"Other friends also find it interesting. My closest friends have now all been to our church and had private readings.
"I do attend my parents' and granddad's churches occasionally, but not as often as I should."
Mum Jackie, who uses the surname of King when demonstrating, "specialises in auras, and angel and tarot cards. She is also a newly ordained minister.
"My dad has been a minister since before I was born and psychic since he was a small child.
"My brother Ashley is developing as a medium. I hope to one day soon as well."
??????????????????????????????????????????????
??????????????????????????????????????????????
The actress above, Rachel Robinson, is the daughter of NEC and Home Office Vice-President candidate and 4themembers supporter JACQUELINE ROBINSON whose election address is obviously far too modest as she fails to include her talents as a "well known medium" who "specialises in auras and angel and tarot cards" Neither does she reveal that she is a "newly ordained minister" who uses the surname KING when "demonstrating" (Nice to see the word demon!)
In her election address JACQUELINE tells of her family history of trades unionism dating back to her great grandfather's invovement in the TGWU. Curiously she does not mention her son, ASHLEY ROBINSON whom his sister revealed above to be "developing as a medium". ASHLEY is a HOME OFFICE GEC candidate who failed to get a nomination from his own branch. Perhaps he'll see it coming next time. Obviously they can also rely on advice from JACKIEs family with 100 years of trades unionism by contacting their dead relatives.
The penultimate sentence of JACQUELINEs NEC election statement begins "I have a vision..." errrr. Quite.
---
AND, FINALLY....