ROUND AND ABOUT
by JUDAS ISCARIOT - September 2007
All along the DWP front line the cleaning of rifles and dug-outs is being carried out with a new urgency following the overwhelming decision to reject Management's contemptible pay offer: 2% this year, 0% next year, 1% the following year. There are the usual moans about the rats that ate the parcel from home; the waist-high mud and the officer that cowered in the cellar while his men went over the top last summer. But rumour , like the peacock's tail, spreads on the slightest provocation and it looks like another surge if further talks prove fruitless.
Standing firm in face of the enemy is all very well providing it doesn't get in the way of the backstabbing we love so well, and no more so than in Geordieland. There, the one time mighty CPSA Newcastle Central Office , from whence sprung the 'Newcastle Eight' in the days of yore, is now called 'Benton Park View' and is split into an HMRC Branch and a DWP Branch.
The HMRC Branch is run by Kevin McHugh, and the DWP Branch by Joe Cox, both legends throughout PCS , but one is a former MENDICANT now Left Unity, and FATTY COX is a former MODERATI now 4TM.
Predictably this has led to tensions. These have reared their ugly head recently over a dispute over a PA system used for Branch meetings. This rather clapped out system was owned by HMRC and borrowed from time to time by DWP.
HMRC decided to purchase a state of the art system, which they don't want to let DWP borrow. So they hit on the brilliant solution of flogging their old one to DWP for £500 and buying one that works from the proceeds which they would refuse to lend to DWP because they had their own now!
Joe Le Taxi's branch could never afford this amount of money in a month of Sundays and said no. McHUGH'S HMRC branch needed the money, so they knocked the price down to £300, in advance , in readies. DWP refused even this offer.
All of a sudden DWP found they had two pay ballot meetings to organise. So they contacted HMRC and asked for a loan of the PA system! HMRC responded by advising them that the 'rent' would be £50 per meeting in cash in advance.
However DWP were offered an even older and more rubbishy PA system by the PCS Northern Regional Office for free, provided they keep it (saves the collection charges). WILLIE SAMUEL, addressed the only DWP Pay meeting he's going to be invited to (his own branch) by simply shouting.
In any case, the Benton Park View consultation meetings didn't require PA systems: Very few ordinary members attended and those that did were mainly CSA folk with a spattering of DWP members. The largest branch at Benton Park View, McWHO's HMRC mob spectacularly failed to attract any members at all apart from BEC reps. Despite attracting barely 1% of the members at the site, KEVIN seemed intent on taking the attitude that the members who did turn up were positive towards the NEC!
Just to cap it all, the meetings were held in a Catholic Working Mens Club stuck in a 1970's time warp where women weren't allowed into, or permitted to be served at the bar.
But far, far from Ypres, safe and sound in Chateau Falconcrest, the faction bosses are dusting down their smear campaigns in readiness for next years group and national elections. For Left Unity it's simply agreeing the seating amongst the PCS Democrats and the Socialist Wankers within the Big Tent. CHARLIE MCDONALD and LEE ROCK are rehearsing next year's rants for the Independent Left that was once the Socialist Caucus - their relaunch party is on 28th and PRIESTLEY and BINKS are struggling to find dupes to field a full list for the NEC to fulfill their "Five Year Plan" that they say will send them back to FALCONCREST. But it doesn't look rosy for 4TM these days. JAKE WILDE has thrown in the towel for this year at least and now PETER GALLIGAN, the 4TM DWP Group Treasurer has resigned due to "ill health". As soon as 4TM starts getting its placemen in, the dream begins to crumble. At least FATBOY's had the decency to fuck off.
News reaches us that John SHIP, ex-Militant NEC CPSA member and stalwart darts player has taken an early bath from his post in HMRC (Luton Airport) where he relieved air travellers of their excess fags and famously once disarmed a guy waving a Japanese sword which he was showing off to his mates. SHIT now has a chart on his wall to guide him each day. It starts with watching sports programmes and then leads to the pub. Always a supporter of womens' rights he has allowed his attractive Dutch wife to keep on working.
Alaister Donaghy ( Northern Ireland ) has resigned as a HMRC GEC member stated that the travel has taken its toll. His salary as a new full time officer with the Assoc of Teachers and Lecturers based in Belfast may ease the pain of his passing.
The call up was between Martin Page( Leicester) and Lorna Merry (Oxford) who both achieved 3087 votes and a toss of a coin was required! Merry won the toss.
Back at the Home Office a new row has erupted following Lunity's victory in the group elections this year . The new Lunity dominated GEC insisted on AS Clements taking charge of the 'Borders' portfolio when duties were assigned following this year's conference. Hammond and his PCS 21 cronies, the last vestiges of the old Ferret regime, pointed out that it might be worth having someone who knew the work area covering this pitch, like AS SUE SMITH who works at Heathrow for the Immigration Service and assisted with the pitch last year. But CLEMENTS and his LU hench-people couldn't see why it was necessary to have any knowledge at all of the work area to which an AS was assigned; hence CLEMENTS got assigned the pitch.
The first major issue facing the incoming LU dominated HO GEC after conference in May was the imposition of uniforms on Borders staff. In line with the normal LU tactics they proposed moving to industrial action as a first step and Group Sec PAUL O'CONNOR and CLEMENTS jumped at the chance to organise the ballot and be seen as leaders of the revolution.

Home Office management challenged the initial notice of intention to ballot because they thought there were more than the 12 locations O'CONNOR, CLEMENTS & Co. had identified. Frantic scurrying around at Falconcrest, a flurry of phone calls and avalanches of e-mails later resulted in a new notice giving 80+plus locations. Due to the delay, the ballot, if it gained support for Industrial Action, would have resulted in PCS not being able to take any action until a week after the uniforms were imposed on members!
Not content with that faux pas, O'CONNOR & CLEMENTS then managed to continue to leave members in the HO in the dark about what was happening by not getting a circular marked 'Urgent' sent out in time for the arrival of the ballot papers with the members, thereby leaving the masses floundering with little or no information regarding the reason(s) for the ballot. Many of the members affected either received their ballot papers after the closing date or didn't receive them at all.
Despite the suppliers of the uniforms riding to the rescue of bumbling CLEMENTS and comrades action strategy, by being a week late in delivering the uniforms, the lack of information and general confusion regarding the ballot meant that although a 'Yes' vote was achieved it wasn't with the overwhelming support that LU had hoped to achieve.
In fact, hardly anyone voted. This isn't really surprising when hardly anyone got a ballot paper in time. CLEMENTS, KELSEY, JENNER & the other LU cronies on the HO GEC were left floundering and searching for a way to proceed that didn't leave them with the proverbial egg on their faces.
Group Sec O'CONNOR then agreed with Hammond's proposal that the revolution would have to be postponed due theproletariat in the BIA failing to grasp the dialectical dynamics of the moment. The majority on the GEC then carried the proposal to call off any action following which there was a curious "I'm Spartacus" interlude in which most of the LU comrades fell over themselves to take responsibility for the debacle. But this only lasted until one of them mentioned 'collective responsibility' and then the cock-up then became everybody's fault.
The Group Sec. then said in an All Members circular that "It was recognised by the GEC that we had not secured everything we wanted in negotiations, and that a number of concerns still remain." He then went on to say "... in light of the position reached and consideration of the wider picture, the GEC concluded that sufficient progress has been made to avoid calling industrial action." Not exactly a huge success for LU in the HO or as one of the PCS 21 GEC members put it "they couldn't organise a get-together at a manufacturer of alcoholic beverages". The revolution is in safe hands.
Thought you might be interested in the latest example of cronyism. Note Eddie Spence's use of the phrase "I have liaised with senior colleagues in PCS", which is his way of saying that the GRANDEES have told him who to appoint.
Gordon ROWNTREE was, for many years, an AA in the former IR. He may now be an AO, but in any event this will prove a nice little earner in the run-up to Xmas. I do hope it won't impinge too much on his real job of LU National Secretary...
Dear Colleagues
I write to alert you to recent staffing developments affecting the PCS Northern Regional Office.
With effect from 5 September 2007 Liz Blackshaw left PCS to take up post as Director of the TUC Organising Academy. I am sure colleagues will join with me in thanking Liz for all her hard work since joining PCS in April 2004 and wish her every success in her new post.
The above change took place at quite short notice and we have tried to accommodate the time pressures facing the TUC, who are a key partner organisation, at the start of its 'Organising Academy' year.
In order to ensure that adequate Officer cover is available in the Northern Regional Office I have liaised with senior colleagues in PCS and agreed the following interim arrangements:-
- With immediate effect, and for an initial 3 month period, Simon Elliott will work for 50% of his time based in the Northern Regional Office deployed on Northern Regional Office work. This will then extend to a full time basis. I am sure colleagues will wish to welcome Simon into his new role.
- For a three month period starting 17 September 2007 Gordon Rowntree is seconded to the Northern Regional Office to provide Officer support to ensure we are able to meet the range of campaigning and organising work required by the Region. I would like to thank Gordon for agreeing to help during this period at very short notice. Again I am sure colleagues will wish to welcome and work effectively with Gordon, who is an extremely experienced PCS Representative.
I will be meeting with our Northern Regional Office Team on 17 September and will be discussing more detailed areas of responsibility. Once these are determined further information will be circulated to Branches and the Regional Committee.
I hope these arrangements re-assure colleagues that our Northern Regional Office Team is equipped to work with all Branches and deal with the many challenges that lie ahead.
Best wishes
Eddie Spence
Senior National Officer
c/o PCS Yorkshire and Humberside Regional Office
34 Lisbon Street
Leeds
LS1 4LX
Haud facile emergent quorum virtutibus opstat res augusta domi
By no means is it easy for those to rise from obscurity whose noble qualities are hindered by straitened circumstances at home.
Decimus Lunius Luvenalis
---
NEW SATELLITE NAVIGATION SYSTEMS TO FEATURE "TOURETTES" SETTING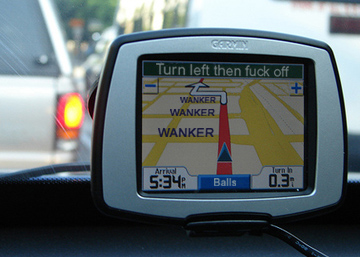 The latest satellite navigation systems to hit the market comes with a range of specialized new settings include 'Tourette's Syndrome Mode' for drivers who are not afraid to have their GPS tell it like it is.
The new generation of in-car navigation computers was unveiled by Jeremy Clarkson on Top Gear. Complaints jammed the BBC switchboard after the machine informed the presenter 'Your final destination is two hundred yards on the left. Now go fuck yourself!' The rest of the programme was ruined by random shouts of 'Clarkson, you wanker!' although it turned out these were not coming from the GPS but one of the cameramen making the most of the opportunity.
If you miss a turning the machine will groan and declare that 'you are 'thick as shit and a fucking useless driver.' But the latest GPS system can do more than just find the optimum route for drivers. Even when the car is parked it will shout out unexpected obscenities at passers-by. One beat policeman was confused to hear an empty car shout at him 'Oi copper, take that tit off your head you big nosed twat'.
The specialized GPS features many other settings including 'Nervous Wife Mode', which turns the map upside down to work out which way is left, says 'That might have been it back there' and then bursts into tears saying 'Don't shout at me, I'm doing my best.' There is also 'Backseat Driver Mode' which says 'If I had wanted to go this fast I would have walked' and 'Concentrate on the road and stop looking at the totty'.
However police have called for the new Sat Navs to be withdrawn because of a controversial setting called 'Ram Raider'. Apparently a number of drivers using this setting have followed the instructions of their machines and driven their vehicles at high speed into the windows of Currys Digital, formerly Dixons.