ROUND AND ABOUT
by Judas Iscariot - September 1999
The silly season has produced some notable examples of hypocrisy and uselessness this year from members past and present, and shows no signs of abating. This year's Edinburgh Fringe experience could have become one of the most colourful the Royal Mile has seen in living memory. In a bid to resolve the bad feeling surrounding this years strict limitation on busking numbers, American circus master Jim Rose (in right of picture) challenged a local Labour Councillor, Steve Cardownie (in left of picture), to a fight - an offer "Bruiser" bravely decided to accept.
While some may consider the prospect of 12 rounds with Jim - who hangs huge weights from his testicles for a living - somewhat foolhardy, Steve was far from intimidated. "I've got a feeling Jim Rose is staying in Edinburgh for a while,'' he says, " because when I'm finished with him his face won't look anything like it does on his passport."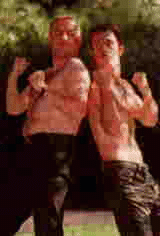 For those wishing to enjoy what promised to be a delightful spectacle, round one was due to start in Princes Street Gardens at 4.15 on 19th August. A collection was to be taken afterwards for buskers hit by the new rules. But alas, when he had sobered up and it was pointed out to him that hospitalising buskers was not quite the way Edinburgh Council had in mind for reducing their numbers, Bruiser decided to pull out to deal with "an urgent family matter." Trouble on the Russian Front, no doubt. "What was sold to me as a light-hearted charity event has taken on the mantle of a crusade against council policy." So, no changes in his policy of light-heartedly thumping small people, which we so fondly remember from his days in CPSA.
Anybody remember plain Carol Mountford? No? Scored 7 Points of Order against the PFL at Conference 89 when we had the temerity to refer to her as a HARPY, before Marion got pissed off and told her to stop reading our Communiques if she found them offensive. Perhaps you recognise her incarnation in CPSA days as the other half of another incompetent vacillator and turncoat, Ian Leedham, saviour by his inaction of the Newcastle 8? Still lost? Step forward KALI MOUNTFORD MP, who left the Civil Service due to er.illness. She got in at Colne Valley on the back of the landslide in 97, and by way of her relevant experience, onto the Social Security Select Committee. Where she leaked a draft report and denied when questioned that she had done so. So far so Kali. Unfortunately the recipient of said leak just happened to mention her name when asked.and the Committee on Standards and Privileges does not like MPs who lie to Parliament. In days of yore they were entitled to be hanged with a silk rope, but these days they just have to grovel a bit and resign. The Islamic Left (Prayers not Politics) has demanded the return of the earlier punishment due to previous irresolvable ideological differences between its senior IMAM and the HARPY.
ELEVENTH REPORT The Committee on Standards and Privileges has agreed to the following Report:- UNAUTHORISED RECEIPT OF A DRAFT REPORT OF THE SOCIAL SECURITY COMMITTEE
1. In our Tenth Report, on the unauthorised receipt of a draft report of the Social Security Committee, to which we agreed on Tuesday 20 July, we were at that time unable to identify the member of the Committee who was responsible for giving the Parliamentary Private Secretary to the Chancellor of the Exchequer a photocopy of a draft report on child benefit.
2. Before our Report was published Ms Kali Mountford, a member of the Social Security Committee, realised that the response she had made to our enquiries had not been accurate. On Friday 23 July she wrote to our Chairman in the following terms: Thank you for your letter of 15th July 1999. You asked, "Did you give Mr Touhig a copy of the report". I regret to say that I did allow him sight of my copy of the draft of the child benefit report to Don Touhig MP and I offer my full apologies to you for having done so. You will recall that I said to the Social Security Select Committee that I was unable to help in their inquiries. This was because at that time I was unsure how to interpret the criticism which followed from showing Don Touhig MP the report in the light of clear wish of the Social Security Select Committee chairman, and the whole of the Social Security Select Committee to persuade the Treasury to provide a minister or official to give evidence to the Third Special Report (child benefit). Had my thinking been clearer at that time and my absences less frequent, I might have had a fuller grasp and understanding of the implications of all these procedures and not done things which on reflection were rather silly. The situation is as follows-
. The committee was concerned that it did not have evidence from the Treasury.
. Members decided, as guided by the chairman, to persuade the Treasury to give evidence.
. To assist in this I asked Don Touhig MP to persuade the Treasury to provide a minister or official to give evidence.
. In order to explain the significance of the request for Treasury evidence I agreed to Don Touhig MR's request for sight of the first draft report (which I had with me at the time) as I wanted him to understand the importance of our request for Treasury evidence.
. I believed that I was assisting the committee in its work, I was not showing the report to the PPS for any other reason.
I now realise that my action has caused problems, and had I been in the house as much as usual, I would have realised this earlier. My severe health problems and the operations that I have had have made me miss large parts of the Parliamentary session in recent months. I deeply regret my actions, and would like to apologise both for my original error in showing another member the draft report and for the delay in being totally forthcoming in this matter. I do of course realise that I must now resign from the Social Security Select Committee with immediate effect.
3. We welcome Ms Mountford's decision to come forward, which has cleared the other members of the Social Security Committee of suspicion for the leak of the draft report.
4. Ms Mountford has accepted that she was wrong to provide Mr Touhig with the draft report, although she believed she was assisting the Social Security Committee in its work by doing so. She has offered a full apology both for her original error and for the delay in acknowledging it.
5. Ms Mountford is not an experienced Member of the House and has been absent from the House for much of the Session owing to illness. She did not understand the rules relating to select committees as well as she might have done. There are a number of other mitigating circumstances of a private and personal nature which it is not appropriate for us to detail. Nonetheless she aggravated her original offence by denying responsibility. It would have been much better for her and for everyone else involved if she had made a frank admission at the outset.
6. We recommend that Ms Mountford should apologise to the House by means of a personal statement and that she be suspended from the service of the House for five sitting days. 7. We understand that Mr Don Touhig played a considerable part in Ms Mountford's decision to come forward. We are grateful to him for his help.
We are sure that her Constituency Labour Party will overlook this small lapse and vigorously endorse her re-selection to fight the marginal on their behalf. She also has 5 additional days now to devote to her constituents, health problems and other "rather silly things" permitting.
Back in the real world its been a fairly quiet Summer, Leo Brightley's leaving do being notable only in that he managed to remain upright and did not fall asleep in his or anyone elses curry. Dim Left stooge Rob Leech took the Management shilling and joined personnel on promotion to SEO and his leaving do was attended by the usual crowd of drunks and hangers-on. Boyle just about managed to drag himself out of the Falcon in time to horrify LEECH's new head of department with his uncouth behaviour; Sir Woy turned up for the free beer (although he says it was red wine - we're sceptical that the old soak can tell the difference); Skippy Stansfield got ratarsed on inferior vino and had to be poured into a cab; and various other Dim Left has-beens and never wases showed up including the late Brightley (who hadn't even been invited), Semtex Sam, Martin Jones (the one who didn't get on the NEC) et al. Sources suggest that SCREECH has yet to shell out for this piss-up, which clearly demonstrates his management potential.
Druggan gave his traditional Summer rites barbecue in August. Guests included Jim McCauslan, the loathsome Undy, Jones and Paul Smyth plus various members of the Customs GEC, but none of his old Moderati chums. Peter (Father Aloysius) Donnellan was invited but was apparently unwell; unkind remarks about a diet consisting almost exclusively of Guiness were overheard. Screech appeared bearing the marks of the previous couple of days fluids on his suit, recovering from yet another extended lunch with his new management pals and on his way to that days' "Dim Left reunion" in the Falcon.
Yates Wine lodge has opened up opposite the Falcon and although only time will tell if it becomes the favoured watering hole, it is certainly setting out on the right lines: many of the HQ drunks are bitter men (No, and it wouldn't be funny anyway) and the difference in price between the cooking bitter in the Falcon at £2.25 a pt and a pint of Boddies in Yates £1.59 is tempting, particularly for those who enjoy a leisurely liquid luncheon, as the price drops to £1.10 after 3pm. Not only that but it also takes Switch and gives Cashback. Small wonder that Yates in Brighton was packed to the gills during TUC week. Furthermore, Yates have a policy of checking their bogs every hour and would surely have discovered a somnolent Jim Hanson locked in them prior to 2am as happened recently at the Falcon. And they probably wouldn't assume Basil was a burglar, either, and ring the Constabulary. Time will tell.
Is that applause or gunfire we hear as El Presidente Father Aloysius confirms that he will selflessly put his Civil Service career on hold and bravely announces that his people need him and he has therefore decided that he will stand for re-election. Protestations from junior ranks along the lines of "but you promised me I could have a go!" have yet to be addressed. Watch this space.
In McCanngate both sides are now firmly entrenched. Both sides are confident of winning. The arguments now are centered around who has the best legal team, with PCS divulging that their chief brief is the best in Scotland but they fear he may be appointed a judge before the ET in November. Perhaps one of you ordinary members might care to enquire how much this fiasco is costing you. When you go to court, everybody is made to look ridiculous and only the lawyers win. Fat Cat lawyers a) do not come cheap and b) are not usually known for their empathy with Trade Unionism, although they have adopted some of the more archaic practices, such as the "closed shop". Justice may be beyond price, but only when someone else is paying. When the smoke finally clears, all parties should watch their backs up in Scotland: Jazza wants to return!
As looks increasingly likely, Barry will hang on to the GSship until a juicy enough carrot is waved under his nose. He would love to follow in the footsteps of his predecessor Alistair Graham and become Chair of the Parades Commission, but for the time being, this remains a dream and its business as usual, for up to 8 more years. And that is why Boyle wants to return to Scotland. Barry's chosen successor would prefer to bide his time among the distilleries of his native land and have the we'ans educated in the arts of the Partick handshake and the Glasgow kiss.
The furore surrounding HEO grading at Falconcrest continues. They were JEGSed and found to be underpaid. They wanted their rise, but Undy's view is that they are overgraded. Erstwhile union rep Rikki Winelake has gone very quiet. Can we expect yet another ET?
Meanwhile, the head of personnel has decided that HQ staff need awareness sessions in how to deal with communications with the great unwashed, the member who might want to disturb their reveries and cause them to have to do some work. Whilst this initiative is long overdue, it is being deployed as mandatory attendance, including September 24th, the final day for receipt of motions and nominations when it would be anticipated that Group Offices would be fully staffed. So make sure you post early. This awareness training is given at 2 levels, one for the clerical staff and a different one for managers, however some HEOs have found that they are on a plebs course. They will find that this is not an accident.