The Streatham Striker No.5

| | |
| --- | --- |
| | MANAGEMENT SCAB MADE TO APOLOGISE - an open and shut case |
On Fridays, the bussed-in strikebreakers bring their suitcases with them to the office. Last Friday one of them ran his large suitcase into official picket John Stanley's leg. Fortunately, John did not sustain any lasting injury from what he believed was a deliberate act.
When his action was called into question, the strikebreaker insisted that it was an accident, and stated that John should not have been standing there, but refused to apologise, adopting an uncompromising attitude and stalked into the office.
An SEO was informed who opined that the incident must have been an accident. John expressed the view that if it was an accident the scab should apologise. The SEO agreed and after 30 minutes of discussions in the office, emerged to report that an apology would be issued on Monday.
On the Monday, 33 members gathered to witness the apology which was not forthcoming. The scab insisted that the incident could well have been John's fault and, prodding him said "You walked into me, perhaps you owe me an apology!" John, getting fed up, said that he was standing still and that the scab should go into work. The scab retorted "Nothing to say now, have you. Don't you want to say something?" John walked away and the scab went into the office.
John had further words with the SEO who expressed concern that there had been no apology as the scab had assured him that he would apologise.
Later that day John spoke to the police, had been scrupulously fair in their treatment of the pickets, and as a result, on the Tuesday morning, the police interviewed John and a number of witnesses and then interviewed the scab both at the office, and we are informed, at the local police station.
On the Wednesday morning, the scab read out to John a formal statement apologising for the incident.
Curiously, on the following Friday, the strikebreaker was the only one on the Blackleg Bus not carrying a suitcase.
________________________________________________
| | |
| --- | --- |
| | |
| Local Management continue to deal with customers at their outdoor counter | Picket and Policeman having a friendly cuppa at Balham |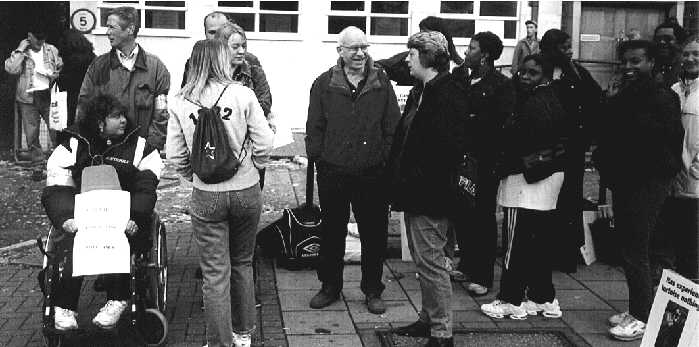 Part of Monday's demonstration at Irene House
The demonstration last Thursday at Streatham went ahead peacefully. This was clearly not the expectation of management, who panicked and rang the police who turned up mob handed expecting a riot in progress. Somewhat deflated, the police then left, having made their displeasure clear to management who seem to believe that ONLY 6 people should be outside the office. As we all know, the number of pickets is restricted to 6, but anyone is entitled to use the public highway provided they obey the law and do not create an obstruction, or behave in an unlawful manner.
____________________________________________________________
SCAB OR BLACKLEG? - YOU DECIDE
Main Entry: scab
Pronunciation: skab
Function: noun
Etymology: Middle English, of Scandinavian origin; akin to Old Swedish skabbr scab; akin to Old English sceabb scab, Latin scabere to scratch - - more at SHAVE
Date: 13th century
1: scabies of domestic animals
2: a crust of hardened blood and serum over a wound
3 a: a contemptible person b (1) : a worker who refuses to join a labour union (2) : a union member who refuses to strike or returns to work before a strike has ended (3) : a worker who accepts employment or replaces a union worker during a strike (4) one who works for less than union wages or on non-union terms
4: any of various bacterial or fungus diseases of plants characterized by crustaceous spots; also: one of the spots

Main Entry: blackleg
Pronunciation: 'blak- "leg, - "lAg
Function: noun
Date: circa 1722
1: a usually fatal toxaemia especially of young cattle caused by a soil bacterium (Clostridium chau voet)
2: a cheating gambler: SWINDLER
3: chiefly British: a worker hostile to trade unionism or acting in opposition to union policies : SCAB
_________________________________________________________

Weekly strike meetings have been arranged. The next meeting will be on
FRIDAY 12th OCTOBER
from 11.30 - 12.30 in The Boardroom
PCS HQ, 160 Falcon Road, Clapham Junction, London SW11 2LN

Come down to the Picket Line at Balham on Tuesday to meet supporters from Makerfield and on Thursday at Streatham to demonstrate your support for the strike.
Speakers are still needed to address meetings at other offices in the build up to balloting all BA and ES members nationally. POS will pay your expenses and provide you with a speech. Please contact the Strike Centre or your local picket line for further details.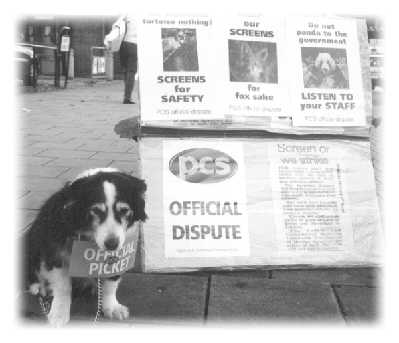 If you don't, we'll set PEPPER THE PICKETTING POOCH aged 13 (see above) on you.