THE STREATHAM STRIKER 6

BITTER REALITY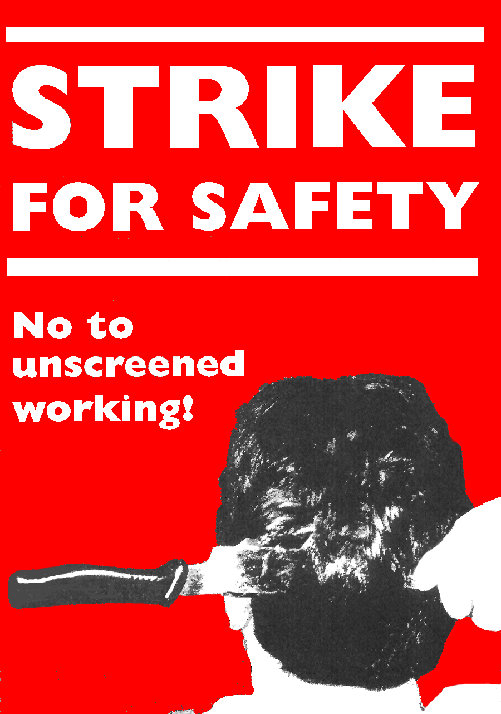 This picture is worth a million words and appeared in national newspapers in 1998. This is a member of the public, stabbed through the head at Bexleyheath Jobcentre.
A member of staff who was also attacked will never work again after suffering vicious bone-deep stab wounds from a female claimant armed with knives and screwdrivers.

Terrified staff were attacked from behind and attempted to escape through a door with a digital lock. An eye-witness member of staff said "All I could see were staff outside the door and a woman behind them hacking at their heads. I thought they were going to die."
The woman was mentally ill and should not have been attending the (unscreened) Jobcentre. There is no way of telling if the incident would have had less serious consequences if she had attended the (screened) BA office - members of the public were also attacked - but it would have been unlikely that staff would have been physically injured.
The Police agree that we are living in a more violent society. Most MPs now conduct their surgeries from behind screens similar to ours.
The Home Office sees asylum seekers from behind screens. Police Stations have screens. Banks have screens, cinema and theatre box offices have screens. Train and Tube ticket clerks have screens. Bus drivers have screens. Black cab drivers have screens, Minicab offices have screens. A & E hospital receptions have screens. Some local off-licences have screens. Local Councils have screens. The list is not exhaustive. The public and the police are bemused as to why we have to take strike action over what they see as sensible precautions.
It is clear that the type of work which is proposed for Jobcentre Plus offices requires to be carried out in a screened environment, with the facility of screened and unscreened interview rooms available. You may recognise this set-up - it's the model currently used by the BA. We agree that the image could do with a makeover, but not when it compromises the safety of staff.
Last week saw the rest of the 50 Pathfinder offices voting in favour of strike action, strengthening our negotiators hand, and those negotiations have now moved forward to a daily basis appropriately enough during National Safety Week.
With Makerfield balloting on 3 weeks all out strike followed by discontinuous strike action, Fulham and Cricklewood offices balloting on discontinuous strike action because they refuse to scab on the dispute, the message to Leigh Lewis and his cronies should be 100% clear:
WE ARE RIGHT, YOU ARE WRONG.
On the picket line at Balham

(above) Phil Easton, Makerfield PCS Branch Secretary, visiting Balham Picket to convey the full support of his branch. Makerfield is being ballotted on strike action because they refuse to scab on our dispute. Fulham is likewise being ballotted in the Streatham area, and Cricklewood in the Brent area.

A well attended strikers meeting at PCS HQ

Pickets and their supporters outside the Pathfinder office at Streatham


Got your 2002 PCS diary handy? Look at the images on the front. The centre picture bears an uncanny resemblance to a certain shy and retiring Branch Sec and his delightful daughter. Now we'll have to look at his ugly mug every day for a whole year!

YET ANOTHER INCIDENT AT CROYDON ESJ

Word has reached us of a further incident at Croydon ESJ which occurred on Thursday. Details are sketchy, but 3 computer terminals were smashed and a Security Guard later collapsed and was hospitalised. Further news as we get it.

___________________
PATHFINDER GO-LIVE DAY 22ND OCTOBER
All strikers are urged to attend Streatham office to support the picket on Monday 22nd from 7.00am onward. Let's continue to demonstrate that we will not work in unsafe conditions.
NATIONAL DECISIONS
Strikers heard on Friday from GS elect Mark Serwotka who spoke at their meeting that decisions on the future of the dispute will be made in w/c 15th October. He stated that he would lobby the NDC (he is a member of the NDC) vociferously to ensure that the 7 days notice is issued to the employer on Monday.