THE STREATHAM STRIKER No.9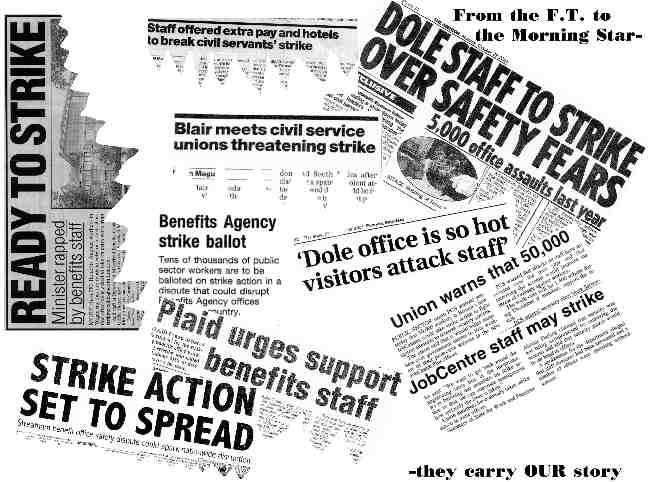 And OUR story is about the safety of our staff. No matter how many times Leigh Lewis tells us Pathfinder is safe, we find hard evidence that contradicts him:
On 26th October a serious incident involving a baseball bat occurred at Welwyn Garden City ESJ.
A JSA customer had been sanctioned for leaving his job voluntarily (nil decision on benefit) and had to wait for an hour for a BA visiting officer to arrive to tell him he was not entitled to a hardship payment either. He had no previous history of violence.
He punched a member of staff, left the office and returned wielding a baseball bat, smashing computers and a security door, obtained access to the kitchen area which he ransacked in an unsuccessful attempt to find a knife. He was able to do considerable damage before being restrained and arrested by the police.
Although the injuries sustained were not life threatening, The incident left the staff in a state of shock.
A leaked management report on the incident obtained by PCS states "the BA District Manger has decided to stop hardship interviews on Jobcentre premises and to ensure such interviews are conducted in a screened environment on BA premises."
This particular Jobcentre is not known for its violent customers - indeed, we understand that the incident report form used was an out of date form. Active participation in quarterly Health and Safety inspections and regular reviews of risk assessments also appears to have been lax.
Because violent incidents can happen, they inevitably will. We need proper screened protection and proper risk assessments for all processes carried out.
And in case Leigh Lewis has forgotten, that also means risk assessing his preferred/banned clothing lists.
~~~~~~~~~~~~~~~~~~~~~~~~~~~~~~~~~~~~~~~~~
The media use film reports and photography, where available, as well as the written word to report news stories, and the Streatham Striker is no exception…..
However, the management at Balham on Tuesday called the Police (and not for the first time) to Neil Bronkhorst, the Streatham Striker photographer, who was taking snaps of the Picket and supporters. Apparently, some of the scabs had felt "intimidated" by the presence of a camera. Bronk explained to the Police who he was, what he was taking pictures of and for what purpose, which satisfied them and they left him to continue with his snapping. (which later proved to be a waste of time because the ****** film was faulty - NB)
Not so lucky was the photographer from Newsline, who suffered the misfortune of being assaulted by members of management outside Irene House on Wednesday as she pursued her legitimate business of following up news stories. We understand she will not be pressing charges on this occasion.
While we remain resolute, the management cracks are beginning to show. Attempting censorship of matters that are of public interest and in the public domain is a desperate and shameful act.
We also hear of incompetence among the imported suits at Balham: can it really be true that about 80 counter payments were issued last week - without the customer's signature on the "flimsy"? And can it be true that as a result, urgent visits (on overtime) had to be made to obtain these signatures retrospectively? And do you think there will be an Area Director's Investigation (ADI) into this security lapse?
PICKET LINE PIX
| | |
| --- | --- |
| Picket Dave Shepherd feeling intimidated by.... | ......a camera outside Irene House! |
While at Streatham they have 33 cameras to choose from!


WEEKLY MEETINGS for our strikers have been arranged.

These are an opportunity to find out the latest news, to meet the strike centre team, and to ask any questions you have.

They are also an opportunity to meet and keep in touch with workmates who are also on strike.

The next meeting will be on

FRIDAY 9th NOVEMBER

from 11.30 - 12.30 in room 4.4 PCS HQ, 160 Falcon Road, Clapham Junction, London SW11 2LN

Come on down!


STREATHAM AND BRENT
STRIKERS NIGHT OUT

WHEN? Friday 9th November
WHERE? THE BETSY TROTWOOD Farringdon Road (opposite the Guardian building, nearest tube Farringdon Road). Music, raffle etc, proceeds to branch hardship funds.
WHAT TIME? 7.30 - 1.00 (late bar)
HOW MUCH? Free to strikers, £5.00 others - BRING PLENTY. Tickets now available at the strikers meetings and by application from the Streatham strike centre. Brent also have tickets.
DRESS CODE? No denim clothing; lycra leggings; shorts; cropped tops; trainers; and baseball caps. (ONLY JOKING) but Leigh Lewis' list of banned clothing is not exhaustive, he says...