ROUND AND ABOUT
BY JUDAS ISCARIOT - XMAS 2007
So this is Christmas and what have we done? Quite a lot really. December has long since displaced with fogs and rains the white, piled clouds of the autumn. A good fall of snow would have brightened up the barren fields of No Man's Land and the spirits of those who think that snow and Yuletide ought always to go together. But the cheery faces of the members unlike those of senior Management tell a tale of Christmas Push that no-one can deny. And as an uneasy cease-fire takes hold across DWP lines and the overtime ban comes into force branch officers are taking stock of last week's Jingle Bells Offensive that gave Management more than they expected during the festive season.
In fact the support for the two day DWP pay strike was even greater than before, as Management themselves concede. Jobcentres, benefits offices, the Pension Service and Child Support Agency ( CSA ) were all disrupted as support grew on the second day of a two day strike by staff working for the Department for Work and Pensions (DWP) over the imposition of a below inflation pay offer. The two day strike called by PCS, followed the imposition of a below inflation pay offer which sees the lowest paid receiving increases which take their wage to only 24 pence above the minimum wage and approximately 40% of staff set to receive a Zero per cent pay increase next year. Picket lines were once again set up across the country with reports showing that the number of staff staying away from work had grown even in London which Management thinks is the weakest link in the DWP chain.
This was seen at Twickenham following an incident on the picket line when a female scab was shouted at by a picket and burst into tears. Local Management overreacted and called the Police who, it transpired, were sympathetic to the strike having had a similar crap pay deal imposed on them. No collars were felt. The enraged and thwarted District Manager when informed, rang JACKIE DUTTON Regional TUS Chair, apoplectically demanding to know who the picket was, as it wasn't anyone who worked in the office.
But JACKIE couldn't help him even if she wanted to because the picket was one of the plucky volunteers from Falconcrest itself. These days Falconcrest has a policy of encouraging HQ staff to attend civil service picket lines in London - a cathartic experience similar to auto-flagellation for most, and that is how NIGEL VENES (PFL's passim) came to join the picket at Twickenham on Thursday, and it was he who had reduced the female scab to tears.
"Can the Ethiopian change his skin, or the leopard his spots? then may ye also do good, that are accustomed to do evil."
Jeremiah 13:23 (King James Version)
There was more fun and games at Falconcrest on the second day of the strike which had to be evacuated following the discovery of a "suspect car" in the Clapham Junction station car-park at the back of the Chateau. The fire alarms went off at 1500 hrs and all the staff plus 2 local DWP BECs having a joint meeting - making best use of the strike - trooped out to the ASDA car park assembly point across the road past Lidl's emporium. A legion of armed fuzz, fire-engines and ambulances descended on the Chateau and everywhere up to ASDA was festooned in incident tape and all traffic diverted. Quite Christmassy really with all the lights and tape decoration, but fucking freezing which didn't go down too well with those from early morning picket lines.
| | |
| --- | --- |
None of the PCS great and good was present, but HANSON skulked dejectedly in the ASDA car park, all his favoured watering holes and betting shops having been evacuated and closed. GRINYER chatted animatedly on his mobile with his mates in the communications industry so DUGGAN assumed the role of acting führer and ordered the HQ troops to go home. Quite how they could do that with the transport systems paralysed and some with their own cars in the PCS car park was not adequately explained, but staff were generally quite happy with getting a flexi credit. One up to MICKEY "the Milky Bars are on Me" DUGGAN. By that time, HANSON had already melted away into the gloom, in search of libation as he hadn't had a drink for nearly an hour.
The following day the dedicated few trekked to Manchester draw up the LUNITY list for next years polls. Over a hundred Grandees and their followers, mostly former MENDICANTS plus a handful of COMMISSARS and a few crawlers, turned up to once again endorse the alliance with the PCS DEMOCRATS (IAN ALBERT, COMER and those SECRET LEFTERS who have a foot in both camps) on the basis of a 65/35 per cent split in favour of LUNITY on the national "DEMOCRACY ALLIANCE" slate. Trotsky's Independent Traders formerly known as the Socialist Caucus came in for the usual ritual abuse as they weren't there and the only amusing diversion was the purge of KEVIN KELLY and SEVI YESIDALLI - though that too was entirely predictable. OUR KEV went down all guns blazing polling just 45 votes. SEVI got even less. The utterly mad TANSY FELTIS, a self-styled SWP "Lesbian Jewish socialist" failed to get on the TUC list or the LUNITY committee, which was another bonus. By contrast JOHN McINALLY got 144 and SUE BOND 145.
Interesting times continue in the National Black Members Forum. Following on from the resignations of WESLEY, HOLBOURNE and YESIDALLI reported in our November issue, it appears that they all voted in the later NBMF elections. How did this happen? SERWOTKA explains
"As General Secretary, I regarded the fact that the senior elected black representatives of the union were not participating in the national body that advises the NEC on black members' issues as a matter of grave importance for the union as a whole. I discussed the issue with officers of the Forum and the NEC members themselves. Following those discussions, I took the decision to postpone the Forum meeting in order to allow time for further consultations to take place on a way forward. Pat Campbell is arranging a new date for the meeting in January.
Given that this process of consultation is underway, Zita, Sevi and Hector decided to reconsider their resignation. No action was therefore taken and the NEC did not receive the resignations at its November meeting. The NBMF elections went ahead as planned and the results have now been announced."
So, there you have it - they didn't resign after all, and were therefore entitled to vote. Except that HECTOR wrote this last week:
"I need to clarify that I have not rescinded my resignation. The current position is that I am reconsidering my decision. I did not tender my resignation on a whim. There were reasons behind my course of action and I will need those issues to be addressed before I make a final decision as to whether or not I do rescind. I consider that it would not be appropriate to go into detail at this juncture as to the reasons why I tendered my resignation."
You see how easily WEASELY clears up any possible misunderstandings. Losing candidates in the elections are urgently scribbling to the GS demanding that the election results are scrapped and demanding an independent enquiry. Perhaps ZITA could write a poem about it for her catchily named website.... http://members.aol.com/__121b_9ESKDTWcj0crYXmrgNbsvKYTdErRVGWq
Christmas comes but once a year so make the most of the turkey, roast potatoes and brussels, go steady on the booze and use public transport if you can. It's safer, greener, and it helps the planet. Even insufferable GLENYS MORRIS & her hubby GEOFF LEWTAS are doing their bit to reduce their carbon footprint as this "change of address" card sent to their PCS chums says:
Anyone else having a Marie Antoinette moment is urged to contact us.
Cuiusvis hominis est errare; nullius nisi insipientis in errore perseverare
Any man can make a mistake; only a fool keeps on doing it...
Marcus Tullius Cicero (106 - 43 BC)
---
'Home by Christmas'; police to withdraw from Nottingham
The Home Office announced today that it is withdrawing its 1,000 strong police force from Nottingham. The city is expected to be handed over to the forces of local militias by the end of the year.
Chief Commissioner Ed Worsley explained: 'Our primary concern is the safety of the local bobbies. The force is too small and ill-equipped to handle a dangerous place like Nottingham and they will be far happier dealing with shed break-ins and telling old people the time in our rural communities.'
Local Nottingham residents are not surprised by the news. Most say the police have already handed over large parts of the city centre to local forces. The Meadows area is believed to be controlled by Da Trent Street Posse whilst nearby St Anns is run by the Mansfield Road Crew.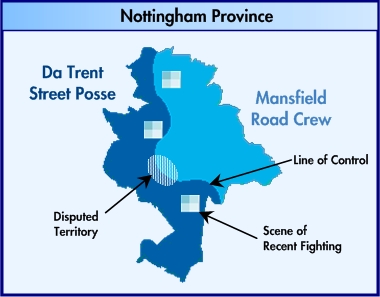 'These organisations have far greater numbers and better access to firearms than our local police force,' says Worsley. 'Their income from drug dealing is far superior to our limited government funding. And the paperwork is less so they can spend more time out on the street.'
Police refuse to admit that their efforts to bring peace to the streets of Nottingham have been failure, although conceded that their job was not made an easier by the fact that all the law-abiding young males have left the town. 'Apparently they all joined the army and got sent to Iraq. Ironic really.'
---
| REVENGE | RADICALISED |
| --- | --- |
---
PFL SEASONAL GREETINGS MESSAGE
1. Please accept with no obligation, implied or implicit, our best wishes for an environmentally conscious, socially responsible, low stress, non-addictive, gender neutral celebration of the winter solstice holiday, practiced within the most enjoyable traditions of the religious persuasion of your choice, or secular practices of your choice, with respect for the religious/secular persuasions and/or traditions of others, or their choice not to practice religious or secular traditions at all.
2. May you have a fiscally successful, personally fulfilling, and
medically uncomplicated recognition of the onset of the generally accepted
calendar year 2008, but not without due respect for the calendars of
choice of other cultures, and due regard to the race, creed, colour , age,
physical ability, religious faith, choice of computer platform, or sexual
orientation of the wishee.
3. By accepting this greeting, you are accepting the following terms and conditions:
a) This greeting is subject to clarification or withdrawal.
b) This greeting is freely transferable with no alteration to the original greeting.
c) This greeting implies no promise by the wisher to actually implement any of the wishes for her/himself or others, and is void where prohibited by law, and is revocable at the sole discretion of the wisher.
d) This wish is warranted to perform as expected within the usual
application of good tidings for a period of one year, or until the
issuance of a subsequent holiday greeting, whichever comes first, and
warranty is limited to replacement of this wish or issuance of a new wish
at the sole discretion of the wisher.
---