MAGAZINE - XMAS 1982

The Gala Competition for all delegates and observers to Special Pay Conference 1982 is under way. The game is so simple that anyone can enter (CHRIS MORAN please note).

This is what you have to do. Somewhere in the conference, a spy has been planted. All you have to do is guess who or she is! To make it easier still for you, the spy will be giving him/herself away at some point during Conference with a coded message which will activate Moscow's radio receivers hidden under every seat in the hall.
Here's what will happen: the spy will at some stage walk to the front of the hall, give an apparently innocuous speech at the rostrum, but at the end the speaker will suddenly say "CONFERENCE, I URGE YOU TO SUPPORT THIS MOTION!"
Who knows, it could even be someone from the NEC? To claim your prize, you must immediately wave your order papers and shout "SPY! SPY!"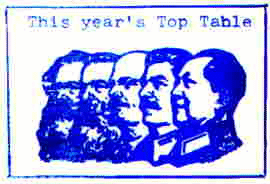 Choose from these great prizes:
FIRST PRIZE: A fortnight in Lytham St. Annes at Chris Baugh's auntie's guest house. SECOND PRIZE: Thirty years holiday in a well-known Black Sea resort with the rank of full KGB Colonel
THIRD PRIZE: A special night out at a jetset party thrown by eligible bachelor RICHARD ARNOT.
Other generous prizes include a months picketing of your own home by the Greenham Common women, or the MX missile system of your choice installed in your garden or window box. To give you even more of a hint, we can tell you that the spy won't be Geoffrey Prime, Rhona Ritchie, Hugh Hambledon, Michael Trestrail or Sir Anthony Blunt.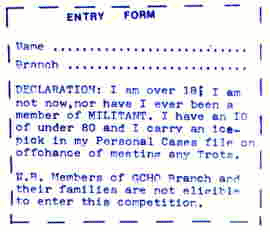 -----------------------------------------------------------------------------------------------------
BROAD LEFT CONFERENCE
The annual jaunt of the Broad Left hacks up to Leeds for their Annual Conference proved a duller event than usual.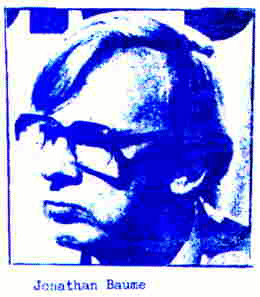 The attendance was well down on previous years, although squat clone KEVIN McHUGH kept up his excellent record by vouching for at least 180 people on the door as being longstanding members of Northern Group. The conference was opened by svelte JONATHAN BAUME, who made feeble excuses as to why the agenda papers hadn't been ready until the previous night. It appeared that the non-union printers who produced the stuff had let him down.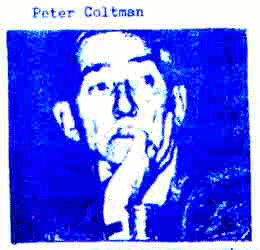 Snappy dresser PETER COLTMAN bungled his way through the chairpersonship, and to eveyones relief got quickly into the main business: voting. As usual Mmm... you know who did well, gaining another candidate on the NEC slate in the form of Brighton bore ANN JONES who mercifully made no victory speech unlike yesterday's man STEVE DUNK, recently expelled from the RSL.
KEVIN RODDY has put on a good 3 stones since last year and when asked by our correspondent the reason for it, put it down to "A happy environment at home."

Pretentious Clydesider STEWART MACLENNAN made a few fawning speeches, but was still not picked up by the clones and so failed to get on the TUC slate. In fact, the new "Grand Alliance" of CP, Socialist Caucus and Labour Leftouts made no impact on the voting at all in spite of the calibre of some of their TUC candidates. This was due to a doublecross by Caucus persons who in fact all voted for the clones list on the grounds that half a Trot is better than none.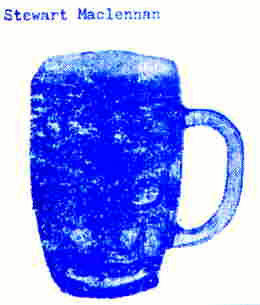 This was a great boost to the confidence of the Militant readers and so on the second day of the conference, we were treated to endless speeches from them on the nationalisation of the top 200 Cruise Missile bases and the abolition of corporal punishment in CPSA (shome mishtake, shurely?) Pre-eminent amongst the drones were Alistair Boyd lookalike DOREEN PURVIS and grindingly dull doxy from Bristol HARRIET STEVENS.
Militant exercised their well-known misogyny by throwing out every motion to mention the word "women", which caused a great deal of twittering and trilling among the Soggy Oggy ladies. These Amazons would eventually have become tiresome had not the clones all pissed off home after the election results, thus enabling the Harriet Harman lookalike PENNY BARNETT to sneak past a quick womens rights motion from Nottingham.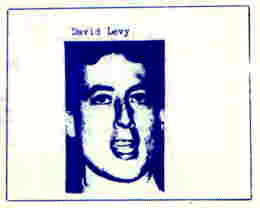 Although conference had to suffer a number of tedious speeches from well known personalities, it was also interesting to note who was there for the faction-fighting alone. The ageing, but still dapper DAVID LEVY was spotted deep in coversation with ROY LEWIS, his sidekick MARTYN JENKINS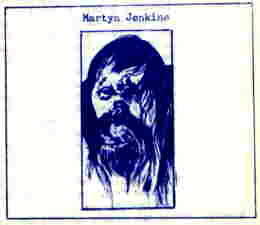 and basinhead ROD BACON, apparently plotting revenge on the clones. More interestingly, the Hitler-like anarcho-Stalinist STEVE PEWSEY, former London BL secretary, was heard discussing his comeback with NEC creeps PAT BYRNE and JOHN SHIP.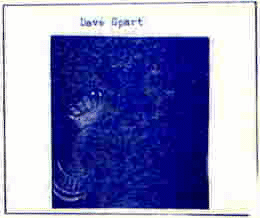 Meanwhile, GEORGE LOBO was sitting by himself looking strangely confident and muttering "Tony Baker said he'd see me alright." The CREEP of Conference award was tricky this year, but was finally awarded to the smarmy Welsh slagheap OLWEN OSMOND and to her new mentor, the Toxteth rioter himself DAVE SPART.
_________________________________________________________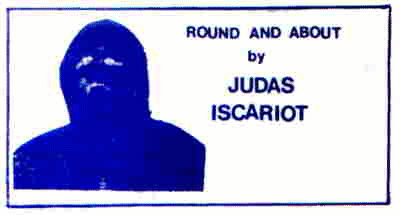 NEC News
Further evidence of the total eclipse of former Mendicant star Rat Byrne by the Roddy/Mcvicar faction became apparent at the last NEC. In a desperate attempt to regain his former popularity (sic) and appear as a person of the people, Comrade Byrne proposed the rejection of the entire Megaw Conference document and its replacement by a Beano style version with big letters, words of one syllable and lots of pictures. After a three-hour speech in favour of his proposal, a vote was taken. The resulting 19 - 3 defeat did not prevent Byrne from whispering to all in hearing distance "I'll be proved right". Incidentally no-one was within hearing distance, as they'd all none down the pub.
Following this dismal attempt to wrest control of the clones from the bloated President, Byrne had another trick up his sleeve. During the debate of 1983 Conference arrangements Hasbyrne demanded that all Tellers be elected by the NEC. On being told that the NEC had quite enough to do without getting involved in this sort of bureaucracy, Rat declared that the election of tellers was the most important issue ever to face the CPSA in its 80-year history. Absolutely no one supported this point of view. Afterwards in the canteen, an astonishing scene took place. Self appointed heir to Graham, John McVicar was seen to poke Byrne in the ribs, with a warning that in future he'd better keep his mouth shut. "How can I get the GS post if members link my name with yours through Mendicant? If the Labour Party ask for sacrifice, you'll be the first to go. Got it Byrne?"
The saga of the doorkeeper's office is keeping everyone in stitches at Nightingale Lane. More time, money and energy is being spent on this issue than on the DHSS Birmingham dispute. The whole affair is much too complicated to go into here, but it involves the unlikely alliance of Clive Bush, Alistair Graham and Pat Hannaford (CPSA's finance queen) against the equally unlikely alliance of the President and the Doorkeeper. Basically the question concerns the Doorkeeper's plush office at Nightingale Lane (which used to be SOGAT General Secretary's office), which Bush wants for his ever expanding Red Tape Empire. The proposal to put the elderly doorkeeper into a four-foot square sentry box to facilitate this move has not met with the doorkeeper's approval, for no doubt entirely selfish reasons. However, our President has generously offered the use of his office to Red Tape while he takes over the first aid room. APEX are reported to be unhappy about this proposal for some obscure reason.
Meanwhile the new Research Officer has his office at a table in the Library, and the new clerk in the Red Tape office is still a typist somewhere else. Also involved in this sag is the Junior Vice-President (and her office). As I said, it gets too complicated even for those who know what's going on. Meanwhile, APEX, not wanting to lose the First Aid Room, have taken a firm stand by supporting the doorkeeper, Clive Bush, Pat Hannaford, the new Research Officer and anyone else they can think of. As Doug Murdoch, APEX assistant secretary, said in an exclusive interview: "I'm fucking off to Penny Judge's Party - at least she knew how to deal with a personal case."
In a fit of pique, Noddy has now been overtaken by puritanical zeal, and banned Clive Bush's junkets-on-the-subs for his Fleet Street chums. Bush's drinking pals, the only ones he's got, are understood to be dismayed. At the same NEC meeting, Roddy made the outrageous suggestion That Alistair Graham should be forced to sell his company car, a modest Ford Granada, as an economy measure. When told that the car was only worth £600, Roddy persisted, but hurriedly withdrew the proposal when Ray Alderson questioned him about his taxi bill.
Defence News
As the winter draws in, the dreary days at Headquarters turn a man to drink. Like Mr CHUCK CLARKE, the lecherous MOD Supremo. He has recently returned from an all -expenses trip of NATO installations paid for by the U.S. Embassy. Apparently organised for "influential and moderate" trade union leaders in the "Defence Environment", our Herbert who was the only stooge the Country Team could come up with, apparently ignorant of the dissolute full timer's fellow-travelling past.
Gay News
The poor man's Lloyd George, Mr. REG WILLIAMS often wistfully reflects on his epic days as master of DHSS HQ. The Branch, of 1,750 members, paid tribute to his well-earned promotion last summer to the Olympian clouds at Balham by raising the princely sum of £5.48 for his farewell collection. As he owes £20.00 to the Branch, it is unlikely that he will show his face down at the DHSS's Elephant & Castle palace in the next few months. Indeed, when asked whether he would present the Conference Report to the Branch he loves so well, he wittily replied "PISS OFF BUTTIE" - a quaint Welsh expression from a man of the people.
South London Press
Residents of Mantilla Road, an obscure backstreet in Tooting, are complaining about the noise and nuisance emanating from one particularly shabby dwelling near the mental hospital. It is understood that this is the house rented by KEVIN RODDY. Living with him in exile are genial Geordie KEVIN McHUGH and the happy couple FRANK BONNER and GILL TROMANS. It seems that the household is a truly socialist one - all tasks have been allocated fairly: Roddy is the chef, McHugh does the washing up, Tromans does the cleaning while Bonner, has the convenient post of "handyman" which is understood to involve watching a good deal of TV.
There were some nasty altercations however over the sleeping arrangements: Bonner and Tromans bagged the biggest bedroom. They promptly bought themselves a luxurious king size bed and had it moved in at great expense. Roddy had to be content with the other bedroom, where he is ensconced of a night on a pile of old mattresses and cushions. Unlucky McHugh has had to put up with sleeping in the broom cupboard. To get his own back he insisted that he would not do any washing up unless he was supplied with Fairy Liquid, a middle class commodity not available in jobless Tooting, Meanwhile there are now fresh disputes about who is to pay the massive phone bills for this salubrious squat, and fighting has broken out over Mrs. Tromans lengthy calls to her relatives in the Antipodes.
Given the grotty nature of Tooting, it seems surprising that Bonner has gone to such great trouble to live there when, on his NEC expenses he could easily afford to rent a flat in pleasantly scenic Wandsworth. However, he arranged to be transferred from his cushy number in Scotland to a grotty post on the staff side at CAA HQ. A fiver will be supplied in the usual way for the first person to supply more information on this question.
T.U.C News

Fresh from his trip to Oslo, ALISTAIR GRAHAM is understood to be considering happier climes.

His recent discreet meeting with GEOFFREY DRAIN, NALGO's GS, has nothing whatsoever to do with Drain's imminent retirement from NALGO.
_________________________________________________________


Following a long and bitter battle with the Colonial military and civilian establishment, Lieut Judge has resigned her commission at MOD Strategic Empire Command (MODSEC) to take up a senior post on the Imperial General Staff of MOD South Africa (MODSA). For some time now Lieut. Judge has been the subject of much controversy following her much publicised disagreements with leading Bore settler, Charles van der Idiot, head of Native Affairs (recently a candidate for the post of Moderator of the Calvinist Party of South Africa), and Command HQ of MODSEC.
Her resignation was met with mixed reactions from MODSEC. The Commandant, Col.Herbert Marshall Clarke (`Chuckie' to his men) said today that he was sorry to lose such a dedicated and loyal officer, while Capt. Douglas Murdoch, Adjutant to MODSEC, is reported to have commented `fucking good riddance to the old bag'. Subaltern John Shit, who unsuccessfully attempted to occupy the now vacant seat at MODSEC, stated that he was still suffering from injuries sustained at the Battle of Blackpool Kloof and was not in a fit state to contest his rejection at this juncture.
Zero Intelligence Tactical Security Group leader, Gonville Bromhead stated that ZITS were sorry to see the departure of their fellow officer `The Service needs boring old farts like Lieut. Judge if the fundamental traditions of the establishment are to be maintained' he said today.
A sad day indeed in the annals of Colonial History. There will never be another Lieut. Judge. After surviving the Battles of Isandabalam, Rorkes Drift and Wounded Arm she was finally felled by the sword of controversy.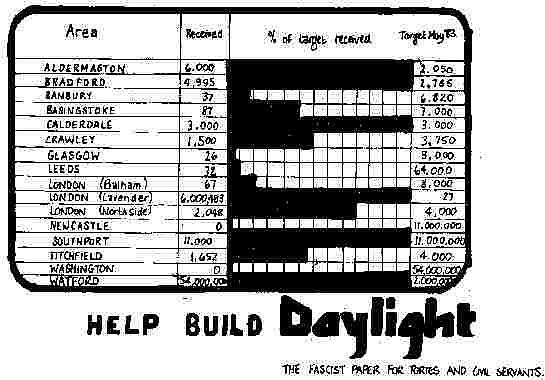 __________________________________________________________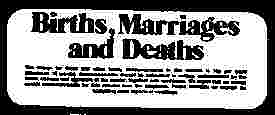 ENGAGEMENTS
BYRNE - WALSH The engagement has taken place between Patrice John Paul Byrne,only son of Sir Fortescue Byrne and Lady Byrne of Brixton Hill and Mr. Lynn Walsh, a bastard from Hackney. THUG - PURVIS The engagement has taken place between Mr Paul Cooper of Wapping and Miss Doreen Purvis of Quayside, Newcastle-upon-Tyne.
MARRlAGES
BOYLE - WALKER On 3rd November, at East End Paupers' Mission, Whitechapel, between Miss Stephanie Walker and Mr William Boyle. The bride was given away by her uncle, Ted Grant, and the reception was held at the Salvation Army Hostel, Bethnal Green. MOTHERSOLE - SHAW on 16th October, at Our Lady of Lourdes, Islington, between Miss Vanessa Shaw and Mr. Ian Mothersole. The bride wore white, and was blessed before the ceremony by the Polish prelate Fr. Tadeusz Pilsudski.
OBITUARIES
DUBASH Passed away after a long illness. Mr Manek Duhash of Bermondsey. A courageous and generous figure, a pillar of his local church and a devoted family man, he will be sadly missed by his fellow members in C PSA. Rest In Peace.
-----------------------------------------------------------------------------------------------------------
JOKES
Q. How do you bring up an Australian kid?
A. Poke two fingers down a dingo's throat.
Did you hear about the old man who had his backbone removed in hospital. They carried him away in a bucket.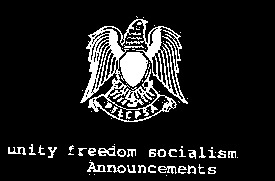 1. Will the members from the DLVD Wales who attended the recent school in Brighton please recontact their usual supplier, as their addresses have been mislaid.
2. Will CPSA HO readers supply the Revolutionary Command Council with all APEX minutes and correspondence now on a regular basis.
3. Jackson - your material was good but a bit dated, all current news from the North East will be much appreciated.