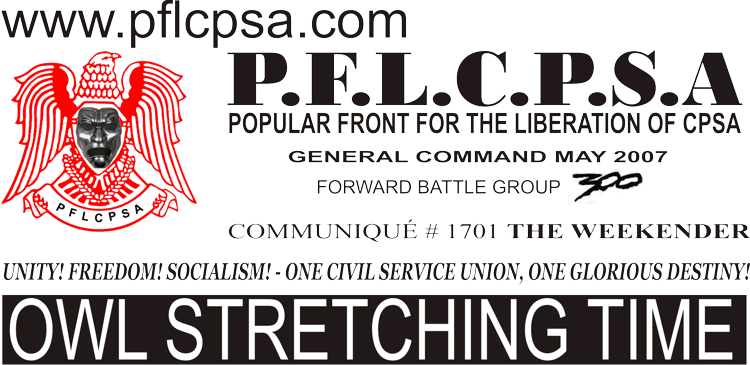 The sound of much merriment is spreading across Brighton as delegates and observers pour into their hotel bars and seedier drinking dens of this fair city to celebrate the election results in the traditional manner of our esteemed union.
The Grandees have won another victory though the very low turn-out is nothing to crow about. Ballot paper delays may have played a part but in general we make participation in local government elections look high. 4TM are still at the starting post with just one seat on the NEC - the same as last year - though they can console themselves with some modest gains in DWP. But all are noting with glee that Trotsky's Independent Traders aka "Independent Left" (prop: Messrs ROCK and McDONALD) were well and truly slaughtered in the polls.
Though the Big Tent's victory was never in any doubt the scale of the victory over the former CARCASITES was bigger than they could ever had imagined. Even veteran campaigner RED BACON, who was expected to hold his personal vote, bit the dust and he clearly will now be taking the early bath he deferred earlier in the year to beef up LEE ROCK'S forlorn campaign.
And all is clearly not well in the (very) small tent! Some Carcasites are already grumbling about ROCK spending crucial campaigning weeks on holiday in proletarian Bermuda though MCDONALD is spending less time down the pub since he moved in with SHARON. Others are wondering how they can creep back into the Big Tent without losing face. Don't worry, the Grandees will be magnaminous. Only the ring-leaders will be ostracised. JANICE and DANNY have a list.
In the 4TM ranks the usual blame game has already started. Top of the hate-list is STUART CURRIE, whose phantom Moderati list still bags several thousand votes they think should rightfully come their way. Some hope that BUNTER will give up PCS politics now that he's got his seat on the council but he still gets some kudos out of his supposed union activity within Scottish Liberal Democracy. But he's not going to do it, given that the only effort he needs to make to keep his spoiler list going is to ensure that at least one branch gets his nominations through, until he gets his feet under the table in Holyrood. And that is still some years off.
Actually, the biggest cause of resentment in 4TM is the fact that so many female voters have described Jake as a 'Hunk' from his picture on the election address. Given that most of them are fat, balding middle aged blokes (like all the other factions come to that) the fact that Jake appears to have the F factor really pisses the rest of Jakes' mates off. So much so that he will have to run for President AGAIN next year.
Though I must say that if JAKE WILDE looks like Sting as Feyd Rautha Harkonnen from Dune then JOE COX is the absolute double of Baron Harkonnen. I can just imagine him cackling hysterically while flying around the room powered by his own farts. And doesn't James Ashton look like Marilyn Manson? Creepy.
Back in the real world the usual creeps got their council seats including ALAN CAMPBELL NIMMO ( Labour: Falkirk East); STEVEN JACKSON (SNP: Lower Braes) ; Davie McBRIDE (Labour:Dumbarton) ;STEVE COMER (Liberal Democrat: Bristol ); STUART CURRIE (Liberal Democrat: East Lothian ) and ace opportunist of yesteryear, STEVE CARDOWNIE (ex-Trot, ex-Labour and now the rising star of the Scottish National Party in Edinburgh ).
Incidentally Edinburgh Council has now returned a completely unworkable authority with the council seats shared by the Lib Dems 17, Labour 15, SNP 12 (Including Group Leader Cardownie) Tories 11 and Greens 3. It appears that Cllr Cardownie, SNP Group Leader and first rate chancer has stiched up a deal to give him the post of Deputy Leader of the Council (Derek Hatton's title). He's taken his Group into a coalition with the Liberals, which will also have tacit Tory support to ensure labour are kept out of power. He failed to get the Lord Provosts job, but Deputy Leader will ensure that he can resume his extensive foreign travel at the expense of the taxpayer which was so cruelly curtailed when he defected to the SNP.
Labour brought back 'Baillies', an institution abolished in the 19th Century, and created five of them simply to ensure that Steve could no longer claim any of the juicy travel. However now he's having his revenge.
More news on Monday
NEC ELECTION STATS FOR 2005 - 2007 (requires MS Excel or equivalent reader)
EXCLUSIVE - GUS O'DONNELL WRITES FOR PFL - Latest from the Cabinet Secretary (MS Word file)