STREATHAM STRIKER No.14

This is a brief explanation of the events of the last week.
Those of you at the well attended strikers meeting last Friday (30th November) will know that our preferred course of action was to remain on strike until the new year, for the various and valid reasons we discussed, and that the national action should commence as soon as possible. Those who might be returned to unsafe offices such as Streatham should be kept on indefinite strike on their current rate of strike pay.
Your reps took this forward to the national Pathfinder reps meeting, and following debate was adopted as the best way forward. During this meeting we received the result of the national ballot, which was won by 16770 votes to 14659.
The views from the Pathfinder reps meeting informed the joint GECs who also met on Tuesday and agreed to recommend our preferred course of action to the NEC meeting on Wednesday.
The National Disputes Committee were concerned with the additional expenditure which would be incurred keeping us on strike until the new year, and the need to tie the launch of national action in with stepping down of selective action.
Both options were discussed at length by the NEC, (who were also made aware that management continued to refuse to negotiate a settlement and ACAS has now been approached by PCS) and the NEC decided the following:
National discontinuous strike action to commence with a 2-day strike on 12th & 13th December. The joint GECs to meet the following week to evaluate and decide on future action.
Selective action to be suspended from 14th December, except where members may be returned to unsafe working environments.
The decision was unanimous, so there are no longer any splits in the GECs, NDC or NEC. In addition, we have been assured that the action can continue to be funded indefinitely.
WHAT THIS MEANS TO US
Our strikers who normally work in Wandsworth or Balham offices or Jobcentres (except Streatham) will return to work on 14th December following the 2 days national action on 12th & 13th.
Strikers who normally work in Streatham office will remain on strike indefinitely at the current 85% strike pay. They will not attract strike pay for periods of national action.
FAMIS: it is not anticipated that there will be problems with December salaries. If there are, PCS has made contingency plans to make (and recover) payments necessary.
Leave commitments: if you have difficulty obtaining leave on your return to work, contact your local rep immediately. We are keen, as we assume local management are, to avoid any victimisation, or perceived victimisation. If you think you are being victimised in any way because of your strike action, contact your local rep straight away.
The selective action we have been involved in has raised the dispute to national level. Management has refused to negotiate over the last 3 weeks. It's now time to raise the stakes. In the face of an unprecedented propaganda storm including the videos from management, our Streatham Health and Safety dispute has ballooned into national action.
You can all be very proud of your actions so far and look forward to a settlement to this dispute and a safer working environment. We must all be prepared to take strike action in the future if called on to do so. We will continue to keep you informed about all developments in the dispute, but for now, the Streatham Striker bids farewell to its friends …..
"I shall return, and I shall be millions" - Eva Peron
---
FURTHER NEWS FROM THE WEEKLY MEETING ON FRIDAY 7TH DECEMBER
It was unanimously agreed that strikers returning to work on Friday shout meet outside their respective offices and all go in together at 9.30am.
Streatham JCP will continue to be picketed and their strikers will continue to have weekly meetings.
LONDON DWP STRIKERS RALLY
*WEDNESDAY 12th at 11.30 am* at
NUJ Headquarters, Grays Inn Road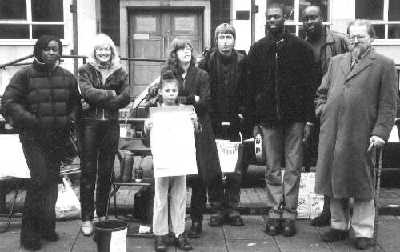 CURRENT TOTAL FOR THE BBC
CHILDREN IN NEED APPEAL IS £1800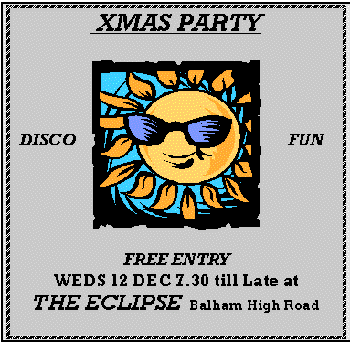 STREATHAM STRIKERS "END OF TERM" XMAS PARTY,
and BWTUC fundraiser
Battersea and Wandsworth TUC
XMAS PARTY
to raise funds for our Branch strike hardship funds. Free entry to our Pathfinder strikers!

TUESDAY 18th from 7.30 till late at
THE BREAD AND ROSES
Clapham Manor Street, Clapham
---
ASSAULTS ON DWP STAFF: THE FACTS


Hansard: Public Servants (Assaults)
20 November 2001

Mrs. Curtis-Thomas: To ask the Secretary of State for Work and Pensions how many members of staff working in (a) benefit offices and (b) jobcentres were assaulted while at work in (i) 1999-2000 and (ii) 2000-01.

Hywel Williams: To ask the Secretary of State for Work and Pensions how many reported incidents of an aggressive nature against Benefits Agency workers there were in each of the past five years for (a) England, (b) Wales and (c) Scotland.

Mr. Clappison: To ask the Secretary of State for Work and Pensions (1) how many attacks on Benefits Agency staff were recorded in each year since 1997; and how many successful prosecutions were brought against the perpetrators of such attacks;
(2) how many assaults on Benefits Agency staff were (a) recorded last year and (b) recorded in each of the previous years since 1997.

Mr. Nicholas Brown: The information available is in the tables. The information requested on the number of successful prosecutions is not available.

The increase in the number of reported incidents in 2000 can be attributed to awareness raising activities with Benefits Agency staff about the importance of reporting incidents and to a poster issued by the PCS Union advising staff that all incidents of customer aggression should be reported.
Benefits Agency
Total assaults
Year
Physical assaults
Non-physical assaults
England
Scotland
Wales
1997
100
3,426
2,959
278
289
1998
41
3,092
2,579
313
241
1999
98
2,357
2,071
186
198
2000
163
5,144
4,467
398
442
2001(1)
92
3,567
2,990
283
386
| | | | |
| --- | --- | --- | --- |
| Employment Service | 1999(4) | 2000 | 2001(1) |
| Number of staff reporting a physical assault | 166 | 232 | 166 |
| Number of staff reporting a non-physical assault | 2,530 | 4,146 | 2,850 |
| Total number of reports received(2) | 2,696 | 4,378 | 3,016 |
| Total number of incidents occurring(3) | 2,481 | 4,044 | 2,729 |
(1) Information to date. These figures are based on the reports so far received, other incidents may have occurred but may not yet have been reported.
(2) This figure represents the number of individual reports completed.
(3) This figure relates to the number of individual incidents that have occurred. This number is lower than the number of reports as several individuals can report the same incident if they feel that they have been a victim of it.
(4) The figures shown for the Employment Service for 1999 record the number of incidents that occurred between April and December. Prior to this date the information was collated on a separate database which did not provide data in compatible categories. During the period January to March 1999, 1,115 reports were filed and 1,106 incidents occurred but these figures include 'other' incidents between clients where no staff were involved.
______________________________________________
Mr Darling was not present to draw laughter from the report of these figures to Parliament. It puts his now notorious figure of 166 assaults into its correct context: it's not very safe. It is destined to become less safe under Jobcentre Plus, unless we continue to press the point for a safer working environment.

Over the last 14 weeks, the Streatham Striker has brought you information regarding some of the more serious assaults that have occurred while we have been on strike - we have not reported them all. The figures given to Parliament are only those reports that are to hand; we know that not every incident has been reported.

When you return to your offices you must ensure and insist that every single incident that happens to you, including verbal abuse, is reported on forms IF1 and PV1 as appropriate.

We believe that under-reporting of incidents in the past has encouraged DWP management to rely on unrepresentative figures in assessing the risks to staff. We don't want ANY incidents, but if there are, PLEASE report them.
_________________________________________________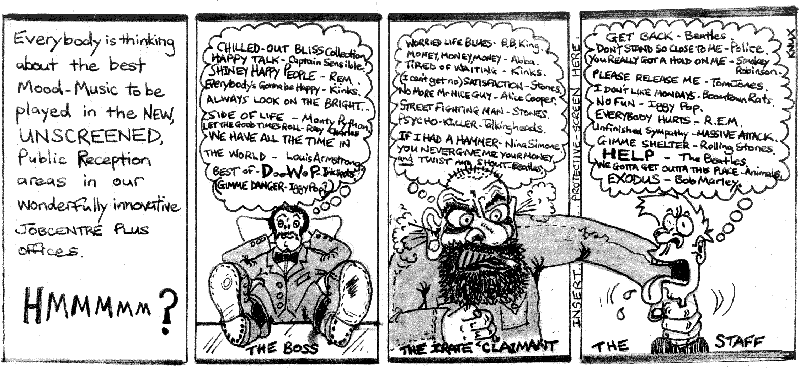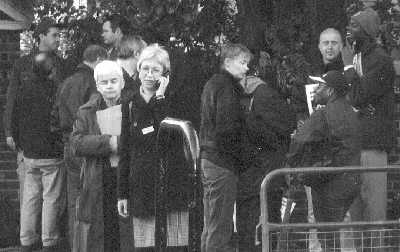 "Officer, that bloke with the camera's here again!
Says he's only taking pictures of the picket,
but he's sent my colleague to sleep!"

_______________________________________________________________
WE HAVEN'T BEEN ON A PAID HOLIDAY……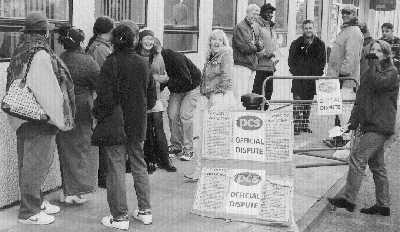 Streatham - where it all started and selective strike action continues.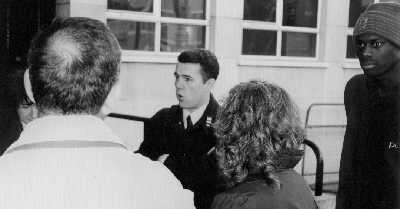 PCS General Secretary elect Mark Serwotka
has been a regular visitor to the Balham picket…..
…..and was interviewed several times by national media outside Irene House.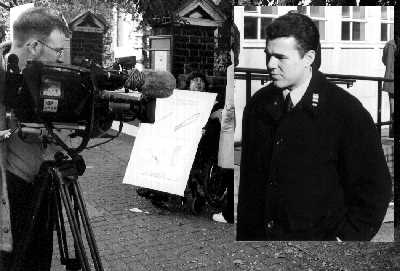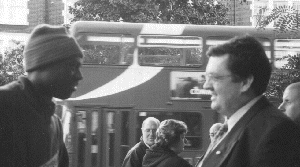 Phil Easton from Makerfield,
who refused to scab on the dispute,
also visited the picket frequently.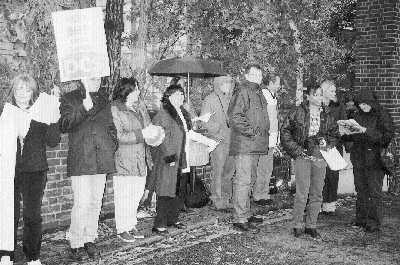 The weather wasn't always on our side…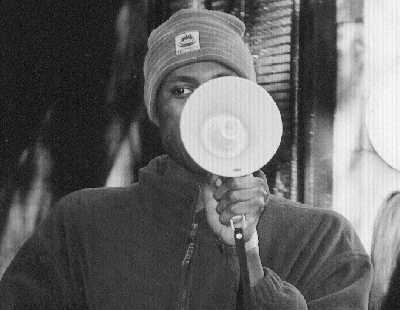 …..John got LOUDER…..


but the Streatham Strikers Cacophonous Choir kept us all singing from the same songbook.

All copies of the Streatham Striker (and a copy of the songbook!) plus a history of the dispute and links to other union information websites can be found at: http://www.pflcpsa.com/pathfinder