FRIDAY
Brighton home
Monday | Tuesday | Wednesday | Thursday | Friday | T-SHIRT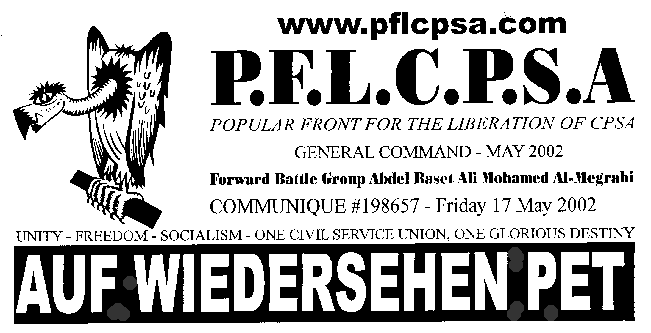 Round and About
By Judas IscariotTHE OFFICIAL DO got off to a poor start yesterday evening. Just 22 people plus ROY D'LEWIS was the count after the first hour when our agent made her excuses and left to seek better pickings from the movers and shakers who were skulking around Brighton's grander hotels in preparation for the first meeting of the new NEC. By Midnight, however, the hall was hopping and a thousand delegates were all well oiled and boringly well behaved.
Some Moderates are already quibbling about PRIESTLEY'S price. The presidency is far too much for him, they argue. He's only worth a veep, and that only if he does what he's told. And in any case he can't beat GODRICH, and the Moderati want her out in two years time at the latest. If he doesn't play ball he'll have more time to spend at his new holiday home in France.
Odious UNDY, the most hated man in PCS (after Barry) has been sidelined, and having no official duties has made good use of the time in organising our Conference-floor marketing campaign through manipulating a couple of low profile PFL deep cover agents to raise dubious points of order on behalf of the Popular Front. We particularly admire his generosity in allowing others to reap the glory of Probationary Hero status.
At the same time the TROTS are hoping to buy the GREAT SCOT off with an offer of a PCS TUC "consultancy" to make sure the old man's lawyers don't make trouble for SERWOTKA who intends to take up post next month. Just another episode in the rich tapestry to be covered by the Channel 4 film crew currently recording barry's life for posterity.
LANOLIN excelled himself in opposing a motion on behalf of the NEC yesterday; his mandate had been to speak in SUPPORT. Fortunately for him it made no difference to the vote.
And senior UNDERLING, BOB BOWMAN, has made the grade being accused of intimidating delegates and trainee delegates during Conference on Thursday. BOWMAN is only three foot seven and not known for his physical prowess.
Meanwhile behind the scenes a secret cabal of time-servers led by LANNING and McAUSLAN are plotting to head-off the move to elect all senior full-time officials. They've formed a group called "PCS FRIENDS" to preserve the power and privileges of the non-elected full-time officer caste. The last meeting was appropriately at Friend's House, Euston Road, London, on Saturday 27th April 2002 (Full details will shortly be available on the web). Despite their vast wealth they operated a pooled fare system.

The aims of this sinister group include "to risk the ridicule of those on the extremes" to show "that there is a silent majority which should have the confidence to speak out". At an earlier meeting this year they moaned "It was felt that there was a lack of leadership in the union, that employer decisions were inconsistent. The absence of a clear "chief was a practical obstacle that might ease in June (believed to be a reference to RAMSBLADDER), but it was also a political opportunity to fill the vacuum by establishing a new and clear political direction"
They operate on a cell structure and it has fallen into our hands. Judge for yourselves...
These people ...... should speak to these people
... who should speak to these people
Veronica BayneJanet Keene Angela Maughan Sheila Pickman
Jim DoranJim Stringer
Johanna Baxter Karen Crawford Malcolm Tetley
Mike Duggan Colin Edwards( Graham Steel ) Rose Willis
Hugh Lanning
Alan Churchard Eddie Reilly Steve Farley

Albie O'Neill Tony Gallagher Dave Wilkinson
Ian LawrenceColin Sambrook Neil March
Geoff LewtasNelly Takia Wright
Jim McAuslanJeff Evans Graham Belchamber
Peter Harris
Norina O'HarePhilip Bickerstaffe Dean Rogers John Thornton
Steve PrestonDave Newlyn Theresa Busby Barbara Blake
Jeremy Gautrey Prank Campbell Ted Elsey
Gaynelle SamuelPat Campbell
Charles Cochrane Phil Madelin Alan Maloney
Keith Wylie Ian Taylor
Meanwhile the ball continues with PAULINE ABRAHAMS (yes, we finally remembered but still can't spell it) showed us how to do it when she split her trousers in a piggyback race to her hotel in the wee hours of Wednesday morning.
When Welsh Supremo JEFF EVANS told DONNELLAN about the vicious mugging he had recently endured, PETER looked as upset as when he told him he had won twenty quid on the SERWOTKA election.

A pre-conference gem but worth repeating: the cautionary tale of GERRY MCMAHON who threw a bash in his flat a few months back. Retired and emotional for an early night but got up again at about 2 in the morning when he realised his guests were still partying. Rejoining the throng, completely unaware that he was stark bollock naked, he circulated, topping up drinks hither and yon, as any good host would do. One stunned guest eventually managed to suggest "er... Gerry, don't you think it would be a good idea to put something on?" So Gerry turns his back on the assembly, bends over to give a full technicolour view of yesterday's breakfast and "puts on" a CD.
So, farewell then
Sir Woy d'Lewis

Mrs Barrabas says that when you

went to Conference you
put your expenses under your soap

and did not touch either all week.

Your catchphrase was
"Schtum, schtum!"

Now you are schtummed.

~~~~~~~~~~~~~~~~~~~~~~~~~~~~




And is it really farewell
Barry Reamsbottom?

Conference believes it is

But they have been wrong before…

And, farewell then
Frank Pemberton

Co-founder of ME 1ST and serial litigant

Your friend was
Alan England

But he left ages ago.

~~~~~~~~~~~~~~~~~~~~~~~~~~~~~~

Finally, farewell then
Doreen Purvis

Agent Wide of the
PFL Newcastle 8 Cadre

You claimed you were photocopying
knitting patterns

Conference believed you

but we knew better
Annual General Meeting - PCS plc May 2002. "Making a Difference"
The annual general meeting of the PCS plc took place in Brighton in an atmosphere clouded by the aftermath of the events of September 11 and continuing uncertainty over Britain's entry into the European Single Currency. PCS plc has performed well and retained its market share despite fierce competition in the Public Service industry, said President Sir Peter Donnellan. Financially, the operating loss caused by the £7million costs incurred by the prolonged Industrial Dispute in the Pathfinder Group, has eaten into the Company's assets but profitability will be restored this year, he said.

Brand Performance

The Moderati label continues to hold its flagship place on the high street. Despite initial doubts about the inexperienced new management team following the retirement of Lady Marion Chambers, Mr Stuart Currie and his team have proved able successors.

Lunity, the new brand introduced in 1998, is finally making its mark in the shopping malls up and down the country. This has easily offset the losses sustained by Membership First Ltd. Sir Peter, who established the wholly owned subsidiary, expressed sadness at its decline but deferred comment on speculation that it may have to be wound up. He also wished the board well with its new chairman Mrs Janice Godrich. Sir Peter is returning to a senior board position with his former Company.

Industrial Relations

Personnel Director Mr Martin Boyle reported that overall relations with the Staff had been constructive and this had accounted for the sustained increase in productivity which, in turn, partly offset the losses caused by the Pathfinder dispute. He paid tribute to his deputy Mr Michael McCann and his secretary Mrs Valerie Stansfield.

Information Technology

The Group continues to invest heavily in replacing its legacy equipment from the Merger in 1998. However, there have been two grave breaches of security under the management of Mr Gordon Patterson. Steps have been taken to ensure that such breaches will not recur.

Head Office Rationalisation

There was some muted criticism of the unusual arrangements regarding the transition of responsibilities from retiring CEO Mr Barry Reamsbottom to his successor Mr Mark H Serwotka. Mr Reamsbottom's retirement package has still not been finalised after two years of negotiations between his lawyers and those of the corporation. Nor has the final date of his departure been agreed.

Mr Serwotka pledged to resolve this matter speedily when he assumes full responsibility on June 1. There is a substantial body of opinion amongst the board of directors who would like to see Mr Reamsbottom retained as a consultant for the next two years, though this is unlikely to win the support of a majority of the shareholders.

Mr James Undy, MBE, resigned from the board following the vote of no confidence in his handling of the Membership First marketing strategy. Mr Lesley Priestley has been temporarily promoted to fill the post. This may be made permanent, with a guaranteed seat on the board, if performance improves.

Presentations

A silver watch was presented to Sir Roy d' Lewis, who created and steered the Roy Lewis Partnership for 30 years until the brand was bought out by the Moderati in 1996. Sir Roy will continue to serve the Group as a Trustee with Pension Fund. Baron Pemberton of London South received a Gold Watch for his sterling services in establishing the flagship Moderati label. Mr K McHugh and Mrs D Purves also retired.


McCreadie

McHugh

Then

Now

Then

Now
The Islamic Left - "Prayers not Politics"


| | |
| --- | --- |
| | Salaam Alaikum. It's been another productive week for the progressive forces of the Islamic Left. Just one more session and we can relax. Today's business contains the usual dose of retrogressive atheist nonsense but there are also some motions we can fully endorse. Vote wisely and peace be with you until we next meet. |

A211 Support
And lets take the opportunity for a general tightening up of the rules to penalise the malingerer who is a
parasite on the honest workers.

A212 Oppose
Only the Godless could come out with such tripe. The only relevant Law is God's Law.

A213 Oppose
It is no business of the Civil Service to pry into the employment conditions of the small businessman. A214 Support
See A 118 (Wednesday)

A215 Support
Although we don't agree that there is any need for resignation even if successful. Our duties to God and
the State are one and the same.

A216, 217 Oppose
Neither of these measures would be necessary if proper family values were restored and women took their
biological responsibilities more seriously.

A222 Oppose
More Godless filth. Sexual liaison outside the marriage bed is both sinful and blasphemous. Only
relationships within holy matrimony should be accepted by civilised society.

A42 Support
One of the most progressive motions of the week. This will provide a golden opportunity for Moslem
inroads into the corridors of power. A fine note on which to end the week.
PFLCPSA NEWS -THE HAT IS HUNGRY
BiBi Conference and Well Done.
It's been a fair, if somewhat less than exciting, fight, and relatively little blood is on the carpet.
Obligatory Gratitude to Agents Deep, Wide and Thirsty (Newcastle Contingent) Islam (despite his failed credit card), Bronk (Webmaster and Children's parties), Picasso and Apollo. Headbanger is under House Arrest for failing to report for duty as instructed and will be given a fair execution in due course. Thanks to KALL-KWIK for producing the copy faster than ever before. And, most of all, Conference, thank-you for being here and staying awake, most of the time.

Just a few Official T-Shirts are still available from Senior Officers. £10 only. Get 'em while they're hot.
Final Donations are still required to defray the weeks' expenses and some of you have been seen not donating: We know where you live!
The following is merely a suggested guide to the price of your indulgences:
Conference Delegates £5
Observers and Trainee Delegates £1
Full Time Officers £10 ono
Presidents and Senior Full Time Officers - 10%

Conference may be over for a year or so, but the Popular Front lives on. You can keep track on what really goes on behind the scenes by book-marking our Web Page at http://www.pflcpsa.com You can submit confidential information without fear of exposure by sending anonymous email to deepcover@pflcpsa.com. Millions already do. We also strongly recommend using Hushmail for those serious secrets, (www.hushmail.com)

Back Issues can be downloaded from the web at any time.

From Palestine to Falconcrest from Southfork to Peru -One Struggle, One Fight, Revolution until Victory

I shall return and I shall be millions. Eva Peron
Brighton home
Monday | Tuesday | Wednesday | Thursday | Friday | T-SHIRT